It can be challenging to choose between WPBakery vs Elementor WordPress page builders. Both are well respected and used by many experienced and novice designers to create great-looking websites.
However, a few key differences are essential to know so that you don't lock yourself into the wrong page builder.
WPBakery vs Elementor – Which Is Better?
Elementor will be the better option for most people due to the robust capabilities, intuitive drag-and-drop front-end developer, and numerous professionally-made templates.
On the other hand, WPBakery has plenty of features and offers both a front-end editor and a back-end editor for more experienced designers and developers.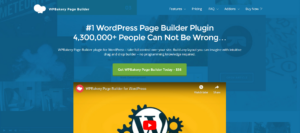 However, WPBakery is considered a bit more complicated to use than Elementor which is marketed as a more user-friendly page builder.
One other benefit to using Elementor is that the builder has a basic free version. This lets you try out the builder before buying a pro license to see if it's right for you. WPBakery is a premium-only builder with no free option to try it out.
WPBakery vs Elementor User Interface
One of the critical differences between WPBakery vs Elementor is that the former offers both a back- and front-end editor. 
Elementor
Elementor has a clean interface that makes finding widgets and styling options easy. All of the editing options are consistent in their locations.
One other benefit is that everything is centralized on the left sidebar, making finding the exact features you need easier.
WPBakery
While similar in terms of options, the WPBakery layout is much less centralized. Instead, the builder uses dropdown menus and popups for editing.
This makes the learning curve quite a bit higher for new WPBakery users. It may also lead to more confusion for advanced WordPress users unfamiliar with the builder.
Winner: Elementor (centralized and more intuitive user interface)
Drag-and-Drop Editor
Both Elementor and WPBakery offer drag-and-drop functionality, making it easier to use WordPress without knowing how to code.
Elementor
The Elementor drag-and-drop editor is easier to use with larger icons and an intuitive drag from the side design.
You can select individual elements from the widget library and drag them exactly where you want them based on rows and columns.
WPBakery
The WPBakery drag-and-drop builder is slightly less intuitive. You have first to create the row and insert your desired widget.
After inserting the widget, you can drag it around to reposition it or change up the order of your design.
Winner: Elementor (more straightforward drag-and-drop system)
Front-end vs Back-end Editing
Front-end editors, also called live editors, allow you to see precisely what the page will look like as you make changes. 
Back-end editors give you access to all of the page settings along with standard drag-and-drop capabilities.
Elementor
Elementor is a front-end editor only. The downside here is that you can't edit the pages main settings such as:
Permalinks
SEO Settings
Featured Images
Many users, especially less experienced designers, prefer to use the front-end editor. However, having the option to use both is beneficial.
WPBakery
WPBakery has the advantage here as you can choose from both a robust front-end editor and a back-end editor.
Using the back-end editor, you can ultimately build your pages without switching back and forth to change the page's main settings.
Winner: WPBakery (both a back-end and front-end editor)
Designer Templates
Professionally-made templates make it easier to get your website up and running without the need for code. Comparing WPBakery vs Elementor is a close one when it comes to professionally-made templates, but WPBakery is the winner here.
Elementor
Elementor comes with a wide range of professionally made templates. Niches covered by their templates include:
Restaurants
Law Firms
Business Consulting
Freelancers
Hotels
Spas & Beauty
These are just a few of the more than thirty premade templates available for Elementor Pro users.
WPBakery
WPBakery also has a wide assortment of premade templates to make setting up your website easier. 
These templates include:
Hero Sections
Call To Action Stylings
Image Grids
Photography Templates
Fashion Templates
Business Layouts
WPBakery offers more templates than Elementor, coming in at just over sixty. According to the main website, more are added each month.
Winner: WPBakery (almost twice the number of templates)
Typography Tools
It's an often overlooked design element, but having options for font and styling is essential for branding and getting the look you want.
Elementor
With Elementor, you get a wide assortment of fonts and styling options. Aside from the native fonts, there are over 800 options from Google Fonts.
You also can host custom fonts locally. This helps with styling and performance as it means fewer HTTP requests.
WPBakery
WPBakery also gives you numerous font styling and editing options, many of them similar to Elementor. 
Aside from the native fonts in WPBakery, you also get access to Google fonts and all of the service's font options.
As with Elementor, you can edit everything from font size to colors and add bold, italic, and underline effects. You can also use locally hosted fonts to increase performance.
Winner: Draw (both WPBakery and Elementor offer similar font options)
Layout Tools
One of the great things about drag-and-drop builders is the easy-to-change layout options. This can help you with design and UX best practices for newer users.
Elementor
Elementor provides a simple and intuitive way to create new sections and alter the layout. The builder offers twelve preset structures that can be further changed after selecting them.
Choices include:
Single Column
Double Column
Triple Column
Quadruple Column
Quintuple Column
Sextuple Column
Column sizing and positioning can be changed, and inner sections are added based on your specific needs.
WPBakery
WPBakery also makes it easy to change layouts, though the process is not quite as intuitive.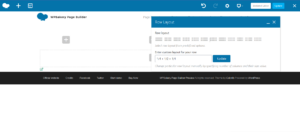 You can select from anywhere between one and six columns. The WordPress page builder makes it simple to change the size of each column once you understand the formatting.
Winner: Draw (both builders give you the same layout options, but Elementor is a bit more intuitive)
Mobile Editing Tools
With Google mobile-first indexing, it's more important than ever to make sure mobile devices and tablets users can easily access your website. 
Both builders make this possible using mobile editing tools.
Elementor
Elementor makes it easy to edit the mobile layout of each element widget of your website. 
From sizing to spacing to colors, every aspect can be changed to make your website easier to display on mobile devices.
All editing is done through the left sidebar with options to change settings for each device, desktop, tablet, and mobile.
WPBakery
Similar to Elementor, WPBakery makes it easy to change the mobile responsive settings of each element of your website.
The layout is a bit different, as with other WPBakery settings. Editing is done through a popup over each element.
One of the main differences between the two builders is that WPBakery has a dedicated mobile editing section.
Winner: Draw (both allow you to edit individual aspects of each widget for better display on mobile and tablets)
Theme Elements
Theme elements allow you to create the exact global design that you want. Elementor is the winner here with multiple theme styling elements.
Elementor
The builder provides numerous elements and widgets that can be used for global styling. Some of these include:
Menus
Site Logo
Site Map
Breadcrumbs (Yoast SEO)
Post Navigation
There are many more than this, fourteen in total and more being released each year. Each of these can be used to get the exact theme you want.
WPBakery
WPBakery, unfortunately, does not have theme styling elements. Whereas Elementor comes with a built-in theme builder, this option is sold separately with WPBakery.
A separate plugin is available for purchase, which will be discussed more in-depth later on for styling your theme. 
Winner: Elementor (includes specific theme styling elements whereas WPBakery has them sold separately)
Integrations
While WPBakery and Elementor are pretty extensive, it's helpful to know that the other tools you need to run your website will be supported.
Elementor
With Elementor, you can integrate almost forty different tools ranging from customer relationship management tools to email marketing software.
Some of the more popular integrations with Elementor include:
Many third-party add-ons also work with Elementor, providing even more integration capabilities with similar tools.
WPBakery
Integrations are one area where WPBakery is lacking when compared to Elementor. 
WPBakery doesn't have a clear list of integrations in the same ways as Elementor. Instead a list of add-ons that can be purchased as needed.
Some of the more popular add-ons that users can purchase include:
MailChimp
Instagram
YouTube
Facebook
WooCommerce
Winner: Elementor (more integrations included in the pro package)
Content Elements
In recent years, Google has signaled a liking for varied content such as images, videos, lists, etc. Elementor and WPBakery both do well in this department.
Elementor
The builder gives you over thirty different types of content elements and widgets. These make it easier to style articles and other content exactly how you want.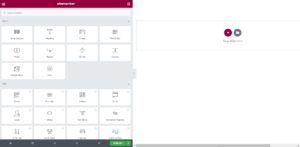 Some examples of content elements offered by Elementor include:
Heading
Image
Text Editor
Video
Table of Contents
Using each of these elements, you can create more complex pieces of content with better potential to rank and also please your readers.
WPBakery
As with Elementor, WPBakery provides an extensive list of content elements, making it easy to style your pages and posts.
One advantage that WPBakery has here is that they provide a specific section for content elements instead of scattering them throughout your widgets list.
Some examples of content elements offered by WPBakery include:
Text Block
Icon
Single Image
Video Player
Pie Chart
In total, WPBakery provides over thirty different content elements to make styling your articles much simpler and more intuitive.
Winner: Draw (both page builders provide over thirty content elements to make styling pages easier)
Styling Options
Each builder, along with an extensive list of elements, offers a sizeable number of styling options to get your website looking exactly as you want it.
Elementor
Using the Elementor editor interface, you can change the styling for most elements to your specific preferences. 
Each element has a styling section located between the content and advanced sections of the left sidebar editor.
Each element has different styling options, and there are also options to change global styling with Elementor Pro.
WPBakery
As with Elemetnor, you can change the styling of every element to suit the project you are working on.
Each widget has different styling options, so you must go through and make sure all settings are as desired. 
Styling in WPBakery is broken down into general settings for each specific widget and design options that allow you to change things like background and padding.
Theme Builder
As noted above, theme styling is essential for getting the exact website you want and ensuring continuity with your global styling.
Elementor
One of the main benefits of Elementor Pro is the theme builder. Using this, you can style all of the fundamental aspects of your website without the need for code.
Some of the methods that Elementor lets you style using the theme builder include:
Headers
Footers
Single Pages
Single Posts
Archives
Search Results
Product Pages
Products Archive
404 Error Pages
WPBakery
WPBakery does not include a theme builder, unfortunately. 
Instead, you can select from numerous prebuilt themes and change individual styling options, as with any other WordPress theme.
One thing to note is that WPBakery does have what they refer to as a skin builder. While this isn't as robust as a theme builder, it does allow you to edit many of the global styling options on your website.
Add-ons
As with integrations, add-ons allow you to boost your website's functionality significantly. Both Elementor and WPBakery have an extensive list of third-party add-ons available to users.
Elementor
Numerous third-party add-ons are available for Elementor that allow you to work around purchasing Elementor Pro or give you the option to expand its functionality.
Some of the most popular third-party add-ons include:
Essential Add-ons
Ultimate Add-ons
Premium Addons
Happy Add-ons
PowerPack Add-ons
Many of these have a free version to get you started with a premium version offering more widgets and features.
WPBakery
WPBakery has a section on their website listing many of the available add-ons for the page builder. 
There are over 250 add-ons available, allowing you to increase the functionality of the page builder. One downside is each of these must be purchased separately.
Some examples of popular add-ons include:
MailChimp Add-on
Easy Tables
Ultimate Add-ons
4,000 Ultimate Icons Add-on
Easy Social Share
Winner: Draw (both builders have an extensive add-ons list though WPBakery can become expensive)
WooCommerce
WooCommerce editing capabilities are essential to look for in a page builder if you are running an eCommerce site or plan to build one in the future.
Elementor
Elementor gives you complete WooCommerce editing capabilities by purchasing the pro version of the builder. 
There are twenty different elements for styling WooCommerce pages precisely as you want them. Some of these include:
Products
WooCommerce Breadcrumbs
Custom Add to Cart
Product Rating
Upsells
More elements are added frequently, and if something is missing, you can likely find what you need with a third-party add-on.
WPBakery
WPBakery also allows you to edit WooCommerce pages to get the exact website you want. However, as with other WPBakery features, you will need to purchase an add-on.
The WPBakery WooCommerce Page Builder lets you edit pages essential for running an eCommerce store, including:
Product Pages
Cart Pages
Check Out Pages
My Account Page
As with other WPBakery add-ons, you will need to purchase the WooCommerce Page Builder through the Envato Marketplace.
Winner: Elementor (both allow you to edit WooCommerce pages, but Elementor has it baked into the pro version)
Parallax Backgrounds and Video
Along with animations, a popular styling option in modern web design is parallax background images and videos. Both builders give you this option.
Elementor
With Elementor, you can easily set parallax background images and video with the pro version of the builder.
There are multiple parallax effects that you can add to your website with Elementor, including:
Scrolling
Transparency
Blur
Rotate
Scale
Mouse Based Effects
3D Tilt
Styling options for parallax effects are located on the left sidebar, similar to the other Elementor styling effects.
WPBakery
WPBakery has made it possible to add parallax effects to the row background since version 4.5.0 was released in 2018.
There are currently only two parallax effects available with WPBakery, simple scrolling parallax effect and fade parallax effect.
Similar to Elementor, you can add these effects through the design options tab of each row that you insert on the page.
Winner: Elementor (more options when it comes to parallax effects than WPBakery)
WPBakery vs Elementor Support
Varied support options are essential when it comes to your page builder. Both Elementor and WPBakery give you multiple ways to solve problems.
Elementor
Elementor provides numerous ways to get your questions answered quickly, both for free users and Elementor Pro users.
Different Elementor support channels include:
Help Center
Elementor Academy
Elementor Blog
Live Webinars
FAQs
Support Community
Facebook Community
Github Community
Pro Support Ticketing System
Aside from the above, it's pretty easy to find articles and videos addressing particular challenges on YouTube and through Google Search.
WPBakery
While WPBakery also provides you with a few different ways to get help, there are noticeably fewer options than Elementor.
With WPBakery, you can choose from three different methods of support, including:
Knowledge Base
FAQs
Premium Support
Aside from this, there are also numerous videos and blog articles addressing specific issues that you can find through Google.
Winner: Elementor (provides more methods of support than WPBakery)
WPBakery vs Elementor Pricing
Both Elementor and WPBakery are premium plugins. The primary difference is that Elementor offers a free version that is powerful and feature-rich enough for basic websites.
Elementor
As noted previously, there is a free version of Elementor that you can use to test out the builder or for basic websites.
With the free version of Elementor, you get over thirty different widgets and most of the styling features. However, you won't have access to the theme builder and other advanced tools.
Elementor Pro starts with a single site option up to 1,000 website licenses for agencies and is a yearly subscription:
There is also an option for managed WordPress hosting for a flat annual fee:
WPBakery
With WPBakery, there is no free version. You can choose to test the builder by getting a temporary testing account, but that will not allow you to use the builder on your website.
You get a flat pricing structure with two different options, regular licensing and extended licensing for SaaS applications:
Despite not offering a free version, one advantage of WPBakery is that it is a lifetime license. This means you get all updates for the entirety of your use of the product.
Winner: Draw (Elementor gives you the benefit of a free version while WPBakery has the advantage of a lifetime license)
Builder Lockin
Code lock-in happens when the builder you use inserts code that will break as soon as you disable the builder plugin.
Elementor
The builder does not hinder you with code lock-in, with one exception. 
If you decide to deactivate the plugin, you will lose the styling and features of the Elementor Pro widgets. All of the Elementor free widgets will remain intact and working.
If you do not renew your Elementor Pro license but keep the plugin, everything will work, including the pro elements.
WPBakery
WPBakery also does not leave you with the issue of code lock-in. 
Because this is already a premium plugin, you don't have to worry about elements breaking if you deactivate the plugin.
One thing to be aware of is that you may lose some styling when deactivating WPBakery, but this is not always the case.
Winner: WPBakery (the exception here is if you are only using Elementor free as you won't experience any issues upon deactivation)
WPBakery vs Elementor Conclusion
The battle between WPBakery vs Elementor is a close one, but, in the end, Elementor does win out in some key areas.
One of the main things that I like is the WordPress page builder's free version which allows you to get started and then scale up to Elementor Pro when you need it. 
There are also key features such as the theme builder and WooCommerce editor that come standard with Elementor Pro. If you opt for WPBakery, plan on shelling out extra money to purchase these separately.
Overall, both Elementor and WPBakery are fantastic page builders. However, it's been my experience that when comparing WPBakery vs Elementor, the latter is the better option for most WordPress users.