Wondering which Amazon book software is better, Book Bolt vs Publisher Rocket?
In this side-by-side comparison, we'll answer all your burning questions to help you determine which one is the best!
Selling books online is a growing industry.
It's where Amazon got its start. 
Today, the book industry has grown to 650 million dollars per year, just for print books! 
Amazon KDP booksellers, whether they're retailers or independent book flippers have an opportunity to run a very lucrative business, like this seller Nathan Walsh that turned $600 to $6,000 in three months with book flipping!
Where does book software come in and is it worth it?
When looking at Book Bolt vs Publisher Rocket, both have one thing in common. They provide tools to booksellers to help them with things like:
Research and competitor analyzer
Pricing
Trendspotting
Listing optimization
Design
You're using Amazon KDP for self-publishing your books and as an independent bookseller, software tools like these are a nice compliment to your book-selling business. They can help you work smarter not harder so you can continue operating and growing a flourishing book business.
Let's get into the review.
You can Test Out Book Bolt Here
You can Test Out Publisher Rocket Here
Differences of Book Bolt vs Publisher Rocket
First, let's talk about Book Bolt vs Publisher Rocket and how they're similar.
They both offer keyword tools for users, which helps locate high search volume, low competition profitable keywords to go after when listing books for sale. Keyword research can help you locate hidden niches and use the right words in your product listing title and description.
That's where the similarities end.
The two software tools vary in many areas like:
Interface
Sales and competition analyzer
Design tools
They'll both help you save time and optimize your product listings, among other benefits but what you'll learn is that Book Bolt includes the low content publishing community in their audience, and Publisher Rocket does not.
What are low-content books?
Low content books include journals, diaries, logbooks, and similar print books. The book is designed more for writing than reading. If you're a low-content bookseller, Book Bolt has more of the features you're looking for to grow your business.
Book Bolt has many tools built into the software whereas Publisher Rocket exists mainly for keyword, sales, and competition analysis.
So, Book Bolt will help you find keywords and create your book.
Publisher Rocket's focus is to help you craft a winning title, subtitle, and book description through keyword research so you can sell more books.
Based on your needs, you can pick one tool or the other to help you grow your business but before you do, here's a breakdown of what Book Bolt and Publisher Rocket offer.
Book Bolt Overview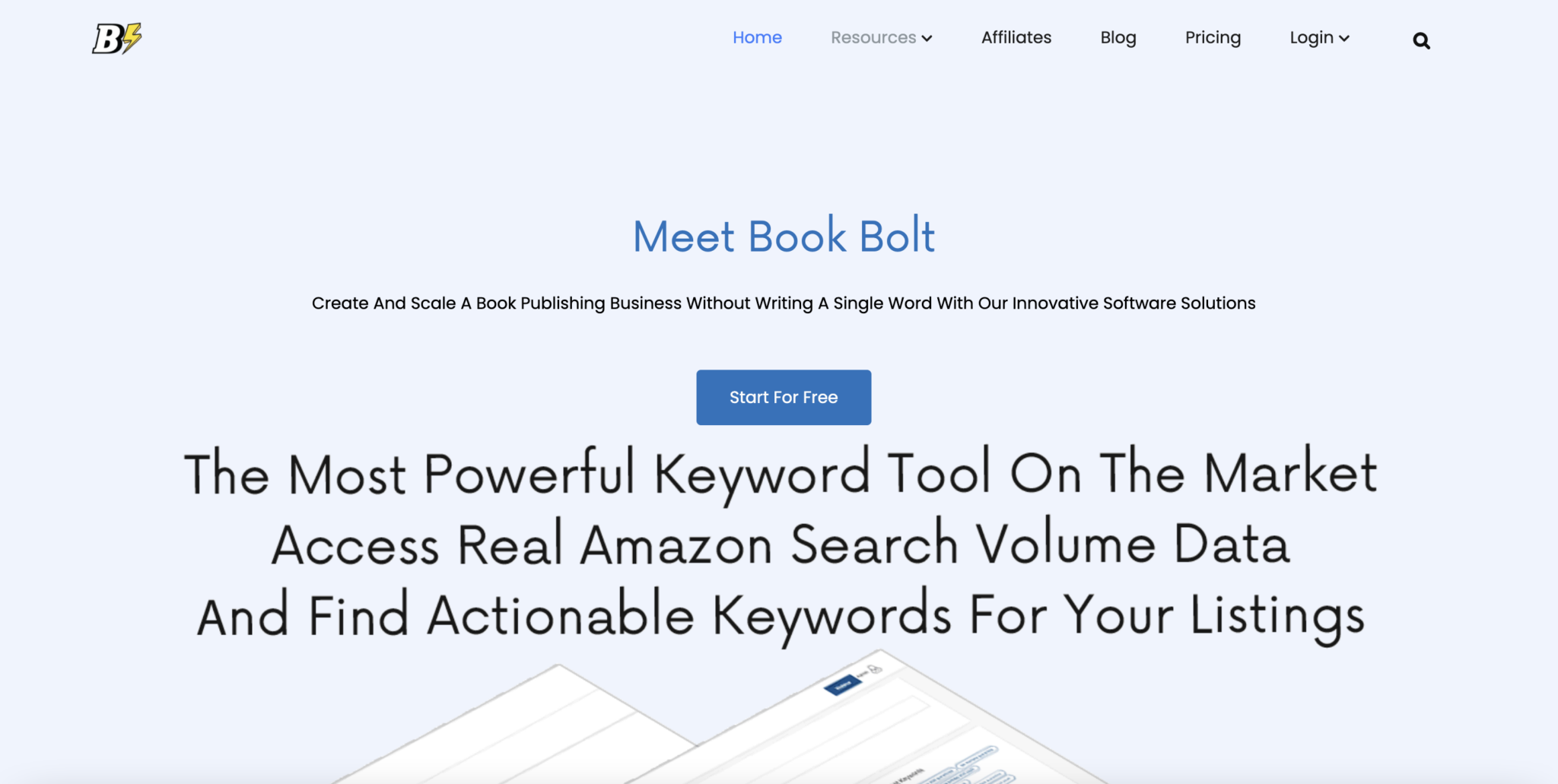 Book Bolt exists to help you build and grow your Amazon KDP book business. They seem to cater more toward beginners that may need more support with creating, writing, and selling their books.
They serve all Amazon booksellers and seem to aim at low content sellers as their main target market, evidenced by some of the design tools and software offered that are geared more toward low content books.
If you sell low content books, you'll want to have Book Bolt in your toolbox and if you don't, you'll still get good use out of the software for their research, analytics, and data-tracking capabilities.
Key features
Keyword research tool
Cover and interior designer
Product database
Trend hunter
Listing optimization
KDP Spy extension
Puzzle and activity book generator
Keyword research tool
Get insights into Amazon keywords including search volume data.
Amazon's search algorithm is complex and using tools to help you navigate can save time and run a more efficient Amazon book business.
Keywords can be the driving force behind the success of your Amazon book business.
Amazon keywords, like s'mores Pop-Tarts, are foundational. – Wordstream
Cover and interior designer
The cover and interior designer have a drag-and-drop interface to make it easy for you to design your books. You'll get access to over 100 unique interiors that you can customize to suit the style of your books.
You get:
1200 free fonts
Access to over 1 million royalty-free images
Cover creator and drag and drop editor
Filters, patterns, and more
The designer makes it simple to create your book cover and book interiors quickly without any design experience.
Product database and Trend hunter
Browse over 5 million titles in their product database to find an untapped niche and find trends.
Trendspotting is extremely important in business, especially product businesses.
Being able to locate trends in the market that you can adopt will help you adapt to the everchanging business climate your business is operating in.
Spot trends and jump on them before anybody else.
Being the first to market with a trending product will help you be the head of the pack not only increasing your revenue but also solidifying your reputation as an industry leader.
It can be difficult to do this on your own so this built-in feature offered by Book Bolt is a great addition to the suite of tools they offer with your subscription.
Listing optimization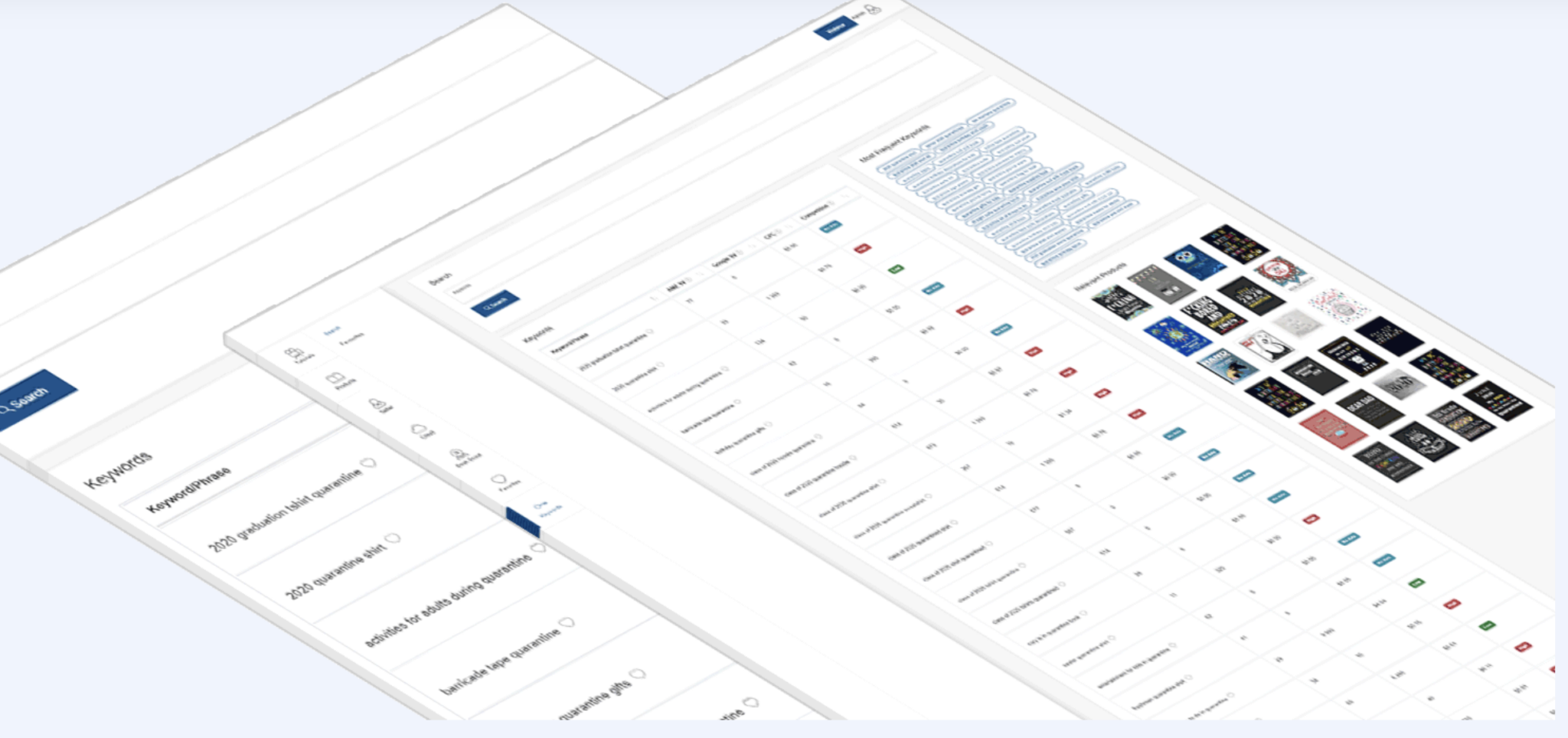 Listing optimization is about making your Amazon product listings the best possible so you get visibility in the search results.
From keyword selection to picking the right product category, Book Bolt's listing optimization tool can help make this process easier and ensure all your Amazon listings are set up the best way possible.
KDP Spy Extension
The KDP Spy extension lets you conduct research quickly while using Amazon.
BONUS: Puzzle and Activity Book Generator (Yearly Pro Plan only)
The puzzle and activity book generator is a perk of getting the Yearly Pro plan with Book Bolt. It helps you build puzzles and activity books 
Coloring pages
Sudoku
Word scramble
Cryptogram
Maze, and others
You can save so much time using the puzzle and activity book generator. You can use any mix of hundreds of interior files at your fingertips, writing and creating books for mazes, puzzles, games, and faster.
Book Bolt Pricing
Book Bolt offers monthly and annual pricing. You get the best value if you go for the annual pricing which is:
$89.99/year for the Newbie plan
$199.99/year for the Yearly Pro plan
Each plan offers a free 3-day trial to give you time to test drive the software and see how it works.
Once you decide which subscription plan to go with, you'll be able to upgrade any time in the future. There's no long-term contract which means you can cancel any time with no penalty or fees and you'll still have access through the end of your billing period.
Newbie plan vs. Yearly Pro plan
You'll get full access to features like their keyword research tool, cover/interior designer, Amazon search feature, KDP spy, and 24/7 support.
The Yearly Pro plan offers one feature that you won't get with the Newbie plan and that's the puzzle creation software that lets you make puzzles for books you create.
Pros and Cons of Book Bolt
Now, let's take a look at the pros and cons of Book Bolt.
Pros
Many built-in tools included in your subscription
Design features
Puzzle and activity book software included in Yearly Pro plan
Cons
Book Bolt offers a host of tools to help with your book business from, keyword research, design, trend spotting, and more. It caters to all Amazon book businesses including low content booksellers. 
You'll like the puzzle and activity book software which helps you effortlessly create puzzle and activity books quickly. This is a perk of joining Book Bolt's Yearly Pro plan which is an added benefit above Publisher Rocket but, I don't like that it's not offered to everyone.
You'll only get access if you select the more expensive pricing plan, Yearly Pro which puts the puzzle/activity book software out of reach for some booksellers.
Lastly, despite offering monthly and annual plans, Book Bolt is expensive. Their recurring pricing plan means that you'll continue to be indebted to them for as long as you run your Amazon book business and continue using their software.
You can call it a business expense but it doesn't beat Publisher Rocket's lifetime price model.
Publisher Rocket Overview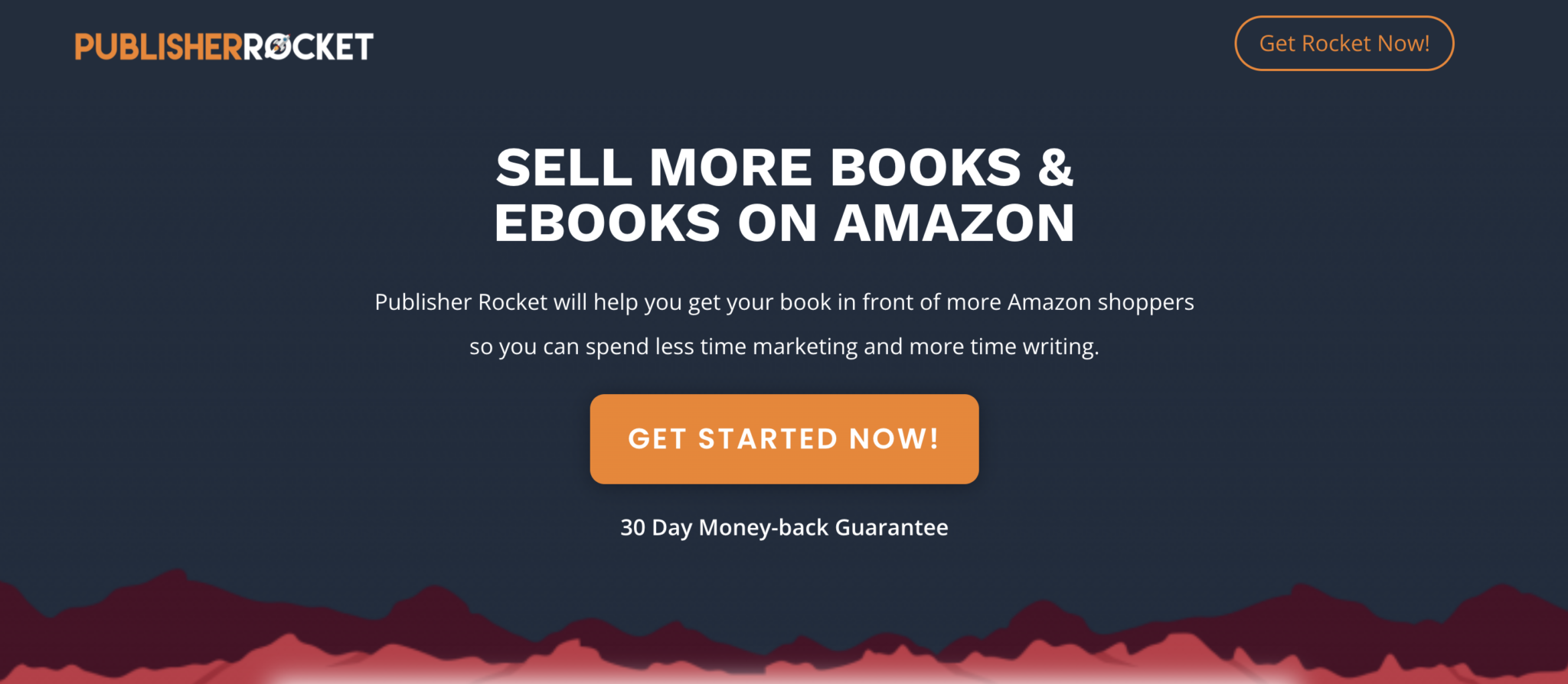 Publisher Rocket is a software tool for creating Amazon books and Amazon ads. Their goal is to help you make the most money possible by getting your books in front of your target audience.
Consumer reviews on the site show that users are happiest with the time-saving benefits they get using Publisher Rocket for keyword research.
They offer a suite of four built-in tools to help you grow your book sales through keyword research, competition analysis, and ad creation.
Key features
Keyword research tool
Insights about the competition
Analytics about Amazon categories
Insights for Amazon ad creation
Keyword research tool
Keyword research can be the fuel behind a successful Amazon book business. Publisher Rocket's keyword research tool will help you pick the right keywords based on:
What Amazon shoppers are typing into the search
Estimated number of times the keyword is searched
How much money is being made by books that are ranking for that keyword
How many sellers are competing for that keyword
Competition insights
Next, you can learn about the competition by checking out potential competitors including reviewing their book cover, listing price, daily and monthly income, and several pages in their book.
Amazon category research
You'll be able to discover the bestselling Amazon categories to help you use the best categories for your Amazon books.
Detailed insights will be available to you like:
How many sales you'll need to make the #1 bestseller
How many sales are required to make the Top 10
What niche categories best fit your book
What categories are the bestselling 
Amazon Ads
The Amazon Ads feature will help you with book marketing. You can spot effective keywords for your Amazon Ads campaign. You'll be able to quickly compile a list of high quality keywords that you can plug into your ad campaign.
You get:
Suggested Amazon keywords list 
Title and author names for the keywords you're researching
Access to ASINs and ISBNs for creating the best ad campaigns
Publisher Rocket Pricing
Publisher Rocket has a simple, one-time price of $97.
The lifetime pricing model offers a lot of value for customers and takes the stress out of picking from multiple plans available.
The one price option also prevents any gatekeeping from happening like Book Bolt has in place, only making certain features available based on the pricing plan customers choose.
Publisher Rocket Pros and Cons
Let's take a look at the pros and cons of using Publisher Rocket for your Amazon book business.
Pros
Keyword research and competition analysis
Tools for Amazon ads and book marketing
Lifetime value pricing
Cons
Publisher Rocket is a customer favorite and one of the best book software programs for Amazon booksellers.
They offer the tools you need to improve your visibility in Amazon search and increase your book sales. You also get invaluable data for your Amazon ads campaign that can help you build targeted ad campaigns and make more money in your books/ebooks business.
The lifetime value pricing is unmatched. One price and lifetime access to Publisher Rocket, which definitely beats out the competition.
Publisher Rocket is a good choice for booksellers that are selling content books like textbooks, fiction and nonfiction books, and reference books.
If you sell low content books like journals or diaries, you won't get any design features with Publisher Rocket like you would with Book Bolt but that doesn't mean it's not the best choice.
If you're a designer yourself or if you outsource the cover and interior design, then this added feature is unneeded and won't add to the experience you're getting from Publisher Rocket.
Is Publisher Rocket the same as KDP Rocket?
Yes, Publisher Rocket is the same as KDP Rocket.
Publisher Rocket was formerly known as KDP Rocket and since the name change, it's been upgraded to the 2.0 version which applied improvements to some of the tools like the keyword and category research tools.
Book Bolt vs Publisher Rocket: Final verdict
Book Bolt vs Publisher Rocket, who wins?
It's a draw!
Book Bolt is a good solution for no content/low content book publishers. The design/interior tools are unmatched and the puzzle/activity book generator is a valuable asset that makes creating puzzle/activity books fast and easy.
Publisher Rocket is a smart choice for book authors who are looking to market their book on Amazon. The Amazon ad features help you find keywords for your Amazon ads that you can export right into your AWS campaign!
So, based on what kinds of books you create and what your goals are, Book Bolt is recommended for low/no content publishers and Publisher Rocket is a good pick for book authors with marketing needs.
Which Amazon book software will you be getting?