Are you trying to choose between Sedo vs Afternic for buying and selling your domain names?
Both are well-known domain industry brands and come with added features and benefits, so whichever one you go with won't necessarily be a terrible decision.
However, as with most companies, for every set of good features, there's usually at least one poor area that could make or break your decision whether to use them or not.
The differences between the two companies could mean you'll be better off using one over the other.
And that's where this article comes in handy.
We'll provide you with an introduction to both, including the main features, fees, support, and anything else you need to know about the two domain name marketplace businesses. By the time you've finished reading, you'll have a better understanding of which one is best for you.
Let's get to it.
Sedo vs Afternic: Quick Introduction To Both
Sedo and Afternic are both established names in the domain name buying and selling space. If you're a domain investor, you'll probably know the best places to sell your domain name, but for those who don't, here's a brief introduction to both companies.
Sedo
According to Sedo, they're the leading domain listing service in the world, with over 19 million domains listed and over 2 million customers.
Founded in Germany in 1999, the company offers a domain name platform for those buying and selling premium domain names.
In addition to the above, Sedo provides various other features and benefits for their customers.
For example, if you want to buy a TLD (Top Level Domain} or sell an existing one, the company can fulfill your needs, as they have done for thousands of customers over the years.
Afternic

Afternic is another big name in the domain investor space. Like Sedo, Afternic was founded in 1999 and offered a domain platform to buy and sell domains.
They are part of a vast network of domain name registrars worldwide and receive an estimated 75 million domain-specific searches each month.
Afternic is owned by GoDaddy and offers extra features and benefits for its members. For example, you can park, buy, and sell domains with Afternic.
Sedo Main Features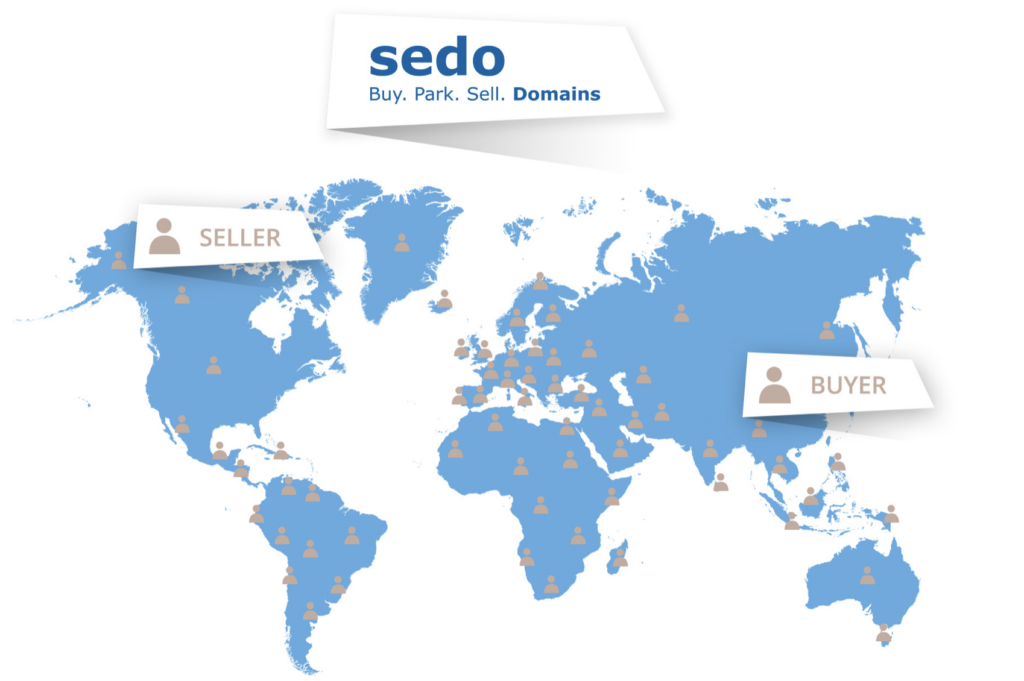 Sedo offers numerous services to all its customers, some coming at an extra charge.
For example, you can set a "buy now" price for your domain name, negotiate a price, or start an auction.
In addition, there's a broker service available for a small fee, which helps you find, buy, or sell a domain on your behalf. They discreetly negotiate with the sellers to get you the best price.
Sedo also offers a domain name appraisal service that effectively values your domain name or portfolio and works on 10 factors: SEO suitability and advertising ability are two examples of the 10 factors used for the appraisal service. 
Other features at a glance for Sedo include:
Transfer Service: the transfer service ensures the smooth running of buying and selling your domain name. It's free for domains listed on the Sedo platform and comes with a 3% fee for those outside the Sedo platform. You can learn more about the transfer service on the Sedo website.
Sedo Partner Program: you can earn money by referring others to the marketplace. 
Marketplace Filters: the domain marketplace listings page allows you to filter your search by a domain name length, special characters, price, and more.
Domain Parking Commission: If you park a domain name on the site, you will earn a commission every time someone clicks on an ad on your specific landing page. Domain parking is a free service and offers a cash incentive to all members.
Afternic Main Features
Afternic provides various features, similar to what Sedo offers.
For example, you can earn money through their parking service, and you can also use their appraisal and agent services to help you buy and sell your domain names.
Other features include the "sales acceleration" feature, which helps you sell your domain name faster. You get tips and suggestions to improve the listing of your domain. The "fast transfer" option gets your listing in front of more people for greater exposure.
Other features at a glance for Afternic include:
Premium Network: you have two network choices at Afternic, premium and standard. If you registered your domain at one of the many domain registrars listed on the site, you will receive an email about opting into the premium network, which offers more exposure.
Domain Appraisal: for a small fee, Afternic will appraise your domain name/s. Here's an example of a domain appraisal.
Vast Distribution: you have the potential to get your domain name listed to over 100 resellers.
Sedo Fees
Sedo offers free registration and no fees for buying, transferring, and parking domain names. However, for an expressed transfer of your domain name, you pay a 3% fee.
If you purchase a parked domain or a "buy now" domain sold on the Sedo marketplace, you will pay a 10% commission on top of the purchase price.
For domain auctions, you will pay 15% of the most significant bid, and for any other sale on the marketplace, you pay a 15% charge of the gross price.
For appraisal and broker fees, as well as all other costs, visit the price list page on Sedo.
Afternic Fees
A 20% commission fee is added for domains up to $5k, and sales between $5 and $25k are charged 15% plus $1,000. If you sell for over $25k, the charge is $4,000, plus 10%.
You can read the  FAQ page for more information on Afternic fees.
Can I sell GoDaddy Domains on Sedo?
Yes, you can sell a GoDaddy domain name on Sedo if that's what you want to do. However, depending on the sale price, be sure to compare fees and added costs before listing.
Sedo vs. Afternic Support (Which Is Better?)
Both domain name marketplaces offer email, phone, and a support center for the customers and members.
While researching the Sedo vs Afternic review, I found no evidence of one company having better support than the other.
Sedo vs Afternic — Which One Is The Best For You?
Both offer free listings, so using both companies to sell a domain name isn't the worst idea in the world.
But, of course, if your domain is a premium one, you will have to determine the fees and other aspects like how fast you want to sell and if you'll be using a broker or appraisal service.
Take a look at both websites, and see how much it would cost you to sell for the price you have valued your domain. If it's a ridiculous amount more in fees, you probably have your answer. 
If you're a buyer, use both Afternic and Sedo because you could find the deal of a lifetime on either site.