Last year, more than 60% of sales on Amazon came from third-party sellers — most of which are small to medium-sized businesses. Based on Jungle Scout's 2023 State of the Seller Report, we know that nearly all Amazon sellers have different methods of finding success on Amazon.
A key differentiator among Amazon sellers is the fulfillment method they choose: Fulfillment by Amazon (FBA) and/or Fulfillment by Merchant (FBM). 
Nearly all Amazon sellers (86%) sell using Amazon FBA, and over a third (37%) use Amazon FBM. Broken out, Amazon sellers sell:
FBA only: 64%
FBA and FBM: 15%
FBM only: 22%
We'll take a look at the primary differences between these two fulfillment methods — including which requires more experience and which is more profitable — as well as the factors you should consider when choosing whether to fulfill with Amazon FBA or FBM (or both!).
What's the difference between Amazon FBA and FBM?
Here are the main differences between Amazon FBA and FBM:
Fulfillment by Amazon (FBA): A fulfillment method on Amazon in which a seller (or a seller's supplier) sends their products directly to Amazon's fulfillment centers. Amazon then stores the inventory and handles the picking, packing, and shipping of all your orders — they'll even handle customer service for orders fulfilled with FBA. 
Fulfillment by Merchant (FBM): A fulfillment method on Amazon in which a seller lists their products on Amazon, but manages all storage, shipping, and customer support themselves (or through a third-party fulfillment center).
Which Amazon fulfillment method should sellers use?
For both small businesses or at-home sellers to major brands with elaborate supply chains, all sorts of Amazon sellers can benefit from both Amazon FBA and FBM fulfillment methods. But how do you choose what's right for your business?
There are seven major factors you should consider before you select a fulfillment method on Amazon. 
Size and weight of the product
Control of customer experience
Seller feedback
Inventory turnover rate
Logistics
Expenses and fees
Prime badge
Below, we'll go into full detail on each of those factors, but first,  is a quick overview of which fulfillment method you should use based on the 6 factors.
You should use FBM if…
You want more control over your customers
Excellent customer service practices are in place
The products you sell are oversized or heavy
You already have logistics in place
You're able to mitigate the expenses involved in fulfilling your own products
Your inventory turns over slowly
You should use FBA if…
The products you sell are small and lightweight
You're okay surrendering control to your customers to Amazon
You want Amazon to handle your customer service
Your inventory turns over quickly
You do not have logistics in place
Your expenses would be higher if you fulfilled your own products
Can Amazon sellers use both FBA and FBM fulfillment methods?
Yes. In fact, Jungle Scout's data indicates that 22% of Amazon sellers sell both FBA and FBM. 
If you have a large variety of products, you may consider using both to benefit from the two. 
For example, imagine you sell two types of products. One product is oversized and turns over slowly. The second product is small and turns over quickly. To maximize your profits and minimize your expenses, you would use FBM to sell the large/slow-selling product and FBA to sell the small/fast-selling product.
You can also create an FBA and FBM offer for the same product under one ASIN. Some sellers do this in case their FBA inventory runs out but are still able to fulfill orders via FBM. 
7 factors to consider before choosing a fulfillment method on Amazon
While FBA is an amazing service that most Amazon sellers take advantage of, it may not work for every product sold on the platform. Let's go over the top 6 factors you should consider when choosing how to fulfill your products on Amazon. 
1. Item size/weight
Amazon's fee structure and logistics are beneficial to FBA sellers who have small, lightweight products that turnover (sell) quickly. Inversely, Amazon's fees (specifically FBA fees and storage fees) are not conducive to selling oversized, heavy products.
To decide which fulfillment method works best for your product, you can use Amazon's FBA revenue calculator to forecast fees and expenses.
Here's an example of where FBM may make more sense for your business than FBA.Let's say you are selling a non-inflatable kayak. Something of that size will take up a lot of space in Amazon's fulfillment centers and be costly to ship. Assuming you have the space and capabilities to ship a kayak, it will likely be more profitable to ship an item of this size yourself. 
Let's use this product on Amazon as an example.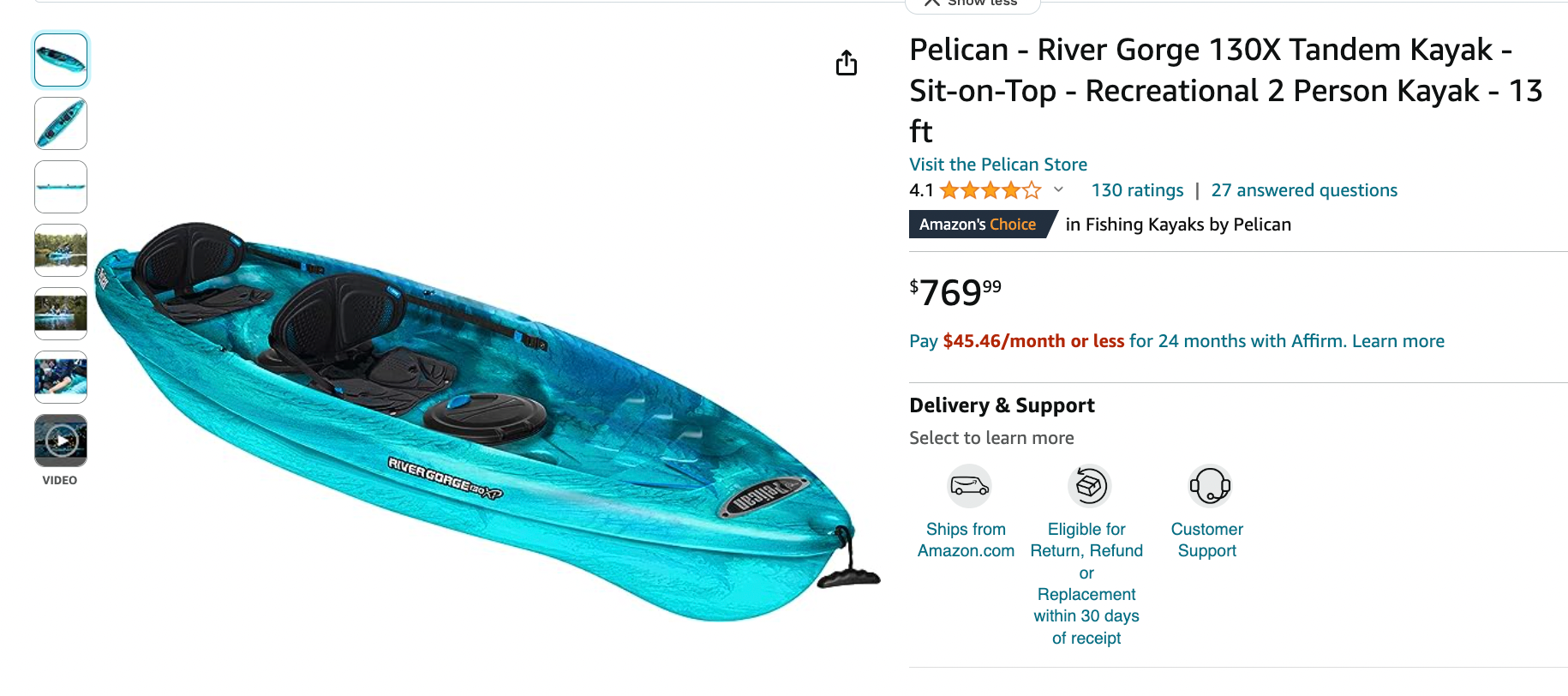 We'll plug the ASIN of this product into the Amazon Revenue Calculator to get a breakdown of the fees for both FBA and FBM.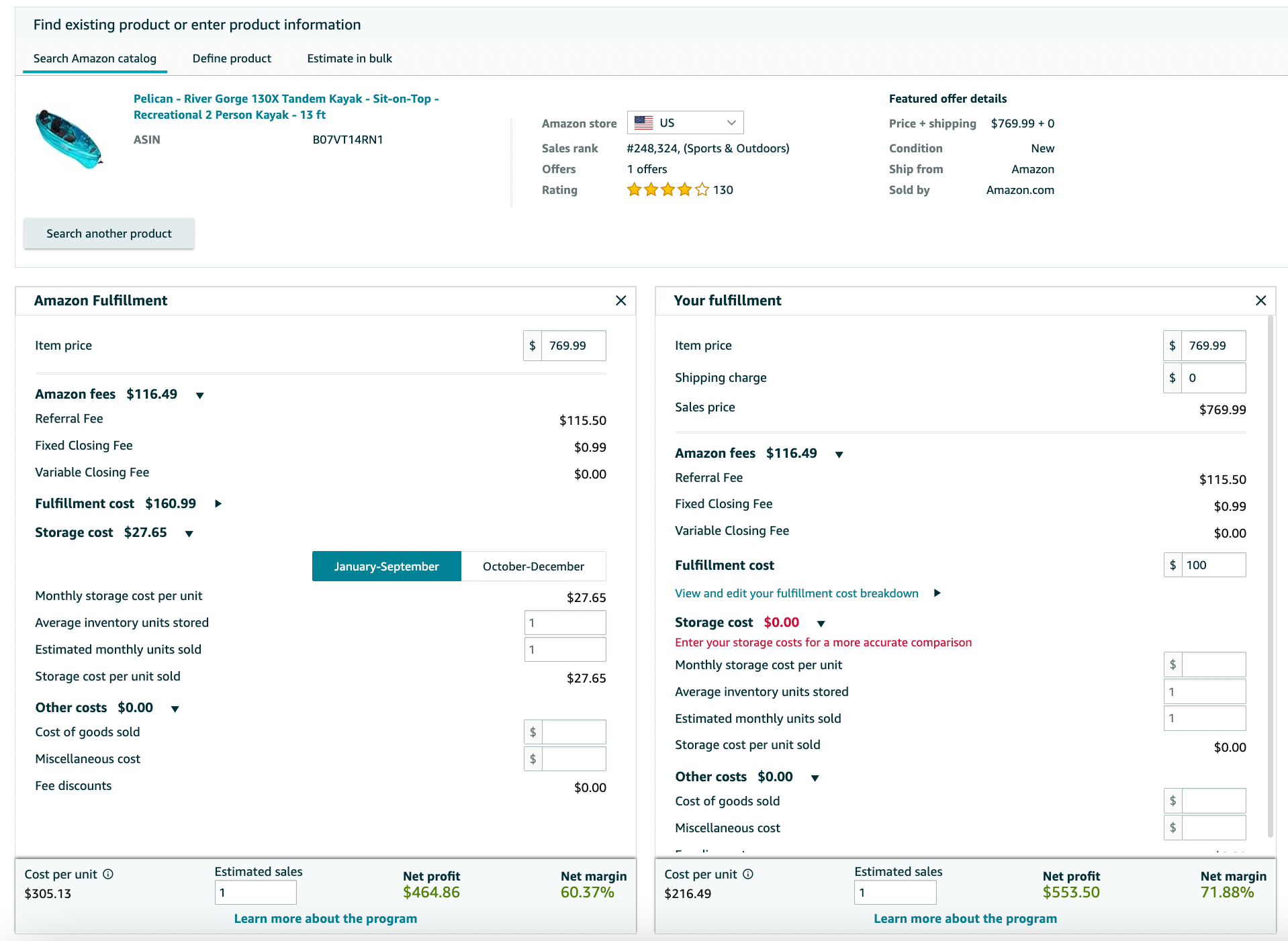 Before inputting the costs of goods, it will cost $305.13 in just Amazon fees and fulfillment fees if you use FBA. For the FBM example, I input the fulfillment cost as $100. If we can ship this product for that amount, we would profit roughly $100 more per unit — plus, save on monthly storage fees ($27.65 per unit) if a product this size was stored in FBA. 
Make sure you calculate your products costs before deciding which fulfillment method works best. 
2. Control of customer experience
FBM sellers store their own products, ship their own products, and handle all of the customer service for their Amazon sales. 
On the other hand, sellers who use FBA use Amazon to store and ship their products and handle customer service on their behalf. FBA sellers rarely, if ever, speak with their customers. As such, FBM sellers have greater control over their customer's experience.
If you want a more hands-off approach, especially when dealing with issues such as customer returns, FBA is the option for you. 
3. Seller feedback
Amazon's seller feedback system is a way for customers to communicate to Amazon their satisfaction with third party sellers and the resulting transactions.
Seller feedback has two components:
Star rating: Like a product review, the shoppers can rate the seller's performance on a scale of 1-5.
Comments: In addition to the star rating, shoppers can leave comments on why they granted a certain rating to the seller.
Note that the seller rating is different from a product rating/review. The seller rating only covers the elements of the actual transaction such as shipping, whether or not the product matched its description on Amazon, and seller communication.
Because Amazon handles the majority of the steps involved in fulfilling FBA products, FBA sellers have less to worry about when it comes to seller feedback. In fact, if Amazon handles an FBA seller's transaction and the seller receives negative feedback, the seller can request for the feedback to be removed.
Because FBM sellers have more control over their transactions, they are more susceptible to receiving negative seller feedback on Amazon.  As such, FBM sellers must focus more on the condition of the products they send, the speed at which they send them, and how they handle all communications with sellers.
4. Turnover rates
A seller's turnover rate is the speed in which they sell and restock inventory. An FBA seller's turnover rate is important because Amazon tracks the length of time that inventory remains in these fulfillment centers.
The longer a product stays in a fulfillment center, the more storage fees the product accrues. Then, if products are stored in an Amazon fulfillment center for 180 days or longer, your inventory will start incurring an aged inventory surcharge (previously known as a long-term storage fee) and it will negatively affect your IPI score and ability to send more inventory to FBA.
READ MORE | How to Improve Your Amazon Inventory Performance Index Score
 Therefore, sellers with products that have slower turnover rates should consider fulfilling their own products to avoid Amazon's expensive storage fees.
5. Logistics
Picking, packing, and shipping one's own products can be incredibly time consuming. Therefore, it's recommended that a seller just starting with Amazon who does not already have their own fulfillment logistics in place start with Amazon FBA. That way, they can focus on the other important elements of building a business using Amazon. 
For sellers who are adding Amazon as a new sales channel and already have logistics in place, they may still want to review whether or not Amazon FBA can save them money on fulfillment, especially if they sell and ship high-turnover products.
6. Fees
Amazon FBA sellers must pay FBA fees to ship goods via Amazon's fulfillment network. FBA fees cover the costs to pick, pack, and ship the goods to the consumer. In a way, they are "shipping and handling expenses" that Amazon charges.
While Amazon FBM sellers do not have to pay FBA fees, they must still consider the expenses involved in handling and shipping their own products. This includes storage costs, labor costs, product packaging costs, and the actual cost to ship the product.
If these costs are greater than what the fees would be to let Amazon handle the fulfillment, the seller should consider using Amazon FBA.
7. Prime badge
Products that are fulfilled by Amazon will automatically be eligible for Prime shipping and will feature the famous Prime badge on your listing. There are over 200 million Amazon Prime members worldwide, and they're looking for Prime products that will arrive to their house in 1-2 days. 
Prime shipping eligibility is a huge advantage of using FBA over FBM. Though, there is a way to offer Prime shipping as an FBM seller with Seller-Fulfilled Prime. 
READ MORE | Amazon Seller-Fulfilled Prime 2023 Guide
What are the key differences between FBA and FBM sellers?
Beyond the methods they use to fulfill their products, we discovered a few key differences between sellers who use FBA and those who use FBM — according to data from our 2023 State of the Seller Report.
Which is more profitable: Amazon FBA vs FBM?
FBM sellers have more sales and larger profit margins.
28% of FBM sellers earn more than $25,000 per month in revenue versus 12% of FBA sellers
35% of FBA sellers have profit margins over 20% versus 38% of FBM sellers
Which sellers get started selling faster: Amazon FBA vs FBM?
FBM sellers launched their Amazon businesses faster than FBA sellers.
42% of FBM sellers took less than two months to get started on Amazon versus 41% of FBA sellers
15% of FBM sellers realized a profit in fewer than three months versus 14% of FBA sellers
Which method requires less time to manage: Amazon FBA vs FBM?
FBA sellers spend a similar amount of time on their business as FBM sellers.
22% of FBM sellers spend 11-20 hours per week in the Amazon business versus 22% of FBA sellers
Both FBM and FBA sellers attribute their success on Amazon to having time to commit to their businesses (53% and 52%, respectively)
What are the top product categories for FBA and FBM?
Fulfillment by Amazon
Category
Percent
Home & Kitchen
30%
Toys & Games
15%
Sports & Outdoors
14%
Health, Household & Baby Care
16%
Beauty & Personal Care
24%
Kitchen & Dining
30%
Office Products
12%
Tools & Home Improvement
10%
Grocery & Gourmet Food
11%
Garden & Outdoor
11%
Fulfillment by Merchant
Category
Percent
Home & Kitchen
25%
Health, Household & Baby Care
18%
Toys & Games
17%
Sports & Outdoors
16%
Beauty & Personal Care
26%
Tools & Home Improvement
13%
Books
16%
Office Products
14%
Garden & Outdoor
14%
Kitchen & Dining
25%
Other findings: Selling Amazon FBA vs FBM
FBA sellers are heavily focused on
private label
sales, while FBM sellers engage in other sales models at much higher rates.
55% of FBA sellers use the private label business model versus 44% of FBM sellers
35% of FBM sellers use the wholesale business model versus 26% of FBA sellers
FBM sellers tend to start with less start-up capital
17% of FBM sellers started with $2,501-$5,000 versus 18% of FBA sellers
46% of FBA sellers started with more than $5,000 versus 43% of FBM sellers
What fulfillment method do you use for your Amazon business?
We hope this article gives you a better understanding on the differences between FBA and FBM. Which fulfillment method do you use for your business? Let us know in the comments. 
For more Amazon seller data, see Jungle Scout's 2023 State of the Amazon Seller Report.