Have you ever stared at the screen, not knowing what to blog about? Your mind has gone blank, and you have no idea what blog posts to write next.
Don't worry. It's called writer's block, and it happens to the best of us.
It's usually a temporary issue, and ideas will eventually come rushing back; however, sometimes, the problem can persist, and staring at the blank screen can become a regular occurrence.
When this happens, what you need is a jump start for your mind, and that's what this article is about to give you.
You're going to get 125 blog post ideas for multiple niche markets and learn techniques that can help you develop ideas whenever you need them. 
They will get your creative brain flexing and help you to develop hundreds of blog post ideas.
That sound good?
Great, let's get started.
Blog Posts To Inspire People
You can use these blog post ideas whenever you want to inspire your audience. 
Create a list post of the leading authority bloggers in your niche market, and explain how they inspire you.
Create a blog post of things that make you feel happy when feeling down.
Write a post about your insecurities and how you overcome them.
Show your audience that imposter syndrome is something we all have some time in our lives.
How you deal with anxious thoughts.
How you create a work and life balance
What you've learned about being productive
Share a success story about a person in your niche who is now thriving.
Share your favorite inspirational quotes and explain what you take from each one.
How to set goals and achieve them
Teaching and Educational Blog Posts Ideas
According to TechJury, the e-learning market will be worth a whopping 325 billion by 2025. This prediction proves people are searching online to learn, and the following posts' ideas are great for teaching and educational purposes.
Create a step-by-step guide for anything related to the niche you're targeting.
Write a list of books that you recommend.
Combine a blog post listing the best online and offline courses available.
Write a cheat sheet article.
List the skills you have and create a blog post sharing what they are and how you obtained the skill.
Write an in-depth review of books, courses, and products.
Choose two products and write a comparison for both of them.
How to get the most out of a course
Combine a list of the authority figures in your niche and write a blog post highlighting them and what they are doing, etc.
Write a weekly round-up of the latest news for the blog topic you are covering.
Blog Posts About Your Blogging Success
You have a blog, so you probably have the experience and skills that you can write up in a blog post. Below are a few ideas to get you started.
Write a weekly article displaying your traffic stats for the week.
Highlight the blogging tools you use on your blog.
Review each tool.
Tips for starting a blog.
Which hosting company do you recommend?
Tell the story of how you can come up with your blog name.
What mistakes have you made when blogging? — tell your audience in a blog post.
How did you come with blog posts ideas (Hint: you're reading it)
How long did it take before you started to see success from your blog?
What traffic methods have you mastered for your blog, and how did you master them — write a blog post for each one.
What To Blog About As A Teenager (or for teenagers)
Quick grab a teenager now while they still know everything! This old joke still rings true today, and while you may think teenagers can blog about anything (because they know everything, yeah?), there are still some blog posts that suit them more than others.
Here are a few suggestions.
List your favorite burger bars in the area you live.
Write a blog post about your favorite band or singer.
Provide tips on how to be a perfect friend.
Write a list of activities to do on a night out without getting drunk.
Compile a list of your favorite apps and put them in an article.
Write about your star sign and what they are telling you each day.
Create fashion jewelry and write a blog post for each item.
Blog about your favorite clothes, the shops you got them from, and any bargains you have found.
The latest movie releases are always an excellent topic to talk about on your blog.
Teenagers love their cell phones, so write blog posts about your cell phone and what you have learned about it, plus any cool accessories you can get for them.
Light-Hearted Blog Post Ideas
Light-hearted blog posts can break up your usual niche content. It's a great way to add a bit of fun and humor to your blog.
Write a post containing unknown facts about your life and the business.
Try to come up with a funny take on a trending event. For example, write your take on it with humor if something dominates the news.
Compile a list of your best jokes and write them down in an article on your blog. Use your own or even your dad's worst jokes that secretly made you giggle.
If you could meet your hero, and you were only allowed to ask three questions, what would they be? 
Pull apart a movie that you found so far-fetched and overrated.
Give something away in a competition, such as a book, a voucher, or anything. You can blog about the competition and ask your audience to participate.
Write a blog post on what you want for Christmas, birthdays, Mothers Day, Fathers Day, and so on. (there are four articles straight away)
Write about your partner, your kids, and your grandkids.
Have you been on vacation — write a blog post about the journey, the place, the food, or even the weather.
Create a challenge like losing weight or quitting sugar and write weekly blog posts updating your progress.
What To Blog About As A Tradesperson?
Tradespeople start blogs but tend to run out of ideas because they think it's only actual step-by-step guides that their audience is looking for, but this simply isn't true.
There are many other things you can blog about, and below is a few ideas to get you started.
Write articles for power tool reviews.
A how-to guide on each aspect of a job. For example, write a blog post that focuses on preparation for a job, then another on the next step, and so on.
Write about work clothes and PPE.
There will be some people who are reading your blog who'll want to know how to learn more about the trade. Offer advice on how to learn, qualify, and any courses you recommend.
Bizarre Blog Posts
Bizarre blog posts make for fascinating reading and can get some big traffic numbers if you write them well.
Share conspiracy theories with your blog readers.
Talk about any crazy stunts or dares that have gone spectacularly wrong.
Write blog posts about animals that do some weird things, like killing the male after mating (it happens, google Praying Mantis)
Share the scariest ghost stories you know.
Write a blog post about peculiar human beings — like the tallest man, the person with the longest beard, fingernails, and son.
Create a post on various cultures and tribes.
Highlight some bizarre food choices that people eat in different countries.
Write a blog post on some crazy laws throughout the World.
Go further and write up some extreme punishments that still happen for breaking the law.
Write about bizarre fashion disasters on celebrities.
Business Blog Post Ideas
If you run your own business, you may be wondering what to write about on your blog. Take a look at the following blog ideas for inspiration.
Write a case study about any recent work you have done for a client.
Highlight a new service you are providing.
Have you added a new feature to a SAAS product? If you have, write about it and what it can do for them.
Meet your staff blog posts are always worth noting.
Interview an expert in your niche, and post on your blog.
Create a blog post about the day in the life of the CEO.
Highlight any webinars or free reports you are running or giving away.
Compile a list of common questions you receive and answer them in a blog post.
Write an article on the direction and plans you have for the business.
Run a competition to win a premium package or service from your company. Write blog posts about the competition, how to enter, and the benefits of winning.
High Demand Blog Topics
The blog post ideas are suitable for a wide variety of blogs. They are high-demand blog topics and are responsible for blog posts that can go viral.
Personal Finance Niche
Personal finance is a hot topic, and you can create some articles that could drive substantial traffic numbers to your blog. Below are a few ideas to get your creative juices flowing.
How do you save money each month on household bills? Write a post telling your audience.
List the best loans on the market and write a blog post for each one.
Provide Covid friendly finance tips.
Make a list of side hustles (ways to make money) and write a blog post for each one.
Offer your opinion on the best retirement pensions available, and write a blog post for each option.
Ask your audience to send in their questions, and answer each one as a blog post.
Relationship Niche
There are hundreds of angles to approach the relationship niche, and when it comes to writing blog posts, your options are endless. 
Here are a few examples.
Provide strategies and tips to get your ex-partner back after splitting up.
Educate people on how to get divorced quickly and cheaply.
Provide wedding resources in a blog post such as venues, cars, suits, rings, etc.
Offer advice on starting a family (finances, insurance, moving home)
Dating tip of the week — write a weekly blog post highlighting a dating tip for men and women.
What to buy your partner for birthdays, anniversaries, Christmas, etc.
How to propose to your partner? Offer tips, advice, and show examples of what others have done.
Date night ideas.
How to work at a relationship and avoid getting divorced?
How to organize your finances in a relationship.
Personal Development Niche
Arguably the most prominent niche of them all. The more you read on the subject, the more ideas you get for writing blog posts. I have listed a few below.
Provide tips on how to eliminate negative thoughts.
Write an article on how to improve your confidence and self-esteem.
Make a huge list of healthy lifestyle tips, and write a weekly blog post called 'healthy lifestyle tip of the week.'
Educate your readers on the power of living in the present moment.
Google' People who changed their Lives', and you will find hundreds of people with inspiring stories. Create a blog post talking about each one.
Highlight different therapies and treatments that people are using to better themselves. 
How to be more productive in work and life
Write a daily or weekly self-improvement tip. In addition, you can find information from following popular blogs in your niche and reading books on the topic of interest.
Write a quote of the week and provide an article explaining the quote and why you can take from it.
Create articles explaining a meditation tip and exercise. You can find these on blogs and Youtube.
Health Niche
Another massive niche market with a never-ending stream of articles to write about. There will always be new health food, viruses, or health kick on the horizon, bringing many topics to discuss.
Here are some ideas to get you started.
Write about how you overcome an illness or how you deal with an illness. Focus on diet, exercise, meditation, etc.
How to stay healthy during a pandemic.
How to look after your health during the winter months
List ideas on ways to improve your mental health
Write reviews on the best health insurance or related health products and services.
Provide tips on how to get a good night sleep (you can also review sleeping products)
List every healthy food you can think of and write a blog post for each one explaining the health benefits you get from eating the fruit, vegetable, or supplement.
Write an article for every type of fitness program.
Highlight stories online about people who have cured illnesses and diseases with alternative medicine.
Write an article explaining the benefits of Protein, Carbs, Fat, Vitamins, and Minerals.
Pet Niche
How many of us have a pet?
Millions of us and most of us are looking for advice and tips online about a specific pet. You have numerous options to create blog posts on your blog, and I have listed some below.
Write a weekly update on your new pet, and highlight the things they get up to each day.
List all the pet insurances services available, and write a review for each one.
Pet hygiene is a massive problem for many people, and your readers would love to know about the different flea treatments, dental sticks, and son.
Interview pet owners via email or in-person and write a blog post with the interview posted within the article.
Write a blog post highlighting a health concern to look out for with your pet each week.
Food Niche
The food blogging niche is massive and produces some high traffic numbers. So if you're struggling to come up with article ideas, don't give up because there are hundreds of blog topics to create an article around.
Take a look at the examples below.
Write about the last dish you created from scratch.
Create blog posts on how to make your favorite cookies. You can even create a themed post like your favorite Christmas cookies, summer cookies, etc.
What tools do you use? Scales, Mixers, utensils, and so on, create a review highlighting each of them.
Take a meat choice and list as many dishes you can think of using the choice of meat. Now write an article for each recipe.
Vegans and Vegetarians are always looking for new food choices and recipes. So do some research and write articles for those in these groups.
People are always looking to save money on products and groceries, so write articles showing how to find the best deals.
Review different restaurants in certain areas.
Create a unique recipe of the week and post the method and ingredients in blog posts. Try different things, and one of them might take off. I mean, who would have thought salt in caramel would be so popular?
Write about meals that are low in sugar, salt, or fat.
Create posts explaining how you learned how to cook, the courses you have taken, or any pearls of wisdom you have received regarding cooking.
Other Ways To Find Blog Post Ideas
Buzz Sumo
Buzz Sumo is an online tool that shows how many shares and likes a particular website or blog post has received. 
If you enter a website in your preferred market, you will see data for social media interaction and blog posts within that topic. You get data from the leading social media accounts and an overall total.
Using BuzzSumo is a great way to uncover niche content to write for your blog. In addition, it's an excellent way to make sure there's a demand for your topic.
AI Software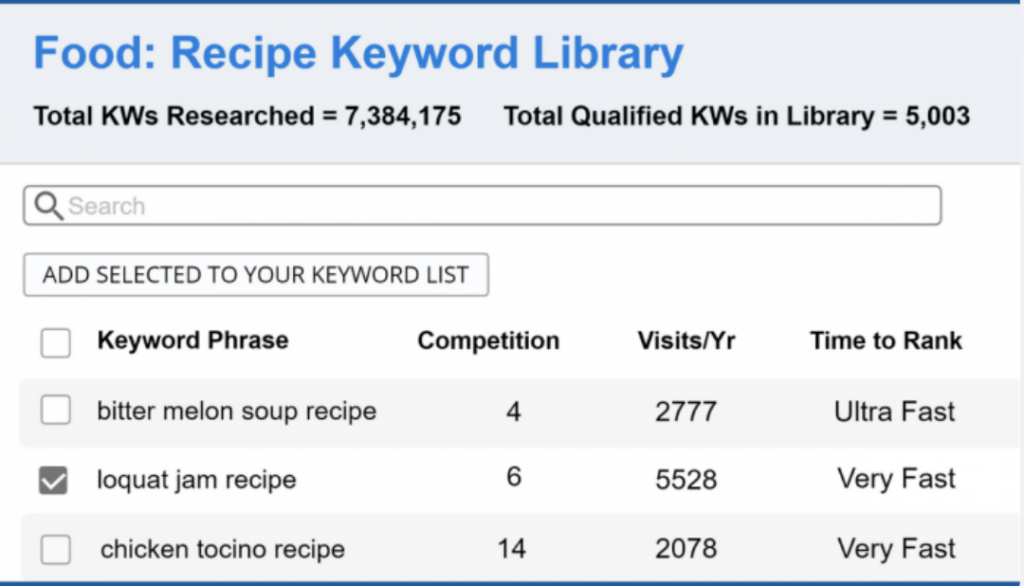 You can use AI software tools to uncover some great blog topics. Software such as Ahrefs and Rank IQ are two great options to help you find topics and keywords to target for your blog posts.
All you need to do is enter your keyword or related website, and the tools do their magic and throw out some interesting data.
Magazines
If you're struggling to find ideas to create an article, take a walk down the magazine aisle in a supermarket.
You will notice magazines for hundreds of different topics and interests.
Find one related to the niche you are targeting and look at the headlines on the front cover. These headlines have been crafted by copywriters who have already done the research, and they know that these are the topics people are interested in.
Don't copy the headlines, of course, but it's not hard to create your version of the headline and write a blog post about the subject the headline is targeting.
You can also view magazines online.
Social Media
Visit social media sites and search groups and pages for any interests and hobbies you have. You can join groups and read what other people with similar interests ask the group to help them with.
You'll be amazed how a conversation someone has can set off a light bulb idea for you to create an article.
Keyword Tools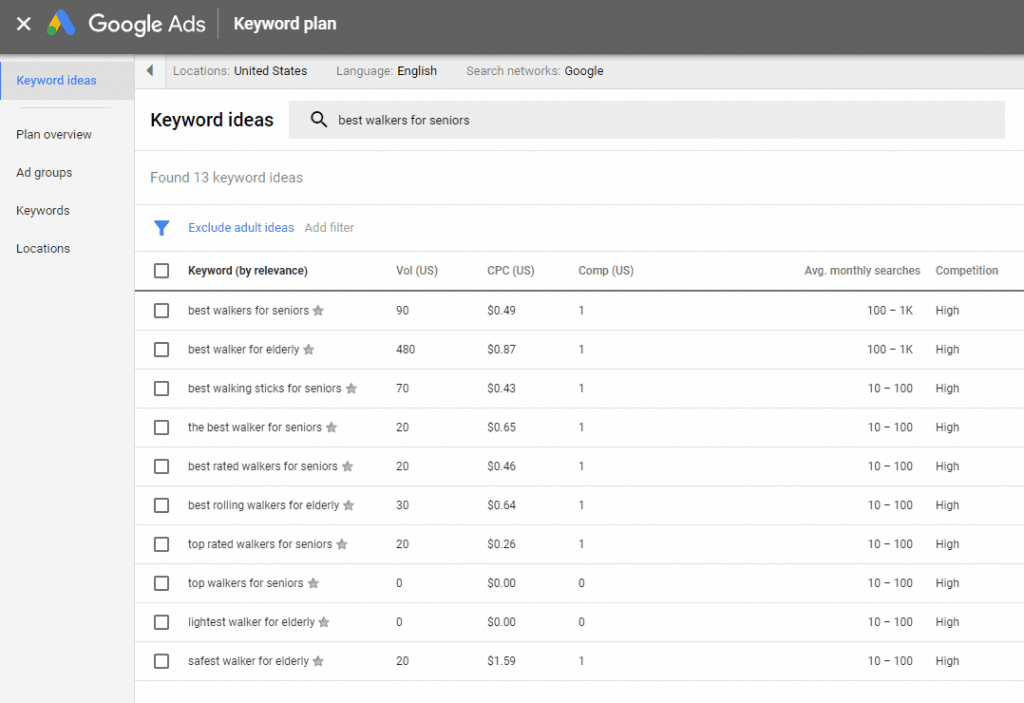 Keyword tools are still a great way to find keywords that you can use to create an article. Tools like Google's keyword planner or Longtail pro are good options to consider.
Enter your keywords into the tools and see what words the software finds you.
Here's a great article on finding low competition keywords, which will help you find keywords to create an article about and keywords that are easier to rank in the search engines.
Related Searches
Another simple way to find possible blog topics to write about is to take notice of the related searches displayed on Google.
If you enter a keyword into Google and scroll down to the bottom, you will see the related search suggestions.
For example, the image above displays the related searches for 'trendy watches.' I can see eight associated searches on the list that you could turn into articles straight away.
Answer the Public
Answer the public will provide you with ideas and keyword questions for what people ask about on a particular topic.
An excellent way to use this tool to find blog article ideas is to enter a keyword for a broad niche market.
When I entered "Weight Loss," it displayed a massive wheel with the keyword in the middle and lots of spokes coming off it with different keywords related to the broad topic I entered.
Once I clicked the data, I received many tables with keywords in them, like below:
The above is the first six boxes of data, and already there are ideas to create blog posts.
There are 30 more boxes I haven't looked at yet, and that's just for just one keyword!
Email Lists
If you sign up to the email list for the leading authority figures in the niche market you're targeting, you will receive emails that you can use as inspiration to create your blog posts.
Many website owners will send an email as soon as a new blog post is published on their website. They also tend to be on top of the popular trends for the niche.
Sign up to as many as you can and use the information to come with ideas for you to write about on your blog
Time To Decide What To Blog About
You now have a wealth of information, advice, and tips to help you find content topic ideas to create articles on your website.
If you follow the advice in this article, you can have hundreds of content ideas nailed down within a day. No more staring at the screen, wondering what to write.
All you need to do is decide what to blog about, using the information you have in front of you.
Set aside a few hours, grab yourself a pen and paper, create a spreadsheet, and get to work.