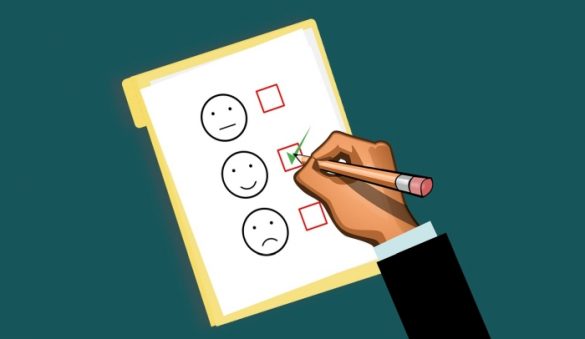 Customer experience is all about improving the customer journey and making their entire stay with your brand easy.
If you think about it, ensuring customer success has a lot of similarities with bloggers satisfying their target audience. You want to create content that readers love to help you generate more traffic and engagement. Only then will you be able to get your audience to stick around and read your other posts.

In fact, bloggers can learn a thing or two from a customer experience specialist. How they deal with customers is key to the success of their business, and it's something that bloggers, if not everybody, should implement as part of their strategy.
Therefore, the list below will help you learn a thing or two about the best customer experience blogs, what makes them great, and how you can implement some of their teachings onto your blog.
1. CustomerThink
CustomerThink is a global reference center for customer service professionals, with over 100,000 monthly visits from over 200 countries. It's one of the most popular resources for learning about all aspects of customer-centric company management from B2B to ecommerce.
Its blog has a diverse group of contributors from the customer service industry, in particular, the call center industry. They emphasize enhancing the customer experience, boosting customer engagement, customer-first leadership, and technology.
Must-read post: What is Customer Value and How Can You Create It?
2. Forrester
Forrester's customer experience blog is cut above the rest. It doesn't just share tips and advice on how to provide better customer experiences. The blog also covers insightful industry news that helps you make sense of the small things by looking at the bigger picture. They cover customer-centric culture, customer experience strategy, customer behavior analysis, and more.
Many of the posts are backed by Forrester's own proprietary research and are typically written by a thought-leader in the topic they're covering. Therefore, you're sure to receive expert and data-driven advice to power your customer experience efforts.
Must-read post: Five Questions To Ask Before Building A Brand Survey (this works best when using conversational forms and its add-ons to create surveys)

3. Salesforce @ Desk.com
Desk is Salesforce's customer service software, which is designed to handle multi-channel, mobile, case management, and productivity. The desk.com blog is one of our go-to sites for market and consumer research and studies, thanks to Salesforce's extensive resources and thorough research.
Customer, partner, and expert blogger support methods, as well as some of their most recent consumer behavior studies, are discussed on their blog.
4. Zendesk
If you've ever been a part of a customer support team, you've probably heard of Zendesk. Their products are designed to facilitate customer interactions across multiple platforms and make the lives of CX agents easier.
As you might expect from an industry leader, Zendesk's blog aims to have some great writing and research about customer service management to empower people in the customer experience industry. The blog also discusses customer retention tactics using referral marketing programs to help make customers keep coming back for more.
Must-read post: Customer service definition, skills, and important principles for 2021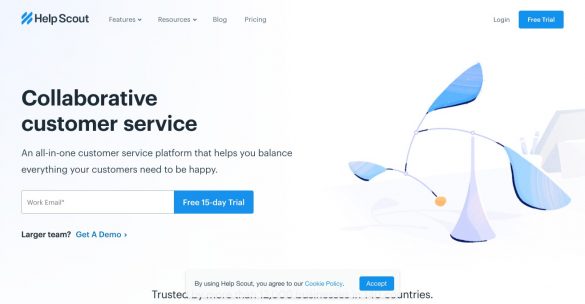 5. Help Scout
At the heart of CX is the fostering of growth and culture within the industry, something that HelpScout has in droves. The blog helps reinforce agents to improve customer focus by providing them with resources to achieve this goal.
The blog also contains news, updates, and the latest feature releases regarding their customer service software. HelpScout is one of the most sophisticated platforms in the customer support industry that rolls shared inbox, live chat, customer management, and other vital features into a single dashboard. This makes staying on top of customers' needs much easier.
HelpScout also makes implementing the insights on their blog much easier using their tool.
Must-read post: 21 Key Customer Service Skills (and How to Develop Them)
6. Shep Hyken's Customer Service Blog
Shep Hyken is one of the biggest news in customer service, if not the biggest. He's been featured in the New York Times and the Wall Street Journal for his well-received books. And the same prestige goes for his blog containing tons of valuable advice not only to provide customers the experience they deserve. He also puts the onus on employees that makes customer service happen in the first place!
You can definitely find it on Shep's blog, whether you're searching for a short round-up of business news or an in-depth program to change your corporate culture. His weekly roundup posts containing the latest and best customer service articles handpicked from trusted sources should be your main source for helping you improve customer care experience.
Must-read post: CUSTOMER SERVICE AND CUSTOMER CARE – WHAT'S THE DIFFERENCE?
7. Jeanne Bliss
Jeanne Bliss has worked for five large American organizations as a customer experience leader. Her blog, Customer Bliss, is based on her book, "Chief Customer Officer: Getting Past Lip Service to Passionate Action," and it provides important ideas. She offers up-to-date methods for creating a repeatable client experience that boosts profits. The advice she shares on Customer Bliss makes it one of the top entrepreneur blogs as well.
Her knowledge of how to increase customer loyalty and enhance corporate leadership to drive development has earned her a reputation as a sought-after keynote speaker. She's also a podcaster and an author.
Must-read post: What a Customer Experience Consultant Can Do for You
8. CX Journey
The concept behind Heart of the Customer is that the customer experience is a journey, not a destination. Heart of the Customer is a great resource for any customer experience professional, from customer experience seminars to journey maps, and the Heart of the Customer blog is a must-read for every marketer, customer service person, sales rep, or leader with campaigns in various channels such as ads, social media, and others.
The brains behind CX Journey is Annette Franz, who is also the Chief Experience Officer of CX Journey Inc. Her expertise in customer experience spans 25 years where she helped organizations better understand how to better serve not only their customers but also their staff and employees.
Recognized as one of the top 100 Most Influential Women on Twitter, Annette has used her fame and power to provide coaching and consulting services to businesses, on top of her thought-provoking resources and blog posts.
Must-read post: WHY ARE FIRE ENGINES RED?

9. Blake Morgan
Blake Michelle Morgan, a customer experience futurist, writer, and speaker, writes on anything from rethinking insurance for small businesses to the amount of money being invested in AI in CX on her blog. If you want to know about the future of customer experience in many verticals and sectors, whether you're using a customer success platform or not. Blake is the person to ask.
Her weekly Customer Experience Round-Up comes highly recommended. Similar to Shep Hyken, Blake compiles the most recent customer experience industry news along with her insightful commentary on each.
Must-read post: The Top 10 Customer Experience Keynote Speakers
10. Win the Customer
At DigiCert INC, Flavio Martins is the VP of Operations and Customer Support. With over 15 years of expertise in the business, he is a Huffington Post top 100 customer service specialist. His customer service blog has long been a favorite of ours.
He discusses his love for technology, customer relations, and client loyalty on his personal blog, which is titled after his book "Win the Customer: 70 Simple Rules for Sensational Service."
His strong methods are intended to set your company apart from the competition by offering consumers something genuinely unique.
Must-read post: 4 Reasons Why the Customer Is Always Right

11. andcards
Due to the trying times nowadays, people are forced to work at home or remotely. These present new challenges to everyone especially with customer service specialists. They have to balance work as they satisfy the needs of customers and their lives outside it.
This juggling act, however, is made much more manageable with andcards, a coworking space for professionals who want to separate their home from work life. And its customer experience blog for coworking business niche helps people on how to successfully adjust to the new normal.
You will learn how to continue providing customers with a seamless experience and how you can adapt to remote work with help from coworking spaces.
Conclusion
The customer or reader is the most crucial component of your blogging success. Hopefully, the customer experience blogs listed above should serve you as a reminder that you need to take good care of your readers to generate the highest ROI for your blog.
Related posts: