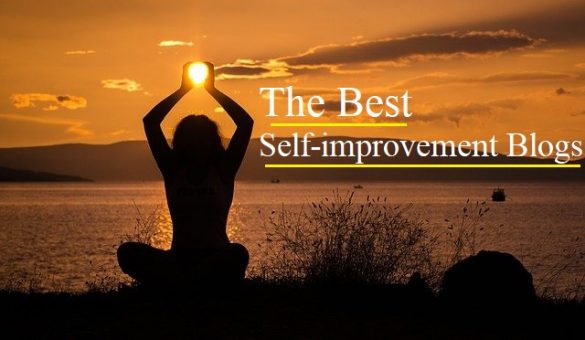 A new year, a new you – the best self-improvement blogs on the internet will surely help you reach this goal. Every year, we all want to revamp ourselves. We do this by setting goals to accomplish, hopefully improving our lives at the start of the new year. A lot of people wish to continue good habits and change undesirable traits.
Now that 2022 is here, we all aspire to be the best bloggers we can be. The internet and its audiences are ever-changing and so must we, our blogs, and our content. Thus, it is good practice to keep improving ourselves every year. We have to equip ourselves to go with the flow and keep up with the times.
There is always room for self-improvement and it never hurts to take it a step at a time. Learn from these great self-improvement blogs, or maybe be inspired by them to create your own.
Steve Pavlina
Steve runs one of the most popular self-improvement blogs out there. The goal of his blog is to educate readers about "conscious growth". This is focused on several core principles that MUST BE in alignment with our thinking, attitudes, and behavior. Steve Pavlina explains that once we embody this "conscious growth" we could surely improve all aspects of our life.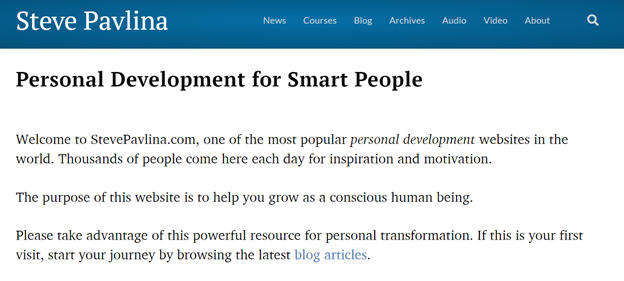 Notable feature: This blog covers everything from relationships to work-life balance to core decision-making skills. His blogposts are not vague, but each piece of advice can be applied to almost anything in our lives. In fact, we can read his blog posts multiple times and interpret them differently every time.
Goalcast
To keep up with the times, self-improvement blogs should not just focus on readable content. Why not try videos, TikToks, memes, social media posts, and other formats and platforms, right? Goalcast gives us that – it is not your conventional self-improvement blog. It's something more interesting than "just a blog".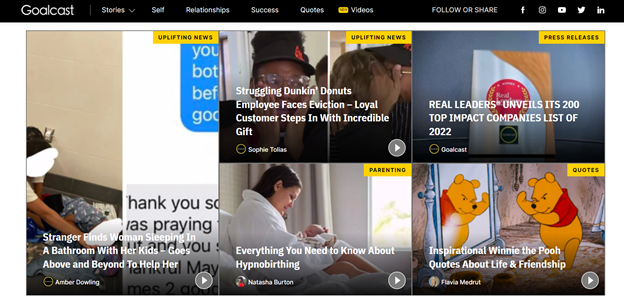 Notable feature: What is great about this is that we are not looking into the mind of a single author. Instead, it is an entire community of people who want to share their experience on how they improved their own lives, hoping to help others improve theirs too.
Zen Habits
Zen Habits has always been a fan favorite, and for good reason. Not only does it deliver a minimalist style, but its "no fluff" policy means readers can focus exclusively on learning without wasting a single second of their time.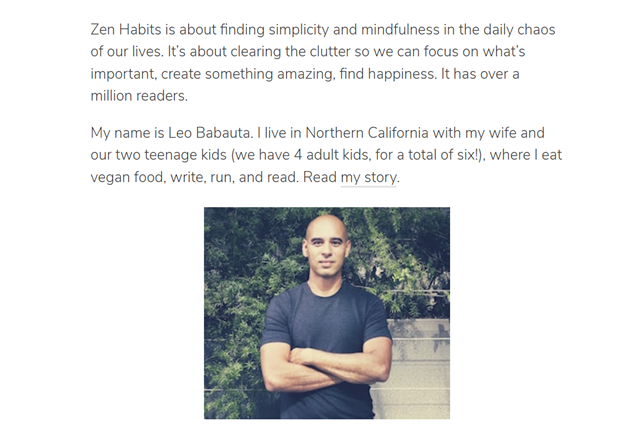 Notable feature: Zen Habits has always remained true to itself. It's never gotten shady with overly promotional material or with other intrusive tactics.
Chris Guillebeau
Chris started as a means of logging his travels, but the art of non-conformity blog soon morphed into a highly successful website about self-reflection and empowerment. Here you'll find topics on eliminating self-limiting beliefs and approaching personal matters in both practical and unconventional ways.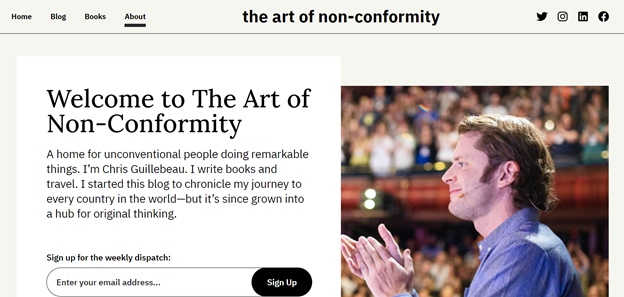 Notable feature: The general idea that he teaches in his blog is we don't have to live life per other people's instruction. We must not be afraid to live our lives with non-conformity and unconventionality. Being different is remarkable. In the same way, we should create our content, being different always pays in the end.
Michael Hyatt
Michael covers everything you might expect from a great self-improvement blog. The great thing about his blog – he has a podcast, books, lessons, and live coaching. It isn't just about reading what BloggingProhe has to say, sometimes it is best to learn by experience. That is exactly what his blog gives its readers, as should yours.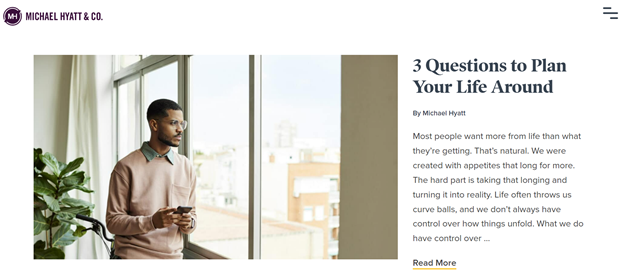 Notable feature: Michael's blog posts are often short, but this just proves that longer isn't necessarily better. You'll always walk away feeling more enlightened regardless of article length.
Mark Manson
Some people view Mark Manson as a cocky individual, while others have sworn their entire life changed for the better thanks to him. In any case, we could all learn from his unconventional thinking about dealing with society, work, and life itself. After all, The Subtle Art of Not Giving a F**k became a bestseller for a reason.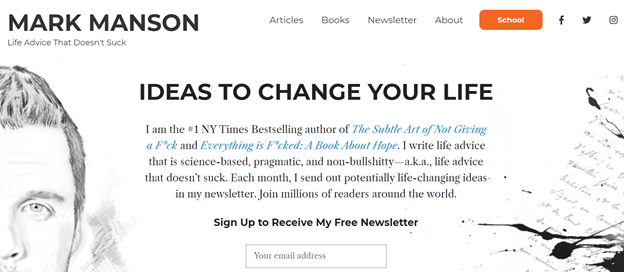 Notable feature: Mark is rather unapologetic/blunt, and his blog posts show that. Some of us could benefit from this and learn to be more authentic without the fear of stepping on anyone's toes.
The Marginalian
What makes Maria Popova's blog different from others – it discusses concepts that we are not always too comfortable to talk about. Topics like loss, death, solace – these are not the typical stuff you read on self-improvement blogs. What truly makes her blog worth reading – she backs hard-to-swallow topics with science, history, and art. By giving a technical feel to the concept, people take learning about it differently.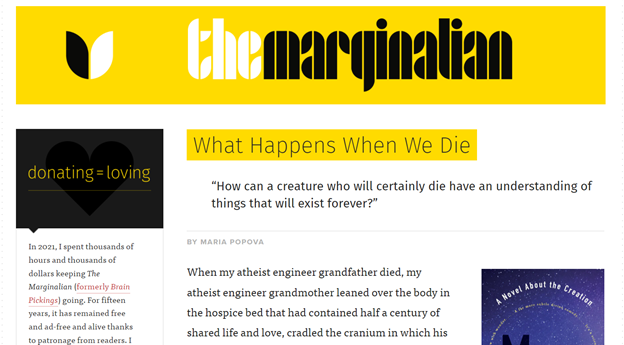 Notable feature: I admire the donation and subscription section that appears after every article. She's not afraid to ask for assistance, and the work on her blog is worth every penny.
Be More With Less
Distraction, be it virtual or material, is our worst enemy and it is also the greatest barrier in our journey towards self-improvement. What the Be More With Less blog teaches is how to remove these distractions by living in simplicity (and maybe minimalism). Really, taking a step back, looking at the bigger picture that is your life, and starting to scale down our armor (which is our belongings) takes us back to our core. It is also financially, emotionally, and mentally freeing to live simply.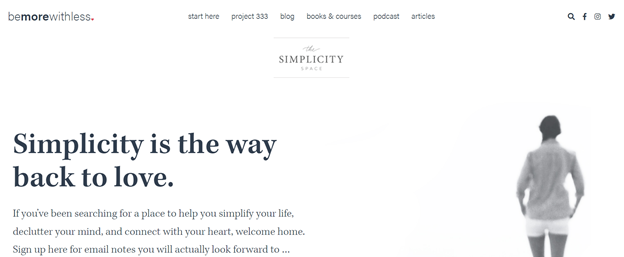 Notable Feature: This is a great blog and a lot of people are into the idea of downsizing and minimalism, nowadays. Not only is it a great lifestyle, but it is also a great niche.
Tiny Buddha
Lori Deschene has a passion for everything about mindfulness, friendship, relationships, and especially overcoming difficult challenges. Her no-nonsense policy has slowly gained her quite the loyal following, as you can see from the passionate comments people often leave on each blog post.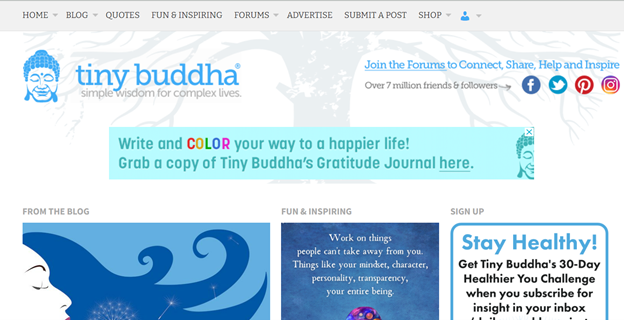 Notable feature: Tiny Buddha has a forum! This means you can meet and interact with like-minded individuals and take your friendships to another level. Forums are slowly dying, but hopefully, this blog will keep it going for a long time to come.
GenTwenty
Let's face it, self-help and self-improvement blogs are not something that Gen Z kids want to read. So how do we tap that demographic to become our audience? Simple, make your content relatable. This is what GenTwenty did to its blog – focusing on how to help people survive their "twenties" and become the best versions of themselves.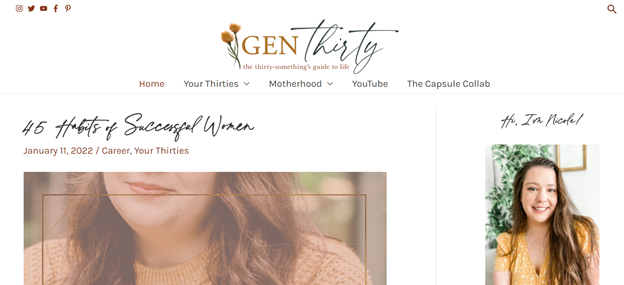 Notable feature: The blog has an extension known as the GenThirty, for people in their thirties who don't want to read self-improvement books that felt like they were written for their parents. The hip, young vibe of the blog is great to capture readers in their twenties and thirties.
Science of People
Science of People mainly focuses on improving communication skills and overall human behavior. Vanessa strongly believes that personal growth can largely be attributed to the way we engage and connect with others. I can't help but agree, considering we are social creatures and actively rely on one another in our daily lives.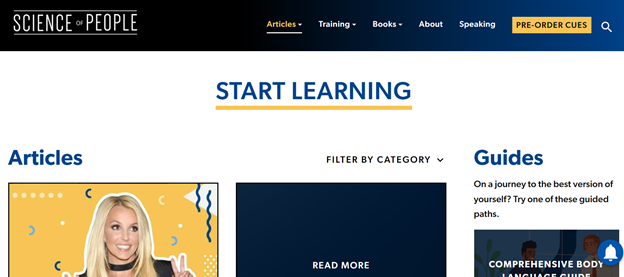 Notable feature: This website is a perfect mixture of a personal blog and an online store, which helps bring a healthy dose of blog traffic each month. Do you plan to follow suit? I suggest you adopt a similar theme and learn from the blog's overall style/presentation.
Don't make 2022, 2020 too
The last two years are probably the worst for everyone, and may this new year be the start of something special for all of us. Step out of your "bare minimum" and start growing.
On that note, I encourage you to also follow each and every one of these authors on social media for the occasional exclusive content, which will ultimately help you (and your website) grow exponentially.
First published in 2020; updated January 2022
Elvis Michael is an avid blogger and e-trepreneur, endlessly exploring new ideas and effective ways to inspire.
This article was originally published by www.bloggingpro.com . Read the original article here.