The content landscape keeps shifting beneath our feet. Nowadays, it seems like a guessing game – whether a human or an ultra-smart AI penned the articles you read. And that's where the best AI checker tools come in.
They help tell you who – or what – wrote the content.
But with so many choices, knowing which AI checker tool to use can be hard. But don't worry; I've got your back.
This article will explore the 11 best AI content detectors this year.
So, if you're ready to explore, let's dive in.
The best AI checker tools are sort of like private detectives.
They use machine learning and language analysis techniques, and their job is to determine if a piece of writing was done by a real person or a computer program (AI writing tools).
They do this by looking for clues about how the words are combined.
If the phrasing is too predictable or doesn't offer enough variety, it might be the work of an AI.
That said, they aren't perfect. But they are a helpful way to gauge if the stuff you read is human-written.
Best AI Content Detector Tools This Year
Here are some of the most popular tools out there and our top pick!
Originality.ai: Your Overall Best Option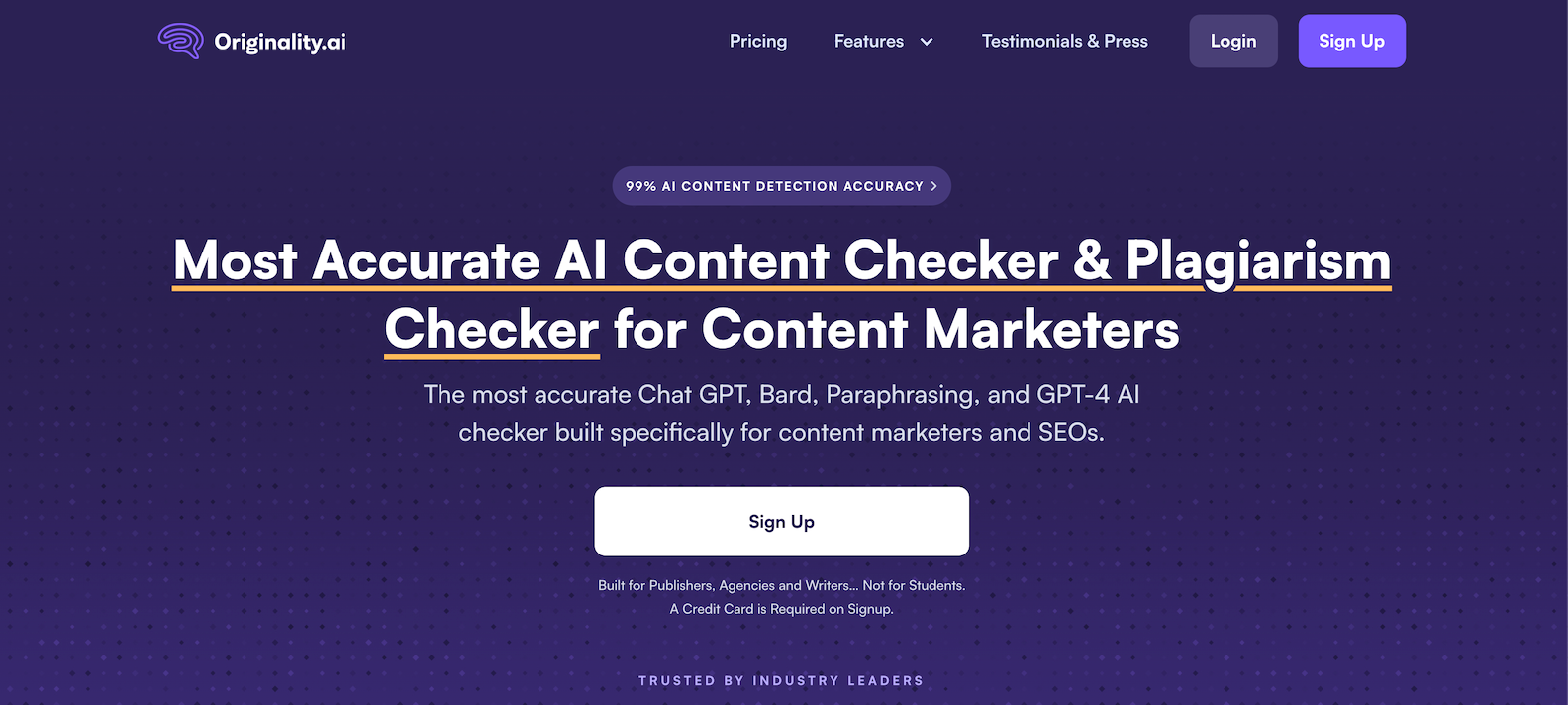 First up on this list of the best AI detector tools is Originality. AI.
This tool stands out in the market because of its remarkable accuracy and impressive ability to distinguish between human and AI-generated content.
It doesn't merely stop at detecting AI content though; it also checks for plagiarism, assesses readability, and even has a handy Chrome extension.
And so it's a comprehensive tool that caters to many users:
Content creators
Teachers
Business owners
SEO specialists
And more…
For an in-depth look at what it can do and how it works, check out this detailed Originality AI review.
What Separates Originality.AI From The Rest
AI Detection: Efficiently spots AI-generated content with 99% accuracy.
Plagiarism Checking: Identifies copied work, even if the words have been paraphrased.
Website Scanning: Allows you to scan an entire website for AI-generated content.
Readability Score: Assesses how easy your content is to read.
Chrome Extension: An added convenience for users, enabling quick checks for false positives.
Detailed Reports: A comprehensive report with scores and potential sources of copied content is provided.
Shareable Link: Allows you to share proof of your work's originality.
Flexible Pricing: Offers both pay-as-you-go and monthly subscription plans.
Content At Scale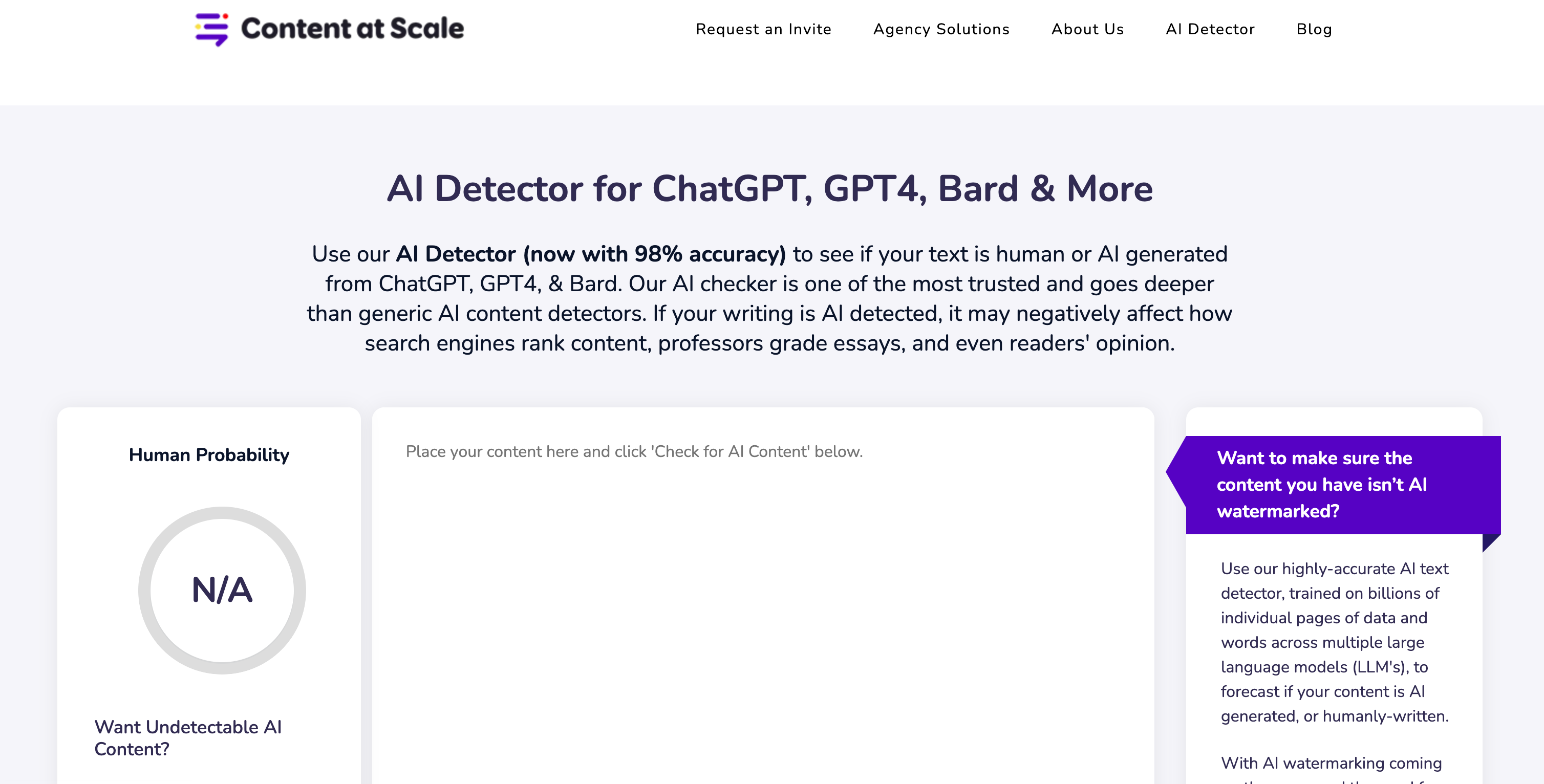 Content At Scale stands out for its 98% accuracy and thorough text analysis. It detects AI-like features in your writing, such as repetitive words and generic tone, and offers improvement tips.
Its unique edge comes from being trained on billions of data pages, enabling it to provide helpful feedback when your work is flagged.
Content At Scale's Key Features
High Accuracy: Determines if the text is human or AI-generated (ChatGPT, GPT4, Bard, etc.) with a 98% accuracy rate.
Deep Analysis: Goes beyond generic AI content detectors to offer a more comprehensive analysis.
Trained Model: Uses a trained AI model that has been taught with billions of pages of data.
Detailed Feedback: Provides detailed, sentence-by-sentence feedback on flagged content.
Grading System: Flags content in green, yellow, orange, or red, along with editing suggestions.
Semantic Analysis: Uses a mix of 3 AI engines, Natural Language Processing, and semantic analysis algorithms to analyze content.
The company also has a powerful SEO content writing tool that produces full blog posts in minutes. You can learn all about it at this Content At Scale Review.
GPTZero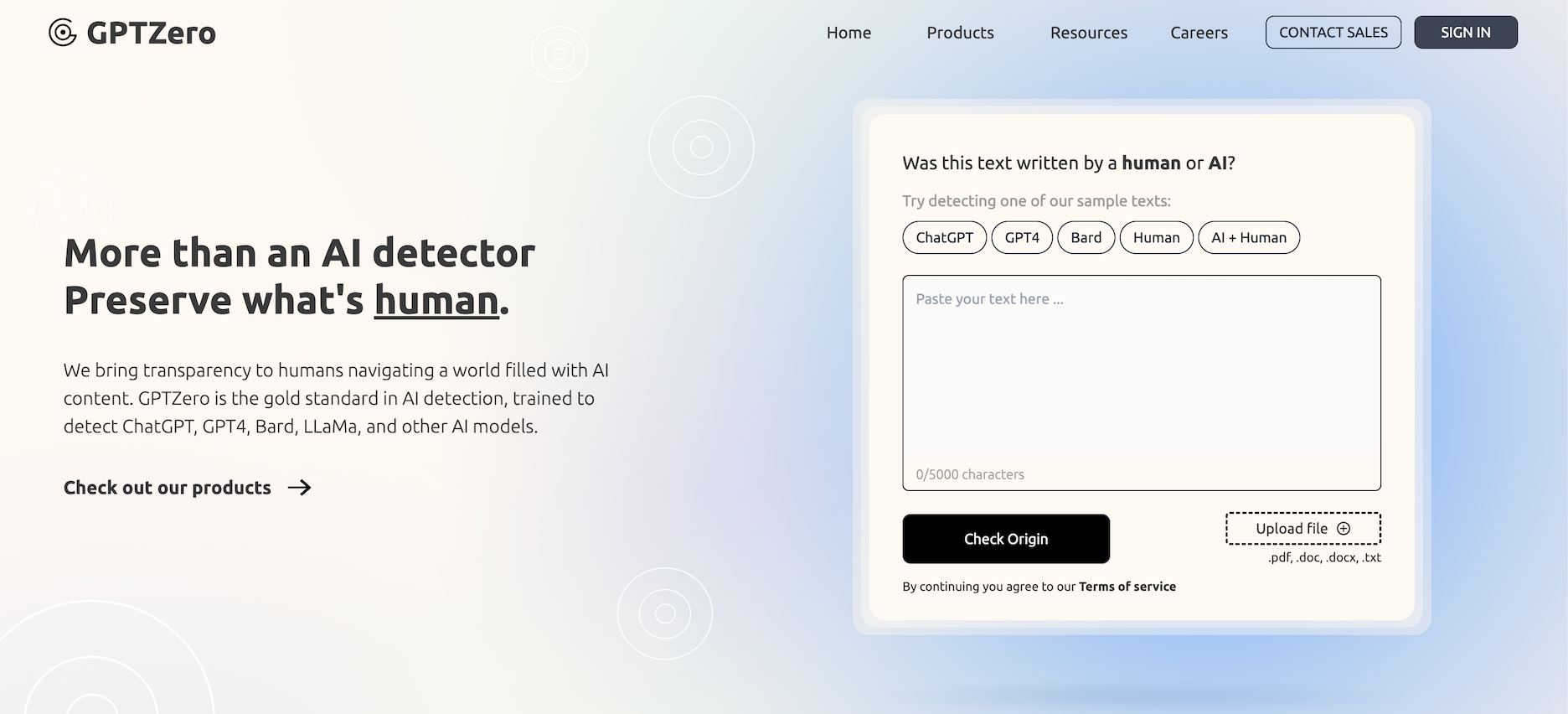 GPTZero is a cutting-edge tool in the AI detector space. It detects if AI systems like ChatGPT or GPT4 have penned something, and it's constantly evolving due to ongoing research and tech upgrades.
Key Features Of GPTZero
Proprietary Technology: Unlike competitors, GPTZero uses custom-built models for superior detection.
API Integration: It has a user-friendly API for easy incorporation into various platforms.
Educator Dashboard: It provides an educator-centric dashboard for monitoring AI usage.
Detail-Oriented Results: Instead of just numbers, it provides detailed explanations.
Multilevel Detection: It can detect AI-generated content at sentence, paragraph, and document levels.
Wide Reach: GPTZero has over 1 million users globally.
Chrome Extension: The Origin extension allows one-click scanning of entire web pages.
Sapling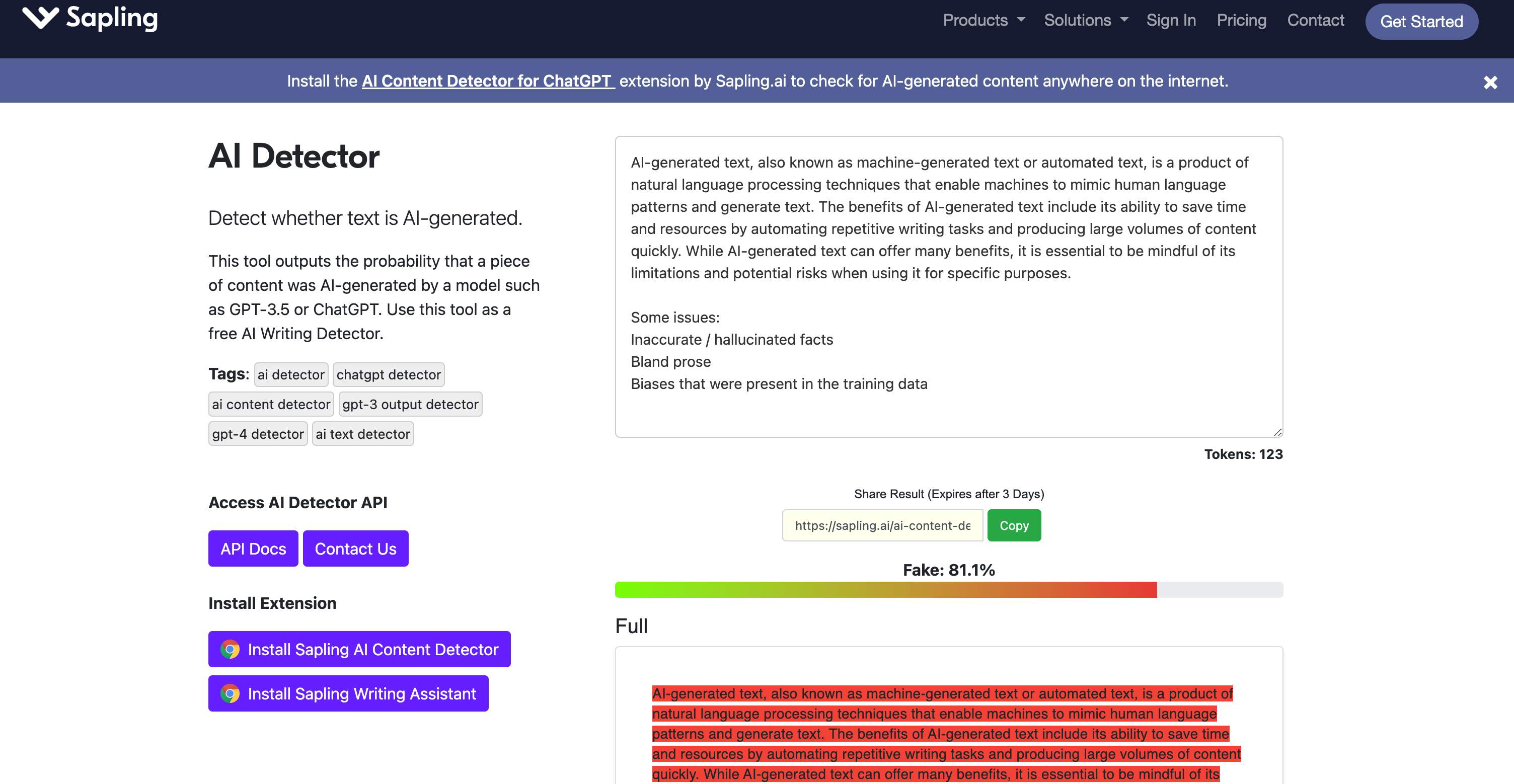 The Sapling AI Content Detector uses a machine learning system similar to those used to generate AI content.
It generates the probability that each word or token in the input text is AI-generated. This makes it a powerful tool for maintaining human-like quality in your content.
Here's Why Sapling.ai Stands Out
Improved Calibration: The tool handles whitespace better. It's more robust to small changes.
Advanced Training: It's trained on ChatGPT-like data, enhancing its detection capabilities.
Intuitive Highlighting: Sections likely to be AI-generated are highlighted in red for easy identification.
Updated Support: It has improved support for newer language models like GPT-4.
Extended Text Limit: Pro users can now check up to 8k characters for longer texts.
Enhanced Accuracy: The tool offers improved accuracy, especially for shorter texts.
Winston AI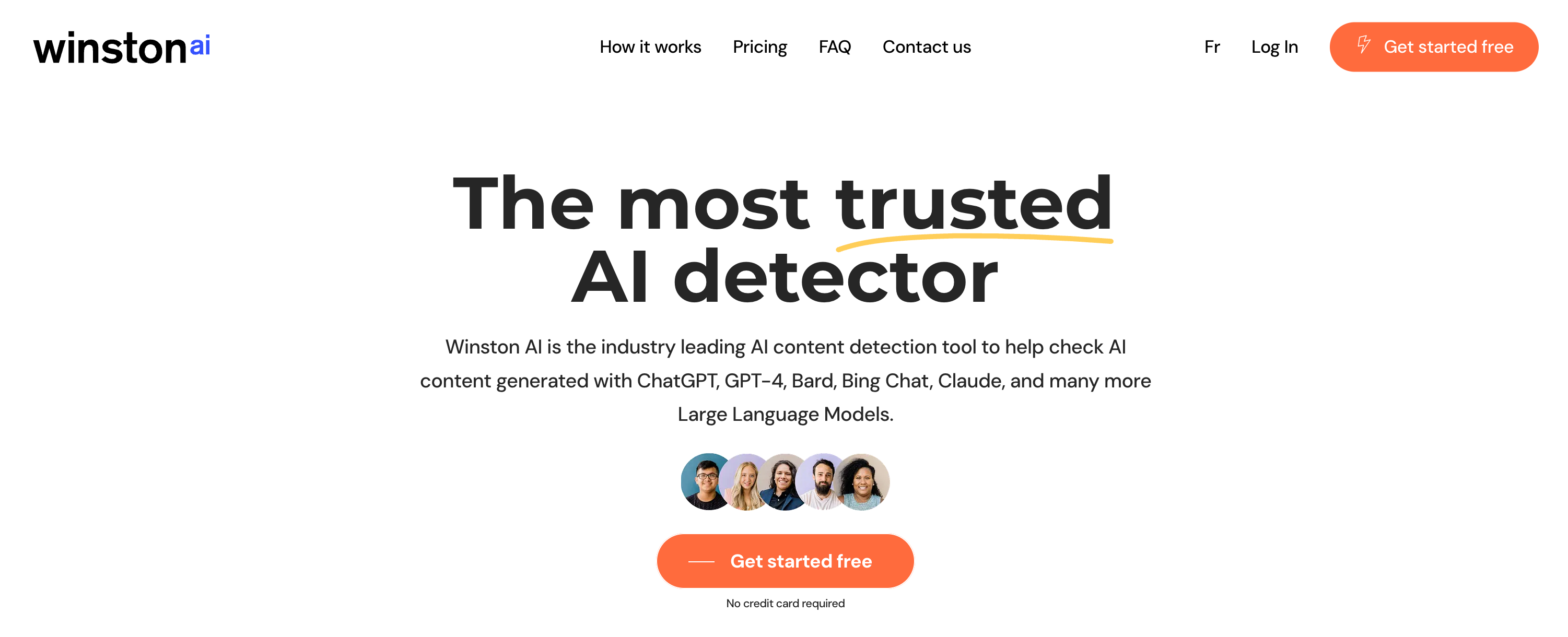 Next on the list of the best AI checker tools is Winston AI. It's a highly trusted AI detector tool with a remarkable 99.6% accuracy rate.
This tool distinguishes between human and AI-generated content and also checks for plagiarism, making it an all-in-one solution for writers, educators, and web publishers.
But what sets Winston.ai apart is its ability to extract text from scanned documents or pictures, including those written in handwriting.
So, Winston AI allows users to input text or upload documents in various formats and then analyzes it using advanced AI technology.
Unique Features Of Winston AI
High Accuracy Rate: Boasts a 99.6% accuracy rate in detecting content written by AI tools.
Plagiarism Checker: Efficiently scans text for plagiarized content.
Optical Character Recognition (OCR): Extracts text from scanned documents or pictures, even those written in handwriting.
Detailed AI Prediction Map: Provides a sentence-by-sentence assessment of the likelihood of AI authorship.
Shareable Reports: Generates printable reports that can be shared easily.
Flexible Pricing: Offers a range of plans to suit different needs, from 2,000 words to 200,000 words scans.
Copyleaks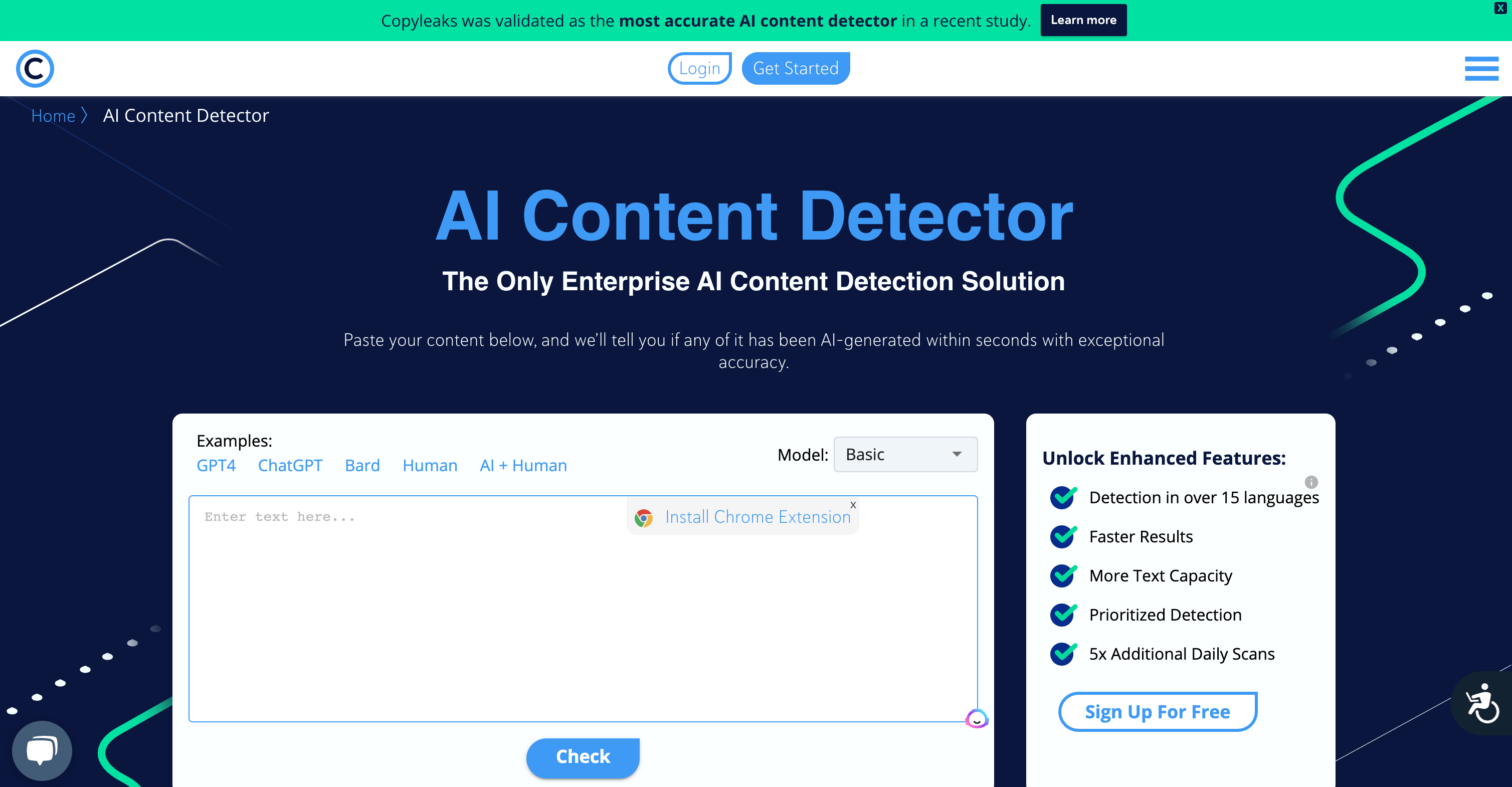 Copyleaks AI Content Detector goes the extra mile distinguishing between human- and AI-written content.
It's not just a simple detector; it's an enterprise solution that can be seamlessly integrated into your native platform or Learning Management System (LMS).
Copyleaks Key Features
Enterprise-Level Solution: Copyleaks is designed for large-scale tasks and easy integration.
Chrome Extension: Verify content origin instantly with the unique Chrome extension.
In-Depth Analysis: Highlights AI-written and human-written elements with a precise probability score.
Paraphrased AI Content Detection: Detects paraphrased AI-generated text, ensuring content originality.
Multi-Language Support: Supports over 15 languages for versatile detection.
User Feedback Loop: User ratings help refine and improve the tool's models.
High-Level Security: Military-grade security, GDPR compliance, and SOC2-certification ensure data safety.
Fast and Accurate: Delivers rapid, accurate results.
Writer Content Detector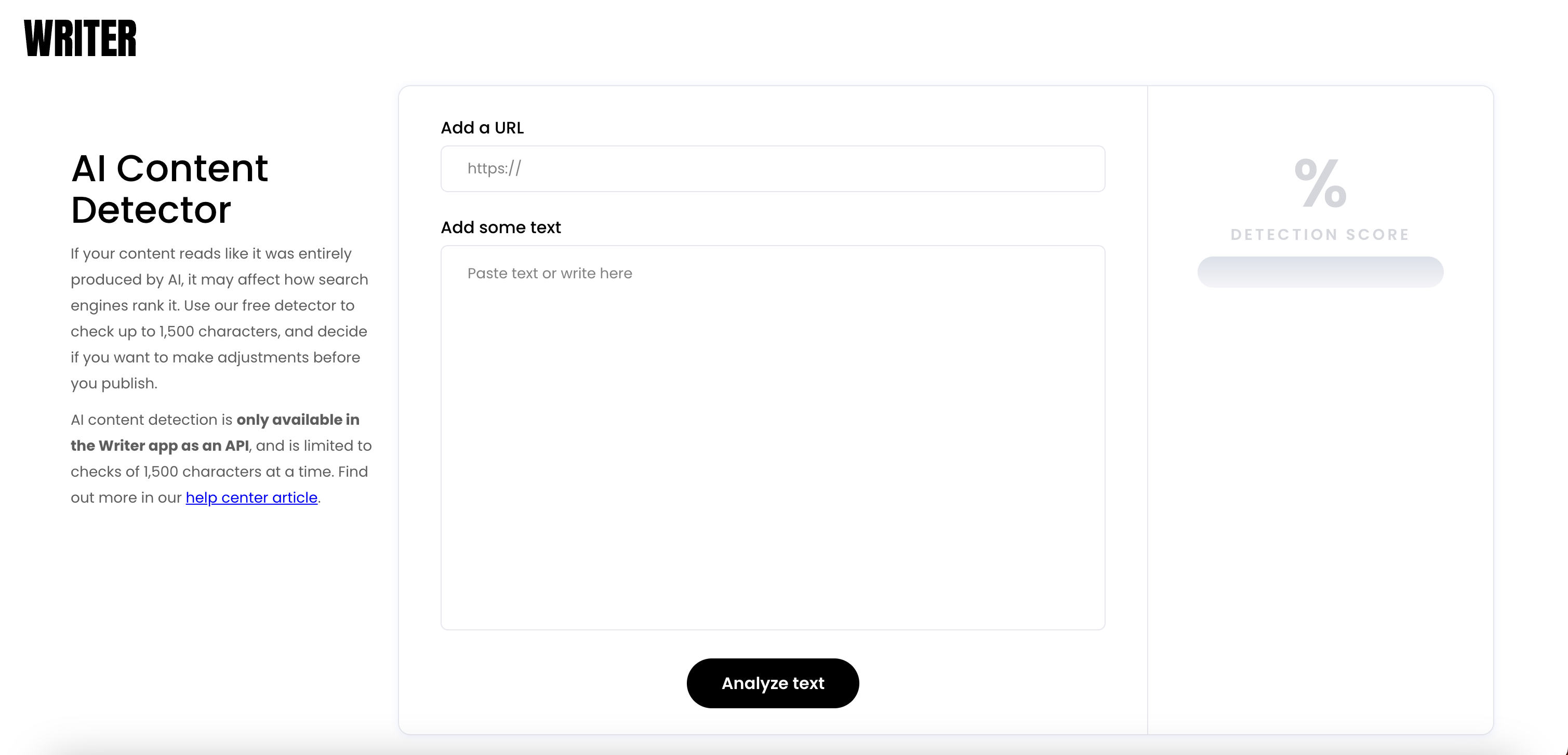 The Writer AI Content Detector is one of the best AI checker tools that offers secure content analysis. It provides free checks of up to 1,500 characters and a wealth of resources like an AI blog and templates.
Additionally, it features a free grammar check and robust company support, making it a comprehensive solution for your content needs.
WRITER CONTENT DETECTOR KEY Features
Resource Availability: provides many resources, including an AI blog, AI templates, and a comprehensive guide on generative AI.
Writing tools: With Writer.com's paid membership, you can access advanced features like assisted writing and plagiarism detection. It is ideal for professional writers or those looking to scale their content production.
Content Limit: The tool allows users to check up to 1,500 characters for free. Enterprise plans offer expanded limits and comprehensive API access.
ZeroGPT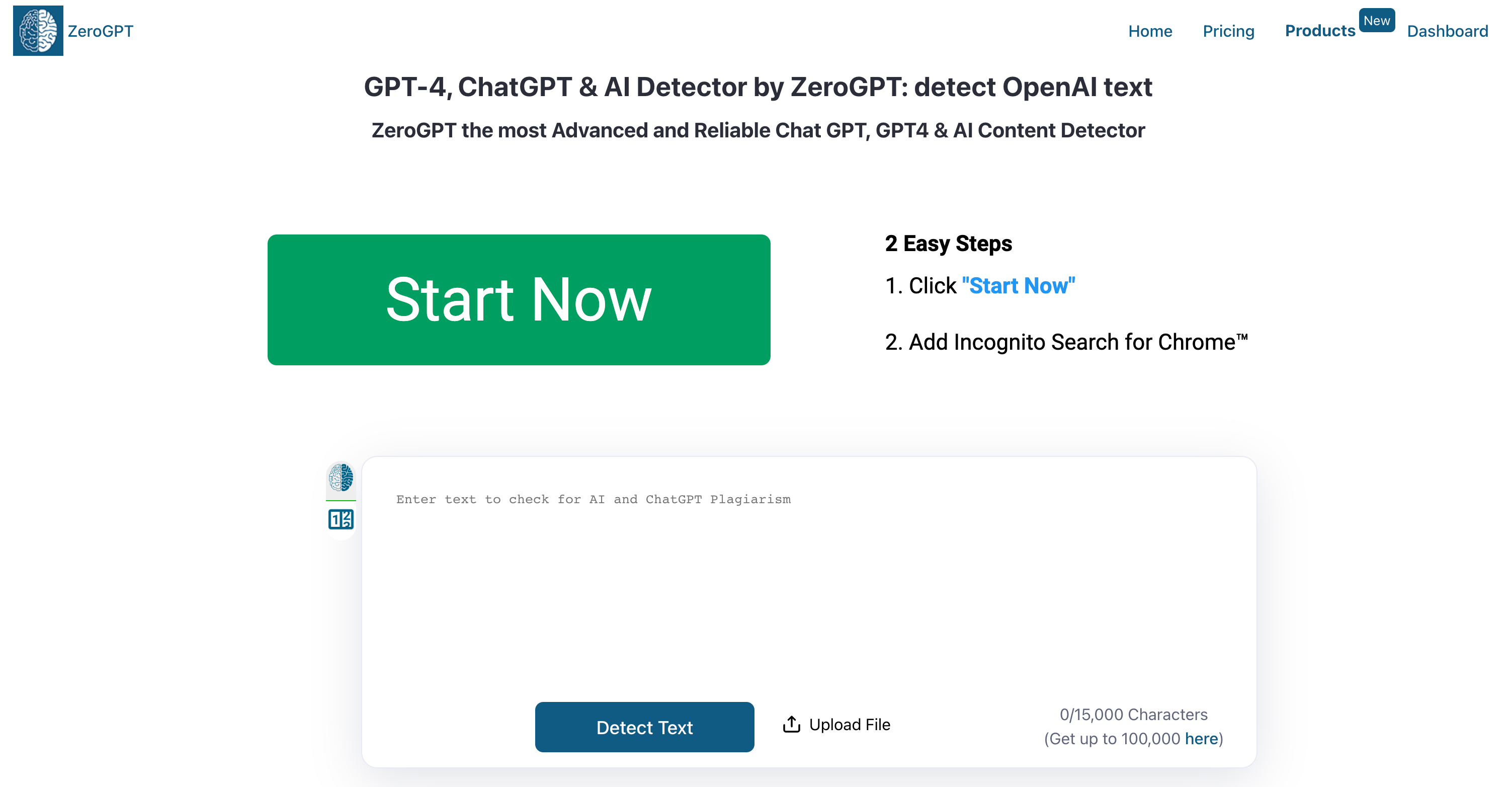 ZeroGPT is a cutting-edge AI content detector specializing in identifying text generated by AI models such as GPT-4 and ChatGPT.
The tool works particularly well in academic prose. It stands out due to its advanced technology, high accuracy, and user-friendly features.
Key Highlights Of ZeroGPT
Highly Accurate: Trained in all languages for precise results.
AI Highlighting: Every sentence AI writes is marked, showing the percentage of AI content.
Batch File Upload: Allows multiple files to be checked automatically in the dashboard.
User-Friendly API: Designed for easy integration into organizations' workflows.
AI Detector Pro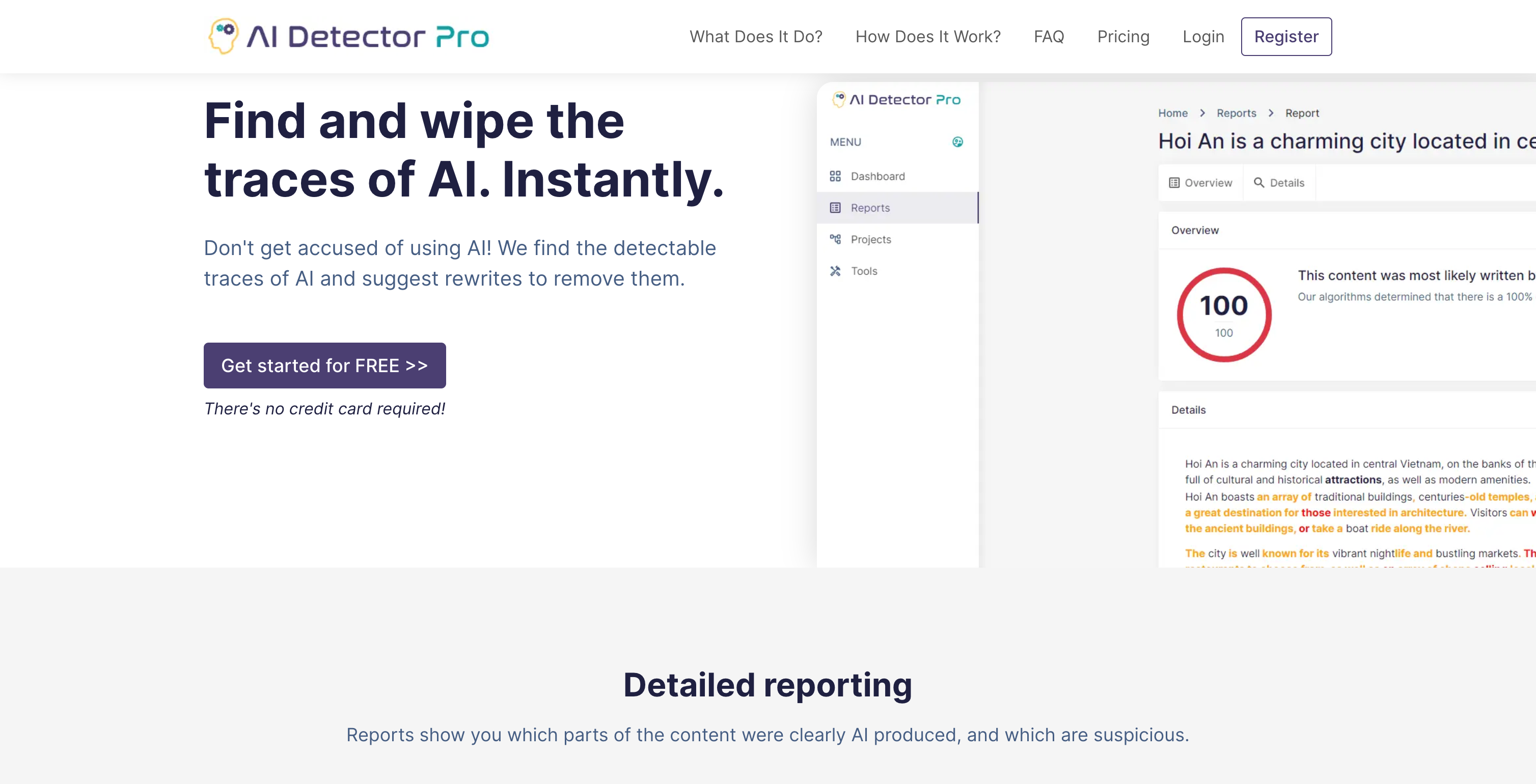 What sets AI Detector Pro apart is its focus on identifying AI-generated content and offering rewrites to remove detectable traces of AI.
Therefore, it's an ideal tool for writers, educators, and professionals who want to rephrase suggestions to ensure the authenticity of their content.
AI Detector Pro Key Features
Detailed Reporting: It generates reports showing the probability of content being AI-generated.
AI Eraser: This unique feature finds detectable AI content in any document and helps rewrite it, ensuring originality.
Sentence Level Details: It provides detailed analysis down to the sentence level, identifying which parts of the content were AI-produced and which are suspicious.
Simple Pricing: It offers flexible pricing plans for everyone and every budget.
Crossplag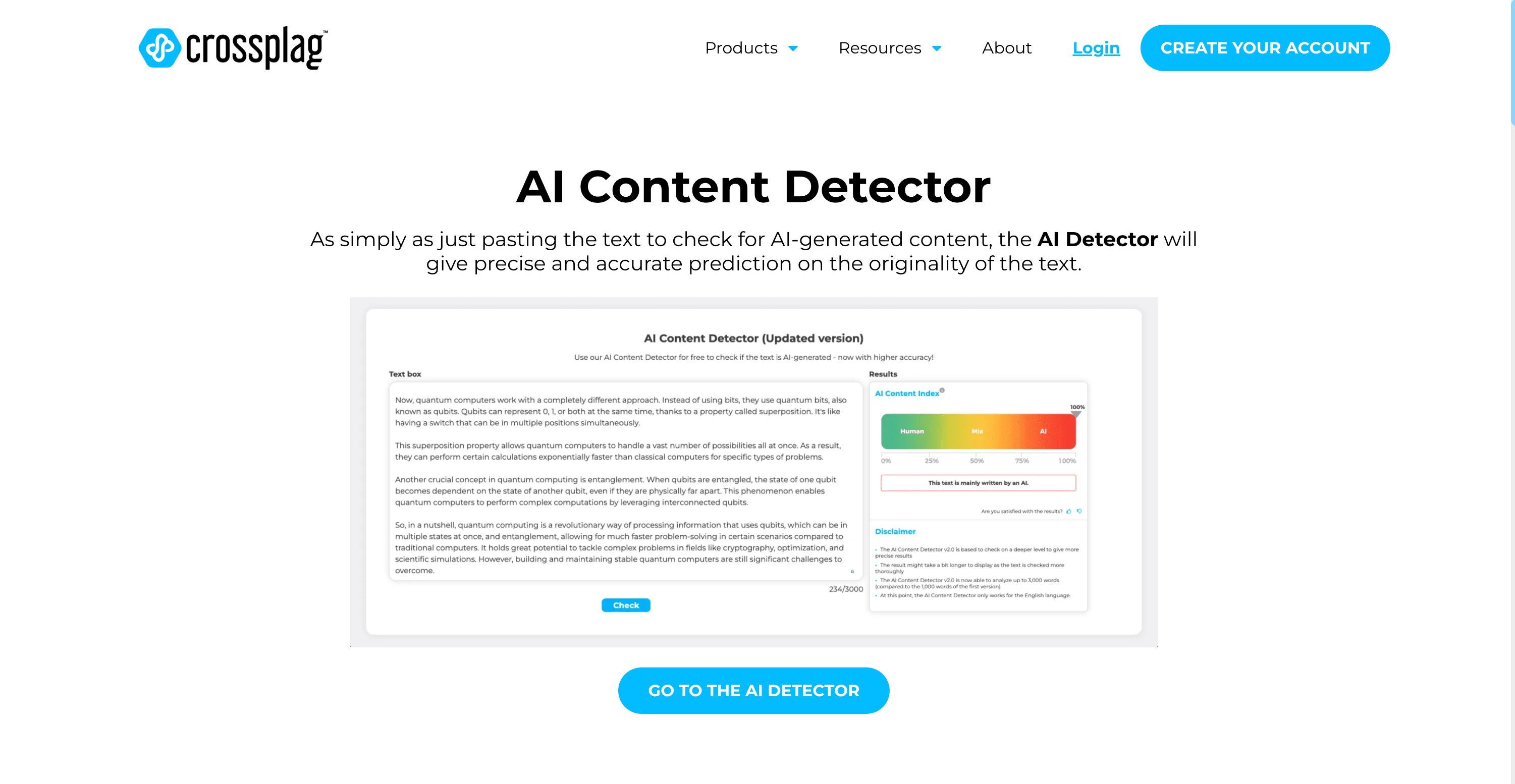 Crossplag provides precise and accurate predictions regarding the text's originality by simply pasting the text to verify AI-generated content.
The tool offers a confidence percentage when assessing whether an AI authored the text.
A high confidence percentage indicates that an AI likely generated the text. A low confidence percentage means a human likely wrote it.
Unique Features Of Crossplag AI Content Detector
Fast: Provides almost instantaneous results.
Accurate: Uses machine learning and natural language processing to detect AI-generated content.
Easy to Use: Paste the text and click "Check" for instant feedback.
Free to Use: Unlike some other tools, Crossplag AI Content Detector does not charge for its services.
GLTR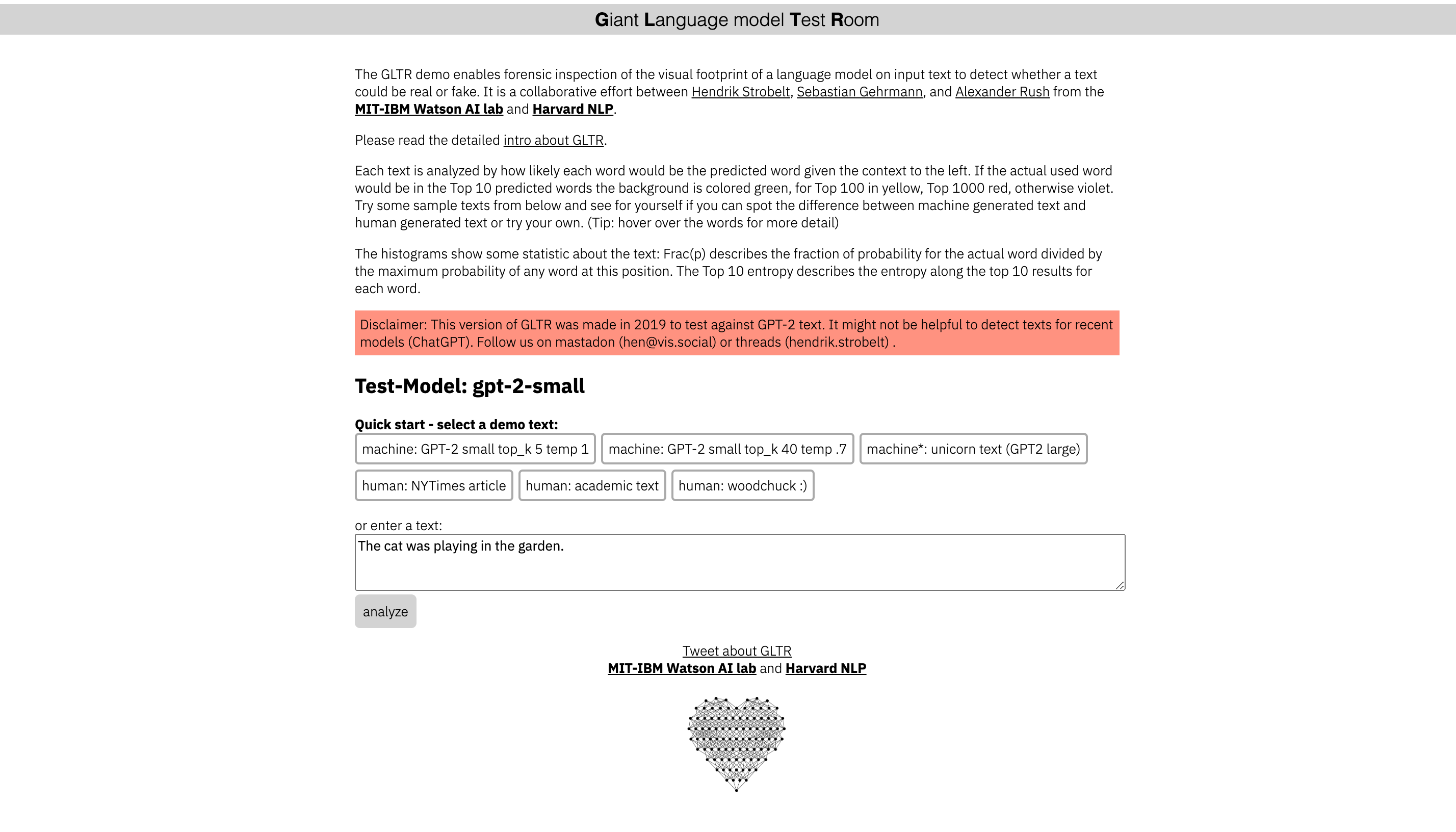 GLTR focuses on detecting AI written text that might fool humans. It does this by sticking to the most likely words at each position.
This makes it a valuable tool in the fight against fake reviews, comments, or news articles. It provides a visual footprint of the likelihood an automatic system has produced a text.
GLTR Key Features
Forensic Analysis: GLTR performs a forensic analysis of text, indicating the likelihood of it being computer-generated.
Color-Coded Text: Words in the text are color-coded based on their predicted likelihood, giving a visual indication of the text's origin.
Histograms: The tool provides histograms that aggregate information over the entire text, offering insights into the distribution and ratios of word predictions.
AI detector tools are commonly used among the following:
Website owners and operators
Teachers
Book publishers
Job recruiters
Social media specialists
Anyone who outsources work…
And while AI content detectors can be helpful, I recommend you rely on your judgment to make the final call with any piece of writing.
How Do The Best AI Checker Tools Detect AI Generated Content?
AI detectors use natural language processing and machine learning to identify AI-generated text. They analyze language patterns and detect signs of AI, like repetition or generic tone.
Despite their usefulness, they're not foolproof. Open AI's detector, for instance, was discontinued due to accuracy issues. This underscores the fact that this advanced technology is still evolving.
There is still room for improvement.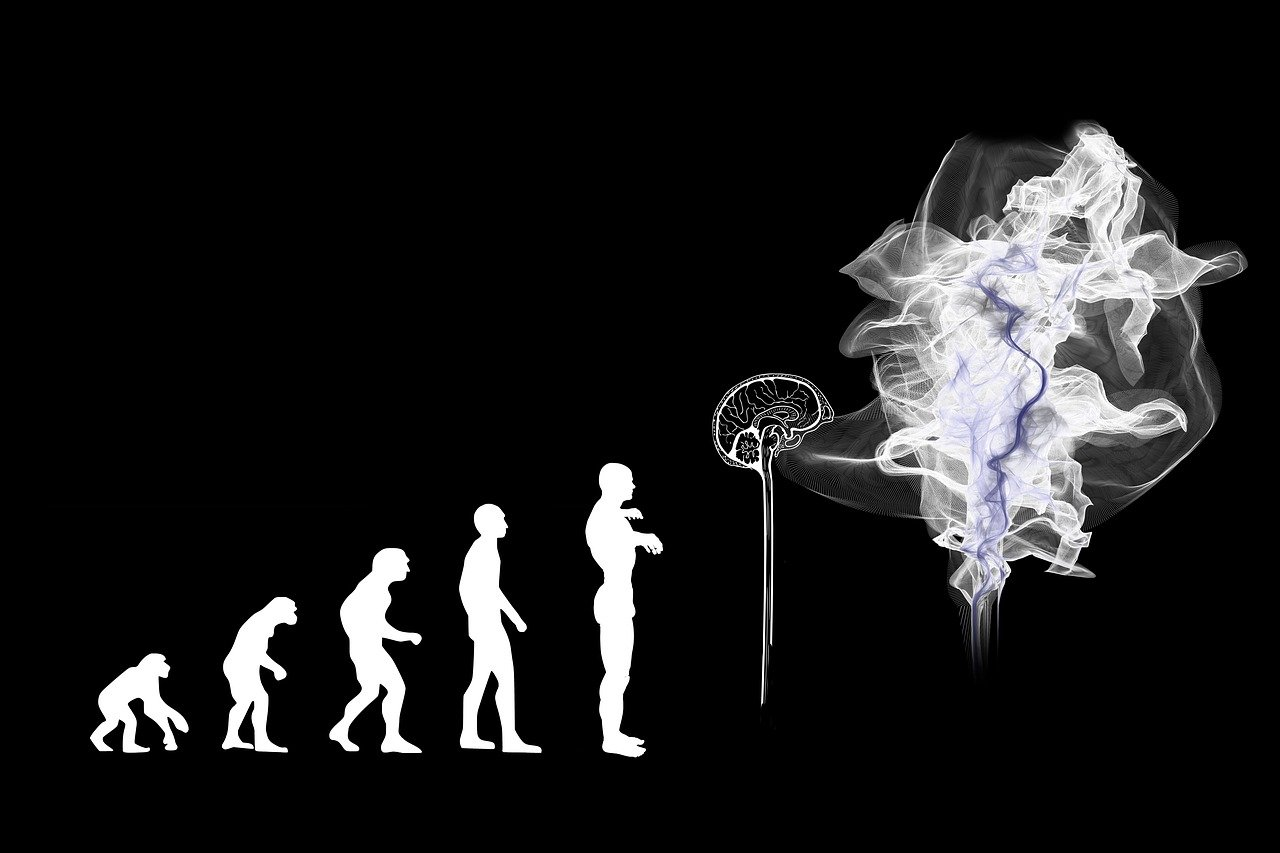 While AI detection tools have made great strides, they aren't the final word.
These tools should be used as helpful guides. They are not ultimate decision-makers.
We humans understand nuances, emotions, and subtleties in a way that AI doesn't. Therefore, despite the advancement in the best AI detection tools, human judgment remains an essential part of the process.
Best Tools To Check AI-Generated Text In Closing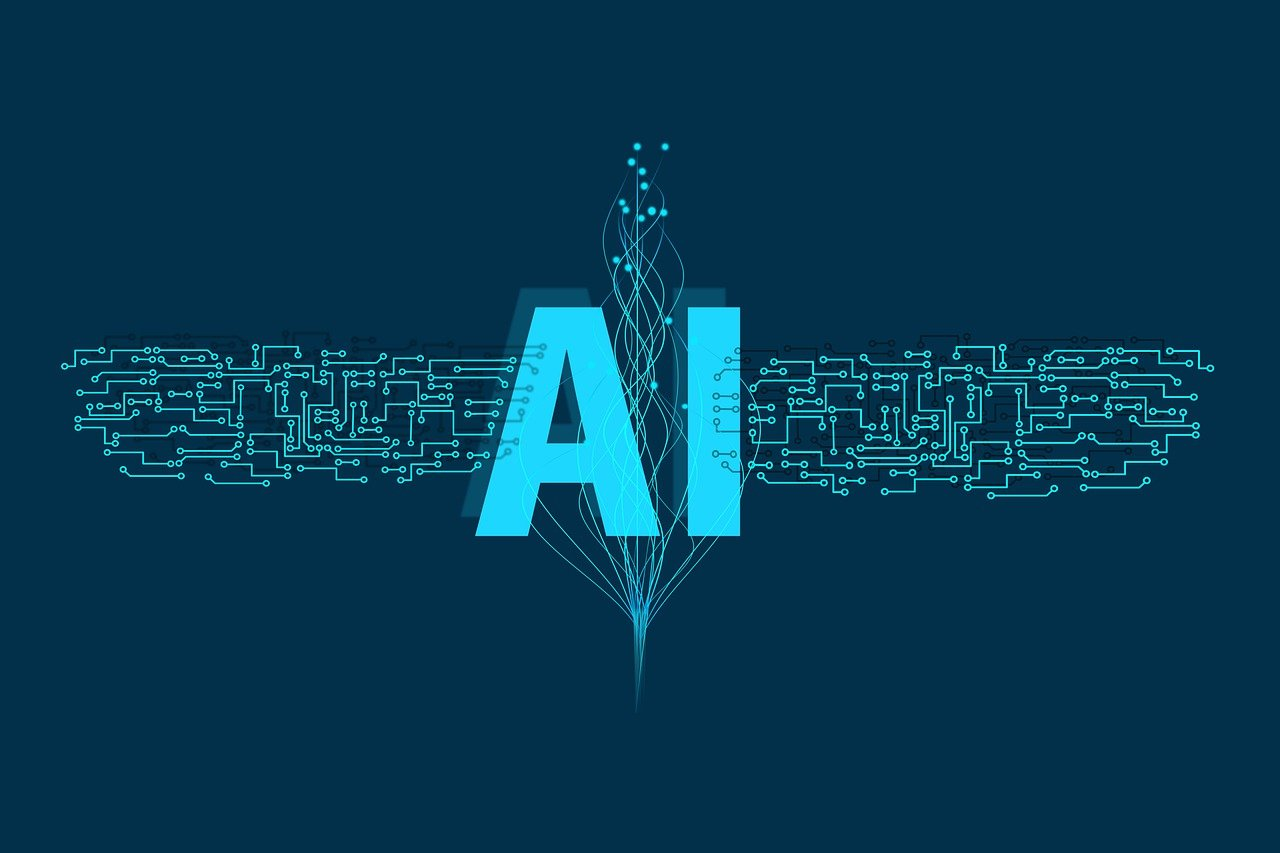 To sum up, these 11 tools stand out as the leading solutions in detecting AI-generated text.
They each offer unique strengths, utilizing advanced techniques to help discern between AI and human written content.
While the best AI checker tools boast high accuracy, their results should be considered part of a comprehensive content assessment.
So, whether you're a writer, educator, or internet marketer, you may want to arm yourself with one or more of these. Just remember to be mindful of how you use them and stay one step ahead.