In this SE Ranking review, we'll find out if this one-in-all SEO tool is worth the hype!
Every SEO manager, personal website owner, or blogger needs to perform various search engine optimization tasks effectively. You need to be able to check backlink quality, conduct keyword research,  carry out website audits and analyses, and so much more to rank properly. 
SE Ranking makes this possible by providing an all-in-one solution that addresses the primary tasks associated with search optimization. But how well does it do this? 
In this SE Ranking review, we'll look at its features, pros, cons, pricing and much more.
Plus, if it doesn't cut it for you, we've also listed a couple of alternatives that you can try out.
Try SE Ranking for 14 Days Free Today! 
Get a 14-Day Free Trial of SE Ranking
---
Summary
SE Ranking is an all-in-one SEO tool that helps users boost their ranking on the search engine result pages through its numerous features such as backlink quality checker, website audit, etc.
Pros
Very easy to set up
Features white label 
Affordable compared to alternatives
Rank check frequency discount on all plans
Cons
So many features that it can confuse newbies
Limits the number of keywords you can rank track for each plan
What is SE Ranking SEO Tool?
SE Ranking is an all-in-one search engine optimization (SEO) tool with the objective of assisting website owners or SEO agencies to analyze and optimize websites so that they rank high on the search engine result pages (SERPs). 
The software includes features like keyword research, competitor analysis, backlink monitoring and checking, website audit, page change monitoring, and a lot more as we will see in the section below.
There are even particular features for SEO agencies like a performance report tool, white-label, an API, additional accounts with various permission levels, etc.
SE Ranking Review: Features
As mentioned above, the SE Ranking tool has a ton of features, so let's have a look at the major ones: 
Competition Analysis
SE Ranking's competitor analysis tool allows you to get a sneak peek of your competition's SEO and PPC methods. You just need to copy and paste any website URL or domain and you'll get a complete view of their PPC and SEO strategies. The tool performs analysis on any website for the following metrics: 
Traffic: You can check your rivals' traffic estimates, cost, and keywords. 
Keywords: The tool enables you to view in-depth data on all the keywords your competition ranks for.
Domain Trust: This allows you to know if the website you're competing with has high trust scores.
Backlinks: With this, you can analyze the number of backlinks your rival has and if they're quality enough.
Popular Pages: The competition analysis tool helps you know the pages on your competitors' websites that send the most traffic to their site.
Ads: With this function, you can carry out PPC competitor research to know the keywords they're paying for and which of their ads like Google ads perform the best.
Competition: This function lists out your competitors and allows you to compare semantics with their keywords.
Try SE Ranking for 14 Days Free Today! 
Get a 14-Day Free Trial of SE Ranking
Keyword Rank Tracker
SE Ranking offers a keyword rank tracker that allows you to check your website's position on the search engine result pages (SERPs) of various major search engines like Yahoo, Google, Bing, YouTube, etc.
You can also check your rank on various devices (mobile and desktop) for accuracy as well as in different locations. 
The feature offers the following functions: 
Google SERPs, Maps, and Ads Monitoring: With this feature, you can check your rank on Map search results, ad position, and SERPs features like videos and snippets.
SERP Competitors: The SERP competitor function allows you to analyze the top 100 competitors to your website on the SERPs. You can also tag your rivals for easier identification,
Competitive Intelligence: Alongside the comprehensive data you get for your website's ranking, you can view your SEO competitors by including up to 20 rivals to get an in-depth analysis of their website SEO practices.
Try SE Ranking for 14 Days Free Today! 
Get a 14-Day Free Trial of SE Ranking
White Label for SEO Agencies
SE Ranking's white-label feature gives SEO agencies, SEO service resellers,  independent web users, and anyone offering SEO services the ability to offer personalized SEO services. This means you can provide your customers with everything that SE Ranking has to offer like it is all coming from your brand.
The tool also doesn't come at an additional cost like that of SE Ranking's competitors. It is included in the Pro and Business plan pricing.
The functions in this feature include the following: 
Use a Custom Domain: You get to utilize your own sub-domain or domain to promote SE Ranking's SEO services without linking to SE Ranking in any way. 
Receive Reports: The feature allows you to set manual or automated reports to be sent to your clients from your organization's email. It even permits you to use a personal SMTP server if needed.
Manage Users: You have access to administrative control and can decide which users have permission for certain features like website audit or backlink checking.
Invoicing: The tool can check your invoice numbers and do the calculations for you if you're getting paid for keyword rankings. 
Backlink Checker and Tracker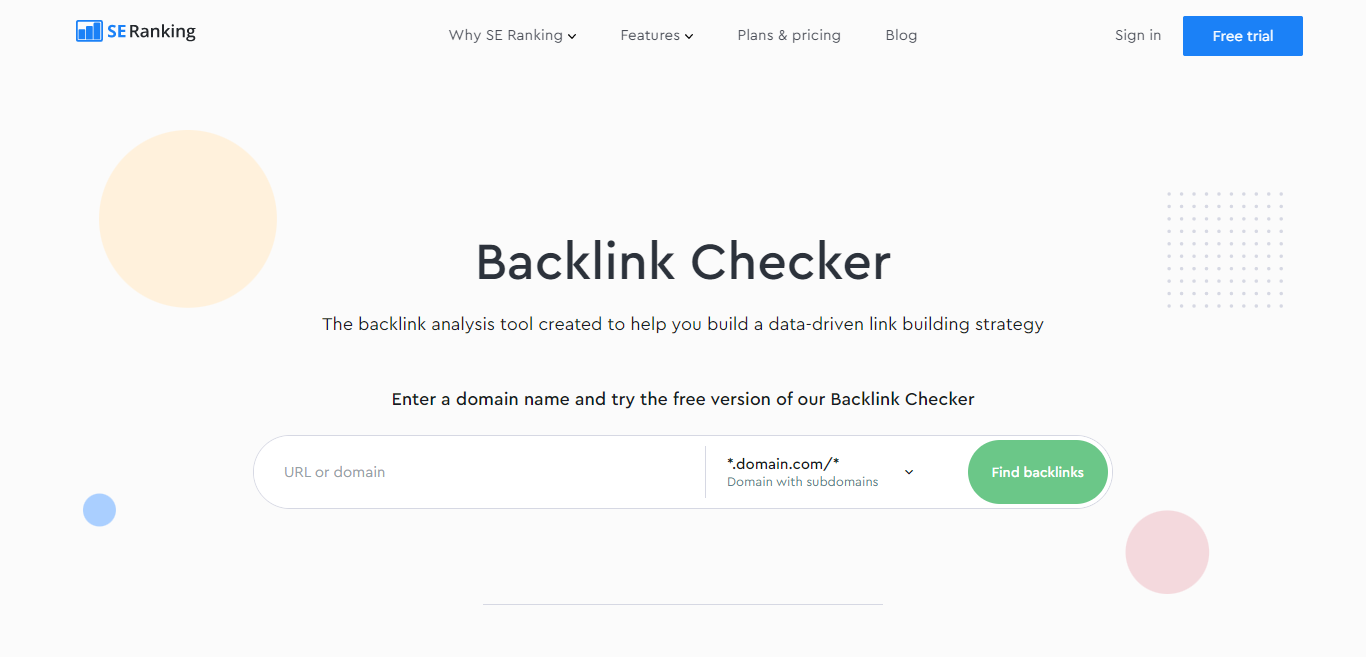 The backlink checker from SE Ranking lets you analyze your backlinks with a 360-degree view. You can analyze the complexities of lost and new backlinks as well as the power of referring domains. There's also the option of knowing the locations your backlinks come from, your anchor text distribution, and the pages that are linked out the most.
This feature checks your backlinks with the following key parameters: 
Image or Text: You can know if a backlink comes from an image or text.
First and Last Seen: This function allows you to know when a backlink was first and last found by the SE Ranking tool.
Nofollow/Dofollow: Check the attribute of your link to know if it instructs search engines to ignore or crawl it.
Anchor Text: The anchor text metric allows you the tool to check the clickable text distribution of your backlinks.
Page Trust: Backlink checker analyzes the page trust of potential backlink options to know if they offer a great ranking opportunity.
IPs and Subnets: This feature checks IPs and Subnets to determine backlink location.
Alexa Rank: It checks for the Alexa rank of websites you're linked to or intend to link from.
Beyond the above, every website that the SE Ranking backlink checker tool discovers that is of high interest is added to a Monitor List where the tool can track the site's status every day.
Also, for an extra cost, there's also an additional real-time backlink status checker.
It's also interesting to note that SE Ranking offers one of the largest backlink databases available with 2.7 trillion backlinks processed, 25,000 pages crawled a minute, and 220 million domains crawled consistently.  
Website Auditing
SE Ranking's website audit feature allows you to analyze your website to discover issues that are keeping it from ranking high on search engines. The feature offers the following functions: 
Page Crawler: With this, you can crawl up to 1,000 web pages in a couple of minutes as well as filter the crawl results.
Result Analyses: You can compare web audits and share reports with team members or clients.
XML Site Generator: The XML Site Generation feature helps Google and other search engines know which of your pages are worth indexing and crawling.
How to Fix Guide: Using the website audit tool, you don't just get a list of problems. You also receive possible fixes for them. The reports for each problem are very detailed as well.
Custom Settings: You can pick which issues you want to keep an eye on.
SE Ranking Lead Generator
Using SE Ranking's lead generation tool, you can capture leads for your business by adding an on-page checker widget to your website. The way it works is quite simple.
The lead generation tool displays as a form on your website for visitors who want to run a free website audit on their site.
When the visitor fills out the form, they get a comprehensive and in-depth audit report of the page inputted for a particular search term. In exchange, you get their contact details which they put in when filling out the form.
This way, you get a potential client who is happy with your free branded website audit and you can proceed to convert them into paying customers.
The coolest thing about this tool is that you can color and brand the form and audit tool however you like. Your audience won't encounter an SE Ranking tool when they start the audit.
To add the tool to your page you just need to embed an HTML code and you'll receive notifications every time you capture a lead.
SE Ranking Review: Pros and Cons
Let's have a look at the pros and cons of the SE Ranking tool.
Pros
The tool allows you to check your ranking at the city level which is an extremely powerful option for local brands.
SE Ranking's dashboard design is easy to navigate as you get to see all of your available tools like the keyword research tool, competitor analysis, and the rank tracker in one location.
The solution is extremely easy to set up and does not require you to be an SEO pro to use the tool.
For agencies, there's a report feature that enables you to send customized and detailed reports of your SEO progress to your clients. 
The white-label feature doesn't come at an extra cost but is part of the pro and business plan package. With the feature, you can also provide all of SE Ranking's functions without any affiliation with the platform.
Its website audit doesn't just give you a list of what to fix but includes the solutions to all problems.
Their backlink checker is simply amazing. The tool enables you to get a comprehensive analysis of your links as well as potential backlinks. There's even a backlink monitor tool that saves websites that are of high interest with regards to backlinks.
SE Ranking offers an incredibly page crawler that is able to crawl 1,000 pages in just 2 minutes. 
It features an XML Site Map Generator to help Google and other search engines know the pages to index and crawl.
Cons
SE Ranking appears to be lacking in advanced functions with regards to social media analytics. This is quite sad as social media engagement is also a major ranking factor.
The Essential plan has limited ranking updates (typically three every day).
For users new to the SEO space, it can get really confusing because the tool has so many features. It can get tough to know where to start, so there's a bit of a learning curve here.
If you're searching a lot of keywords, it takes quite some time to spit out the results. 
SE Ranking doesn't offer the opportunity to integrate into other analytic platforms like Google Analytics. 
Rank Check Discounts
Before we get to the pricing section it's important to mention this, as it'll help you save up on the costs of using the SE Ranking tool.
At the top of their pricing page, SE Ranking has a rank check frequency calculator. The tool works by measuring the frequency with which you intend to check your rank. This can be daily, every three days, or weekly. Your subscription model can be one month, three months, six months, or annually.
Depending on what you choose, it gives you a percentage discount on your preferred pricing plan.
This adds up so you want to choose wisely!
For example, you'll save 45% if you go for the weekly option and a subscription plan of three months. You would save 60% if you pick the annual subscription.
SE Ranking did good here as there is ample opportunity to save on the cost for the solution by how you choose.
SE Ranking Review: Pricing Plans
This tool has three payment plans: Essential, Pro, and Business. There isn't a fixed price for each plan as it changes based on the number of keywords you wish to rank track. This is explained below:
Essential Plan
With the Essential plan, you can track anything from 250 to 750 keywords. If you opt to track 250 keywords, you'd just have to pay $31.17 per month. For 500 words, you pay $43.17, and for 750 keywords, you pay $55.17.
The features you get with this plan include the following:
Competitive Keyword Research
Run up to 10 projects
Monitor up to 12,500 backlinks 
Study 5 competitors per project
Run a website audit for up to 65,000 pages
Group keywords 
Check backlinks for up to 30 websites per day
Website audit of up to 210 pages
Social media management and analytics
SEO reports
1 user allowed
Marketing plan
What you don't get is: 
Organic SERP history
Keyword database expansion
API
White label monitoring
Page changes monitoring
Historical data on domains and keywords 
Pro Plan
Tagged as the most popular SE Ranking package, the Pro plan allows you to start rank tracking from 1,000 keywords at $71.17 per month, then $119.17 per month for rank tracking 1750 keywords.
This plan allows for 3,150,000 keyword checks in total. 
The features you get with this plan include the following:
Access up to 5 user seats
Organic SERP history (for 3 months)
Keyword database expansion: 17,500
Run on-page audit for up to 600 pages
Monitoring for 60,000 backlinks
Marketing Plan
Historical data on keywords/domains (for 3 months)
Conduct website audit for up to 400,000 pages
50,000 results per report
Page changes monitoring: 175
Unlimited number of projects
Analyze up to 10 competitors per project
Keyword Grouper
Competitive and Keyword Research
5,000 reports per day
Check backlinks for 200 domains/day
Flexible SEO reporting
Keyword database expansion
What you don't get is: 
Business Plan
This SE Ranking plan costs from $151.17 per month (to rank track 2,500 keywords) to $719.17 (to track 20,000 keywords). In total, this plan can run 36,000,000 checks. That said, here are the pricing options plus the number of keywords covered:
5,000 keywords for $279.17 each month
10,000 keywords for $439.177 each month
15,000 keywords for $599.17 each month
20,000 keywords for $719.17 each month
The features you get with this plan include the following: 
Social media analytics and management
API
Get access to up to 30 user seats
Run a website audit for up to 3,200,000 pages
Monitor up to 800,000 backlinks
White Label
The ability to run an unlimited number of projects
Run on-page audit for up to 2,000 pages
Analyze up to 20 competitors per project
Check backlinks for up to 500 domains every day
Get 10,000 reports every day
100,000 results per report
Get historical data on keywords/domains (any month of your choosing)
Keyword Grouper
Competitive and Keyword Research
Access Organic SERP history (any month of your choosing)
Keyword database expansion
Marketing Plan
Flexible SEO reporting
Monitor up to 2,000 pages for changes 
Keyword database expansion up to 200,000
As is probably obvious, the Business plan offers way more capacity than the Pro plan. However, with regards to features, the only difference is the API function. Do you get why the Pro plan is the most popular one? If you aren't doing much on a large scale, the Pro plan is sufficient for most users.
SE Ranking Review: Alternatives to SE Ranking
If SE Ranking doesn't do it for you, here are a couple of alternatives to the SEO tool:
SEMRush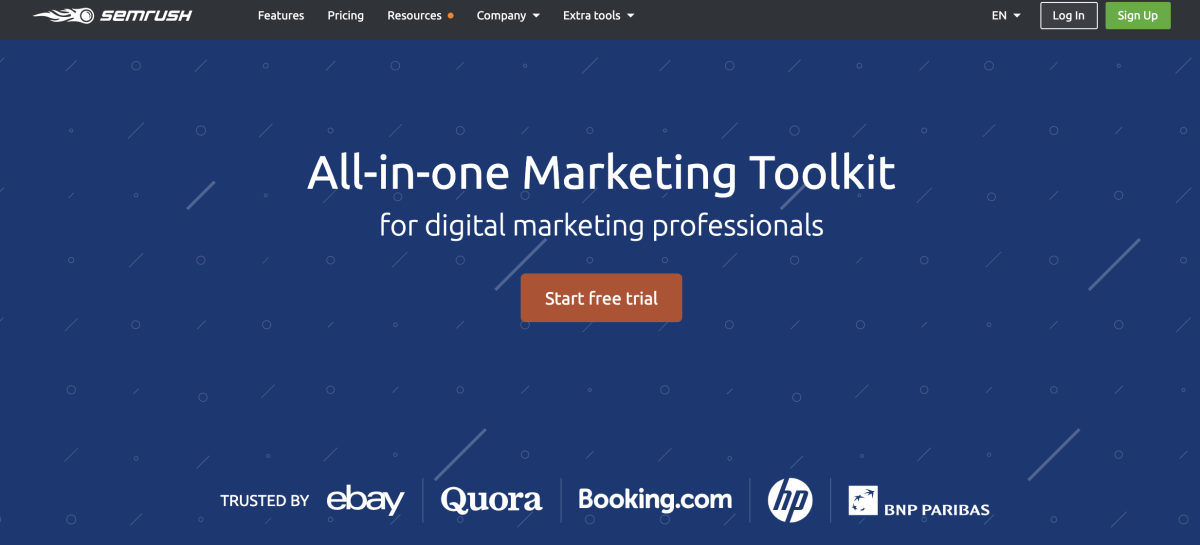 You can examine your competitor's methods and insights with SEMRush, which includes details on their rankings. And with the help of its sophisticated tools and features, it carries out organic advertising research.
You'll also get to know your competitors' most-used keywords, their advertising methods, and spending plan.
With its backlinks functionality, you can undertake a deep link analysis, assess the authority of referring domains, and determine the geolocation of your links.
It provides extensive keyword research capabilities to assist you in identifying the best keywords for SEO and PPC campaigns as well as related and long-tail keywords.
It's quite similar to SE Ranking. However, when it comes to pricing, it's way more expensive with prices starting at $119 per month.
Ahrefs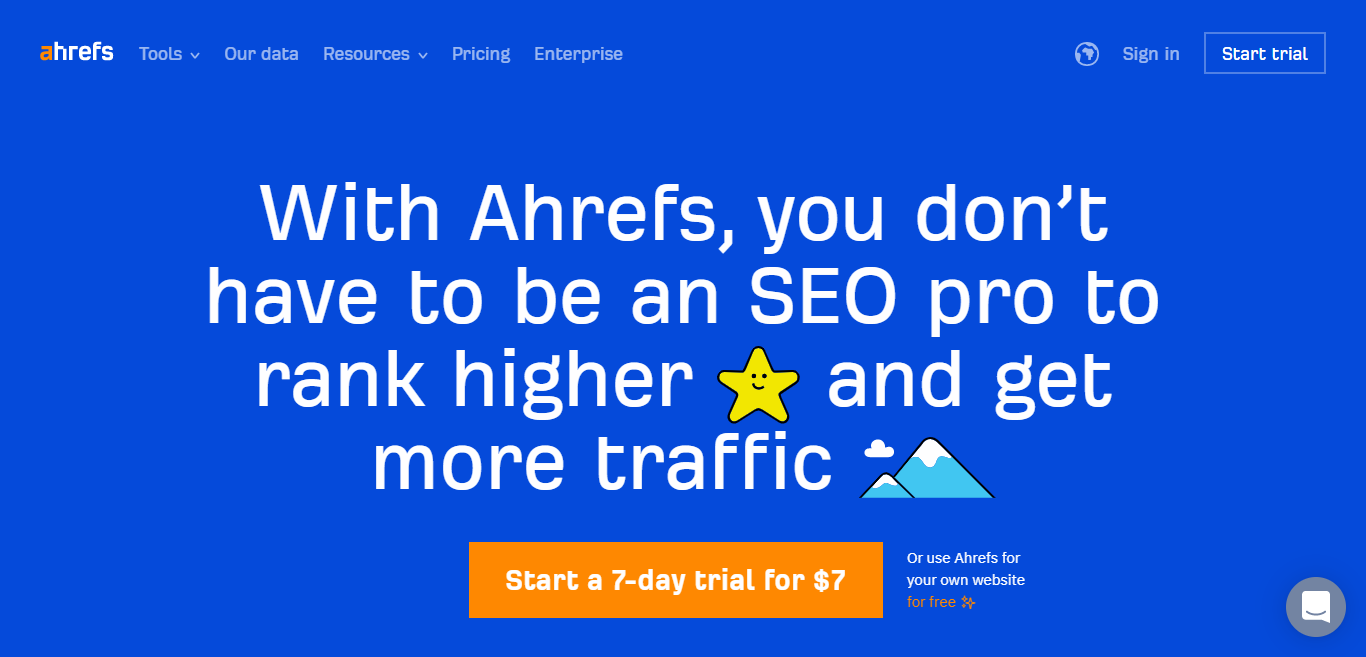 Ahrefs is an SEO tool that helps businesses and website owners increase their organic traffic.
Users can also study their competition to figure out what is currently working for them and why they are achieving higher ranks.
This is neatly outlined in an organic search report which displays the quantity of traffic generated by each keyword. The Top Pages section also displays the site's most visited pages. Meanwhile, the tool manages the data of around 150 million keywords in the USA alone.
The Keyword Explorer, which examines thousands of relevant keyword suggestions, is powered by the tool's enormous data capacity.
There are over 3 billion keywords in the system.
The keyword difficulty score, as well as additional data points such as the keyword complexity index and sophisticated research metrics, help users figure out which keywords to focus on.
Ahrefs also possesses the world's biggest database of live backlinks. With regards to its price, it cost way more than SE Ranking starting at $99 per month.
SE Ranking Review: Summary
SE Ranking is a comprehensive SEO tool that offers features such as competition analysis, keyword rank tracker, white label for SEO agencies, competition analysis, backlink checker and tracker, API, website auditing, and a lead generator.
The pros of SE Ranking are its:
User-friendly interface
Affordable pricing plans
Ease of set up
Page crawl volume
Discounts via rank checks
Its cons are that it does not have some of the features offered by some of its competitors such as SEMrush and Ahrefs, which more advanced users would prefer.
In conclusion, SE Ranking is a good option for those looking for an affordable SEO tool with most of the features needed to carry out basic SEO tasks. Its also an excellent choice for agencies that intend to offer customized SEO services for their clients. 
Try SE Ranking for 14 Days Free Today! 
Get a 14-Day Free Trial of SE Ranking
SE Ranking Review Verdict: Is SE Ranking Worth It?
Absolutely! SE Ranking is worth every penny. But if you're looking for more advanced features, some of the alternatives in this SE Ranking review are better options.