Whether you're a new affiliate or simply looking for new programs to join, don't overlook the Etsy affiliate program. 
If you think Etsy is just for crafters and stay-at-home moms, think again!
The Etsy affiliate program has been around since 2015 and the amount of items you can find and promote as an affiliate might surprise you. 
In this article, we're taking a closer look at this affiliate program and providing some of the highest-paying Etsy affiliate niches. You'll also get tips and ideas so you can start promoting Etsy products as an affiliate ASAP. 
Does Etsy Have an Affiliate Program?
Yes, Etsy does have an affiliate program. This affiliate program is great because of the wide variety of items offered for sale on Etsy. 
Although the platform is widely viewed as a crafter's marketplace, there is so much more to promote on the platform. 
It's not just gifts and crafts – there is something for virtually every niche sold on Etsy.
Visit the Etsy Affiliate Program Page
What Kind of Products Can You Promote As an Etsy Affiliate? 
Etsy is an online marketplace for handmade items, crafts, vintage items, and more. 
The Etsy marketplace has jewelry, clothes, home goods, vintage wares, arts and crafts products, kits, toys, electronics, digital products, and so much more. 
The Etsy affiliate program is a great choice for many different types of niches and niche websites because of the variety of goods on the platform. 
How Does the Etsy Affiliate Program Work?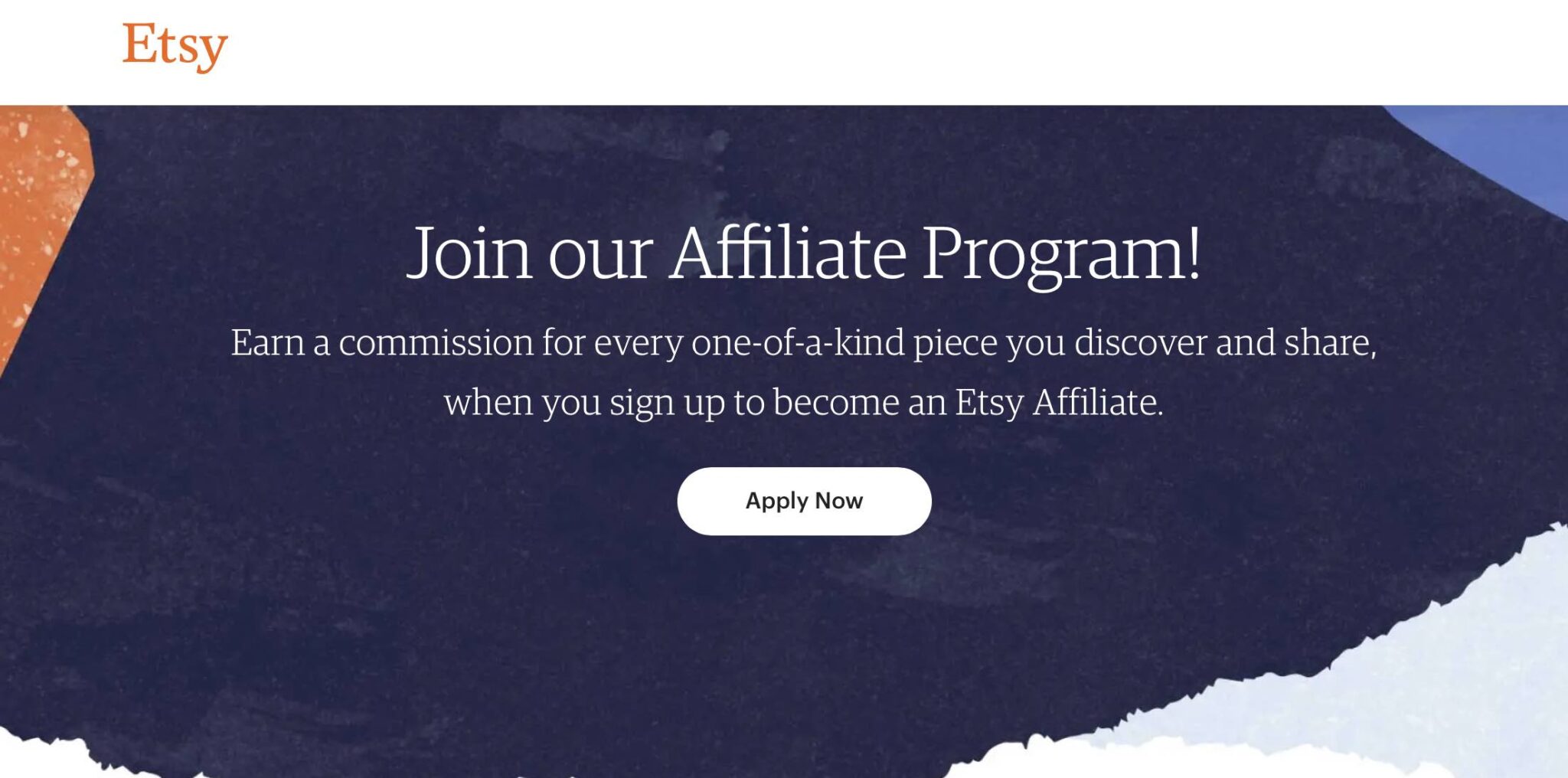 This affiliate program is run through Awin, a leading affiliate network with thousands of brands and affiliates. 
You can also find it through FlexOffers, although Awin is what is recommended by Etsy themselves. 
Awin is a popular network and is pretty easy to sign up for. Once you complete your Awin profile, you'll be able to search for and apply for the Etsy affiliate program.
As an Etsy affiliate you have access to banner ads, your affiliate link or links, and you'll get an Etsy affiliate newsletter and curated products for inspiration.
An Etsy shop owner can also be an Etsy affiliate.
However, Etsy sellers are not allowed to earn commission on items in their own Etsy store.
How to Become an Etsy Affiliate
To become an Etsy affiliate, you have to sign up for the Awin affiliate marketing network. 
This affiliate network does have a refundable $5 joining fee. They do this to prevent scammers and keep up a high-quality reputation.
Awin will ask how you plan to promote products and you will also have to fill out your profile details, including tax information and bank information. 
Once you fill out the required information, head to the "Advertisers" button on your Awin dashboard. 
From that page, click "Join Programs" and search for Etsy. 

There are several Etsy options on Awin for different geographical locations, so be sure you choose the right one based on your location. 
From there, you will be able to apply to join the Etsy program so you can start promoting products on the Etsy marketplace. 
Etsy Affiliate Program Commission Rates
So how much money can you make as an Etsy affiliate? 
The commission rates for Etsy affiliates is 4% for standard publishers and 2% for user-generated content. 
What does this mean, exactly? 
"Standard publishers" are those who use regular Etsy affiliate links throughout blog and niche website content. 
Bloggers can make money with the Etsy affiliate program through blog content like reviews, tutorials, listicles, and more.
"User Generated Content" or UGC is content posted to social media channels like images, videos, audio, etc. 
4% doesn't sound like a lot – but the Etsy commission rate is really comparable to what you'd find with other physical product affiliate programs like the Amazon affiliate program. 
If you're in the glamping tent niche, you could easily earn upwards of $70 per sale.
Etsy Affiliate Program Payment Schedule
As an Etsy affiliate, you'll get paid through whatever platform you promote Etsy through. 
Awin allows you to select between monthly and twice monthly payment options and the minimum payment threshold is $20. 
How Long Is the Etsy Affiliate Cookie? 
The Etsy affiliate program cookie through Awin is a 30-day cookie. 
This is considered a pretty typical cookie length and it gives your audience time to decide to make a purchase, unlike the 24 hour cookie offered by Amazon. 
Etsy Affiliate Tools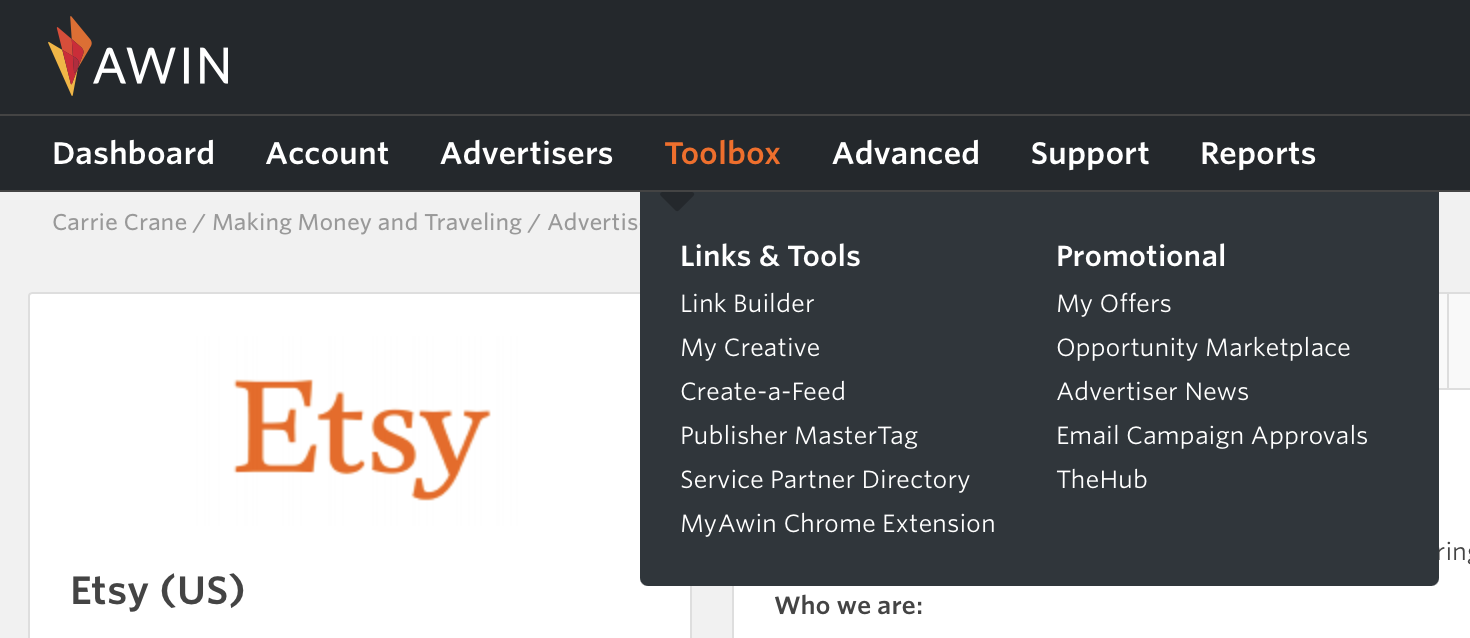 Etsy affiliates have access to different Etsy banner ads, affiliate links, and an affiliate newsletter. The marketplace also provides affiliates with curated product lists for additional inspiration. 
Since the Etsy affiliate program is managed on the Awin network, you also have access to Awin affiliate tools. 
Awin tools include a deep link builder, latest Etsy creatives, a chrome extension, and more. 
The MyAwin Chrome extension is a great tool to use with the Etsy affiliate program. This extension allows you to create an affiliate link directly from the Etsy product page instead of creating your link on the Awin platform.
Pros and Cons of the Etsy Affiliate Program
The affiliate program isn't the only way to make money with Etsy, but it's a great place to start and a great way to monetize your website. Here are the top pros and cons of this affiliate program.
Pros
Managed by Awin – a large affiliate network with great tools and affiliate support
Hundreds of thousands of product listings
Etsy is a well-known and trusted platform
30-day cookie window
Cons
4% commission rate
$5 joining fee to sign up for Awin (refundable)
Sellers cannot earn affiliate commissions on their own products (fair, but may be a downside to some)
Etsy gift card purchases will not result in a commission
How to Make Money with the Etsy Affiliate Program
So how exactly do you make money with the Etsy affiliate program? 
If you're just starting out, you're at an advantage here. You can start with the most profitable niche you can imagine and work up from there.
Here's how to have the most success with the Etsy affiliate program.
Choose a Profitable Niche
First, choose a profitable niche for Etsy. 
Since the affiliate commission is only 4%, choosing a high-ticket niche will help you get the most bang for your buck. 
Here are some examples of high-ticket items on Etsy. 
Glamping Tents
Yurts
Geodesic Domes
Rare collectibles
Autographed items
Wedding dresses
Cabin building plans
Vintage typewriters
Vintage furniture and decor
Jewelry
Rare art
You get the idea! Etsy is the home for rare art, collectibles, and so much more. Many of these items sell from a couple hundred dollars to several thousand.
You will notice some extremely high-priced items on Etsy, like 'rare' Beanie Babies for $40k. Use your judgement here and validate the market before basing your entire niche around a $40k toy. 
Build a Website
Once you've chosen a profitable niche, the best way to promote your Etsy affiliate links is through a niche website or blog.
You can build an entire brand around your niche and promote your Etsy affiliate links and affiliate links through other networks, too. You don't have to limit yourself to just Etsy with a niche website. 
Bloggers have the unique opportunity to build a brand around a niche, write product reviews, and get traffic mostly passively through search engines.
Blogging is a long-term strategy, but in my opinion, it's the best way to promote products through the Etsy affiliate program.
Learn How to Build a Niche Website Here
Create Lots of Evergreen SEO Content
After you build your website, it's time to create content.
Evergreen content is content (like an article or blog post) that's always relevant, no matter what year or season it is. 
Optimizing your content for search engines is the best way to get traffic and readers to your articles (and affiliate links) without much effort after you write your content. 
You can easily build an entire brand around your chosen niche and create many different types of content. Here are some examples: 
Item or Product reviews
Product walk-throughs
Tutorials
"Best of" product lists
Once you choose a profitable niche and create your niche website, you aren't limited to just promoting Etsy products. 
Sure, you can create plenty of evergreen SEO content for Etsy affiliate products, but consider looking for and signing up for other niche-relevant affiliate programs to boost your income-earning potential. 
After you create your content, you can promote it on various social media platforms. SEO takes time to start driving traffic, but social media platforms like Facebook, Instagram, and Pinterest can attract visitors faster.
Wrapping Up: Is the Etsy Affiliate Program Worth It? 
Because Etsy is a unique platform with a wide variety of unique and extremely niche products, the Etsy affiliate program is definitely worthwhile for many niches. 
The best way to promote the Etsy affiliate program is through niche websites, blogs, and YouTube channels where you can review and show the products in action. 
But this affiliate program can even be great for other niches that are focused on digital products. 
There's no shortage of products to be found on the Etsy affiliate program. Adding Etsy marketplace products to your affiliate marketing strategy is a great choice if it fits your niche.