HARO link-building has got to be the best way to consistently build high DR backlinks to your website.
The only thing that would be better is if you had a large network of contacts with DR70+ sites who would simply give you links! Unfortunately, that's not the case for most of us. Therefore, answering HARO queries is the next best thing.
The team at Jolly SEO has honed the art of winning links with HARO – better yet, they have a new platform called Link Sourcery that can help you to do it well too!
Jolly SEO And Link Sourcery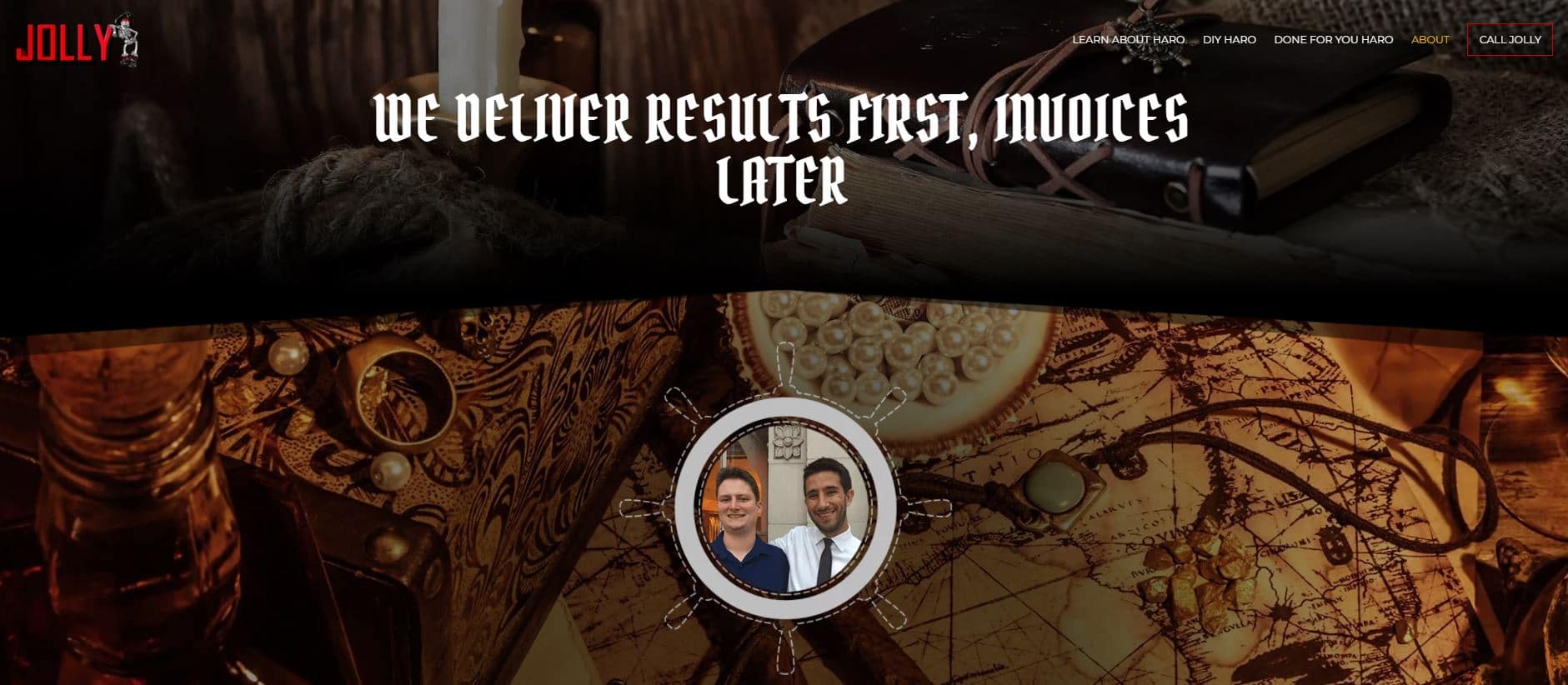 Who are Jolly SEO and what is Link Sourcery?
Jolly SEO is a HARO link-building service founded by Morgan Taylor and Greg Heilers. They build quality backlinks by answering HARO queries on your behalf. In 2020 alone, the company placed over 1500 links for their clients on DR50+ sites.
The big difference between them and other HARO services is that they only charge you when a DR50+ link is placed. Nobody else comes close! You only pay for the wins. The first 5 links are only billed for after they are live. As they put it, 'we deliver results first, invoices later.'
In more recent times, they have created Link Sourcery. It's a HARO tool for anyone sending pitch emails. It's a platform that you can send emails from, but it also contains a ton of data gathered from years of HARO link-building.
If you've ever tried to build links using HARO, you know it can be a bit hit and miss. Generally speaking, 1 in 10 pitches will result in a link, but not all of those links will be dofollow (which is what we all want).
Some links will be:
nofollow from the start
some dofollow links will be changed to nofollow
some links will be removed altogether
and sometimes the entire post will be taken down
That's one of the problems with HARO links – it's called 'link decay.'
HARO Link Decay
If you're interested, the guys at Jolly/Link Sourcery put together a link decay case study here.
After acquiring 2,100+ links through HARO for their clients, they asked the following questions:
How do these backlinks age over time?
Do large publications delete their old posts?
Do webmasters secretly switch dofollow links to nofollow?
Each of the 2100 links was assigned one of the following – still good, dead page, unlinked, nofollow – and the results are published in the case study.
What they found in the process of putting together this study was that some websites are serial offenders. When it comes to changing links to nofollow, or deleting the link altogether, the same sites were doing it over and over again.
This chart shows the results from building 35 links from bestcompany.com. 77% of links were changed to nofollow, almost 9% were removed altogether, and only 14% still remained (and for how long?).
Avoiding answering queries from sites like this can save a lot of time and/or money and increase your success rate – that's what Link Sourcery is all about.
What's the ROI from HARO?
Determining an ROI on link building is a nearly impossible task.
There are some overlooked benefits to HARO link building. One in particular and most obvious example is click-through (referral) traffic.
Morgan Taylor partner at Jolly SEO told us about how one of their earliest client HARO pitches landed, was in this Business Insider post for their client Crediful.
As you can see the client's backlink is in the second sentence of the article, and the post is getting a lot of traffic.
This article continues to receive over 1,000 sets of eyeballs every single month — this after almost 2 years, as the article originally went live in June 4, 2019!
Link Sourcery
As they state on their homepage, 'Our software helps you earn quality backlinks for yourself.'
This tool can become a hub for your HARO link-building attempts. While Jolly SEO is a service to build HARO links for you, Link Sourcery is a platform for you (or your team) to build your own links.
And guess what? It's FREE to start using! You only start paying a monthly subscription fee after your first 'win' using the platform (if you choose to keep using it, that is).
Here is a look inside the 'opportunities' tab where all HARO queries are entered for filtering.
For every HARO query, you can see:
The date and time the query was sent
The website/publication making the query
A query summary (click 'explore' for the full inquiry)
Whether or not the link is dofollow, nofollow, or unknown
The publication's DR (Ahrefs metric)
In the regular free HARO email that is sent 3 times a day, you do not get the DR details, nor do you know whether or not the link will be dofollow or nofollow. One of the benefits of using Link Sourcery is that you get details that can only be picked up after years of experience.
Link Sourcery Walk-Through
Greg from Jolly SEO and Link Sourcery can show off the platform way better than me – check out his walk-through in this video.
Other details about the platform from the video:
It can hook up with your email account, but emails are only going one way
You can send emails through Link Sourcery but you won't receive replies
Filter HARO queries by date, DR, or link type
Queries that have passed their deadline are removed
Have up to 3 different users with the base account
Share your wins with the Link Sourcery community
It can integrate with Slack
Get notifications sent to you about queries based on your keywords
Dashboard overview of all of your pitches and wins
They will also continue to work on new features and adapt things based on user feedback. We can expect the tool to evolve into something even more helpful than it already is.
Early Traction
Link Sourcery is just barely out of their initial beta testing, pre-launching the tool Link Sourcery was generating over 100 daily user sessions. 
You'll notice big dips on the weekends as HARO requests only come on the weekdays. With this many consistent user sessions with their beta testers, all signs show this is a sticky product and users keep coming back for more logging in almost daily. 
HARO pitching is a pretty niche market to target. It will be interesting to watch their growth. 
Link Sourcery Review
Link Sourcery is a very useful tool in the features and information it provides.
The platform is easy to navigate and you'll pick up how to use it quickly. The info on DR makes selecting the best queries to target faster than looking it up yourself, and knowing which publications only offer nofollow links (or unlinked mentions) is excellent.
I like how the dashboard displays exactly how many pitches you've made, and how many links you've won. I don't personally track this info, I just answer as many queries as I can, and it's great when I get one. But I'm not sure if I'm winning 1 in 10, 1 in 15, or 1 in 20 pitches. I'd like to know though!
Here are some of the pros and cons as I see them!
Pros:
Collect all your pitch data and have it displayed in one place
Info about what type of link you will receive
It's motivating to be part of a HARO community
Tips and tricks to pitch smarter and increase the success rate
Cons:
You can't start pitching until all the queries are entered in
The price makes it best for frequent users rather than patchy users
Change is sometimes hard
I think I've shared enough about the pros, and I'll just briefly expand upon the cons.
Firstly, with my own HARO outreach, I always answer my selected queries immediately. I don't tend to respond to any if I can't get to them within an hour of the email being sent out. The queries from Link Sourcery aren't uploaded until 30 – 45 mins after being sent, so there's a delay there.
The founder's tier pricing is $25 per month. This tier will only be open for the next few months. Landing just 1-2 high DA links will return you a solid ROI.
Lastly, if you're used to answering HARO queries through your email it can be hard to make the change – it has been for me at least! Answering queries the regular way is very simple and I have my way of doing things. While I think Link Sourcery is good, it FEELS more complicated, even if it isn't really.
Overall, I think Link Sourcery is a good tool for those who are consistently answering HARO queries. There's no doubt it will help you pitch smarter by only targeting the opportunities most likely to give a dofollow link. The tool will also help to better monitor your results and improve your skills with their 'paid members only' tips and tricks.
Link Sourcery And Jolly SEO Deal
If you don't have the time, energy, or desire to answer HARO queries yourself, Jolly SEO might be the answer. If you like, they can totally take over the whole responsibility of building links through HARO.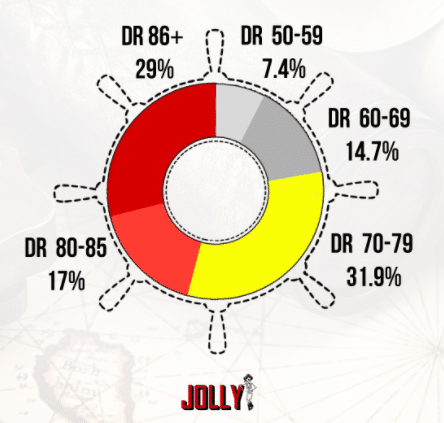 Here is an illustration of their 2020 link-building results. 
Of the more than 1500 DR50+ HARO links which they built:
29% were DR86+
17% were DR80-85
31.9% were DR70-79
14.7% were DR60-69
7.4% were DR50-59
If you want to try them out, they have a special deal for the Niche Pursuits audience:
As already mentioned, clients first 5 links are only billed for after they are live. Their current pricing is $575 for each DR 50+ Do Follow link, but for a limited time, they are offering DR50+ links for $525.
Book a call with Jolly SEO here and mention Niche Pursuits to get your discount!
Here is a review from one of their users:
From a guy who ran his own in-house team of 5 full-time link builders, 12 freelancer writers, and 2 editors: you guys are awesome. Outreach is tough, which is why I let other people handle it for me. I'm happy to have found you guys, Keep up the good work.
We also have a deal to share for Link Sourcery: Anyone who signs up for the founder tier of LinkSourcery will get their first 3 pitches analyzed by the Link Sourcery team. Feel free to give it a try yourself. They only want you to join if it's going to be a benefit to you – hence the free trial.
Eric Burns, the COO of Niche Pursuits has recently started using the tool:
Sign up for a free trial of Link Sourcery or their founding tier package and at $25 claim your free coaching here when you mention NichePursuits after signup.
Founder's Tier for $25/month:
On platform pitching
DR
Traffic
Link Type
Sourcery Score
Up to 3 project & outreach emails
Keyword Alerts
Pitch Optimizer
Link Hunting
Access to Video tutorials
For anyone who is serious about HARO outreach and building their website's DR, both of these services are worth checking out. For more info, and to be a part of a growing HARO community, you can also join the Jolly/Link Sourcery Facebook Group here (free for anyone to join).