Whether you're new to podcast publishing or have tons of experience, it helps to have the right software to support what you do. Podbean is one such software launched in 2006, but just because it's been around for a while, this might not mean it's the best. But in this Podbean review, we'll walk through everything it offers.
We'll look at all its main features, who it's right for, pros and cons, pricing, the quality of customer service, and the best Podbean alternatives so that you can make an informed decision.
In a rush? Try out Podbean for free right now.
Ease of Use
Features
Customer Service
Price
Summary
Podbean is an easy-to-use, powerful podcast hosting platform that allows you to create, promote and monetize your podcasts. You can record remotely on the go, shoot live streams, and edit all within the mobile app. Whether you're new to podcasting or have been in the business for years, Podbean has all the features and tools you need for success in one place.
Pros
Free plan available
Easy to use interface
Unlimited storage on paid plans
Affordable paid plans starting at $9/month
Record podcasts on the go with the mobile app
No need to use external editing tools
Multiple monetization options
Cons
Unable to record from desktop
Need to pay for automated transcriptions
Limited features in the free plan
Podbean Review: What Is It?
Podbean is a user-friendly podcast hosting platform that allows people to create, promote and monetize their podcast episodes.
It's used by over 600,000 new and professional podcasters worldwide, and it has a mobile app to record and publish podcasts on the go.
Every user gets access to a range of features, different monetization methods, and a free Podbean website that you can customize to show off your podcast and share across your social accounts.
Podbean Review: Features
Let's take a look at the main Podbean features and tools.
Podcast Publishing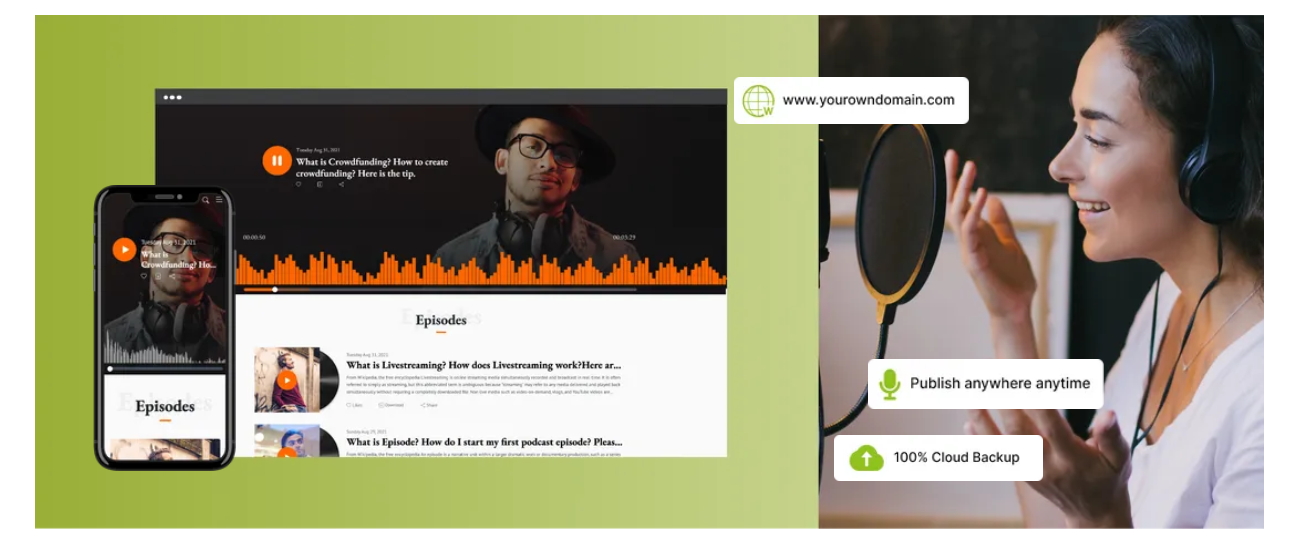 Podbean makes it easy to get your podcast up and running. The intuitive interface allows you to publish your podcast in just a few clicks to websites, social media, or onto the Podbean app.
If you're using the Podbean app, you can even publish your podcast directly from your device.
There are no limits on downloads, how many episodes you record, or the recording time. And you can have your podcast website up and running in minutes, with fully customizable professional themes and a branded domain name.
Using the scheduled publishing feature, you can schedule your podcast episodes to post at designated times.
Distribution and Promotion
Alongside the publishing tools, Podbean offers a range of tools to get your podcast episodes in front of listeners and to grow your following.
After publishing an episode, you can add it to a variety of channels for people to find, including Apple Podcasts, Spotify, Google Podcasts, and other podcast apps.
Plus, you can share single-episode and multitrack players in various sizes, shapes, and colors by embedding them onto your website or blog.
The social media auto-share feature allows you to automatically post new podcast episodes to your social networks, and you can generate videos in a few clicks for Facebook and YouTube.
Not only that, your new episodes are instantly made available on Amazon Alexa and the Podbean podcast app, plus you can automatically share new episodes via email with Podbean's Mailchimp integration.
Podcast Statistics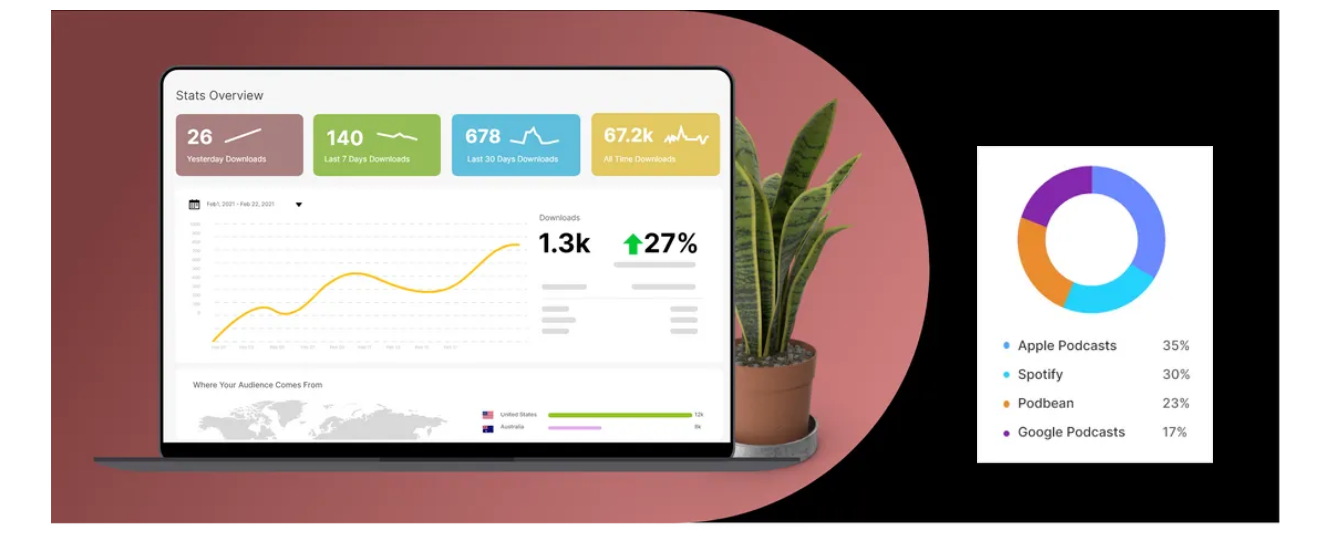 The Podbean statistics dashboard gives you all the insights you need to monitor how your podcast is performing.
A few things you can see include:
Downloads and trends. Identify any trends to better understand how your podcast is performing with your audience.
Top 10 episodes. Get access to an automatic summary of all your downloads and identify the top 10 to spot any patterns where you can grow your audience.
Listener geographics. Get an overview of where your listeners come from and where your podcast is popular so you can include relevant information and use targeted sponsorships.
User agents. Find out which apps and devices are being used to listen to your podcast.
Downloads by time of day. Check when your podcast gets the most downloads and listens so you can take advantage of peak listening times.
User retention. The Podbean user retention graph allows you to see how well you've done at retaining listeners to see if your efforts are working.
Monetization Features
Podbean offers a range of monetization features so you can scale your income.
Podbean users can take advantage of the Podbean advertising marketplace, where you can list your podcast for free and get matched with potential advertisers. Once you get matched, Podbean inserts ads naturally into your podcast using their podcast advertising management system.
Another way to earn is by using Patron for Podcasters. Podbean allows you to create a patron page in a few clicks that includes different levels of donations and rewards, and you can encourage people to use this by publishing patron-only content.
Live Stream
Podbean offers excellent live-streaming capabilities for your podcast content. Using Podbean live stream, listeners can call in during live shows and send you instant messages from anywhere in the world.
Plus, it's easy to get co-hosts to contribute using the free Podbean podcast app.
And, as you grow, you can sell virtual tickets for your live streams and receive virtual gifts from listeners that can be converted into US dollars.
Podcast Studio App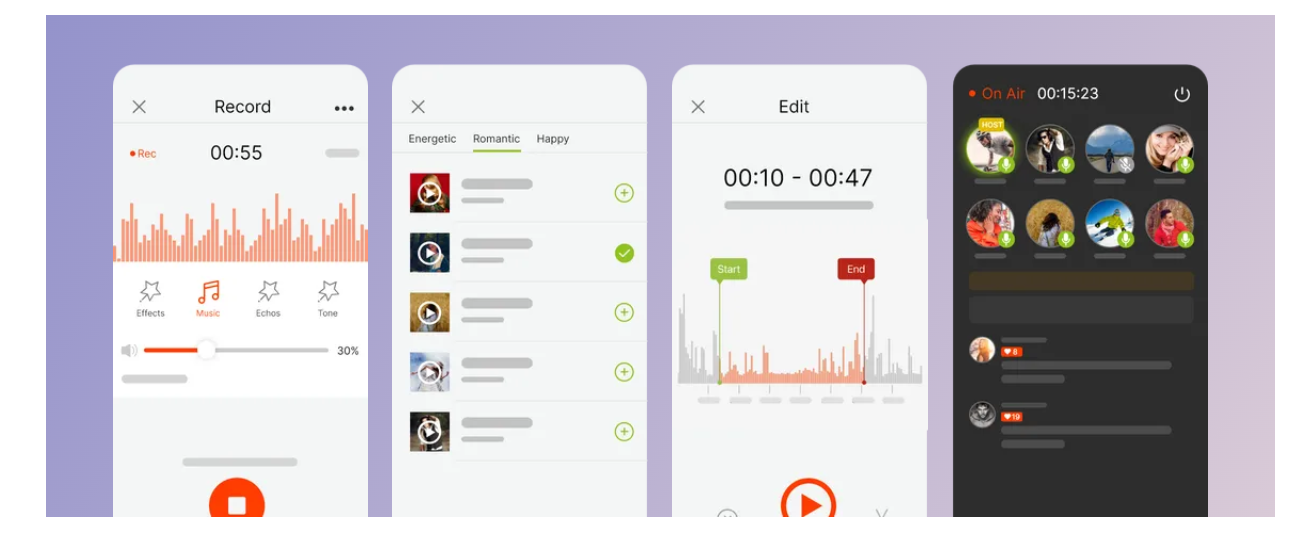 The Podbean app has over a million active users and provides an easy way to record audio and video from anywhere.
No need to use any wires or complicated equipment. With one tap, you can record audio and import existing audio directly to your phone or tablet.
Add background music, pre-defined sound effects, or a ready-made intro-outro from the music library that can be combined with your own voice.
Use the magic editor and post-production tool to cut out unwanted content and merge it with music or an intro-outro.
And increase audience engagement by responding to comments, seeing listener follows, and following others directly in the app.
Advanced Podcasting
The advanced podcasting features are restricted to the higher-level Podbean pricing plans. Here's what you get with the upgrade:
Video podcasting. On top of creating videos for your audio podcasts, you can use video podcasting with the top plans.
Private podcasting. This feature allows you to create a private podcast for employees or selected community members.
Professional network page. A dedicated place for all your podcasts that listeners can access in one place.
Remove Podbean branding.
Live chat support.
Podbean Review: Who is it Right For?
Podbean is a premium podcasting software ideal for beginner or more advanced podcast hosts.
It's extremely easy to get set up and start recording your first podcasts; it comes with a range of smart features, plus marketing so that you can gain new listeners.
Whether you're starting out or have experience creating podcasts, Podbean is a robust tool that'll support the growth of your business.
Advantages of Podbean
Here are the advantages of using Podbean as your podcast hosting service.
Easy to Use
There's no steep learning curve with Podbean. The user interface is easy to navigate, even for beginners, and you can create, edit and publish podcasts easily all in one place.
Free Plan Available
Enjoy Podbean for free to road-test all its features. With this, you can access 5 hours of total storage space and 100GB bandwidth monthly for as long as you like.
Affordable Pricing Plans
The paid plans are extremely affordable, starting at $9/month, climbing to $29/month and up to $79/month, and all give you unlimited storage space and unmetered bandwidth.
Video Podcasting
Take advantage of video podcasting, which is not always supported by other Podbean competitors.
Live Streaming

Connect with your audience in a new, more exciting way by dropping live streams. Share raw and un-cut content in real-time, and this is also an option for giving 'Patrons' extra, exclusive content.
Remote Recording
Record podcast episodes while on the go using the Podbean mobile app and invite up to 7 guests or co-hosts to join you.
Edit in the App
No need to use separate editing software. Edit your podcast episode directly in Podbean and get it ready for publication quickly.
Automate Transcription Feature
Use the auto-generated transcription and closed caption feature to give users a new way to follow along with your episodes. However, this is a paid feature that Podbean charges $0.20/minute to use.
Multiple Monetization Options
Diversify your income streams with various monetization options such as the Ads Marketplace, Patron and Paid Content, and PodAds.

Analytics and Distribution
See insights on how your podcast is performing in the analytics dashboard to help you understand your audience, grow your listeners and tweak content where necessary.
Disadvantages of Podbean
Here are a few disadvantages of using Podbean for podcast hosting.
Unable to Record from Desktop
When using the Podbean desktop, you need to separately record your audio using the app and upload it to the Podbean dashboard. However, you can create live streams from the desktop.
Only Supports Lossy File Formats
Podbean only supports lossy file formats such as mp3, mp4, and m4a. Plus, there's a 3GB maximum upload file size limit.
Need to Pay for Automated Transcriptions
If you wish to use automated transcriptions and closed captions on your podcast, you need to pay extra for this feature.
Patrons Need to Use the Podbean App
The Patron Program is only available on the Unlimited Plus and Network paid plans, and listeners have to be using the Podbean app.
How Much Does Podbean Cost?

Here are the main Podbean pricing plans available:
Basic Plan. Always free.
Unlimited Audio. $9/month billed annually or $14/monthly.
Unlimited Plus. $29/month billed annually or $39/monthly.
Network. $79/month billed annually or $99/monthly.
Podbean Review: Does it Have Good Customer Support?
Podbean has an informative Support Center that includes a range of video tutorials and articles teaching you how to:
Set up your podcast
Use the advanced features
Monetize your podcast
Live stream
Use the Podbean mobile app
Plus, you can email the Podbean team with any questions, and they'll get back to you as quickly as possible.
Only those on the Network plan can take advantage of live chat support.
Best Podbean Alternatives
If you're not ready to use Podbean just yet, take a look at a few of the best alternatives.
Buzzsprout

Buzzsprout is a podcast hosting platform that offers a range of tools, free learning materials, and top-tier customer support.
Enjoy an easy-to-understand analytics dashboard, podcast directories, monetization tools, and a beautiful podcast player for your website.
It's easy to use and can be integrated with a range of other podcast-related platforms.
Price: Free for up to 2 hours of uploaded content a month. After that, paid plans are $12/m, $18/m, $24/m.
Learn more in this Buzzsprout Vs Podbean review.
Castos
Castos is a podcast hosting and distribution platform that's trusted by a range of big brands such as the London Stock Exchange, Fossil and Instacart.
Its main features include a custom website, the ability to accept payments from listeners, automatic podcast transcriptions, YouTube re-publishing, dynamic ads, and podcast analytics data.
It also comes with a range of resources and guides teaching users how to start a podcast and turn their podcast into a media brand.
Price: Starter $19/m, Growth $49/m, Pro $99/m, Premium $499/m.
Blubrry

Blubrry is a podcast hosting platform that offers live customer support, stress-free migration, and statistics to help you grow.
It includes easy-to-use tools and plans, a free WordPress website, and a range of monetization tools.
They have a good range of getting-started guides, documentation, and 7-days a week podcast support to help you as a beginner.
Price: First month free. Plans are Standard $12/m, Advanced $20/m, Professional $20/m.
Want more options? Check out 30 best podcast hosting platforms to help you publish and monetize your content.
Podbean Review Final Verdict
As you can see in this Podbean review, this podcast site offers everything you need to create, promote and monetize a successful podcast.
It offers a wide range of powerful features and tools, including the mobile app that allows you to record remotely, statistics to track how your podcast performs, live streaming, multiple promotion and monetization methods, plus the ability to edit your podcast in the app.
If you're a new or experienced creator looking for an all-in-one solution to growing a successful podcast, Podbean is one of the best podcast hosting sites for your needs.
Start using Podbean for free right now.