Do you love to write your own stories, but wish you had an audience to share them with? Getting your book published can be a difficult and expensive process — but not with Kindle Direct Publishing (KDP) on Amazon. 
 With KDP, you can publish your own ebook or paperback on Amazon for free, where it'll be available to the millions of Amazon shoppers who use Kindle readers. With Amazon's free print-on-demand service, you can also offer your customers a physical paperback copy of your book. 
Ready to get started? Let's go over:
The benefits of using KDP

How the royalties work

How to set up an account and publish your own books
What is Kindle Direct Publishing?
Kindle Direct Publishing, or KDP, is Amazon's self-publishing platform that allows authors to sell their books to Amazon's massive audience—without the hassle of going through a traditional publishing company. 
With KDP, authors can create ebooks and paperback books, all without any upfront costs or inventory orders. On top of that, KDP gives authors full rights to their books, something that a traditional publishing house typically won't do.
If you are an author of any kind, KDP is a great way to get your books published and listed for sale — for free! You won't pay fees to Amazon until you make a sale — but we'll go over that in a later section. 
What are the benefits of KDP?
At this point, I'm sure you've deduced the biggest benefit — zero cost to publish and list your book. But let's go over more reasons why you should sign up for KDP.
You can publish ebooks and paperback books
With KDP, you have the option of publishing a Kindle ebook or paperback book—or both! If you choose to sell a paperback book, Amazon will print your book and ship it out to your customer for you. No need to purchase bulk inventory ahead of time. 
No upfront costs in exchange for a revenue share
While it is free to list your ebooks for sale on Amazon KDP, you will split the revenue of the ebook sale with Amazon. What that share is depends on which royalty option you choose and how large your ebook file is. I'll explain that more soon. 
You can publish as many ebooks as you want
Under one account, you can publish as many ebooks or paperback books as you can write, even under different pen names and categories. 
You can buy your own paperback books wholesale through KDP
If you would like to have some physical copies of your book on hand to sell or give to friends, you can place a wholesale book order within your KDP dashboard. Amazon will then print the number of copies you ordered and ship them to you — you'll pay the printing cost for each book.  
Your books will have a sales rank on the Kindle Store just like Amazon.com
This is great news —  as a small author, you'll have the same opportunity as larger, better-known authors to rise in rank and make sales. 
Sell worldwide to Amazon's massive audience
Obviously, a major benefit to self-publishing on Amazon is the fact that you'll have access to millions of Kindle users. As long as you own the rights to your book in each country it's sold in (which Amazon refers to as territories on its KDP help pages), you can list your book for sale across Amazon's global marketplaces. See the royalty help page for more information. 
What kind of content can you publish with KDP?
According to the KDP help page, content typically published using KDP include but are not limited to the following:
Novels

Book Series

Children's Books

Comics

Cookbooks

Journals

Poetry

Textbooks
Kindle Direct Publishing Royalties
When you publish ebooks through KDP, you will get paid in royalties — both you and Amazon receive a percentage of the revenue. 
There are two royalty rates to choose from: 35% and 70%. I know what you're thinking: well, obviously, you should go with the 70% royalty option, right?   
It's not that simple. In order to qualify for the 70% royalty rate, you must meet certain criteria:  
Your ebook will need to be priced between $2.99 and $9.99

You will need to pay a distribution fee or "delivery fee" for each purchase, which will depend on your ebook's digital file size. Amazon charges $0.15 per megabyte for each book sold between $2.99 and $9.99. Amazon compresses ebook files, so your fee may not be as hefty as you think. You can try out their

fee calculator

on the pricing page after you list your book. 

If you sell physical copies, the ebook price must be at least 20% below the paperback's list price.

You must own the copyright to the ebook. If the book is public domain, you cannot receive a 70% royalty.

Your books must be enrolled in

KDP Select

to be eligible for 70% royalty on sales to customers in Brazil, Japan, Mexico, and India.
Here are the requirements for the 35% royalty rate option: 
If your book is priced below $2.99 or above $9.99, you will receive a 35% royalty. 

You

will not

pay a delivery fee when choosing this option. 

35% royalties make sense for large books such as textbooks, cookbooks, or picture books with big file sizes. 
Amazon also places list price requirements on ebooks published through KDP. 
List Price Requirements for Amazon.com (USD)
Royalty Rate Option
Minimum List Price
Maximum List Price

35%

Less than 3 MB

$0.99

$200.00

3 MB to 10 MB

$1.99

$200.00

Over 10 MB

$2.99

$200.00

70%

$2.99

$9.99
Paperback Royalties
The royalty structure for paperback books is different. 
KDP offers a fixed 60% royalty rate on paperbacks sold on Amazon. Amazon will then subtract the printing costs from your royalty, which depend on page count, ink type, and the Amazon marketplace your paperback was ordered from.
To figure out exactly how much you will be paid for your paperback book, you can use Amazon's printing cost calculator or this handy equation: 
(Royalty rate x list price) – printing costs = royalty
For example, your list price is $15. Your book is a 333-page paperback with black ink sold on the US marketplace:
(0.60 x $15) – $4.85 = $4.15
The $4.15 is what you will be paid for that sale. 
How to advertise your book
Luckily, you don't just have to list your book and hope it sells. Amazon offers cool marketing tools to get your books in front of potential buyers. One of them is Amazon Advertising. 
If you sell physical products on Amazon.com, you should be familiar with Sponsored Product ads, a type of Amazon pay-per-click advertising (PPC). Here's how it works: you set up an ad campaign in which you target specific keywords relevant to your book — keywords your intended audience will likely use in the Amazon search bar. Then, when a customer searches for those keywords on Amazon, your ad may appear within the search results, where the customer can click through to your book's product detail page. With PPC, you bid on clicks for those targeted keywords — the better your bid, the more likely your ad will appear. 
For example, say you published a comic book about a new superhero through KDP.  You'd want to target keywords such as "comic books", "superhero comic book", and "superhero stories". With the right bid, your ad could appear within search results — or even on product detail pages for similar superhero comic books. 
This is a great way to get your new book title out in front of potential readers who are already interested in buying the kinds of books you write. 
KDP Select
KDP Select is another way ebook sellers can get noticed on Amazon. This program is optional and only eligible for ebooks, not paperbacks. 
According to Amazon, "KDP Select is a free Kindle book program that gives you the opportunity to reach more readers and earn more money at no additional cost. All authors and publishers, regardless of where they live, are eligible to enroll their Kindle books in KDP Select."
While the "reach more readers and earn more money at no additional cost" part sounds great, there is a catch. 
Benefits:
Higher royalties in select countries


Make your Kindle book eligible for 70% royalty earnings on sales to customers in Brazil, Japan, India, and Mexico. If not enrolled in KDP Select, your royalty will be 35% for these countries.



Access to additional promotional tools


Kindle Countdown Deals

: Only KDP Select authors can

limited-time discounts

on their ebooks to customers on Amazon.com and Amazon.co.uk. Customers will see both the regular price and the promotional price, along with a countdown clock for the discount.





Free Book Promotions:

Authors can offer their book for free for up to 5 days out of each 90-day KDP Select enrollment period. While you won't earn royalties through a

Free Book Promotion

, it can help you earn a ton of downloads and reviews and build social proof around your book to entice paying customers when your promotion ends. 

Kindle Unlimited


Your book will be enrolled into

Kindle Unlimited

, which allows customers of this program to read an unlimited amount of books for a monthly $9.99 fee. You won't be paid the usual royalty price through Kindle Unlimited — you'll be

paid per page

that the customer reads from your book. This may seem counterintuitive, but it can pay off. While Kindle Unlimited users may not be willing to pay for a book by an indie author outright, they can try a few pages, then get hooked, and leave a social proof-boosting review. 
Drawbacks:
Potentially lower earnings than from book sales


Since Kindle Unlimited royalties are paid per page read, you may not make as much money as you would if someone bought your book outright. 

Your ebook must be exclusive to Amazon


There is a minimum 90-day enrollment period during which your book can only be sold on the Amazon Kindle store—not your own website, on another marketplace, or even given away for free. 
How to sign up for a KDP account
With KDP, you get to list an ebook for free AND create your own print-on-demand paperback version. This all sounds pretty great, right? If you're an author of any kind, it only makes sense to offer your books on Amazon through KDP. 
Signing up for an account is very simple, and you can have your own ebook published in no time.
First, go to the Kindle Direct Publishing website and click "Sign up."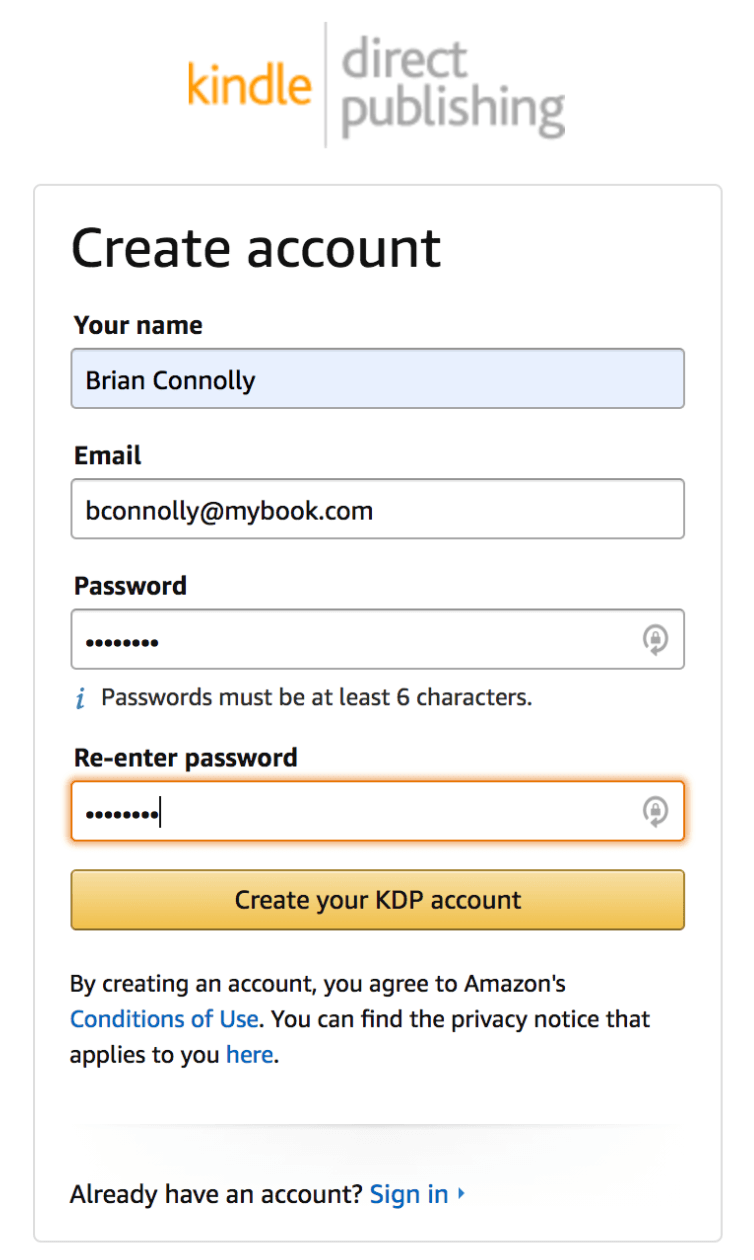 Once you fill in some basic information, you can begin uploading your books!
To start, go to "Create a New Title" and choose Kindle eBook or Paperback.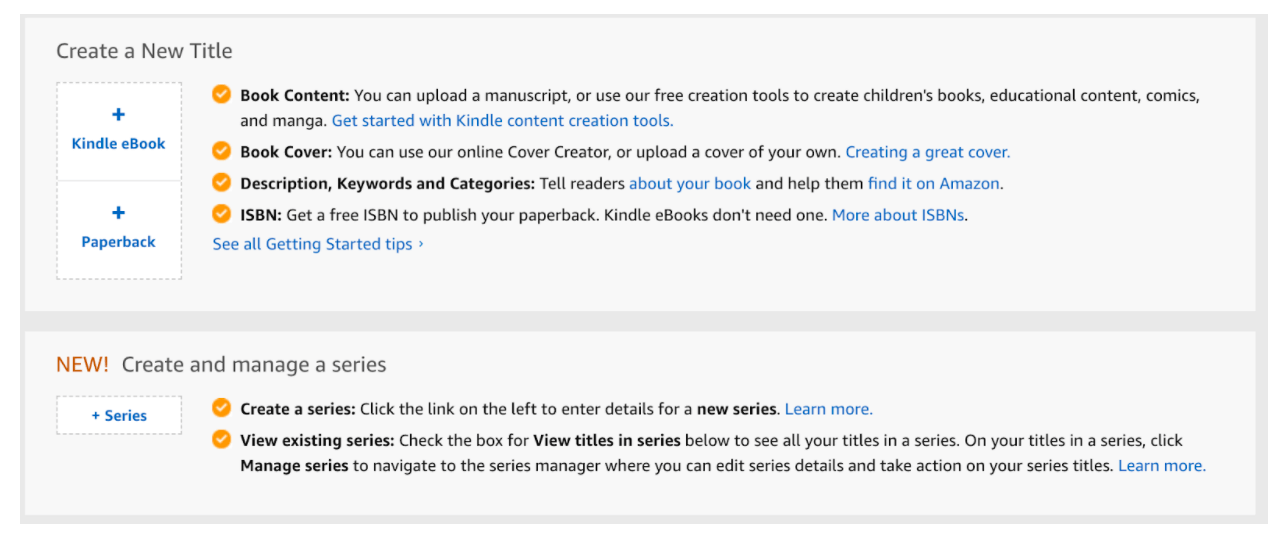 Next, you will fill in information about your book such as Title, Edition, Author, Description, Publishing Rights, and Keywords.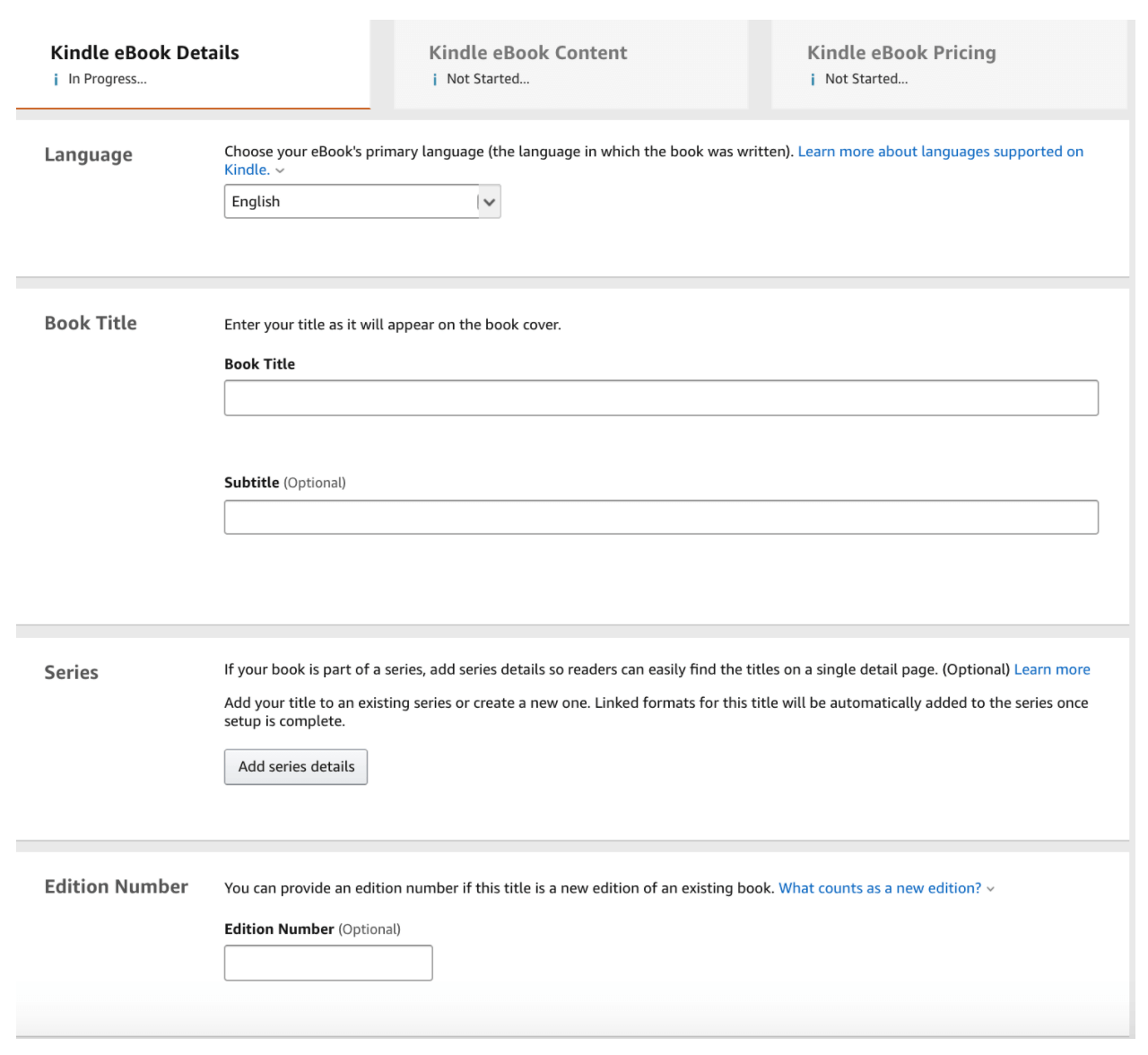 In the next section, you will upload your Manuscript, eBook Cover, eBook Preview, and an optional Kindle eBook ISBN. 
Make sure you read the KDP Content Guidelines before uploading your ebook.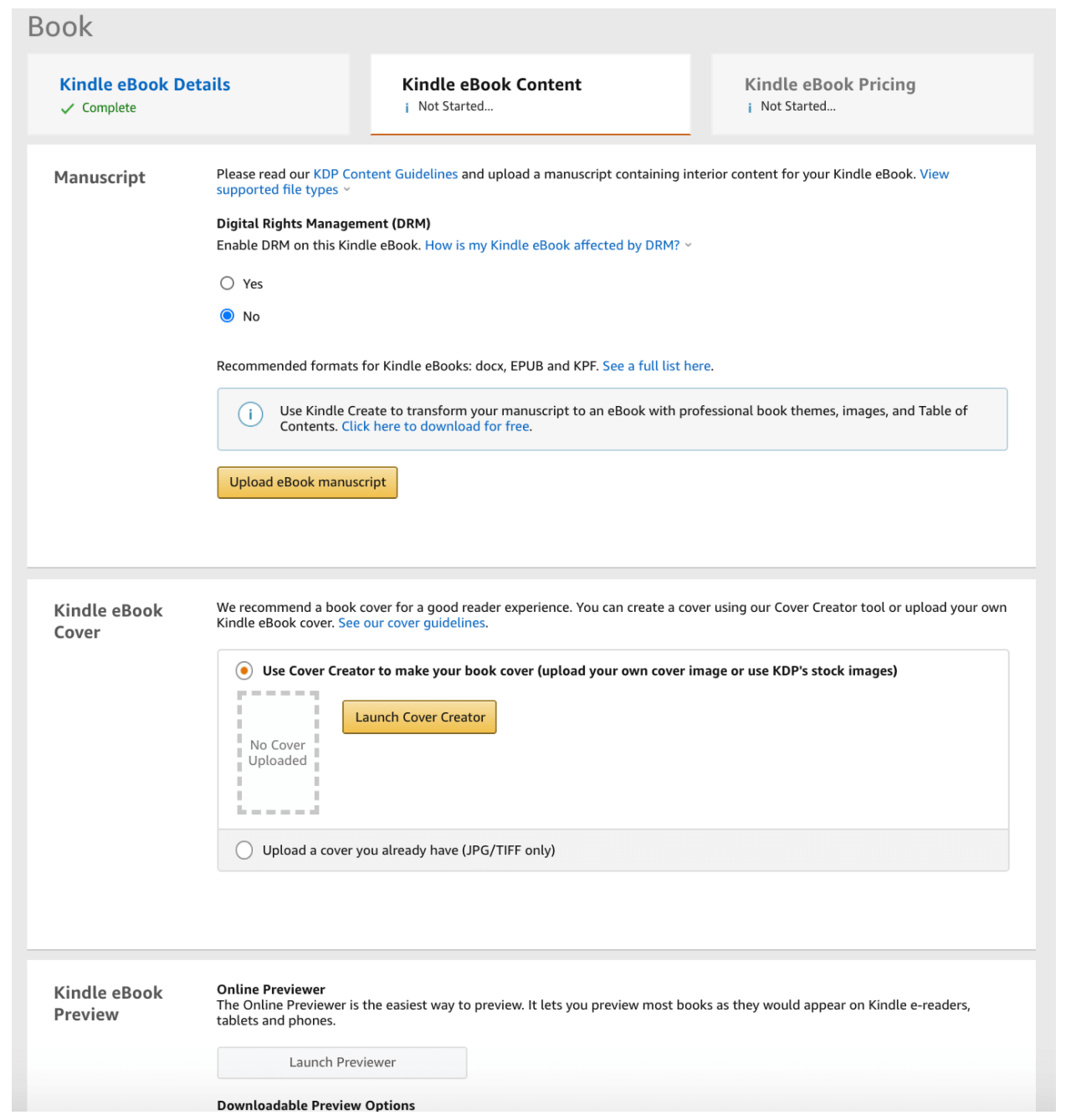 Next is pricing your book. In this section, you will choose if you want to enroll in KDP Select, choose the territories where you want to list your book, and select your royalty rate and price.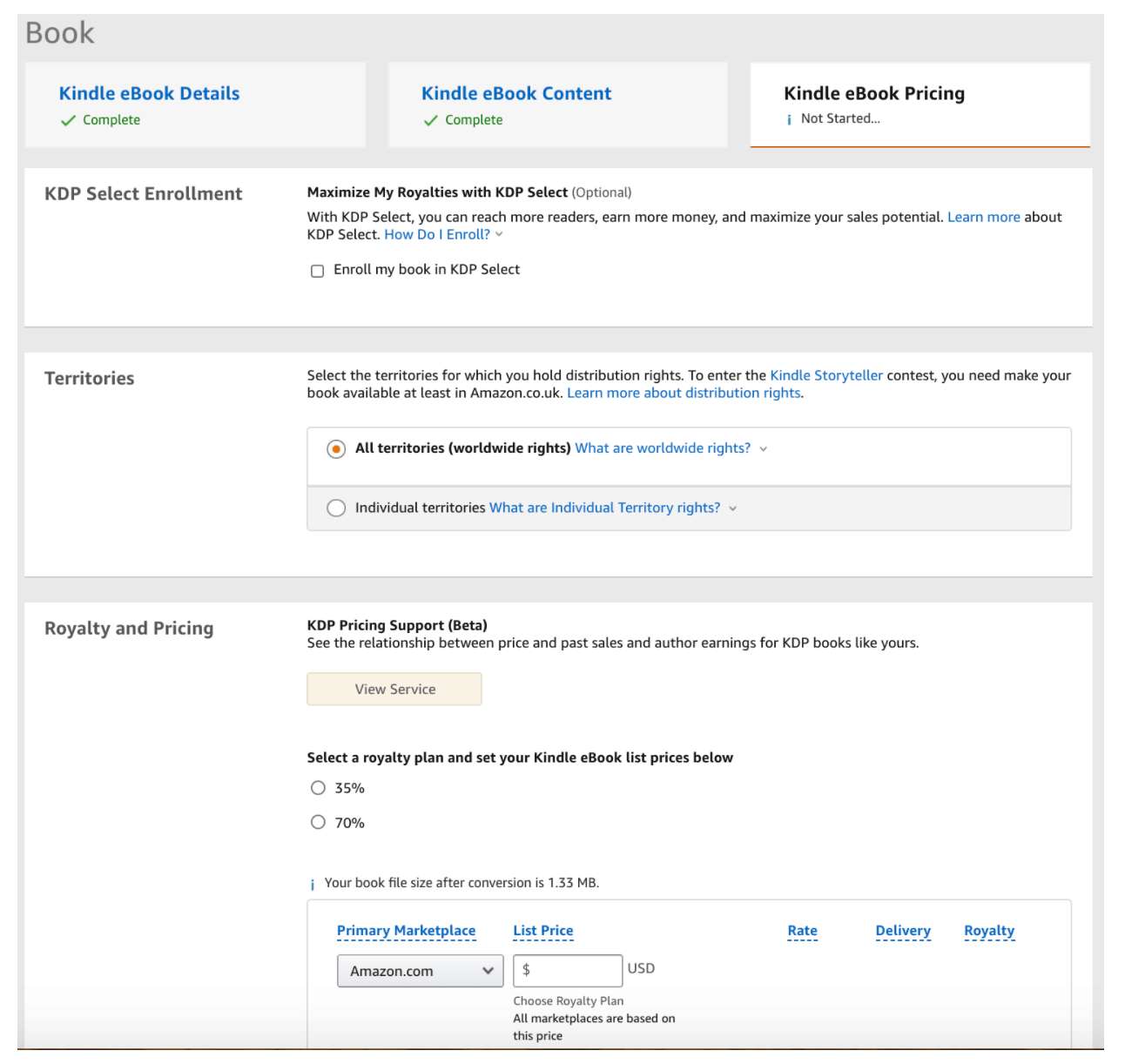 Under "Royalty and Pricing", you can choose the 35% plan or the 70% plan. Amazon will show you what your royalty will be based on your list price.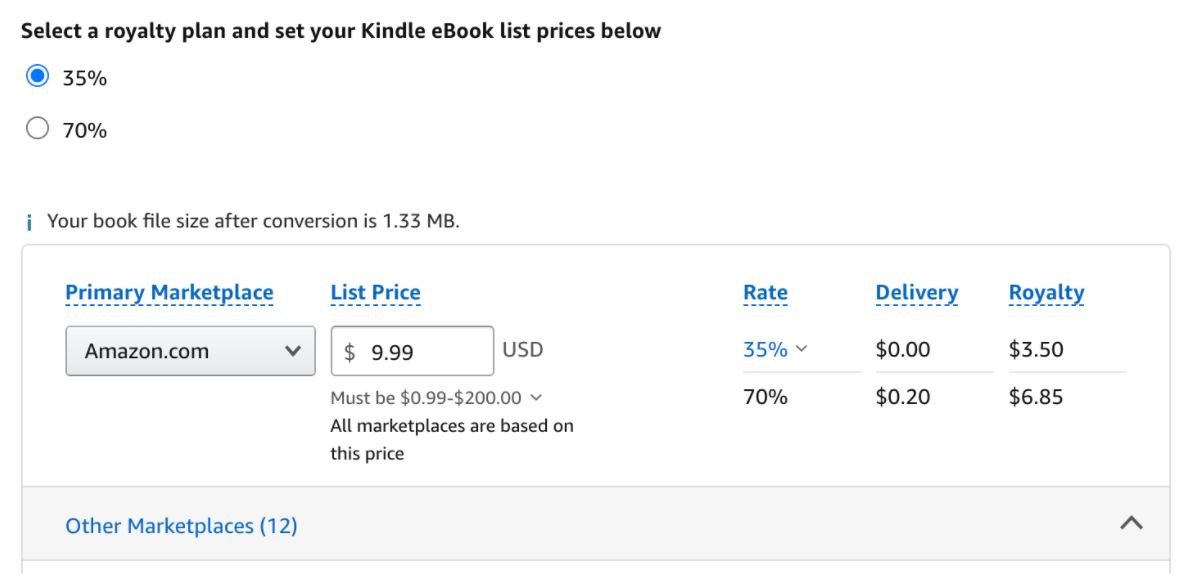 Remember, if your price is over $9.99, then you are only eligible for the 35% royalty. 
After you fill in all this information, your book is ready to be published! Just like that, your very own authored ebook or paperback will be available for sale on Amazon. 
Start selling your books on Kindle Direct Publishing
Hopefully this helped give you a better understanding of how KDP works and how any author, big or small, can publish their own writings. Whether you write mystery novels, bedtime stories, or scientific textbooks, KDP can help you reach the masses. 
Have you published a book through KDP? Let us know below, or share a question you have about selling your books on Amazon.