HMA VPN is a UK-based VPN provider with over 15 years of experience in the market. It offers fast speeds, a decent-sized VPN server network, strong security using AES 256-bit encryption, and an audited no-logs policy. In this HMA VPN review, we'll take a closer look at it.
HMA VPN's apps are well-organized and easy to use, with affordable prices, varied subscription plans, a 7-day free trial, and a 30-day money-back guarantee.
However, it underperforms in some areas, such as poor unblocking for specific popular streaming platforms, unreliability in China, and lack of 24/7 live chat support.
HMA VPN offers an excellent user experience with an IP address shuffler and a massive selection of server locations. Its network includes over 1,080 servers spread across 290 locations in over 210 countries, covering even more countries than Surfshark VPN (100 countries), which.is considered one of the best VPN services.
The VPN performs exceptionally well for streaming services like Netflix (but has problems with unblocking Netflix to certain countries) and BBC iPlayer while delivering decent speeds.
HMA VPN's revised logging policy no longer stores any connection or data logs that could be tied to your identity, making it safe to use. Its customer support is highly responsive and helpful.
Short on time?
Get HMA VPN right here!
In this HideMyAss VPN review, we'll cover the following:
Speed and Servers
Security and Privacy
Streaming and Torrenting
Pricing
Pros and Cons
Alternatives
HMA VPN Review

Ease of Use
Features
Customer Service
Price
Likely to Recommend
Summary
HMA VPN is a decent option for users looking for basic online privacy protection. But there are areas for improvement, such as adding more tunneling protocols, split tunneling, and enhancing the user-friendliness of the Linux version of the app. Despite these drawbacks, HMA VPN is popular because of its user-friendly interface, wide server selection, and competitive pricing.
Pros
A huge selection of countries with servers
No-logs policy
Easy-to-use apps
IP shuffler option
Supports torrenting
A free 7-day trial
30-day money-back guarantee
Cons
No monthly subscription plans
Doesn't unblock Netflix
Average speeds
The kill switch sometimes fails
Does HMA VPN Provide High Speeds?
Speed determines how fast content uploads, so if you're torrenting or streaming, you want the speed to be more or less identical to your regular internet speed.
Since a VPN encrypts your data, sending your data back and forth usually takes a bit longer. This can slow down your connection. Sometimes, however, your ISP will deliberately slow down your connection (also known as throttling). In this case, a VPN might increase your internet speed. Your location can also influence your speed.
Throughout testing, HMA provided quick speeds on most servers, but there was a noticeable drop when I connected to distant servers. My speed dropped dramatically when connecting to servers over 10,000km (16,000 miles) away.
HideMyAss VPN Servers and Server Locations
HMA VPN boasts over 1,000 servers in 220+ countries and 290+ locations – more countries than any other VPN. While its server count falls short of some competitors (Surfshark VPN has 3,000+ servers, and CyberGhost VPN has 7,400+), HMA VPN's vast global presence makes it easy for users worldwide to find a nearby HMA server for fast speeds.
Although HMA VPN displays the cities for some countries, the absence of server load percentage or latency data can make it challenging to identify the fastest servers.
HMA VPN's P2P support is limited to servers in only six countries, including the US, the UK, the Netherlands, France, Germany, and the Czech Republic, hindering users in other regions from accessing nearby servers for faster download speeds.
HMA VPN has dedicated streaming servers in the US, UK, and Germany but does not work with popular streaming services like Netflix, Amazon Prime, or Disney+. Surfshark VPN is a better option for VPN users to access streaming sites consistently.
Overall, HMA VPN has servers in numerous countries to provide most users with a nearby server for fast speeds.
However, the absence of server load percentage or latency data, limited P2P support, and the inability to access popular streaming sites may make other VPNs like Surfshark VPN more suitable for some users.
HMA Security and Privacy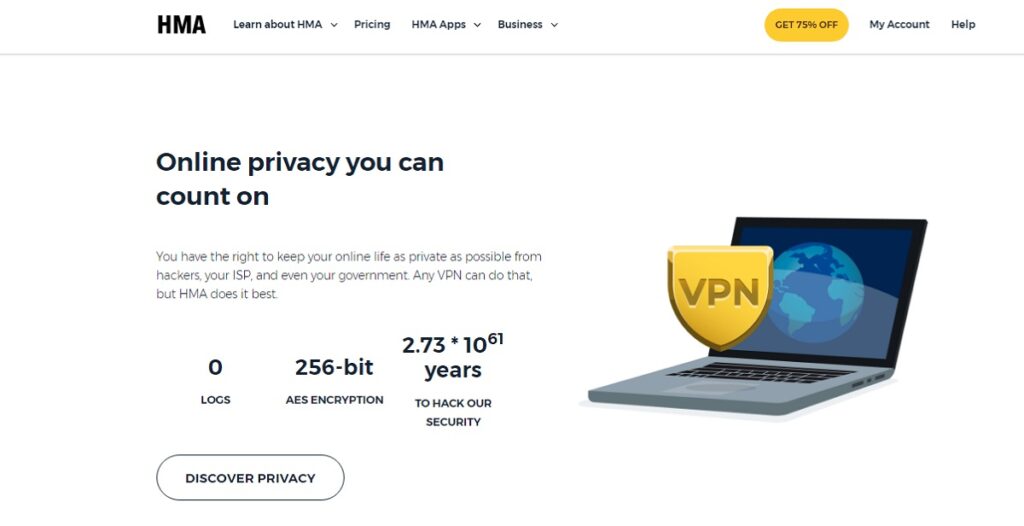 Encryption – The encryption used by HMA is AES 256-bit, which is a widely recognized industry standard. This encryption is implemented on Windows and Android devices through OpenVPN, while on Mac OS and iOS, it is implemented via IPSec/IKEv2.
IP Shuffle – This allows you to randomly switch your IP address at regular intervals, ranging from one minute to once daily. By doing so, this feature provides an added layer of privacy and security for your online activities, making it difficult for anyone to track your online presence. Additionally, IP Shuffle may help you bypass geographic restrictions certain websites impose and grant you access to their content.
Kill switch – A crucial feature that automatically cuts off your internet connection if your VPN connection drops. This helps to prevent your IP address or online activity from being exposed, even if your VPN disconnects unexpectedly.
Does HMA Support Streaming?
While some VPN services still bypass Netflix's geo-restrictions, HMA VPN is not one of them. Despite offering specialized servers for streaming, with locations in Germany, the UK, and the USA, none of these servers could access Netflix US or Amazon Prime Video.
As for BBC iPlayer, HMA VPN was unsuccessful in unblocking this service. The only streaming platform I could access was geo-restricted YouTube content, which most VPNs can accomplish.
Consequently, we can't recommend HMA VPN if you're interested in using a VPN to get past geo-blocks.
Is HMA VPN Easy to Use?
HMA is a VPN service that offers clients for Windows, Android, iOS, macOS, Linux, and routers. The website is attractive, sleek, and well-organized, making it easy to find helpful information, check prices, and download the VPN.
The Windows client is simple, professional, and easy on the eye, with a blue and white color scheme.
The VPN's layout is pretty standard, with a large power button to turn the VPN on or off, a shortcut to the VPN's server locations, and a "more" button that contains the built-in speed test and a summary of your data traffic.
The "settings" button houses all the tabs you need to use or customize various virtual private network features, including the smart kill switch, IP Shuffle, auto-connect, protocols, and customer support.
The Android HMA VPN app is attractive, simple, and easy to use.
However, it lacks access to the troubleshooting feature that automatically detects and fixes problems with your connection and the option to activate or tweak your kill switch. But overall, HMA is an easy-to-use VPN service with attractive clients and a straightforward layout.
HideMyAss VPN Device Compatibility
HMA VPN has iOS, Android, Windows, macOS, Apple TV, and Android TV apps. There are also browser extensions for Chrome and Firefox, but they're offered through a free proxy instead of the paid HMA virtual private network service. The free proxy's privacy policy says it logs your IP address, so it is not recommended to use the browser extensions.
Installing a VPN app on your smartphone will take more than 2 minutes, and on a PC maximum of 4 minutes.
HMA Customer Service
HMA VPN has a knowledge base full of questions and answers. It's categorized based on operating systems, making finding the information you're looking for easily without much digging. The entries include helpful images and screenshots. However, we'd like to see the VPN add videos.
You can contact a customer support agent through a ticket system if you need help finding what you're looking for. HMA requires you to fill in several fields before sending over your request, which can be frustrating.
Alternatively, you can scroll through HMA's forum. It's inactive, but you can still find helpful information there. You can also post your questions but don't expect a rapid response.
HMA's live chat feature doesn't work. Instead, you'll have to leave a message.
HMA VPN Pricing
HMA's plans are grouped based on the number of possible simultaneous connections.
Five simultaneous connections.
There's a seven-day free trial if you want to test the VPN.12-month plan, which costs $4.99 per month, billed at once.36-month plan, which costs $2.99 per month, billed at once.
Ten simultaneous connections.
12-month plan, which costs $7.99 per month, billed at once.24-month plan, which costs $6.99 per month, billed at once.36-month plan, which costs $5.99 per month, billed at once.
HMA VPN Review: Pros and Cons
No-logs policy
A huge selection of countries
Easy-to-use apps
IP shuffler option
A free 7-day trial
30-day money-back guarantee
Supports torrenting
Inexpensive three years plan
No monthly subscription plans
Weak Linux version
Doesn't unblock Netflix
Average speeds
The kill switch sometimes fails
Hide My Ass VPN Alternatives
For this HMA VPN review, we looked at two of the best VPN alternatives.
Surfshark VPN
Surfshark is a robust VPN provider that competes strongly in the VPN market. It offers an impressive range of privacy features and allows unlimited simultaneous connections, making it an excellent option for small businesses and families.
Multi-hop routing and split tunneling enhance security and flexibility, while ad and tracker blocking ensures a smoother browsing experience. To prevent data leaks, Surfshark VPN employs RAM-only servers for additional security.
Surfshark VPN's support for several VPN protocols, such as WireGuard, OpenVPN, and IKEv2, ensures fast and secure connections. Additionally, it provides an IP address rotator that frequently changes users' IP addresses, making it challenging for online threats to track their browsing activity.
Surfshark lets you torrent and stream on Netflix, Hulu, Disney+, and many more services. The VPN allows you to unlock streaming services outside your own country.
Despite being slightly more expensive than some VPN services, Surfshark VPN is worth the cost due to its excellent privacy and security features, first-rate customer support, and user-friendly interface. Its 30-day money-back guarantee and 24/7 customer service give users peace of mind.
Overall, Surfshark VPN is an excellent option for those seeking a trustworthy VPN service that delivers comprehensive privacy and security features without compromising speed or user experience.
I also recommend reading our Surfshark vs Express VPN post for more insights.
Price
One month costs $12.95/mo, billed every month.
12 months cost $3.99/mo, billed $59.76 every 12 months.
24 months cost $2.39/mo, billed $59.76 now, & annually after the first 25 month
NordVPN
NordVPN is a highly regarded VPN provider based in Panama and offers a range of features focused on security, privacy, and convenience. Its security features include ad-blocking, DNS leak protection, robust encryption, and a VPN kill switch, demonstrating NordVPN's commitment to protecting users' security.
Moreover, it has a strict no-logging policy, a well-crafted Privacy Policy, and anonymous payment options to safeguard users' privacy.
Dedicated P2P servers and native apps for major platforms support NordVPN's user-friendly service. And you can connect up to six devices simultaneously.
However, it is essential to note that NordVPN is relatively expensive compared to other VPN services.
Overall, NordVPN is a good choice for individuals seeking a reliable VPN service that prioritizes comprehensive security features, privacy, and a user-friendly experience.
Price
The Complete plan – $5.99/mo + 3 EXTRA months, $161.73 for the first two years
The Plus plan – $4.49/mo + 3 EXTRA months, $121.23 for the first two years
And the Standard plan – $3.29/mo + 3 EXTRA months $88.83 for the first two years
HMA VPN Review: Our Conclusion
This HideMyAss VPN review has found that it is a solid choice for those seeking a basic VPN service to safeguard their privacy online. However, HMA VPN needs certain essential features to be a truly exceptional VPN.
One area for improvement is the addition of more tunneling protocols, including the much sought-after WireGuard. The application could also benefit from more consistent platform features like split tunneling. Additionally, the Linux version of the app requires significant development to make it more user-friendly.
Despite these drawbacks, HMA VPN's widespread popularity is understandable, given its user-friendly interface, vast server selection, and competitive pricing.
However, in today's fiercely competitive VPN market, more than simply offering the basics is required. HMA VPN needs to improve its services to stay competitive and avoid becoming obsolete.
You may be aware of ExpressVPN – a very popular choice. I suggest you read our post about ExpressVPN alternatives before deciding. And if you want even more choices, read our Unlocator review.
If you need more from your VPN, I suggest using the best VPN, Surfshark VPN. Trusted by millions, Surfshark VPN is reliable, fast, and offers great security features.