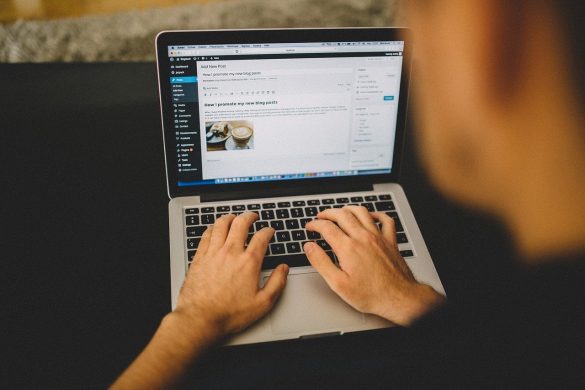 Is blogging dead? Not at all. While blogging is very different from what it was years ago, blogs are still profitable enterprises. The number of people using the internet is rising every day, and more and more people are relying on online articles to find the information they need. 
In fact, nearly every time a user searches Google for a certain recipe, or for answers to a question they have, they almost always end up on a blog. Blogging is still worthwhile in 2021, but the type of content and tactics have changed over the years. 
In this article, we will discuss what has changed in blogging, how you can start a profitable blog in 2021 and beyond, and which challenges you may face as you do so.
Using blog traffic to generate revenue 
The best way for bloggers to make the most money is to tie their blog to another business, whether it is selling a product or a service. Your blog should be used to gain traffic which will then be converted into leads. 
Make sure to post engaging blog content that is relevant to your business or area of expertise. Your content must always focus on the reader, such as solving a problem they have or giving them some information that they are looking for. 
Fluff pieces or highly personal anecdotes are going away, although if you can provide readers with the information they are looking for in an entertaining or story-telling fashion, all the better!
You can even hire out some of the content creation if you want to include some articles from a different perspective. You can expect to pay at least $25 an hour for a quality freelance writer in the U.S. and more if the subject is highly specific or technical.
Making money with your blog 
In the past, many bloggers relied on ad placement for revenue. This tactic is much less lucrative than it used to be, mainly due to the shift towards social media marketing. However, content marketing is on the rise.
According to a recent blogging survey, the most preferred channel to receive leads is from organic traffic from Google. What better way to attract this than through blogging? While social media marketing is certainly effective, the rising cost of ad placement on Facebook and similar sites has gotten prohibitive for many small and medium-sized businesses. 
This means that having a blog with a high level of search engine optimization (SEO) can bring in a lot of traffic. Blogs are a great way of garnering organic traffic that can then be converted into leads.  
However, there is a catch to the SEO approach. Google has altered many of their ranking algorithms lately in an effort to drive more traffic to themselves and their affiliates. While SEO is important for any blog, it's true that it's getting harder and harder to gain ranking on Google. With "featured snippets" aiming to answer user's questions without having to visit the page of the blog at all, it's clear that brevity is key. 
Successful blogs shouldn't just rely on traffic and ad placement to generate revenue. In order to maximize profits on a blog, bloggers should engage in affiliate marketing or connect their blog to another business. 
Affiliate marketing involves recommending good products or services to your readers in exchange for a fee or commission on sales. However, if your blog is tied into another business that you own (such as an ecommerce store or online business) all the revenue will go directly to you rather than getting a small percentage on commissions.
Successful blogs should try to build email lists so they can connect with their readers and bypass the dependence on search engines. The old tactics of simply asking for an email doesn't work, however. You should offer a freebie to entice your readers to give away their email, such as an ebook, cheat sheet or checklist. 
Starting a blog in 2021 
Blogging isn't going away any time soon, and with knowledge and the correct techniques, beginner freelance bloggers and independent bloggers can still have profitable careers. Bloggers that want to be successful in 2021 must create content that is geared towards the reader (not themselves) and have a high focus on SEO. 
While ad placement generates less revenue than it did before, bloggers can still make a killing with affiliate marketing, content marketing or simply by using their blog as a means to grow their existing business. 
Nearly all writers create their blog out of a desire to express their passion for a specific hobby or area of expertise – it shouldn't be a far stretch to think of ways to convert this into a business outside of just blogging. For example, if you run a blog centered on dog training, consider including products, services or books that your readers can pay for. 
Create an optimal user experience 
Successful blogging isn't all about good writing, however. Bloggers need to focus on site speed, ease of navigation, readability of type (size, color, etc) and optimize their website for mobile users. 
Running a blog that is highly targeted towards a specific niche – the more narrow and untouched, the better – increases the chances that readers will view you as an expert on the subject. A blog that covers too many topics seems unorganized and is unlikely to form a solid readership, as you can't guarantee that a reader will be interested in all the varied topics you cover. 
Many marketing experts claim that video marketing is the future, so try to include videos in your blog posts. This increases the amount of time spent on your page, which is great for rankings and also familiarizes readers with you as a person. Independent and freelance writers and bloggers should familiarize themselves with the creation of video content and web design, in general, to add additional skills to their repertoire. 
Crafting a great landing page that grabs the reader's attention and establishes yourself as the authority on a subject is imperative to starting a successful blog. 
Conclusion
Is blogging dead? Well, the old way of blogging is. Readers are less likely to spend a lot of time on blogs that go into detail about the writer's life, preferences, and opinions. 
However, bloggers that are able to answer questions or provide valuable information are the beating heart of the internet! With the right content and a little bit of strategy, blogging is still a very profitable venture in 2021 and will likely remain so in the future.
This article was originally published by www.bloggingpro.com . Read the original article here.