If you're an ecommerce seller in 2023, there are many ways to get your products in front of new customers – such as Amazon, eBay, Facebook Marketplace, Walmart, and on social media. 
If you've read some of our other content, especially on social media marketing, you'd know we frequently discuss using social media, specifically TikTok, to build brand awareness and promote your products. 
TikTok is an incredible way to build an audience and create buzz about your products. Now, customers can purchase your products directly from TikTok using the platform's ecommerce integration — TikTok Shop.
In this article, we'll go over what TikTok Shop is and how to set it up for your business. 
What is TikTok Shop?
TikTok Shop is an ecommerce feature integrated within TikTok that enables sellers and creators to showcase and sell products for the TikTok community, who can discover and purchase directly through the app. 
TikTok Shop provides three ways for customers to shop: 
Live shopping. When doing a livestream, creators can pin a product on screen, allowing customers to simply tap and browse through the products you're offering.
Shoppable videos. Creators can add a product to an in-feed video, making it easy for customers to click and make a purchase.
Product showcase. Once your shop is set up, users will be able to view your shop from your profile, allowing them to shop directly from a brand or creator account.
Benefits of TikTok Shop
Let's go over some of the benefits of opening a TikTok Shop on your account. 
Make shopping easier.. Instead of telling potential customers to visit the link in your bio or to go to Amazon, they can make a purchase without leaving the TikTok app. It reduces the amount of time and resistance a customer has to go through to buy.
Reach more customers. It is no secret that if you are on TikTok, you can potentially reach millions of people very quickly. If you have a couple videos that go viral of your brand or products, you'll likely get many new customers that want to buy from you.
Get to know your audience. When promoting products on TikTok, you will be able to communicate with your audience and potential customers from within the comments. In real time, you can see if they like what you're offering and some will likely share their criticisms, which can help improve your business.
Seamless shopping experience. TikTok Shop offers a seamless shopping experience that allows users to discover, purchase, and track their orders all within the app. This makes it easy for shoppers to buy products on impulse, which can lead to higher sales.
Collaborate with creators. As a seller on TikTok Shop, you can collaborate with thousands of creators on TikTok through its affiliate program. Offer an enticing commission that will encourage creators to promote your products. 
How to set up a TikTok Shop
Ready to set up your shop? Before we go over the steps, let's quickly review what is required to set up a TikTok Shop. 
Documentation required: 
Business seller. U.S. Company Registration Document and the Company Owner's passport or driver's license. 
Individual seller. A U.S.-issued passport or driver's license.
Is there a follower count requirement?
If you are applying as a seller, then no, there is no follower count requirement. 
If you are applying as an affiliate, where you will promote other brands products, you need a minimum of 5,000 followers.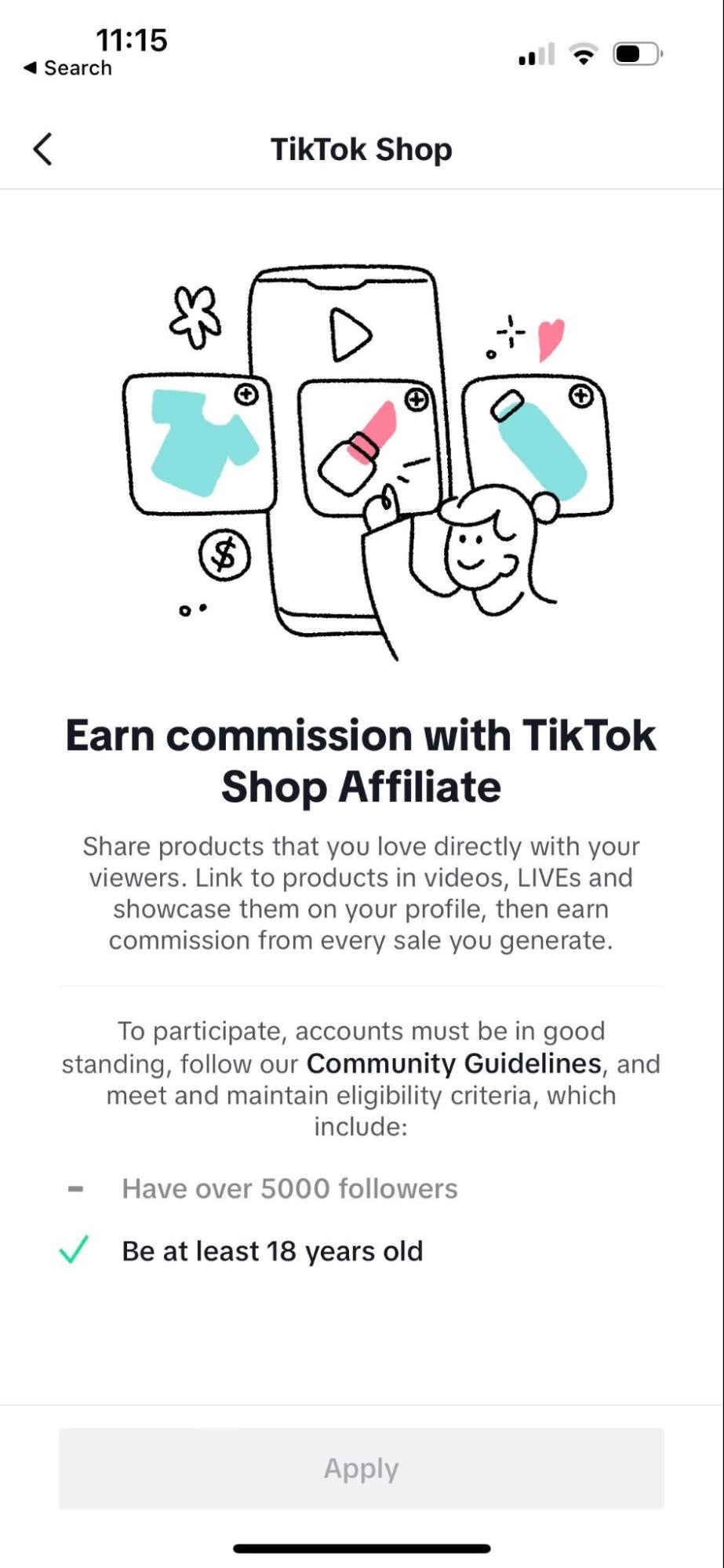 As you can see, there isn't much that is required to get started selling your products ok TikTok! Let's open an account. 
Step 1: Once on your TikTok account profile, click the three lines in the top right corner, then choose Creator tools.Step 2: Scroll down and click on TikTok Shop for Seller. On the next screen, you will be able to register as a merchant.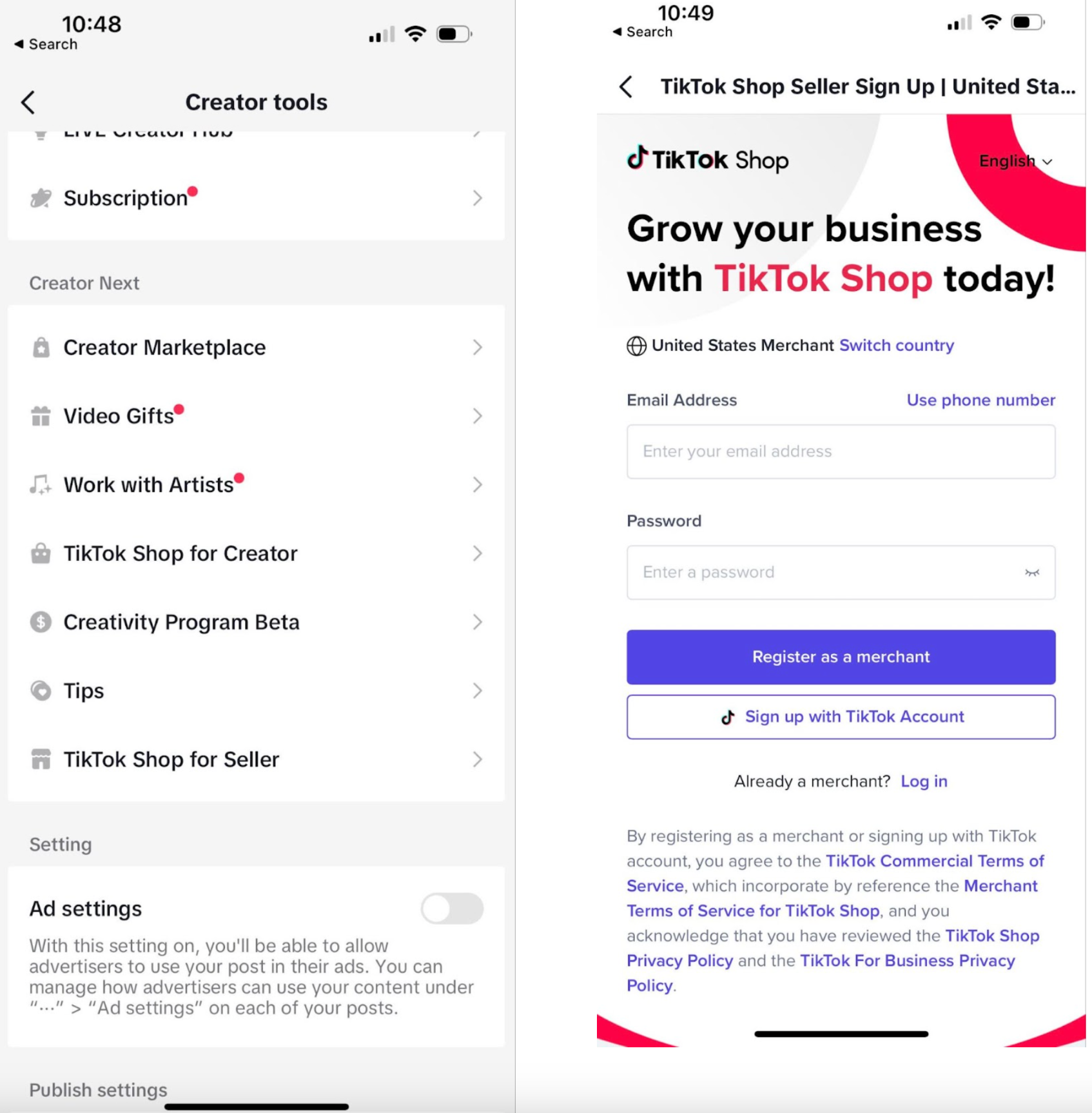 You can also sign up for TikTok Shop on your desktop. 
Continue to follow the prompts and enter all information about your business. After you fill in all of your personal or business information, your account will be under review before you can start selling products.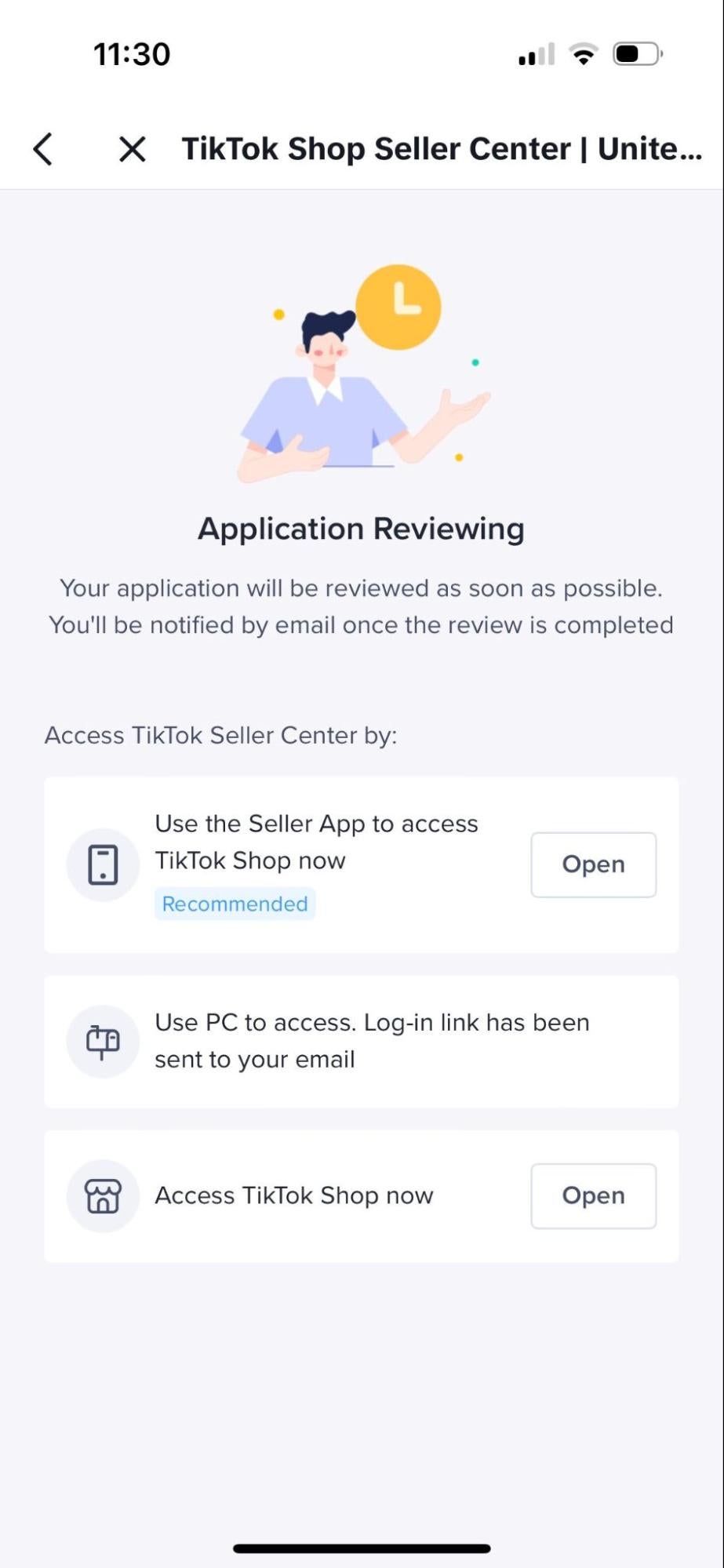 In the meantime, download the TikTok Seller app on your phone, or access it through your desktop. 
Before you can start adding products in the Seller Center, you will first need to verify your tax information, set up shipping and add a return address, then you can get started adding products! 
Once your account is approved, you can begin promoting your products to your TikTok audience.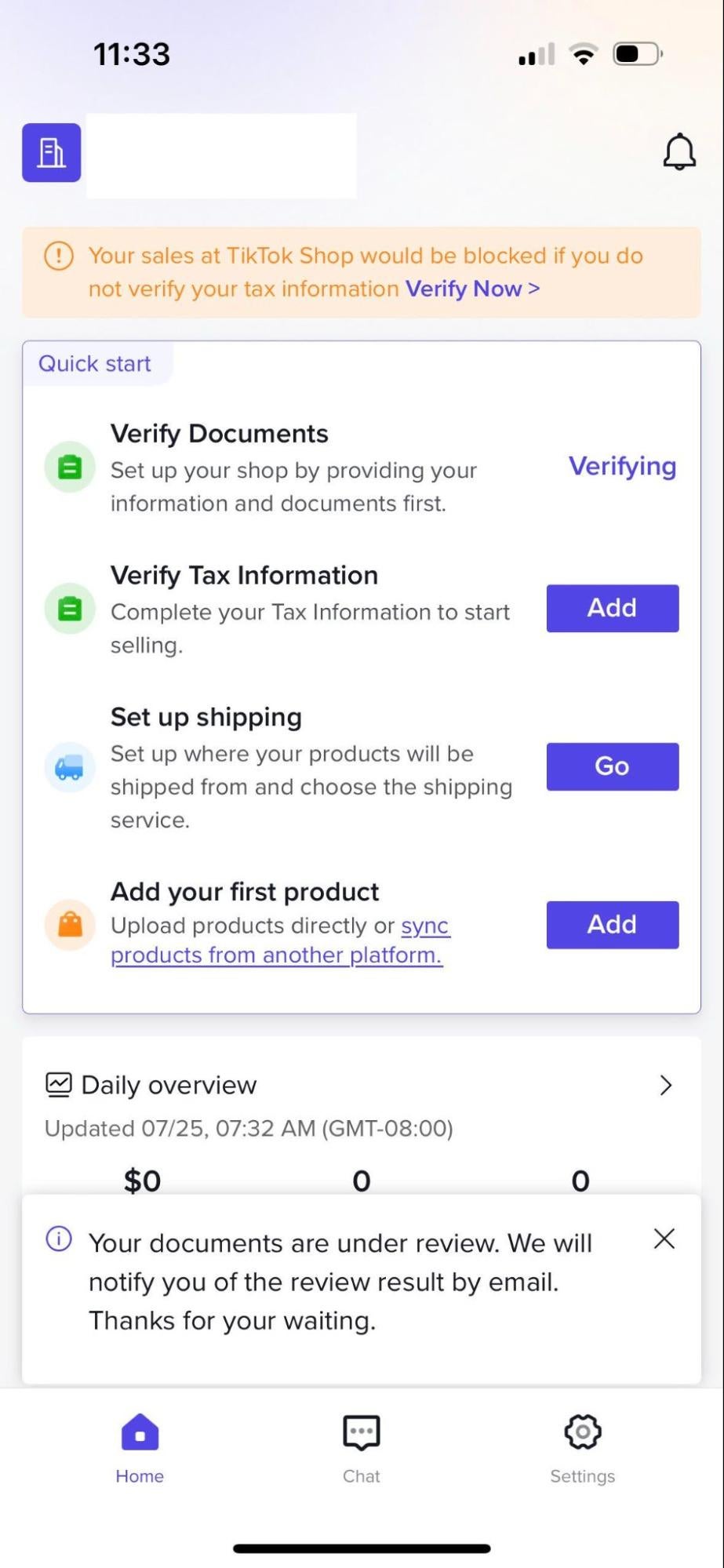 After you add products to your TikTok Seller Center account, you can begin promoting your products in your regular TikTok videos or by going live and showcasing your products to a live audience. 
Are you selling your products on TikTok?
If you are an ecommerce seller, I encourage you to explore TikTok Shop and see how it can help your brand reach new customers. The platform has the potential to be a major driver of growth for your ecommerce business. 
Do you have any more questions about how to set up a TikTok shop to sell your products? Let us know in the comments.