It's perfectly normal to have countless videos and photos saved in your photo library. From favorite memes to that forgotten instructional DIY video file… but after a while, we tend to forget where they came from. 
A reverse video search will help you find the original source of your video content.
Here is the secret: if you have used Google Image, Google Lens, or another image search engine before, you already know how to do a reverse video search too.
And if you have not – we will teach you how to reverse search a video in minutes.
Reverse Image search has evolved, helping people post content safely. This technology is also assisting us in browsing and consuming content responsibly and making sure the original creators are always credited for their work.
What is Reverse Video Search?
Let us start with the basics: Reverse video search (RVS) allows you to find information about an original video without having to know the title, image URL, or any other identifying information.
Advanced algorithms analyze a video's visual and audio content to match it with any similar video online. You will find the original source, creator, or related content even if they know nothing about it.
It allows users to fact-check videos and identify manipulated content.
A reverse video search is a powerful tool. It can potentially revolutionize how we search for and use video content online.
How to do Reverse Video Search
It is quite simple:
Play the particular video you want to search for.
Pause it and take a screenshot.
Click on the camera icon on your image search engine and upload the image.
The image search will provide results of all the video content that includes that specific frame.
Easy? We told you so!
But we promised to teach you how to do it like a pro, so do not go anywhere just yet!
Keep reading to learn about different software options and how much to expect to pay for each.
We will also share our best finds for specific reverse video search needs.
How Does It Work?
If you were one of those kids who took all the toys apart to see how they work, this part is for you.
Reverse video search is a process for identifying and locating a particular video or a part of it.
It uses an image or a video clip as a reference. It works by analyzing the visual features of the reference image or video clip. Then it compares them to the features of other videos in a database.
In technical terms, the first step in reverse video search is to extract the visual feature of the reference image or video clip. Computer vision algorithms that identify objects, colors, shapes, and other visual elements in the image or video do this.
These features create a unique digital signature for the reference image or video clip.
Machine learning algorithms then compare the visual features of different videos to match your video to all the similar ones. The algorithm will then rank the videos in the database based on their similarity to the reference image or video clip.
Simply put, it means that Google and other search engines interpret the color and pixels in a video. Seconds later, it returns with all matched or comparable results.
By the way, if you are looking for an alternative video search engine to try, read our article that lists 15 options.
Find The Full Video From a Clip Using Google Search
The simplest way to do this is by using Google reverse image search.
Google is synonymous with searching the internet. Sadly, since they came up with the reverse image search tool in 2011, their reverse search engines haven't improved much.
Google Image won't let you upload a video, but you can still find detailed information using a screenshot.
You must play your video until you can find a clear, distinctive frame. Pause it and take a screenshot. Navigate to Google Chrome and select Google Image.
Upload your image, and every video containing a similar image will pop up on your screen. The more distinctive your image is, the easier it will be to find the source video online.
If you are performing your search on a PC, pause your video and press the Ctrl + PrtScn keys. You'll then use the snipping tool to screenshot the chosen video. For easy access, save these screenshots to your desktop. Then navigate to the Google App or Google Chrome and search.
Cons? Unfortunately, there are limitations. The process is not 100% precise. Google Images cannot locate the source; it will serve you with all the instances the particular video shows up online.
It isn't easy to use on a mobile phone. And if even one pixel of the video is changed, it may come up empty. Even worse, it will show you millions of hours of video content, including every similar video, sending you on a wild goose chase.
Pros? Google is readily available, free to use, and lets you include keywords in your search to speed up the process.
Just make sure to use a high-quality screenshot and preferably unique features, such as logos or faces, to reverse search videos online.
Use Berify to Protect Your Copyrights
If your video isn't just a lost "how to knit a square" tutorial but something important, you might want to turn to a more serious search engine.
Berify has you covered. All you need to do is, you guessed it, upload a screenshot image of your video. This can even be an RSS feed or a sitemap.
It runs the image through its powerful image-matching algorithm and returns any identical results and any similar video.
The results are presented in a way that's also easy to navigate for complete dummies. Berify will even update you via email whenever one of your images is found online.
Professionals like lawyers and photographers use it in legal matters. Brands and marketing agencies use it to manage public relations, marketing, and online reputation. Models, vloggers, and celebrities use it to track their online content and protect themselves against unauthorized and leaked pictures.
Berify Price
To search up to 1000 images will cost you $5.95 a month. The free package gives you all the same benefits as the paid plan, but only to search for five pictures.
It is a worthy investment if you use it professionally. And the free plan is great for occasional use.
Protect Your Privacy Using PimEyes
Have you ever been in a situation where you worried pictures of you were being used without your permission? Social media makes it easy for just about anyone to gain access to your content. It is a horrible feeling!
Luckily, PimEyes provides excellent software that lets you discover exactly where an image was published. This online face search engine combs the entire Internet for you to find pictures containing particular faces.
It uses face recognition search technologies to perform a reverse image search.
Same as in any other method to perform a reverse video search, pause your video at a frame showing a face clearly. Take a screenshot and upload it to PimEyes. This face finder will help you find that face and protect your privacy. It uses the latest technologies, machine learning, and AI to find your pictures online. It helps you protect and defend yourself from identity thieves, scammers, and people using your images illegally.
In movies, they often show you a guy in a stuffy office with dozens of screens performing facial recognition. In reality, you can do it with one simple click.
Remember to set an alert to monitor your online presence by receiving an email notification whenever PimEyes finds another search result containing your face.
As they say: "You have the right to find yourself on the Internet and protect your privacy and image." Let them help you find and permanently erase unwanted content from external websites.
It is especially useful for parents who allow their children to create and publish their own online video content. Protect their privacy by always knowing where videos showing their face are used and distributed.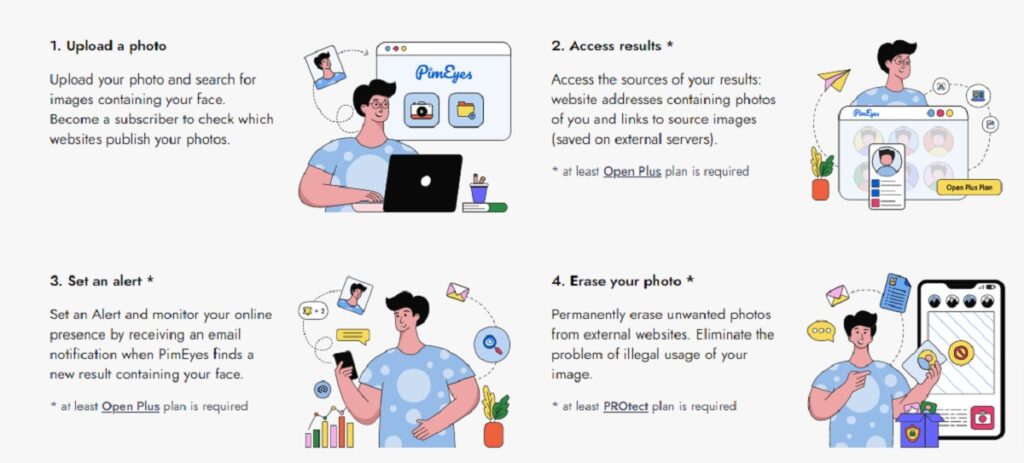 PimEyes Price
PimEyes is available in 3 price plans, ranging from $29.99 to $299.99 a month. They also have a one-time use option for $19.99, but no free tries.
It is a small price to pay if you are worried about your private video content being misused online.
Why You Should Know How To Do It
Reverse video searching can help you become a more informed and responsible consumer of online video content.
Visual search can also be valuable for content creators, researchers, and law enforcement agencies. It can help them prevent illegitimate private video and image content use.
It also allows content creators to give credit where credit is due. Businesses use reverse search to track down the origin of a virtual video, so they can legally use it for promotions and marketing purposes.
Text-based video searches can be a lengthy process. Reverse video search helps you get there quicker and get more accurate results.
Conclusion: Why Reverse Video Search is a Game-Changer
Reverse video search is a valuable technology. It allows us to search for videos based on their content rather than just their title or description.
This can prevent copyright infringement and online harassment by identifying the original source of a video. Overall, reverse video search is a valuable tool for anyone who works with video content.
Private individuals can use reverse video search to find other videos similar to the one they are searching for. This can be useful if you want more information on a particular topic or want to explore related content. The Reverse video search can also help you identify if a video has been used without permission or if it has been altered in any way.
Reverse video search is used to find other videos related to a news event you are researching – a valuable tool for journalists or researchers who want to gather more information about a particular event.
As promised, you should know everything you need to perform a reverse video search.
Enjoy your new skill!
Further reading I can recommend: