Many new Amazon sellers have a common question: "How do I add my products in Seller Central?" It's an understandable one — navigating through Amazon Seller Central can be intimidating when you sign in for the first time. 
Whether you're creating a new product detail page from scratch or listing your product on an existing Amazon ASIN, adding products is something all sellers need to know how to do. 
In this article, we'll go over adding products to an existing listing and creating a brand-new product listing in Amazon Seller Central.
How to list items on Amazon: the two ways
Listing products on the platform is a process that may sound confusing but I promise, it's straightforward. 
If you are in the reselling business through models such as retail arbitrage, online arbitrage, wholesale, or through books, you're likely reselling products that already exist on Amazon. 
This means that you don't have to create a brand new listing from scratch because Amazon does not want duplicate listings of products for sale. If you resell other brands' products, your offer will be on the same listing as other sellers'. 
For example, if you search for a product on eBay, you will likely see multiple listings for the same product. Whereas on Amazon, you'll only see one listing.
If you are selling a private label product (or a product not yet on Amazon) you will need to create a brand new listing, which requires a few more steps. 
Stay with me; I'll go over how to do both.
READ MORE | Selling on Amazon vs. eBay in 2023: Which is Better?
How to add a product to an existing Amazon listing 
If you are selling books or selling products through arbitrage or wholesale, here's how to list your product for sale when the same product already exists on Amazon. 
For this example, let's say you have a wholesale account with a brand that sells dog treat bags, and there's already an active listing for that exact product on Amazon. 
Step 1: Get the ASIN of the product you want to sell
You can find the ASIN (Amazon Standard Identification Number) in the listing URL or under "Product details."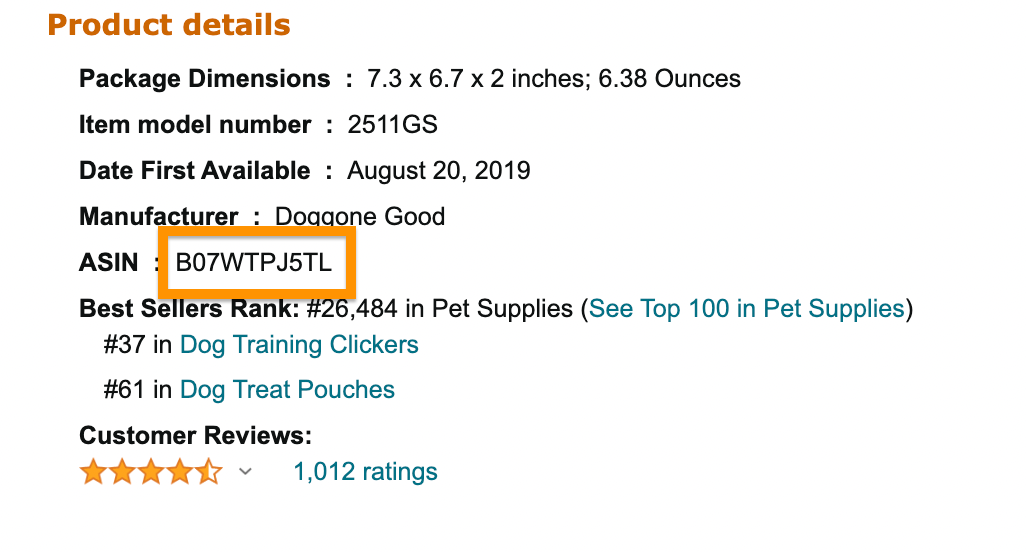 Note: if you are selling a product with multiple variations, make sure you are on the correct variation before copying the ASIN. 
Step 2: Go to Catalog, then click on "Add Products" in Seller Central and search for the ASIN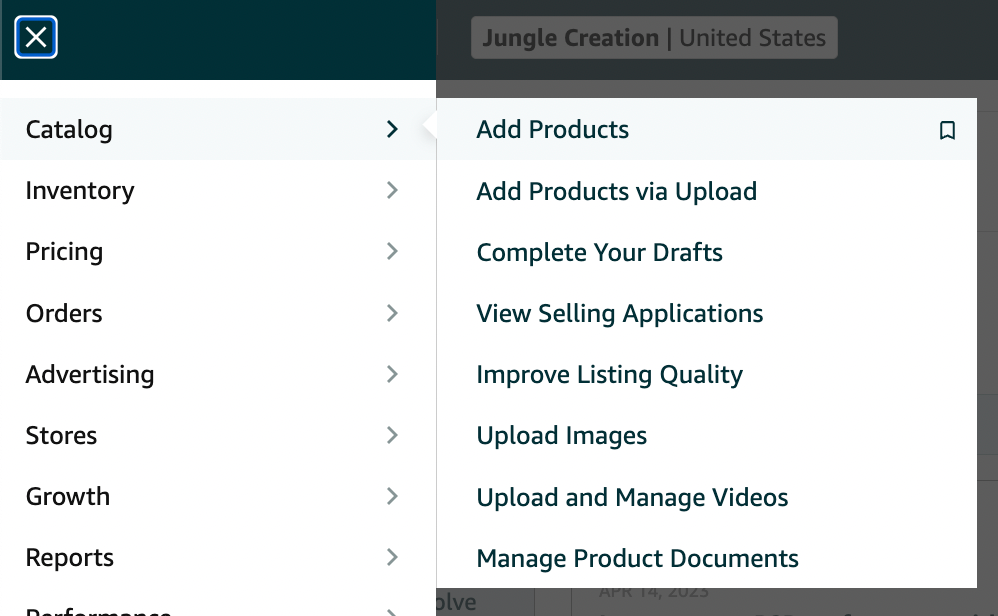 Step 3: Choose the condition of the item and click "Sell this product"

Step 4: Create your offer
In this step, enter your selling price (Standard Price) and item condition (Offering Condition Type), then choose between two options for your Fulfillment Channel: Merchant Fulfilled (FBM) or Fulfillment by Amazon (FBA). If you select Merchant Fulfilled, another option will prompt you to add the quantity. If you choose Fulfilled by Amazon, the prompt will redirect you to create an FBA shipment. 
"Contribution SKU" is a unique product identifier that only you will see. The SKU is usually used to help you keep track of inventory. For the product above, for example, you can make the SKU something like "DG_Pouch_01." This section is optional and if you do not choose your own SKU, Amazon will assign you one at random. 
Once you have added your information, click on "Save and finish" at the bottom.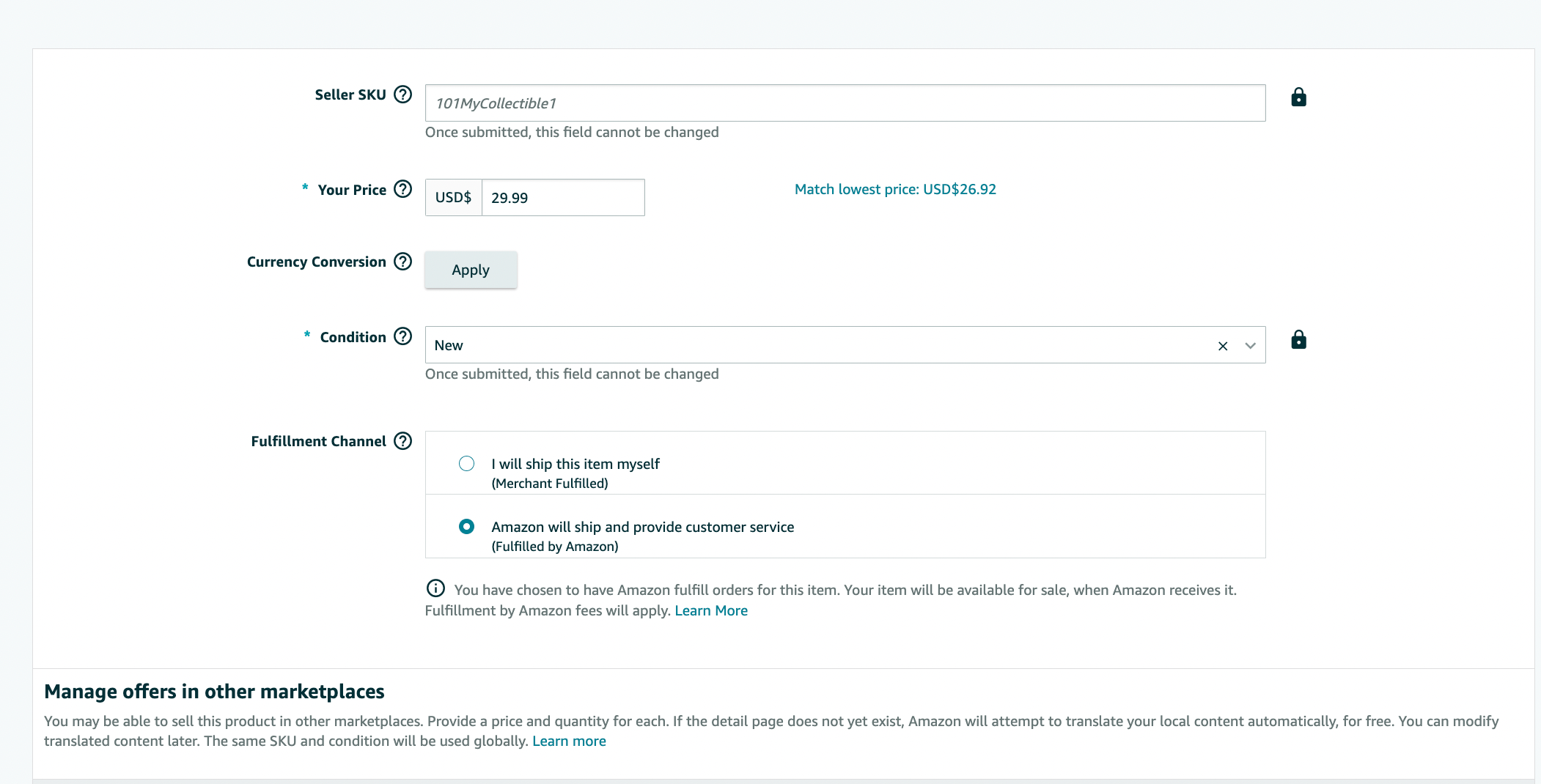 Your product will now be added to your "Manage Inventory" section in Seller Central.

If you're using FBA as your fulfillment method, your listing will become active once Amazon receives your inventory.
READ MORE | Amazon FBA vs FBM Comparison Guide
How to create a brand-new Amazon listing
If you are selling a product that is not yet listed on Amazon, here is how to list an item on Amazon.
Step 1: Go to "Add a product" in Seller Central
Then click on "I'm adding a product not sold on Amazon."

Step 2: Select your product category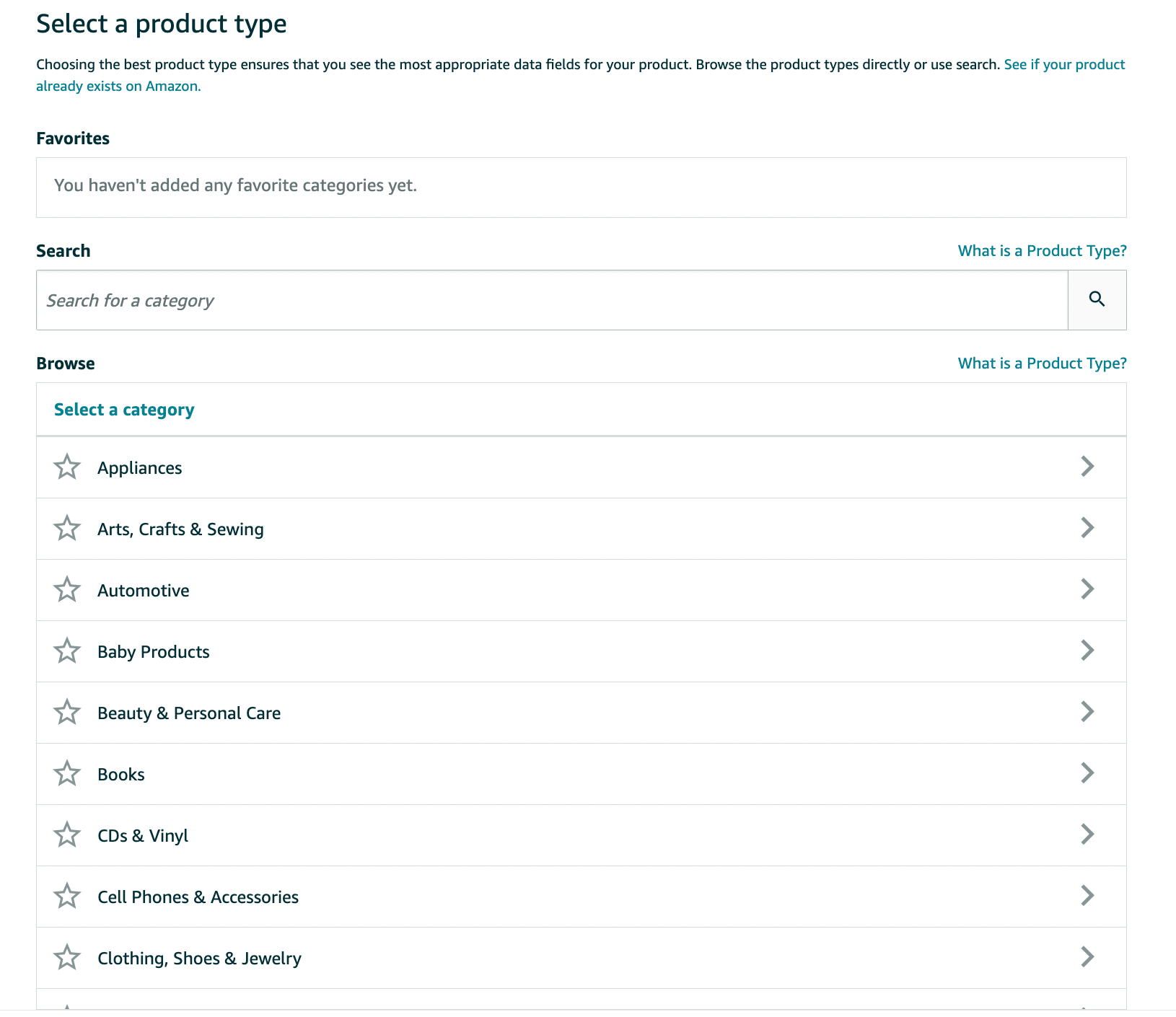 Step 3: Enter your product information 
In this next section, you will enter all of the information about your product, such as the Product Name (title), price, brand name, manufacturer, product ID, images, fulfillment, and so on.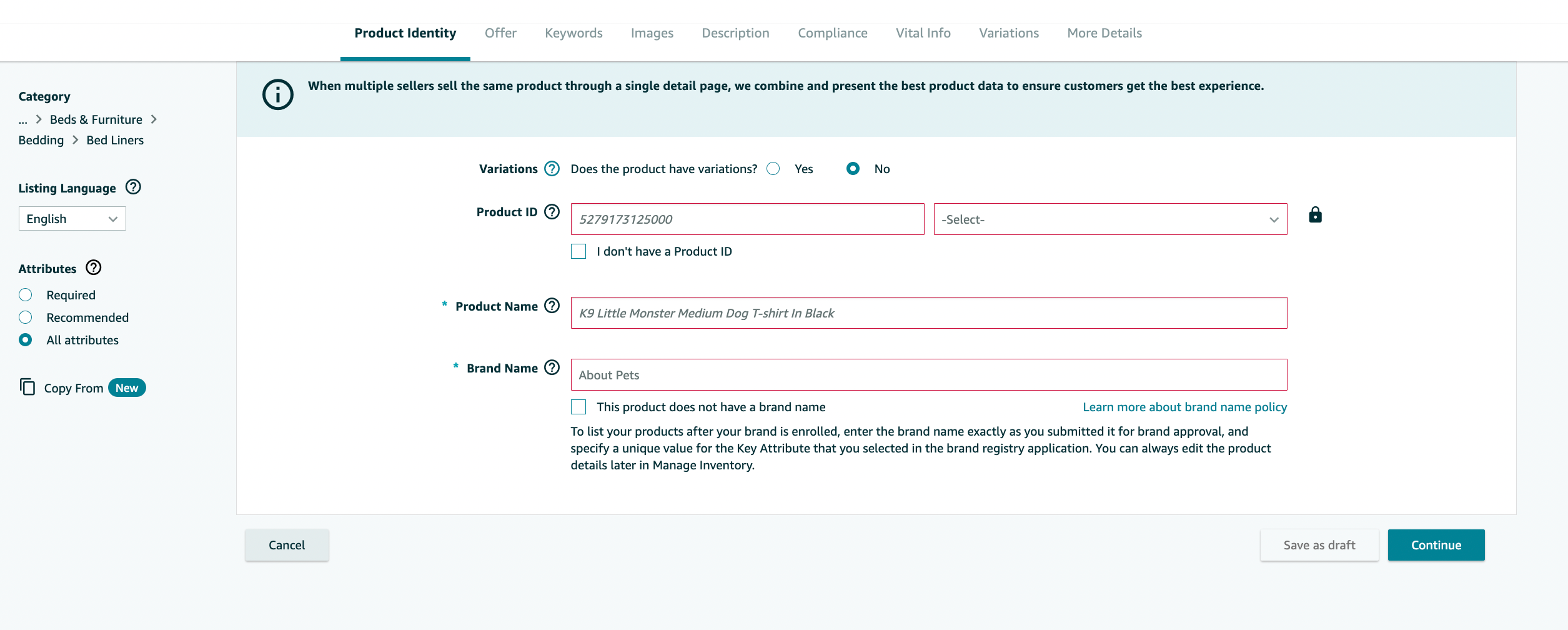 When entering your product ID, such as a UPC barcode, make sure you purchased it from GS1. Amazon will verify with GS1 that your UPC is legitimate. 
READ MORE | How to Buy UPC Codes for Amazon in 2023
Once you fill in all the necessary information about your product, click on "Save and finish." Now your product will be listed on Amazon! 
You can also learn how to create your Amazon product listing by checking out our YouTube video, "How To List Your Product on Amazon Seller Central in 2023."
How to add products via upload
If you are uploading multiple products simultaneously, using a product spreadsheet is an excellent method. If you are not very familiar with Amazon Seller Central, I would not recommend this method of adding products.
Uploading an inventory file to Seller Central can be challenging, so only use this method if you are proficient in spreadsheets. 
Step 1: Go to "Add products via upload" in Seller Central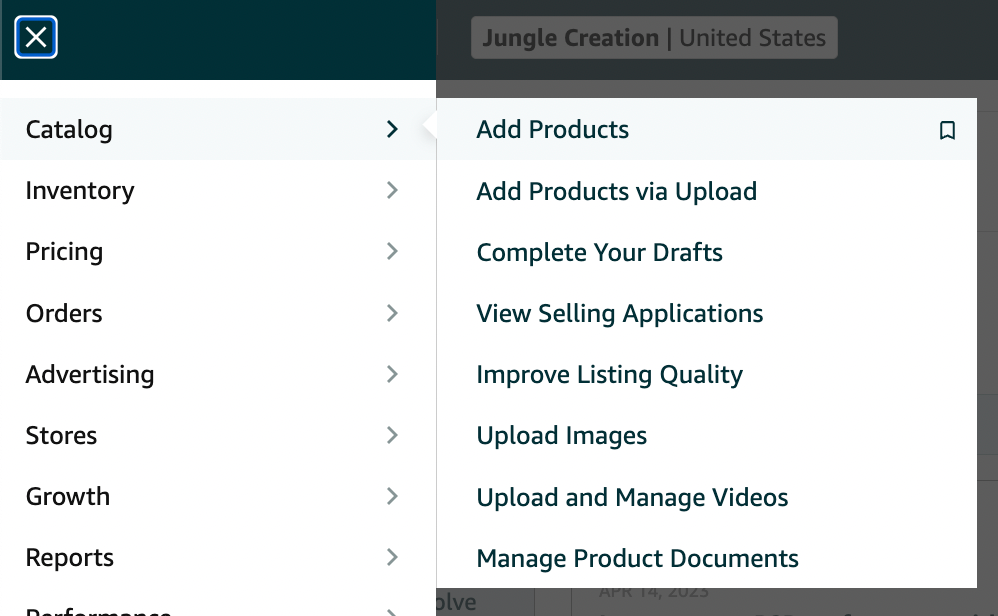 Step 2: Follow the steps Amazon lays out
First, choose a template to get started. Next, choose the marketplace you need a spreadsheet for and download it.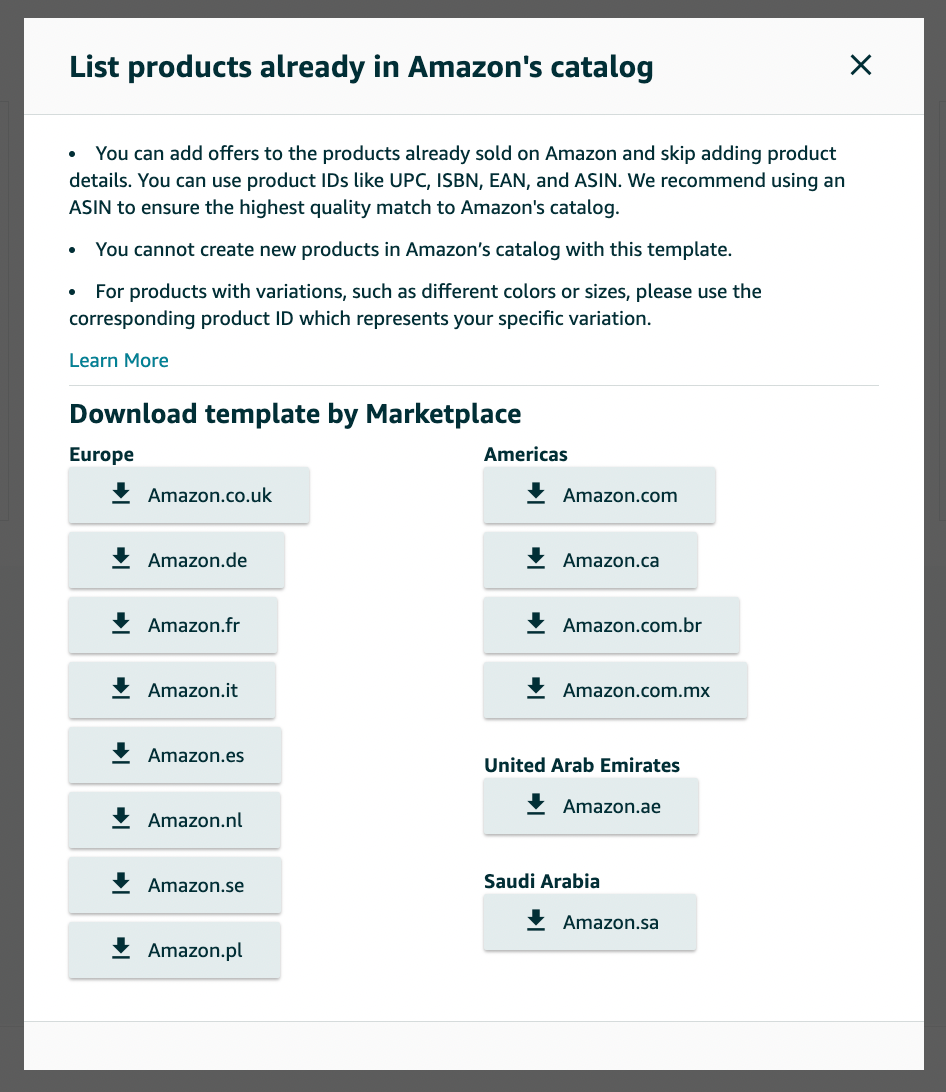 The template will download and you can upload into a spreadsheet program.
Step 3: Open your template in a spreadsheet program
Once you generate your template, open the file in Excel or Google Sheets. In the sheet, you will see multiple tabs at the bottom. 
Find the instructions on how to fill out the template, definitions, examples, and the template to be filled out.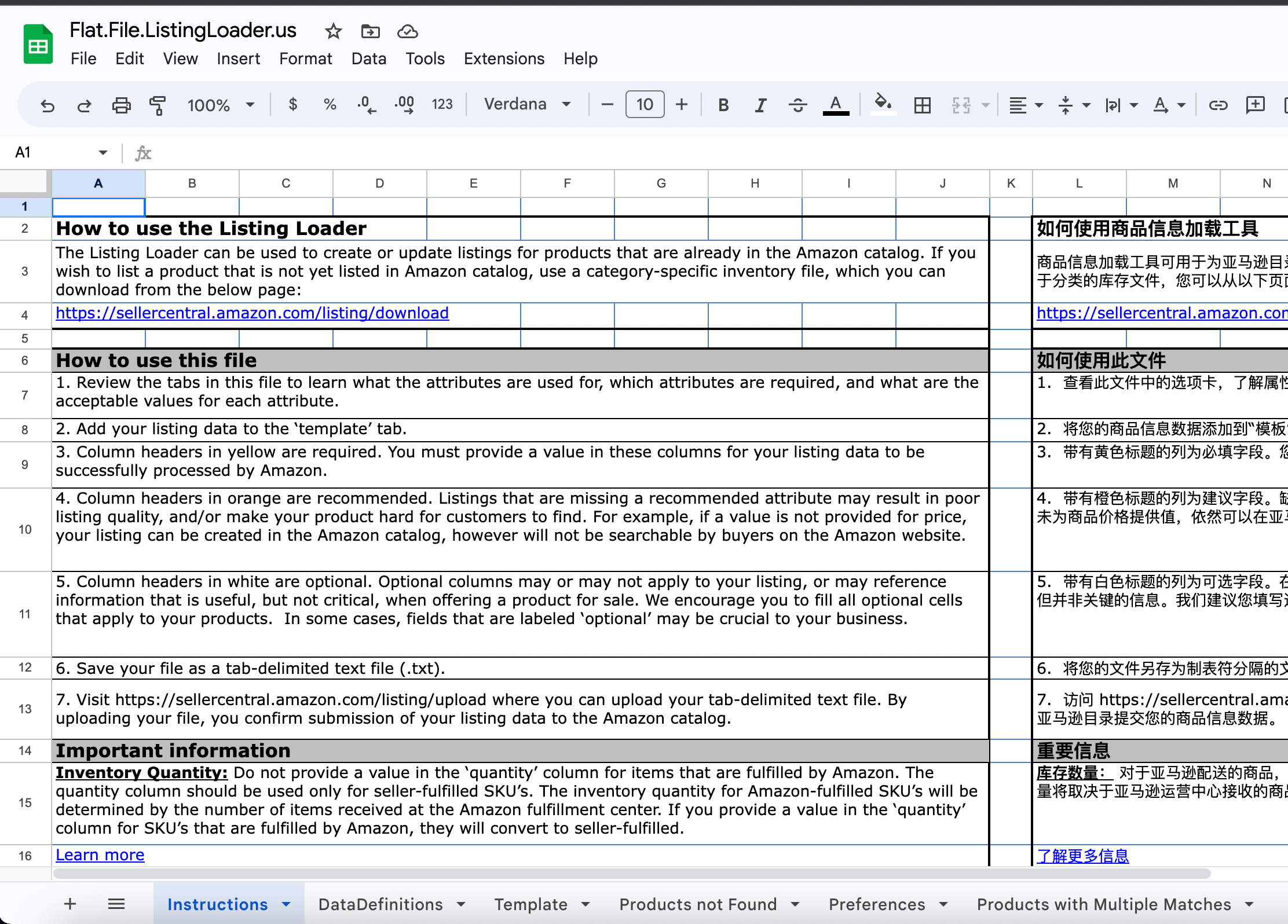 Read the directions carefully and check out Amazon's example templates if you have trouble filling out specific columns. Amazon also shows an example of adding a product with variations called a parent-child listing. 
Step 4: Fill out the template with your product information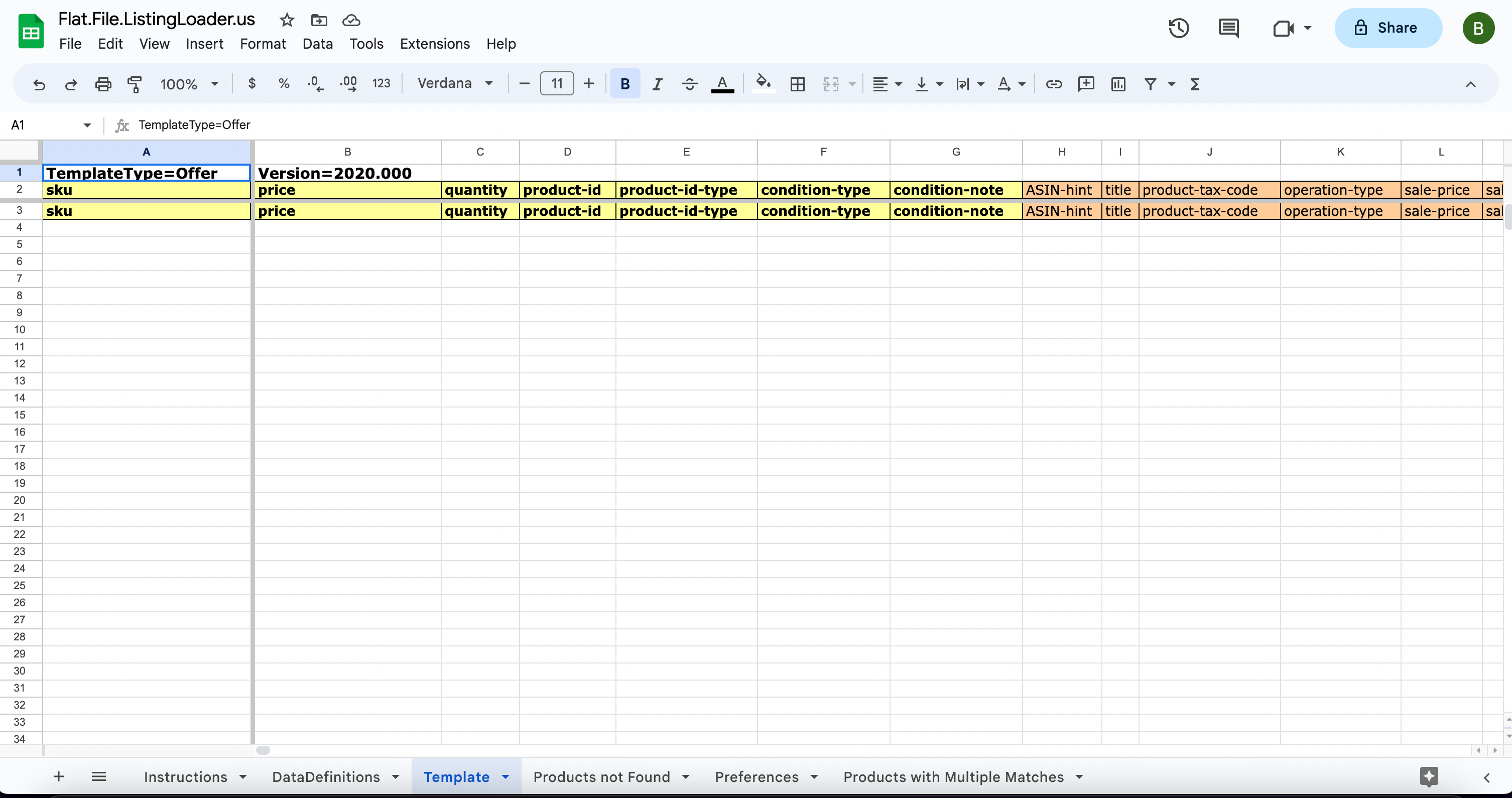 Step 5: Upload your file to Amazon Seller Central
Once you fill in your spreadsheet, download the file and head back to Seller Central. 
In the same section where you generated the template, choose " Upload your inventory file" at the top of the page. 

Add your file, and Amazon will begin processing your spreadsheet. Uploading takes some time; Amazon allows you to enter your email address so you can receive a notification once your file upload is complete.
You can also monitor the status of your spreadsheet by clicking on the "Spreadsheet upload status" tab. 
If your file has any errors, Amazon will let you know what you need to do to correct them.
Easily add your products to Amazon Seller Central
Adding products to Amazon Seller Central is easy once you know the steps! After following this guide, you should be an expert in adding products for sale no matter what business model you follow on Amazon. 
If you have any more questions about adding products to Seller Central, let us know down in the comments!