How long should a blog post be? It's a very common question asked by bloggers, marketers, and niche site owners around the world, and today we're going to be giving you the answer. 
The thing is, we all know that longer content is better when it comes to SEO, but how long is too long? You don't want to be adding empty content just because you're trying to make your blog post as long as possible. That's a great way to lose readers…
The good news is that there's an easy way to calculate the ideal blog post length. It's a quick formula that you can apply to any keyword you're trying to rank for that will tell you how long your article needs to be to have a chance at making it to page one. 
How long should a blog post be?
If you're trying to rank for a particular keyword in Google, you will want your content to be as good as, or ideally better than anything else ranking on page one. 
If all the other articles ranking on page one are short posts, for example, 500-1000 words each, that means you can probably also cover the topic in a similar number of words. On the other hand, if all of the articles ranking on page one are long-form content with 3000+ words, you will need your word count to be in that range too, if you want a chance to compete.
So the quick answer here is… Google will tell you, and it will vary depending on the keyword you are targeting, and who your competition is.
How short is too short?
That being said, there is such a thing as too short.
If you are a WordPress user and you use the Yoast SEO plugin, you will notice that Yoast recommends a minimum of 300 words for search engine optimization purposes. This is because it is very difficult to cover any topic in less than 300 words, and Google may think it is 'thin content' providing little value to readers.
That being said, a short blog post can still rank if the other content on page one is also short content, or if that's all that's really needed to cover the topic.
Why word count matters
Word count matters because Google basically 'reads' and analyzes your content.
The more words in your blog post, the easier is it for Google's algorithms to understand what your article is about. Then they can decide whether or not it deserves to be on the first page. 
Benefits of longer blog posts
There are lots of benefits to writing longer blog content, but these are the main reasons you should be making sure your blog posts are the correct length.
Longer content will naturally contain more keywords as well as longtail keyword phrases, and as a result, it will be more likely to bring you organic traffic
In-depth high-quality content will be more useful to your readers, giving them everything they might need to know about the topic at hand
The more time your readers spend reading your content, the more likely you are to make money from display ads and affiliate links
Google wants to give search engine users the best results for their search query, and part of that is making sure your article covers as least (preferably more) about the topic as the other articles ranking on page one. 
How to calculate the ideal blog post length
Now that we've covered how long your blog post needs to be, we're going to delve into exactly how to find the ideal word count based on your keyword. 
Check the articles currently ranking on page one
The first way to determine how long a blog post or article should be is to check the current search results for that keyword.
There are two ways you can do this:
You can do this for free if you do it manually, using Google and wordcounter.net to determine the average word count for the articles on page one. 
Use a paid tool like Surfer SEO, MarketMuse, Clearscope, or Keysearch. All of these tools will show you the top-ranking articles for the keyword you are targeting, and provide you with an average word count that you can aim for. 
Although using one of the paid SEO tools above will save you lots of time, the free manual method is pretty easy too, so you can do whatever works for you. Here's what you need to do.
The Manual Method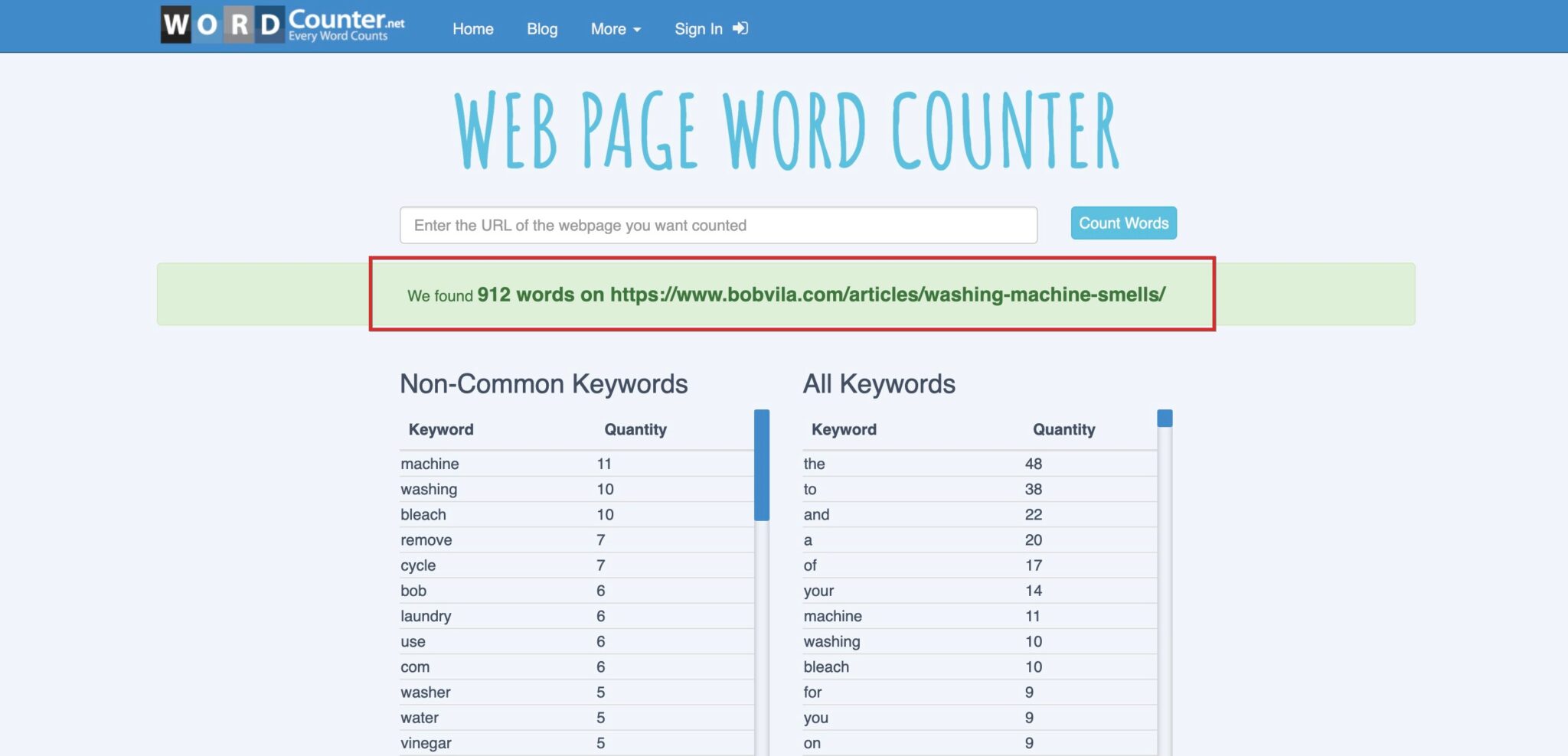 The first thing you will want to do is type your chosen keyword into Google, and see which articles are ranking on page one. Next, you will need to take a sample of these articles and put them into wordcounter.net to determine the word count.
It's worth noting that you don't need to include e-commerce sites or forums – you don't need to check these. Check the word count of the top 5 articles most similar to your blog. This will be other Amazon affiliate sites or blogs. 
So head to wordcounter.net and use the word counter tool. Simply paste the URL of the article you want to check the word count for into the search bar, and it will give you the word count of the article. 
Do this for about 5 articles from the first page of Google to get the average blog post word count, and aim for this number as the word count for your own article.
This number obviously isn't set in stone, but you should use it as a ballpark minimum word count. If you have more to say, then go for it, and add in as much content as you need.
The point is, after reaching the ideal word count, if you don't have anything else to say, just stop there. There's no need to add fluff and filler just for the sake of getting the word count as high as possible.
Using a Paid SEO Tool
There are lots of great SEO tools around that will help you calculate how long your blog post should be.
These tools are our favorite options.
Surfer SEO
SurferSEO is a great all-around SEO tool for bloggers. Not only does it help you find great ideas for blog posts and profitable keywords, but it also helps you fully optimize your content, giving you a better chance of ranking in Google.
It does this by calculating exactly how long your blog post should be based on the other results ranking on page one. Surfer SEO will also provide you with a list of additional keywords you should include in your article. 
These are the keywords that appear frequently within the other articles ranking on page one. Including as many of these words as possible will increase your content score, and give you the highest possible chance of making it to page one on Google.
A complete end-to-end content marketing solution.
Only the BEST Native English Writers
The Most Thorough Quality Control Process Possible
Advanced Keyword Research
Create Content that will Generate Traffic and Leads
GET A FREE ARTICLE + 15% OFF ALL ORDERS THIS WEEK!
It's affordable too, with plans starting at $59/month. This is great value compared to other content optimization tools like Clearscope and MarketMuse which are more than double the price. 
There are loads of other great features too that will help you with your SEO. You can try Surfer risk-free, as they offer a 7-day money-back guarantee. 
Optimize Your Content with Surfer SEO 
KeySearch
KeySearch is one of the best budget keyword research tools around. But did you know that it can also help you calculate exactly how long your blog post should be?
The Content Assistant feature is designed to help you create content that will rank well in Google. Once you have chosen a target keyword, you can enter it into the content assistant, which will give you all the information you need to create an optimized blog post. It will tell you the average word count of content ranking on page one, and it will also give you a list of LSI keywords that you should include in your article. 
This tool is a favorite of mine, and I've been using it for a while now for keyword research and to optimize my blog posts. I highly recommend it, as it offers great value for money and it's really easy to use. If you want to know more, check out my in-depth KeySearch review. 
Get 20% off KeySearch with code: KSDISC
Clearscope
Clearscope is another popular content optimization tool that will give you everything you need to outrank your competitors in Google.
As well as providing you with a target word count, Clearscope will let you know which keywords to include in your content, and give your content an overall score, so you can easily see how you are measuring up against your competitors. You can create a Clearscope report to give to your content writer which will give them everything they need to create an optimized blog post.
The price point is quite high for this tool, but if it's in your budget, it's a great tool to use!
MarketMuse
MarketMuse is an AI content optimization tool that bloggers and business owners can use to optimize their content. It's super easy to use. Simply enter your keyword, and you will be provided with a target word count to aim for and a content score based on the keywords included. 
MarketMuse also shows you the word count and content of every article ranking on page one, so you can see exactly who you're up against. In fact, we use this tool to optimize a lot of the content on Niche Pursuits, so we can say firsthand that it's a fantastic tool.
Although it's quite pricey, it's a great choice for bloggers, niche site owners, and online business owners who are already making a decent amount of money.
Other Things You Can Do To Help You Rank in Google
SEO is an important part of your content strategy and a key element of inbound marketing.
Once you have written a great article of the right length, there are a few more things you can do to help your article rank well.
Backlinks
Backlinks are a powerful factor in SEO, and the more backlinks your article has, the more valuable Google will think your content is. How many backlinks does your article need though? Good question… luckily there's a pretty simple (and free) way to work this out too. 
Enter the MozBar, the free SEO toolbar by Moz. This is SUCH a useful tool for research, and something every blogger should have installed. MozBar is a free Chrome extension that provides you with valuable SEO metrics as you browse Google and visit different websites.
Basically, when MozBar is turned on, you will see a black stripe at the top of your Chrome browser that gives tells you the PA (page authority) and DA (domain authority) of each page you visit, as well as the number of backlinks pointing to that page. 
Similarly, when you type a search in Google, MozBar will provide a stripe under each search result with the same metrics. This allows you to quickly see how many backlinks each article on page one has. This will give you a good idea of whether or not it's worth competing for these keywords or not. 
If you can see some articles on page one for your keyword with a low number of backlinks, you are in with a good chance of ranking fairly quickly. If all of the articles have a very high number of backlinks, you might want to reconsider. Unless of course, you think you will be able to get the same amount of backlinks, in which case, go for it. 
Optimize Your Images
When you save images that you plan to use in your blog post, make sure you give each image a name that reflects the content. I still see so many bloggers uploading images to their blog with just an image number-this is no help to search engines at all. 
You should also ensure that all images you have used within your article have alt text, preferably containing the keyword you're trying to rank for. Alt text is read by screen readers which helps people who are visually impaired understand what the image is about. It provides a description for the image being shown which also enables search engines to provide accurate search results.
This increases the chances of your article being found through Google image search. 
Internal Linking
Internal linking is another hugely important factor for SEO.
An internal link is simply a link from one page on your site to another related page. There are a few reasons internal links are important. Firstly, internal links are useful to your readers, as they help point them to other useful content on your website. Secondly, internal links help search engines crawl your site, and establish a hierarchy of which pages are most important.
Internal links can be built manually, but you can save a lot of time by using a tool like Link Whisper. Spencer created Link Whisper to make it quick and easy to built internal links. Link Whisper uses AI to analyze your content, and find relevant articles to link to as you edit your content, and they can all be added to your article with just a couple of clicks, saving you hours of time each month. 
So… How Long Should a Blog Post Be?
As you can see, there is no magic answer to the question 'How long should a blog post be?' because it varies for each keyword you target. 
If you're looking for organic traffic, it's not enough to guess how long you think your article should be. You really need to do this research for every post you write. To save time, it's worth using a paid tool like SurferSEO, but if you're not in a position to pay for software just yet, you will get along fine using the manual method and wordcounter.net.
If you've got a lot to say on a subject, then obviously a longer post is better as it is likely to be valuable content. However, as long as you aim for at least the recommended word count based on the other content ranking on page one, and ensure your content is fully optimized, you will have a good chance of ranking.