Karl Hughes joins us this week to share how he's grown his content agency.
Karl is the founder of Draft.dev, a niche content agency. It is focused on creating technical content for software sites. Their tagline is: 'We create blog posts and tutorials designed to reach software engineers.'
The business is only 10 months old, but has grown very quickly ($60k revenue in the month of April!).
Karl comes from the start-up world, so was able to apply what he previously to this business. He now has a team of 50+ writers and support staff, producing high-level content for some of the biggest sites in the software world.
Here's how it came to be!
Please introduce yourself and your background
My name is Karl Hughes, and I'm a software engineer turned founder.
Last year, I left my role as a CTO at a tech startup in Chicago to start a niche content writing agency called Draft.dev.
We help marketing teams reach software engineers – an audience that can be tough to market to – by creating interesting technical content.
Unlike most content marketing agencies, all our writers are practicing software developers, so we're able to write deeply technical tutorials and guides that most general-purpose content writers can't.
This specialization has allowed us to focus on a very specific type of customer and has allowed us to grow very quickly. In less than a year, we have built a team of more than 50 writers around the world.
How did you start making money online?
I've been working for software startups since I graduated college. I've been the first employee twice now, so I have been able to see what it takes to build a company from the inside.
In March 2020, when the pandemic started spreading to the United States, the startup I was working for hit a rough patch. We had to let go of one-third of our team and I went down to half-time to help the company save money.
With a little extra time on my hands, I figured it was the perfect time to do some side projects. I always enjoy writing, so I started by picking up a few freelance gigs.
Why did you choose to start Draft.dev?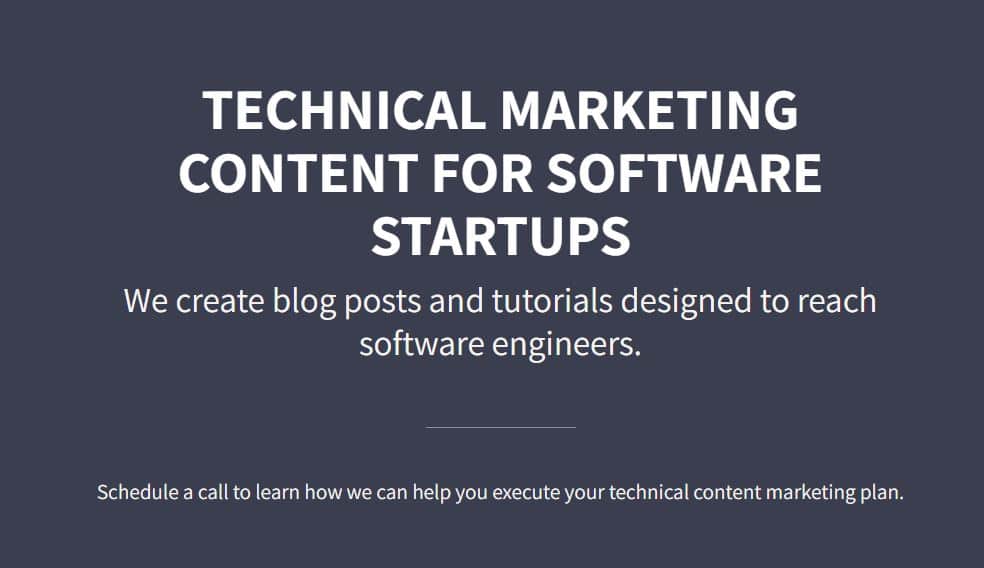 Besides really enjoying the work, I had a feeling there was a real economic opportunity.
So, after writing a few articles for each client, I asked them to hop on a call with me. From these conversations, I validated the need and started to hear about the challenges they had finding and managing writers.
Jim Collins (author of Good to Great) says that in order to build something great, you have to work at the intersection of something you're passionate about, really good at, and can make you money. He calls this the "Hedgehog Concept."
Writing technical blog posts was at the intersection of these three things for me, so I decided I would make it a business.
What has worked to grow your business?
The number one factor leading to Draft.dev's growth has been an exploding market for developer tools.
Companies that are building software for developers (hosting platforms, continuous integration tools, testing tools, etc.) are getting a lot of investment money right now, and they need to deploy it into growth.
Due to Covid restrictions, many companies can't do in-person marketing, so they allocated larger portions of their budget to content marketing.
At the same time, you can't hire typical freelance writers to write this kind of deep technical content (think code samples, architecture diagrams, etc.). So, most companies struggle to allocate their budget for this content.
Besides a high level of organic demand for what we do, I had a really strong personal network. I've always kept in touch with a big list of professional contacts, so when I went full-time on Draft.dev, I reached out to them.
Many of these contacts made introductions, offered suggestions, or became clients. As I got a few satisfied clients, they made referrals to other clients. By the end of 2020, I was still writing over half the content, but I had doubled my per-article rate from when I began in May.
In January 2021, things started to really take off. I hired a social media manager to keep fresh content on my social channels and started hiring more writers and an editor. Our revenue went from $12k in January to over $60k in April 2021.
Today, we have a steady stream of leads coming from referrals, social media, organic search, and various newsletters I run. We've also dabbled in cold outreach via email and Linkedin.
What have been the largest drivers of growth?
The biggest drivers for our revenue growth have been:
raising prices
raising our minimum deal size
and low client churn
Content isn't an overnight growth channel, so most of our clients are on 3-6 month commitments and almost all of them renew because we do high-quality work.
As we've increased our package sizes, we've continued to invest in quality control, hiring better writers, and improving our processes. Our clients don't tend to be price-sensitive, but they're very "quality-sensitive" – meaning we have to produce exceptional content.
What challenges have come with your growth?
Hiring is one of the challenges in a growing company.
Fortunately, I've been an engineering manager and CTO, so I had a fair bit of experience in this area already. On the other hand, I've never hired editors or account managers before, so I still feel like I'm making it up half the time.
Just remember that most people – even the ones who look successful – don't know what they're doing half the time.

We have just learned to get really good at faking it.

— Karl L Hughes (@KarlLHughes) May 18, 2021
The other challenge is making sure we only take on work we can do really well.
As we've gotten bigger, clients have asked for new services, different delivery options, and more complicated projects.
It's tempting to chase revenue at all costs, but you have to weigh the growth opportunity with the added complexity.
For example, in the first year, we didn't offer any kind of keyword research or topic ideation – we made clients bring us a list of article ideas. After turning away several good clients who begged us to do it, I finally decided we would add the new offering.
It's still early, but it's already been a big selling point on sales and renewal calls.
How do you manage 50 writers?
At the last startup I worked for, I helped build a software tool to manage hundreds of virtual teaching assistants. When I started Draft.dev, I had a mental template for how we could scale up.
While we don't use much custom software at Draft.dev, we've used a handful of no-code tools to automate a lot of our workflows.
Niche Website Builders is Run by Affiliate Marketers For Affiliate Marketers. This week only, get more content and links!
15% MORE CONTENT ON CONTENT SUBSCRIPTIONS
15% MORE CONTENT ON ONE-OFF CONTENT AND DONE FOR YOU WEBSITE ORDERS
15% DISCOUNT ON LINK BUILDING SERVICES
More specifically, we use Airtable to store all our writers and content assignments, Zapier to automate communications with them, and Google Docs to store content and share it with clients.
Of course, our Managing Editor, Chris is also an integral part of this workflow. She ensures that all our writers are matched up with assignments and helps keep things moving, but the processes and tools we have allow her to be much more efficient.
How do you ensure content quality?
All our writers are subject matter experts, so while they know software engineering, they aren't all great writers. Still, we've figured out how to get them to the level we need.
There are three parts to our quality control process today:
We use an objective rubric to evaluate writer applicants. With hundreds of new applications each month, we're able to pick only the best engineering writers. This also means we can cover really esoteric topics if needed.
We give each writer a style guide that shows them what we expect. Having standards is important, but you can't make your style guide too long or nobody will read it.
Finally, our editors work with each writer to revise their pieces before they go back to the clients. They also help maintain a consistent voice and style.
We're also going to start having monthly writer workshops to help our writers continue to get better. I'm really looking forward to this because helping our writers improve their careers is one of the most rewarding parts of running this company.
Why did you niche down on Software developer content?
Initially, it was a topic I knew well and knew that people would pay me for, but it has proven to be a really good business decision.
Being in a very well-defined niche makes it easier to get good referrals and close sales. There are hundreds of content mills that produce SEO-driven crap, so if you have to compete with them, it's a race to the bottom.
On the other hand, anyone who's marketed to software engineers will tell you that they can smell BS marketing content a mile away. You have to have a technical expert write this content if you want it to resonate, and very few content agencies are doing that.
I don't foresee us venturing into other niches anytime soon. The market we're in is big enough and growing quickly. Because we're not venture-funded, we don't have external pressure to grow to a certain size, so we can stay in a smaller market as long as we want.
What have you learned through building your business?
1. Choose your market wisely.
Operating in a growing market with existing demand and with customers willing to pay makes starting a business infinitely easier.
Justin Jackson has a great blog post on this where he says:
If you build a solution that people were already looking for, folks will come to you. You don't have to work as hard to find customers.
2. Know your goals but stay flexible.
Initially, I just wanted to write for a living, but when it was clear that there was a business here, I leaned into the opportunity.
3. Learn to say "no."
The bigger our business gets, the more customers and partners approach me with ideas that aren't in our core niche. Some of these opportunities are interesting but most are obvious distractions. I almost never say "yes" to something immediately, but I'm a lot better at saying "no" than I used to be.
We've had a few pieces hit the front page of Hacker News and generate tens of thousands of pageviews for clients in the first few days:
In a matter of weeks, our referral traffic and organic keyword rankings increased by 3x. One post also hit Hacker News which resulted in 5 demo requests in a single day!
More typically, content is a long game, but clients appreciate our consistent quality and seeing a steady increase in traffic over time:
Bitmovin operates in a niche industry, yet the Draft.dev team has managed to put together some of the best content at every level of the funnel to hit our target audience perfectly.
Finally, I'm really proud of the culture we're building. We're entirely remote, asynchronous, and globally diverse. We don't use Slack or other interrupters and we only take on work we know we can handle.
When did you begin seeing success with Draft.dev?
We were profitable from day one, so I've been able to draw a salary the whole time. That said, the first few months after I left my day job were really scary.
I woke up in the middle of the night, unable to sleep, worrying about whether we'd land the next client or hit all our deadlines for the week.
I feel like "success" for me has only been since March when we were clearly growing and my team was taking on most of the day-to-day work. That's when Draft.dev really started to feel like a decent little business.
This timeline might seem fast (about 10 months), but there's always more under the surface.
Draft.dev took off quickly because I spent:
8 years working in startups
building my network
experimenting with little side projects
and learning from other entrepreneurs
If I hadn't been able to make lots of mistakes hiring, managing, and helping build another founder's business, it would have taken me a lot longer to figure this stuff out.
What tools do you use for your business?
At the core of our business is our content management system, which runs on Airtable.
Beyond that, we use:
And our website is a simple landing page built on Webflow and a blog built on Jekyll.
What is your strategy for growing your business?
Every entrepreneur needs to identify their unique advantage when it comes to growth. Copying what your competitors do is not the way to get your first 100 customers.
So, for me, I started by using my existing network to grow the business.
After we got enough revenue to justify it, I started pumping as much as I could afford into long-term marketing efforts like content, link-building, and community engagement.
These channels take a long time to pay off, but they have staying power, meaning that they won't go away overnight. Plus, they aren't reliant on my personal network or social channels.
Finally, I think growth in a service business is all about building trust. Our packages are not cheap and we don't offer trials, so we have to prove ourselves in other ways. That means creating helpful content, getting involved in the community, and doing good work are the best ways to fuel growth.
What keeps you going when things are tough?
Two of the first things I did when I started Draft.dev were to compile a list of advisors and to join a mastermind group. My wife is super supportive, but she has never run a business and there's only so much of me droning on that she can take.
I also went to therapy for a while when I was struggling to sleep because of the anxiety. It's really important to me to have tools for managing my emotional and psychological well-being.
Advice for other online entrepreneurs?
So much advice is situation-specific, but the thing that's resonating with me right now is to just start trying things.
A lot of entrepreneurs think they need a business plan, landing page, or pitch deck, but that's all fluff.
Business is about getting people to pay you money for something they find valuable. Once you're self-employed in some small way (freelancing, selling a book/course, etc.), leverage the income and time you free up to take gradually bigger risks.
I would never have tried to build Draft.dev if I hadn't tried half a dozen unsuccessful side projects over the years. So start failing at projects as soon as possible so you can find the right one for you.