Link Whisper is an internal linking WordPress plugin that was created approximately 2 years ago.
In order to help you know whether Link Whisper can help you grow your sites, we wanted to showcase how some people are using the tool.
This post will share some of the many features of Link Whisper and the ways people are using it to save time, build better sites, rise in the search rankings, and ultimately, make more money.
If you're new to the Niche Pursuits Audience and you haven't heard of Link Whisper yet, I'll give you a quick run-down on what it is and what it does next!
Ready to jump on board and give Link Whisper a go?
For this week only, we're offering $20 OFF Link Whisper!
What Is Link Whisper?
Link Whisper is a WordPress plugin designed to make internal linking faster, easier, and more scaleable.
Spencer created the tool to "scratch my own itch," as he shared here. "I hated the manual process of building internal links and knew I was leaving my internal linking tasks undone because it was a slow process."
Link Whisper lets you quickly add new links to old posts, and it will even make link suggestions as you write up a new blog post. It's a full-service internal linking plugin, and there's nothing else like it.
It has a great dashboard that makes analyzing your website's internal links very simple. You can quickly find orphaned pages (those without any incoming links), see the posts that have the most links, find broken links, and a whole lot more.
Other features NOT already mentioned include:
Find 404 error pages
Edit/remove broken links without having to manually open each page
Connect up with Search Console for more clearly displayed keyword data
Connect the plugin with other websites you own to easily link between your sites
Link Whisper is compatible with basically all editors and themes including Classic, Gutenberg, Beaver Builder, Thrive, Architect, Elementor, WooCommerce, and Kadence Blocks. It's easy to install and easy to use – but there's always more to learn as well as the tool is continuously growing and improving.
You can check out this post on the history of Link Whisper if you are interested in the origins and development of the plugin, or check out this in-depth Link Whisper case study.
Link Whisper Reviews
Here are some examples and quotes from people who have been using Link Whisper and found it helpful in their online businesses.
---
Mushfiq From The Website Flip
Mushfiq Sarker from The Website Flip and EasyWins.io has recently been using Link Whisper on a dating niche site. After using Link Whisper to add a lot of internal links quickly, he saw some good results.
Here's what he shared with us.
"I performed internal linking with Link Whisper on a site in the dating niche. The site in June 2021 received 41,499 pageviews. The internal linking started in mid-July and over the course of 30 days, we've received 54,172 page views.
Prior to this, the internal linking on the site was minimal. The site currently has 1,495 internal links.
The site in June earned $7,801 via affiliate marketing, and over the last 30 days, we've surpassed $9,000 per month."
Here is a screenshot of the last 30 days traffic: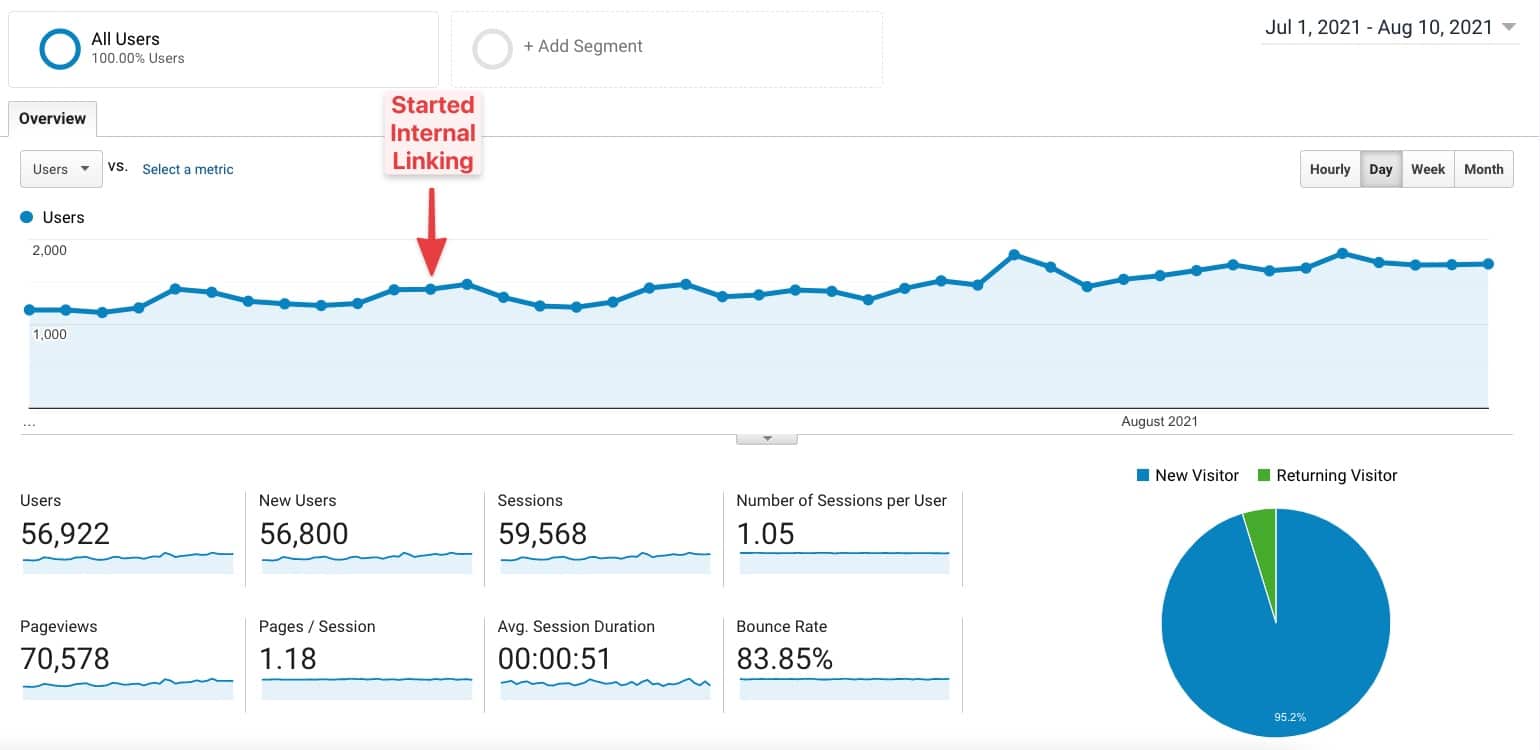 ---
Dan From Niche Pursuits
I (Dan) have been using Link Whisper on my niche sites as well, and have most recently installed it on my chainsaw site, Fire and Saw.
What I like most about Link Whisper is the Internal Links Report. It displays all of my website link data in a way that's so easy to digest and act upon.
The internal links report in Link Whisper is great because you not only see how many inbound internal links a post has but also how many outbound internal links there are in that post.
I like to have at least 3 internal links going to and from each post on my sites, and Link Whisper makes it so easy to see if I'm achieving that goal. You can see in the screenshot above that some posts end up with a lot more!
Personally, I'm a huge internal links guy – along with everyone else who has any experience in online marketing – I've just seen it work too many times to ignore it.
For example, I have a post on why chainsaws were invented (you can have a guess at what they were originally invented for by checking out the featured image below…). The post had been sitting around position 21 for a very high search volume keyword.
By using Link Whisper's easy-to-read links report, I discovered that I didn't have any internal links pointing to the post, nor was I linking out to any other post on my site from it.
Because it was one of the first posts I wrote for the site, there were no relevant articles to link to or from when it was first published.
I added 3 internal links to that post and, within a few days, it jumped from page 3 of the search results all the way up to page 1.
Because I have the Link Whisper Internal Links Report right there in my WordPress dashboard, it makes me much more proactive about internal linking. It catches my attention more often and allows me to quickly add links and update old content.
I've tried other internal linking tools, such as Ahrefs, but I've found them a lot more complicated to use and more difficult to insert the links once you do find the information you need. They are not as intuitive or as helpful as Link Whisper at internal linking, so it's easier to just forget about it. This is how I've ended up with a ton of orphaned posts and under-optimized internal linking in the past.
Link Whisper simplifies the process of identifying internal link opportunities and streamlines the whole process of adding new internal links.
---
Keith From Minted Empire
Keith Mint from Minted Empire has been using Link Whisper for almost a year.
He believes that using Link Whisper has saved him a ton of time interlinking on his portfolio of niche websites.
He shared:
"With well over 200 published posts across my various sites, I estimate that, so far, the Link Whisper plugin has helped me to save an entire week of arduous manual internal linking work.

That's a ton of saved time that I've instead been able to put into other tasks like keyword research, writing new articles, or even just taking a little extra downtime."
The time-saving aspect of Link Whisper is definitely one of the main advantages of using the tool – especially when you're running a large website or multiple sites. It becomes more difficult to manually open up 2 or 3 old posts and add internal links to each new post you publish.
---
Quotes From Recent Niche Pursuits Guests
We've had a bunch of recent guests on the Niche Pursuits podcast or blog recently who have commented on Link Whisper.
Here's what they've said.
Mark Mars from Niche Website Builders shared the following in this post about the Tombraiding SEO Keyword Research Technique.
"Internal linking allows you to pass 'link juice' to other pages on the site giving them an improved ability to rank and provides context via the use of anchor text so that Google can better understand what a page is about.

I use Link Whisper to greatly improve the speed at which I can carry out this normally labor-intensive task."
Yoyoa Hsueh joined us on the podcast to share how he grew a content website from $20 to $6,800 a month in 6 months.
"So right after I bought the site, I noticed there were no internal links. I purchased Link Whisper after I purchased the site and internal linking became much easier – easier to organize and everything. I made sure there was no orphaned content – that was the big thing."
Steven Hockman from SEO Chatter shared his affiliate marketing secrets in this interview, stating:
"Internal linking is an extremely powerful, yet underrated, SEO tactic.

I use Spencer's plugin Link Whisper to help me with this process, but the secret is to use the target keywords you want a page to rank for within those internal linking anchors.

But don't just use one keyword and the exact match phrase for every internal anchor text. Instead, pick 3-4 keywords you want the page to rank for and rotate through them with your internal anchors from other relevant pages on your site. Also, add some filler words into those anchor texts so you don't repeat the same 3-4 keywords over and over again exactly."
Gaurav Dhir was very enthusiastic about Link Whisper in this podcast interview, sharing:
"I mean, oh my god, Link Whisper is absolutely amazing. It's probably the best thing on planet earth after sliced bread for affiliate marketers. It makes things so much easier and internal links are so very important."
Lastly, Spencer shares how he uses Link Whisper on his niche site Own The Yard in this earnings update:
Press play on this video and it will begin where Spencer shares how he and his writers are using Link Whisper on Own The Yard.
Link Whisper Deal
Now that you've heard what a bunch of people think about Link Whisper, and some of the ways we are using it, it's time to consider if it can help you out with your internal linking.
It's good for those who:
Have sites with 50+ posts
Want to save time internal linking
Want to better visualize their internal link structure
And it's good for those who want to easily clean up broken links and 404 pages – Link Whisper makes it a breeze to take care of these issues on a website.
We have a special deal to offer anyone who would like to sign up for Link Whisper this week. This week only you can get Link Whisper for $20 Off. 
This $20 off discount really does expire this week, so if you want to get locked in at this low price, you should check out the offer right here: LinkWhisper.com
GET $20 OFF LINK WHISPER THIS WEEK
Link Whisper is a revolutionary tool that makes internal linking much faster, easier, and more effective.  It makes it simple to boost your site's authority in the eyes of Google. You can use Link Whisper to:
Bring out your orphaned content that isn't ranking

Create smart, relevant, and fast internal links
Simple yet effective internal links reporting: what has lots of links and what pages need more links?