Looking for the ultimate blog launch checklist? Then, you've definitely come to the right place! 🤩
A blog is one of the best ways to strengthen your brand, demonstrate your ability and expertise in a certain subject, earn money, and share valuable insights with readers. However, launching a successful blog is much easier said than done.
Before you start stressing, the good news is that you don't have to figure it all out by yourself. Below, we cover everything you need to know, from writing quality content to setting up SEO and analytics. By the end of this post, you'll have all the information you need to give yourself the best chance at success.
⌛ On a final note before we begin:
It's highly unlikely that you will be able to accomplish all of the tasks on this blog launch checklist in one sitting. We therefore recommend bookmarking this page and treat it like an actual checklist. Go through the items and note down where you leave off each time so you can pick up where you left off and continue.
With that out of the way, let's get started!
Things you need to understand about launching a blog
Before we get into our blog launch checklist, there are three things you need to understand about blogging.
First: There's a technical side 👨‍💻
When most people think about launching a blog, they usually focus on the creative side of things. For example, coming up with unique blog topics, crafting interesting infographics, etc.
While being creative with your content is important, it's also essential to understand that there's a technical side that shouldn't be neglected. And, this is a side that can actually have a direct impact on the success of your blog.
But what do we mean by "technical?"
1) Choosing the right platform
Your blog needs a solid foundation to stand on. This means choosing the right blogging platform.
There are so many different types of platforms you can choose from, but WordPress and Medium are two of our favorites. Let's briefly review them:
WordPress

WordPress is a popular Content Management System (CMS) that allows users to create, manage, and publish content on the web.
👍 Advantages of choosing WordPress include:
It's easy to use and setup, even for beginners.
It has a large community of users and developers offering support and resources.
There is a wide range of themes and plugins available to help you customize your blog.
It's search engine friendly, with built-in optimization features.
👎 Disadvantages of WordPress include:
While you don't need coding experience to create a blog on WordPress, it requires some technical knowledge to fully utilize its features.
It can become expensive if you plan to rely on premium themes and plugins heavily.
Medium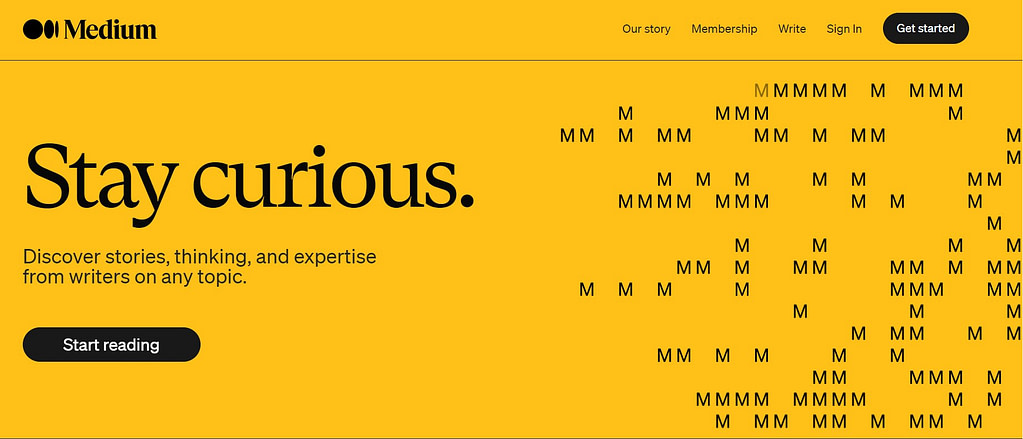 Medium is an online publishing platform that was launched in 2012. It allows individuals and businesses to write and publish their content through the platform.
👍 Advantages of Medium include:
It has a simple interface and is very beginner friendly.
The platform has a wide reach and audience, so there's potential for content to gain traction quickly.
The Medium Partner Program is a program that allows writers to earn money by publishing their content on the platform.
👎 Disadvantages of Medium include:
There's limited blog customization. This means your blog will look like most other blogs on the platform.
Medium's algorithms and distribution policies can sometimes restrict the reach of certain types of content.
Medium owns all content published on the platform.
To make money through the Medium Partner Program, you'll need to get really good engagement metrics. This can be difficult to achieve consistently.
Considering the above pros and cons, we prefer WordPress over other blogging platforms, including Medium. However, if you have absolutely zero experience with launching a blog and running it, then Medium could be a suitable "soft entry" into the world of blogging. Eventually though, you will likely outgrow it and will want something that gives you more freedom and ownership. In many cases, that something will be WordPress.
2) Selecting the right domain name
A domain name is what internet users type into their browsers to find a website. Think of it like a street address for your blog. For example, our domain name is bloggingpro.com.
👉 The right domain name needs to be:
Easy to remember. Choose a domain name that's short and catchy. This can make it easier for your readers to remember and share with others.
Brandable. Choose a domain name that is unique and brandable. This can help you stand out from the competition and build a strong brand identity.
Relevant to your niche. This will help your readers understand what your blog is about and what they can expect to find there.
3) Doing keyword research
In a nutshell, keyword research helps you find the terms that your target audience is searching for online. With this knowledge, you'll know what the popular or trending topics related to your niche are. You'll then be able to optimize your content accordingly. You'll need to do this right from the beginning, when creating your first pieces of content, as you're getting ready to launch your blog.
4) Implementing SEO tactics
In short, SEO refers to the practice of optimizing a website or blog for search engines.
It's important for every blog because it helps to improve its visibility. So, without a strong SEO strategy, people won't be able to find and read your content online.
SEO involves various strategies, including keyword research and content optimization strategies, like ensuring that each blog post has both internal and external links. This will become more important post-launch, but you still need to be aware of it as you're going through your blog launch checklist and crafting your first blog posts.
Other important technical aspects
In addition to the above factors, technical setup also includes website speed, security, and mobile responsiveness. Plus, if you want to monetize your blog, you'll need to set up advertising and tracking tools, as well as integrate your blog with social media platforms and email marketing services.
Taking the time to set up the technical side of your blog will pay off in the long run. It will ensure your blog is set up for success and will provide a smooth user experience for your readers. So don't rush through this step – take the time to get it right, and you'll be well on your way to a successful blog launch!
For more information about starting a blog, including the technical side, you can check out our tutorial on how to start a blog and make money – the definitive guide. It's an excellent companion piece to the blog launch checklist you're reading right now.
Second: Your content needs direction ✍️
Let's talk about content.
There are currently over 600 million blogs online [1]. This makes it challenging to stand out. One of the best ways to make yourself seen in the crowd is to ensure your content has clear direction.
This means:
1) Choosing a niche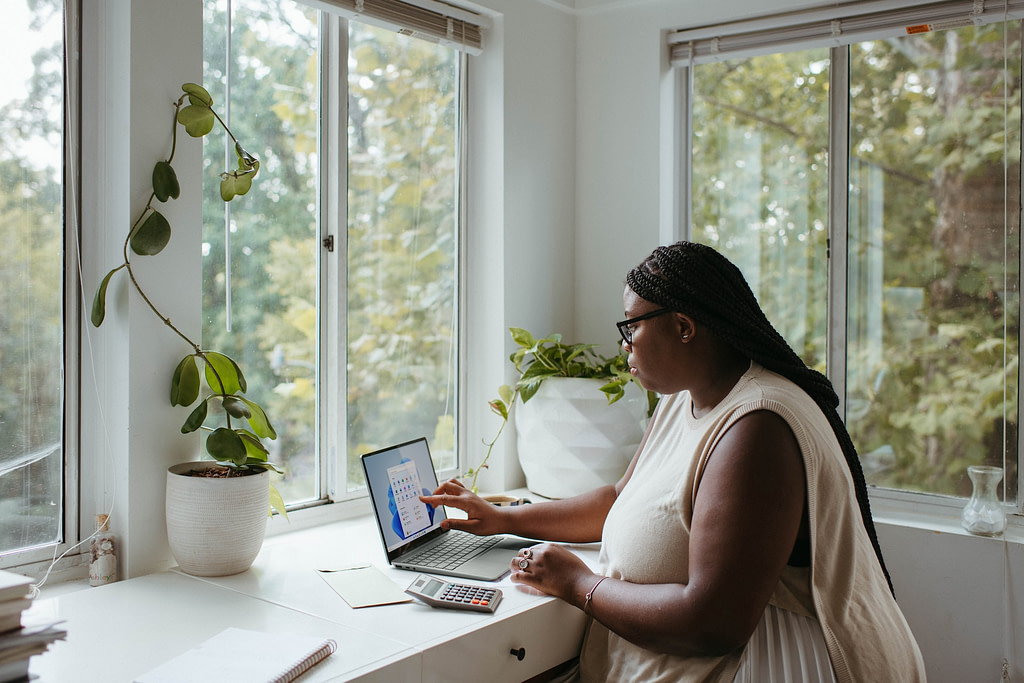 What topics will you cover on your blog? Parenting? Sports? Music? Fitness? Whatever topics you'll extensively cover will form the basis of your niche.
Choosing a niche allows you to create content that speaks directly to readers' interests, making it easier to build a loyal following.
2) Staying on brand
Another important message we hope you take away from our blog launch checklist is for you to always ensure that your content is on-brand.
Your content should reflect your unique perspective and voice, and be consistent in terms of tone and messaging.
3) Having a content schedule
A content schedule is a plan that outlines the topics, format, and publishing schedule of your blog posts.
It's essentially a roadmap that helps you stay organized and consistent with your content creation efforts.
👉 Having a content schedule is crucial for several reasons. It helps you:
Stay on track with your blogging goals and ensure that you are publishing content regularly.
Plan your content in advance, which makes it easier to create high-quality content that aligns with your blog's niche and your readers' interests.
Optimize your blog for seasonal trends, holidays, and other events that are relevant to your niche.
Choosing a niche, staying on-brand, and creating a content schedule are all key components to helping you find the right direction for your blog content.
Third: Marketing is just as important as writing 📢
Next up on our blog launch checklist is marketing. If you're new to blogging, this one might come as a surprise. Surely creating quality content is the most important aspect of having a successful blog?
Well, not quite.
You see, while it's important to write good blog content consistently, no one will get to see it if you don't market your blog.
Marketing your blog content helps you reach more readers and grow your blog's traffic. This makes it just as important as the content creation process.
So, how exactly do you market your blog posts? 📈
Social media is a powerful tool for promoting your blog. Share your blog posts on your social media channels, such as Facebook, Twitter, and Instagram, and encourage your followers to share your content with their own networks.
Email marketing. Building an email list of subscribers allows you to share your new blog posts directly with your readers.
Guest blogging is another great way to reach a wider audience and promote your blog. By guest posting on other blogs in your niche, you can tap into an established readership and drive traffic back to your own blog.
In addition to the above strategies, you also need to ensure that your blog posts are shareable.
Including social sharing buttons is a simple, yet effective way to ensure that anyone reading the blog can easily like and share it on different social media platforms. This can help get more eyes on your blog. Consider using a plugin like OrbitFox for this purpose.
Now, let's finally get started with that much-anticipated blog launch checklist you came here for!
💡 Note: the blog launch checklist is based on the assumption that you'll be using WordPress to launch your blog. While many of the steps are universally applicable across all blogging platforms, some are specific to only WordPress users.
Blog launch checklist for blogging success
Choose a hosting provider. Bluehost and SiteGround are great options for WordPress blogs.
Set up SSL. Many hosting providers offer free SSL certificates, but you can also purchase one from a third-party provider like Let's Encrypt or SSL.
Change permalink structure. Changing your permalink structure to something more readable can improve your SEO and make it easier for users to remember and share your URLs. Permalink Manager is a good plugin for this.
Create an email address with your domain name. You can create an email address through your hosting provider or using a service like Google Workspace or Zoho Mail.
Decide whether to use the Block Editor or a Page Builder plugin. While both options have their advantages, we recommend using the Block Editor because it's flexible and makes it easy to add videos, images, lists, and other types of content. Plus, a recent survey of WordPress professionals revealed that the popularity of the Block Editor is rising, while the use of page builders is declining.
Pick a quality theme. Look for a quality theme that is responsive, customizable, and easy to use. Raft is a theme that has all these qualities. However, if you choose not to use the default WordPress Block Editor and instead prefer to use a page builder to build your blog, then Neve is an excellent choice to pair with a page builder.
Remove unnecessary widgets and plugins.
Install important plugins. Install plugins like Yoast for SEO, and Jetpack for website analytics and optimization. Otter is a great choice to help add more functionality to the WordPress Block Editor. If you choose the Raft theme mentioned above, you'll be prompted to install Otter as part of the Raft installation process. In addition, earlier, we mentioned speed as an essential component to the technical setup of your blog. You can also install Optimole as it helps to improve your blog's loading speed.
Create a content schedule.
Write 5 blog posts.
Sign up for Google Analytics and Google Search Console.
Set up a contact form. Use a plugin like Contact Form 7 to create a simple and effective contact form.
Set up an account with an email marketing company. Use a service like Mailchimp or ConvertKit to create an email capture form and grow your email list after you launch.
Integrate your social media accounts. Use a plugin like UltimatelySocial.
Create or convert your Pinterest account to a Business Account.
Create Pinterest pins for each of your blog posts.
Create an About Me page.
Create Legal Pages. Use a service like Termly to create professional and comprehensive legal pages.
Create the Primary Menu Bar.
Make sure you have error-free text and that your copy aligns with your brand.
Store passwords in a secure place. Store your passwords in a secure place and use strong passwords that are difficult to guess. Consider using LastPass to help you keep track of your passwords.
Announce your blog launch on social media. Once you've launched your blog, let the world know about it! Share your blog launch on all your social media platforms and encourage people in your network to check it out.
Blog launch checklist: Ready to launch?
Launching a blog can be a lot of work, but the blog launch checklist above should help you cover everything you need to do before going live.
When you finally click that publish button, don't forget to celebrate your momentous event!
Good luck in launching your blog and making it a huge success.
Was this article helpful?
No
Thanks for your feedback!
This article was originally published by www.bloggingpro.com . Read the original article here.