Doubt, fear, excitement. These three emotions may be running through your brain while trying to hit the "create new post" button to write your first blog post. And without some quality first blog post examples to help, it can feel like you're going into blogging blind. 
I've been there, and knowing what to write for your very first blog post can be downright overwhelming, but it doesn't have to be. 
This article will show you eight first blog post examples from leading bloggers in their select niches, including what you can learn from their decision to make that piece their very first blog post. 
Then, once the inspiration is flowing, I'll provide you with six actionable steps to kickstart your blog (with ease) right now!
Today is about putting those feelings of doubt to the side, taking action, and finally getting that blog of yours off the ground for yourself and your business. 
What should my first blog post be about?
Before getting started, remember that any first blog post is better than none. 
Aspiring bloggers tend to stress what to write about for their first entry for way too long when the secret is just to start. 
Once you've set up your website and learned how to start a blog, now it's time to get to the fun part: writing! 
You can take two approaches for your first blog post: the "introductory" blog post or the "dive right in" blog post. The approach you choose to take entirely depends on your preference and goals for your blog. 
When deciding between the introductory first blog post or the "dive right in" first blog post, start by asking yourself these questions: 
Your answers to these questions will help you decide between the two approaches. 
The introductory vs "dive right in" first blog post approaches 
First off, your niche will help you determine if an introduction is even necessary. 
For example, if you are in the travel niche, an introductory first blog post is an excellent way for your readers to get to know you and understand your unique perspective on the world.
On the other hand, if you are in the food niche, it may be best to dive right in with a killer recipe and start writing like the expert you are!
Secondly, if you plan to have an "About Me" page on your blog, then the introductory first blog post may be redundant and end up getting lost in your sea of content over time. 
Thirdly, if your goal is to create content that readers can easily find, you should consider what blog will rank highly on Google even years later. If this is your main concern for affiliate marketing or bringing traffic to your website, it is best to opt for the "dive right in" blog post. 
The approach that every blogger chooses for their first blog is unique to their niche and what they want to achieve with their blog.
But, to give you an idea of the pros and cons of both options, let's look at them in more detail. 
The introductory first blog post 
Introducing yourself, your blog, and what subjects you will cover in your posts is a great way to gain momentum and confidence by getting in the rhythm of posting. 
The most challenging part of starting a blog is ripping the writing band-aid off, and the first blog post as an introduction takes the pressure off. 
An introductory blog post should cover the famous five W's to show your readers what to expect from your blog. 
Who: Introduce who you are, including credentials or experience. 
What: Discuss what topics your blog will cover. 
When: Include your posting schedule or how often you plan to post to your blog. 
Where: Introduce where your readers can find your content aside from your blog, such as your social media channels. 
Why: Get your readers inspired by telling them why you are starting this blog. Hook them with an extraordinary story about you!
Pros of the first blog post as an introduction: 
Immediately sets the tone for your blog.

Your reader base already has an idea of who you are. 

No pressure to create something remarkable for your first blog post. 

A quick way to get your blog off the ground. 
Cons of the first blog post as an introduction: 
Risk of the first post getting buried under other blogs over time.

An "About Me" page could serve the same purpose. 
The "dive right in" first blog post 
The dive right in approach skips all of the formalities and introductions by jumping to the expert level content your readers are looking for. 
This approach is perfect for those who want their first blog to pay off in the long run by gaining traffic over time from Google. 
Diving in is also great for getting a feel for what tone of voice, style, and topics you enjoy writing about by getting down to business. 
Pros of diving right in: 
Establish yourself as an expert in your niche from the start.

The chances of the blog ranking for keywords in the long term are high.

Get to know your blogging style early. 
Cons of diving right in: 
Necessary to create an "About Me" page 

It may take longer to write your first blog.
What makes a good first blog post? 
Let's chat about what makes a good first blog post before you start putting your fingers to the keyboard. 
First of all, you want to hook your readers with an exciting story or high-quality content.
A good first blog post will stand out to your reader from the moment they begin reading the first few sentences, as you'll see in the eight first blog post examples. 
Spoiler: it's impossible to mess this up if you're passionate about your niche!
Secondly, a good first blog post will solve your audience's problem.
Perhaps they need the perfect recipe for family dinner night. Or maybe they need the ultimate guide to backpacking Panama. Use your expertise and confidence in your niche to solve their problems, and you'll have dedicated readers forever!
8 first blog post examples & what they did right 
These eight first blog post examples include a mix of the introductory first blog post and the "dive right in" first blog post to give you some inspiration and help you find the right approach for your blog.
Nerd Fitness
Steve Kamb, the creator of Nerd Fitness, not only created a successful blog, but he also scaled Nerd Fitness to the six-figure business it is today.
Nerd Fitness is one of the leading blogs on the internet in the fitness niche. Helping thousands of people reach their fitness goals per month, they started with the introductory first blog post back in 2008.
Steve opens the blog by introducing himself, his fitness story, and what inspired him to kickstart Nerd Fitness. His story is immensely relatable for people who struggle to attain their ideal body, weight or even create a meal plan that works well for their lifestyle. 
Here's what this first blog post did right: 
Answered the five W's

Hooked the reader with a compelling story

He clearly defined his niche in the fitness space 
All in all, this is a great first blog example with the introductory approach!
Read the first Nerd Fitness blog here. 
Nomadic Matt
Matthew Kepnes, the mastermind behind Nomadic Matt, started his travel blog back in the early 2000s. He's one of the first and most legendary travel bloggers out there, with his blog attracting over 1 million readers monthly. 
Nomadic Matt's first entry is the most inspiring introductory approach of these blog posts. When you read his first blog and learn why and how he travels, it makes you want to pack your bag and head out on the next one-way flight.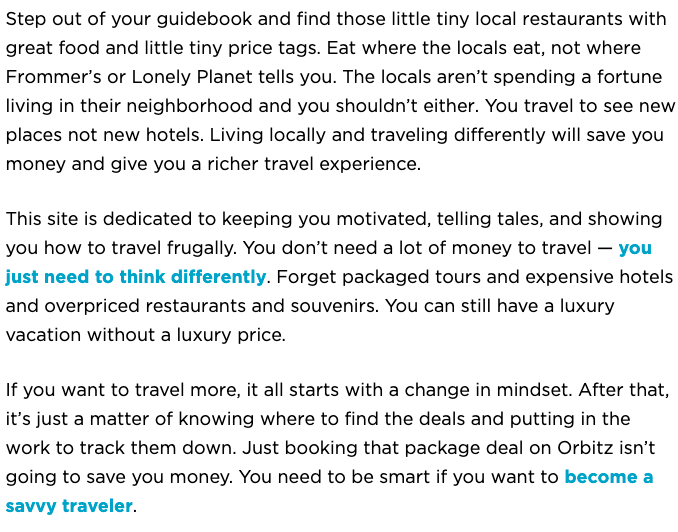 Here's what this great blog post did right: 
Told an inspiring, thought-provoking story 

Challenged a common belief (that travel is always expensive)

Clearly stated the blogs purpose and niche 

Solved the readers' problem (not having enough money to travel)
Read Nomadic Matt's first blog post here. 
Pinch of Yum
Lindsay of the Pinch of Yum food blog quit her job as an elementary school teacher to follow her passion for food blogging full-time, and she's never looked back!
Pinch of Yum receives millions of readers per month, coming a long way since launching the blog back in 2010.
This first blog post example lands somewhere between the introductory and dive right in approaches. 
Pinch of Yum takes a unique turn with their first blog post by diving right in with her morning oatmeal recipe, but then starts a conversation with her readers by asking a question. 
She concludes her love letter to her morning oatmeal recipe by asking the reader, "so, let me ask you oatmeal lovers, what do you put on your oatmeal?"
Asking a question and inviting your readers to engage with you in the comments section is a genius way to get to know your audience immediately. 
What Pinch of Yum's first blog post does right: 
Establishes expertise in their niche 

Engages the reader by starting a conversation 

It tells a lovely story 
Read Pinch of Yum's first blog post here. 
Our Next Life
Tanja Hester started Our Next Life, the financial empowerment blog, back in 2015 to inspire others to reach financial freedom and retire early.
Since launching in 2015, the blogger has published two books, started a podcast, and created a fantastic oasis on the internet with Our Next Life.
Our Next Life's first blog post is an excellent example of an introductory first blog post. Short, sweet, and to the point.
What this first blog post example did right: 
Inspires the reader to pursue their next life (aka financial freedom)

The ambitious goal makes the reader want to follow along

An element of mystery intrigues the audience 
Read Our Next Life's first blog post here. 
A Girl's Guide to Home DIY
Lauren, the creator of A Girl's Guide to Home DIY, started her home renovation, do it yourself blog when she bought a 1950 home that needed a serious facelift. 
Since launching the DIY blog, Lauren has seen success on her blog, and her Pinterest page receives over 16,000 views monthly. 
Find out how to drive traffic from your Pinterest to your website. 
A Girl's Guide to Home DIY's first post is the perfect example of an introductory first blog post that captivates the reader. 
What this first blog post example did right: 
Told a compelling story 

Answered the five W's 

Clearly defined space in the DIY niche
Read A Girl's Guide to Home DIY's first blog post here. 
My Wife Quit Her Job 
Steve Chou of the "My Wife Quit Her Job" blog has had some massive success in his online ventures, creating a 7-figure business along the way.
The My Wife Quit Her Job blog is all about empowering readers to quit their jobs and take their lives into their own hands by starting online businesses. 
My Wife Quit Her Job's first blog post fits the "dive right in" approach to a T.  
Titled "Why You Should Never Start an eBay Store," Chou jumps in the deep end with the expert blog content, skipping the fluff. 
What this first blog post did right: 
Jumped into high-quality content from the start 

Established the blog as an authority in the online business niche

Backed facts up with well-researched data 

Gave a step by step guide of how readers can start an online business
Read My Wife Quit Her Job's first blog post here. 
The Everywhereist
When she got laid off from her full-time job, Geraldine DeRuiter started her unconventional travel and lifestyle blog, The Everywhereist.
With no job to go to, she started tagging along on her husband's travels. His career caused him to travel worldwide for work regularly, and Geraldine began writing about their experiences on the road.
The Everywhereist's first blog went live in 2009, taking the "dive right in" approach.
This first blog post example provides value to the reader (while making them chuckle).
Her first blog, "Top Ten Cures for a Vacation Hangover," instantly solves the reader's problem of curing their post-vacation blues. 
What The Everywhereist first blog did right: 
Established herself in the travel/lifestyle niche 

Provided a solution to a real problem with high-quality content

Wove a story within the content 
Read The Everywhereist's first blog post here. 
Zen Habits
Leo Babauta created the mindfulness blog in 2007 when he felt the desire to spread the word about simplistic living and slowing down. 
Since the blog's launch, Babauta has published several books expanding on the Zen Habits blog topics. 
The Zen Habits first blog post is in the form of a diary where he outlines his goals for the upcoming year, 2007, which he claims is "my greatest year ever." 
The blog does not offer an introduction. Instead, it serves as a checklist of tasks he hopes to achieve in the upcoming year. 
This first blog post example is a unique and out of the box way of achieving a "dive right in" approach. Rather than spending time introducing the blog or its topics, Zen Habits gets right down to work by clearly outlining what is to be done and how everything will get done. 
After reading this blog, I can't help but feel a sense of inspiration. I want to make an ambitious checklist like that, too! *grabs pen and paper* 
What the first Zen Habits blog did right: 
Nailed the "dive right in" approach by inspiring readers to take action

An informal approach to a first blog post (suitable for this niche)

Created intrigue. Readers will likely come back to see the completion of tasks!
Read Zen Habit's first blog here. 
---
6 Steps to Kickstart Your First Blog Post
So, do you have a blog post idea yet?
All of the mentioned bloggers have done a fantastic job scaling their blogs into successful businesses, and they all started where you are now, from nothing. 
You just need to start. 
Here are six steps to set you up for success and kickstart your first blog post! 
Check out other blogs in your niche
As a new blogger, researching other blogs in your niche can help you decide how to start your blog. 
Although you should never copy your competitors, you can absolutely take inspiration from what they're doing! 
You can use Google or another search engine to find other bloggers in your niche simply by searching "your niche + blogs." Blogs will appear, and then you can start taking notes. 
Take notes of:
The topics they write about 

Frequency of posting 

The language they use 

Reader interactions (engagement, comments or sharing) 

Where they promote their blog content (social media, Pinterest, etc.)
Researching other bloggers not only makes starting your blog easier, but you may also find a friend in a fellow blogger! 
For example, Neil Patel, an influential content marketing blogger, often links out to his friend's blogs in his writing. He has created a circle of people in his similar niche, and they all help each other bring traffic to their blogs. 
If you discover a fellow blogger in your niche, reach out to them! The blogging community is very supportive. You never know; you might find a new friend and business partner. 
Find your target audience 
Writing content without knowing your target audience is like writing in your personal diary. It feels good, but no one is going to find it valuable. 
To bring value to your readers, you must know who you are writing for.
Picture yourself writing a blog for a specific person. You can probably guess what problems they need to solve or the kind of content they will find interesting, right? 
Well, finding your target audience is precisely that. Just instead of targeting one person, you're targeting an entire group of people (who will love your blog!). 
Ways to find your blogs target audience: 
Discussion forums such as 

Reddit 

(look for what people are discussing or asking about in your niche) 

Quora

 is an excellent website for gaining insight into questions and answers surrounding your niche.

Facebook groups. Thousands of people passionate about your niche use Facebook groups to share knowledge! For example, if you are in the environmental niche, you can look for Facebook groups related to conservation or zero waste living. 

Check out the readers of other blogs in your niche. They'll most likely enjoy your blog, too! 
Once you know who you are writing for, the content creation process is as easy as 1,2,3. 
Conduct Keyword Research
If you want your blog to rank on Google or another search engine, you'll want to do some keyword research. 
Keyword research is the backbone of every good SEO strategy, and believe me; it's worth it. 
Keyword research entails researching what "keywords" people often search on the web. I like to use Google Trends to find out what people are searching for within my niche. 
Then, to get more specific, I start researching keywords I should target in my blog, so my target audience can find my awesome content! 
Free keyword research tools: 
Blogging tip: A great paid keyword research tool (for when your blog is making money) is LongtailPro.com. They'll help you take your good idea to the next level!
You don't have to worry about targeting the perfect keyword for your first blog post. Although, starting to learn how to conduct keyword research properly will pay off in the long run. 
So, get in the habit now!
Check out this ultimate guide to keyword research.
Write a catchy blog post title 
Let's be honest. No one is going to click on a blog with a bland title. 
Your blog title is your first shot at gaining your readers' attention, so make it a good one! 
Use the active voice and emotional words in your blog headline to entice your reader to read your blog over anyone else's. 
There's a free headline analyzer tool called coSchedule Headline Studio that ranks your blog title on a scale of 1-100 on how compelling it is. 
Write your first draft and edit, edit, edit
Get to writing your first draft and throw perfectionism out the window. 
For your first blog post, you want to focus on getting comfortable writing, not on the content being A++ from the get-go. 
Some tips for writing your first blog: 
Write using short paragraphs and short sentences. The fine people of the internet have a short attention span. Write to optimize for attention retention.

Use the 

Yoast SEO plugin

 on WordPress to help you target your keyword.

Use a grammar checking tool such as 

Grammarly 

to check for grammar, spelling, and punctuation errors.

Write like you're speaking to someone because you are! Use conversational language.

Have a friend, or family member read your blog before posting.
Publish & promote your first new blog 
Congrats, newbie blogger! You've now written your first ever blog post.
Show it off to the world by publishing and promoting your blog on your social network channels, discussion forums, Facebook groups, etc.
Be sure to include shareable social media buttons so your readers can easily promote your content straight to their social media channels! On a WordPress theme, they will look like the social media buttons to the left of this text.
Take note of any feedback you receive from promoting your first blog post, and use that to feedback to help you improve on your second blog post. 
If I could add a seventh step it would be: be proud!
Celebrate your first blog entry!
What will your first blog post be? 
Now it's time to take all of the inspiration and knowledge you've gained from this blog and get to writing!
Start out by typing "what will my first blog post be?" in a document. Then, write everything that comes to your mind for 10-15 minutes. 
After the time period, you'll have a full sheet of ideas, some quotes, and perhaps some entry paragraphs to get you started on your very first blog post. 
Blogging truly is for everyone. You just have to find a topic you're passionate about, and begin writing what comes naturally to you.
When passion is present, everything else comes easy.
Good luck, fellow blogger!