You've been scouring the internet trying to find a Book Bolt review to figure out if it's really worth it.
We've got you covered.
You'll discover what Book Bolt is, how it works, pricing, pros and cons, and more. We'll also share our recommendations if we think it's worth it to invest in this Amazon selling tool.
Check out Book Bolt right here
Get a 3 day free trial of Book Bolt here
---
Summary
Overall, Book Bolt is a solid bookseller software tool. It's easy to use and has a ton of valuable built-in tools to help booksellers through each step in the book creation and publication process. Try Book Bolt for 3 Days Free Here.
Pros
Easy to use
Multi-faceted tool
Great for no-content and low-content book publishers
Built-in design feature
Cons
Expensive
Not the best interface
Can you make money on Amazon KDP?
Yes, you can make money on Amazon KDP.
Nat from Rags to Niches published her April 2021 Amazon KDP income report, revealing her monthly income of over $4,500!
She along with other sellers is making money monthly using Amazon KDP.
It has a low barrier to entry so anybody can write or create a book, join Amazon KDP for free and start selling. It's also passive income-friendly.
Whether you're creating low content books or not, Amazon KDP can be the door to passive income.
How does Amazon KDP work?
Amazon KDP (or Amazon Kindle Direct Publishing) is Amazon's self-publishing program for authors. After joining, you can upload your book, set the price, write your description and publish it to Amazon all using their Amazon KDP program.
It's free to use and you'll get access to a centralized dashboard so you can manage all your book sales.
Book Bolt goes hand in hand with Amazon KDP, giving you access to valuable tools and insights to help you optimize your product listings and make more money selling your books on Amazon.
Book Bolt Overview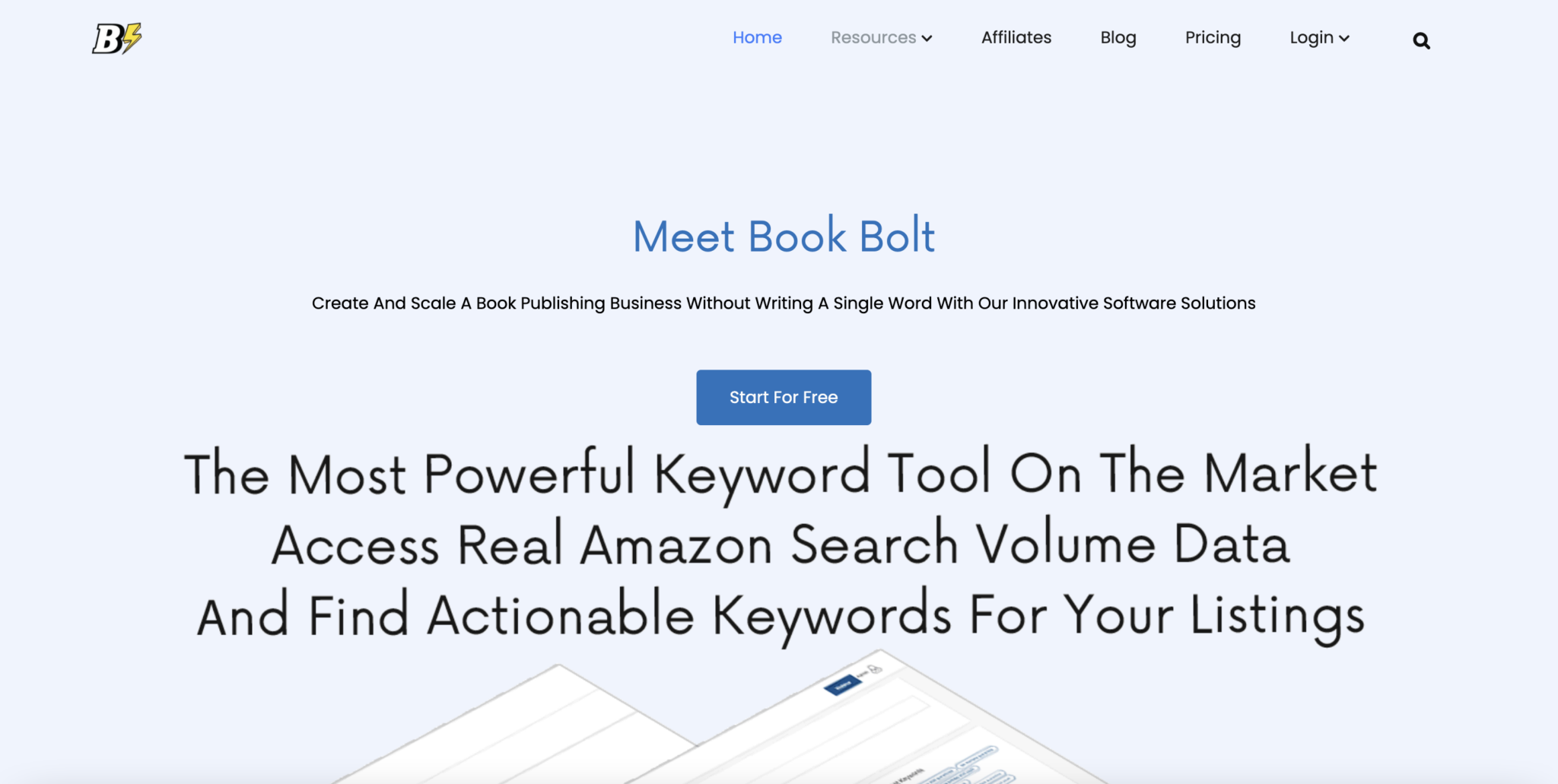 Book Bolt is bookseller software that helps Amazon KDP sellers make the most money in their book business.
With Book Bolt, you'll be able to get key insights about the competition, trends, conduct keyword research, create and design book covers and book interiors, and more.
From start to finish, Book Bolt can help you create and sell your books from ideation to publication.
Here's a look at some of their key features…
Key features
You will have access to key features like:
Keyword research tools
Trendspotting tools
KDP spy
Cover creator and interior designer
Listing optimization
Keyword research
With keyword research on your side, you'll have the power to find the precise keywords Amazon customers are typing into search. With that knowledge, you can integrate those keywords into your listing titles and description to get more clicks which can translate to more Amazon KDP sales!
Book Bolt offers a built-in keyword research tool that will give you access to real-time data like Amazon search volume so that you can put your books in front of your target audience that's searching for what you're selling.
Trendspotting
Uncover hidden product categories and identify trends with this trend-spotting feature built into your Book Bolt subscription. You'll be able to browse their database of 5 million titles to dive deep into research to find trends and get ahead of the competition.
KDP spy
The KDP spy extension helps you find lucrative niches that are making the most money and you can do this live in Amazon as you're browsing!
Cover creator and Interior Design
The Book Bolt cover designer has a drag-and-drop editor, over 1,200 fonts, access to over one million royalty-free images, patterns, scaleable designs, and filters.
You can use the design tools to help you create professional-looking book covers and book interiors which can be especially helpful if you're selling low-content books.
What are low-content books?
These are books that are geared more toward writing than reading and can include:
Journals
Activity books
Gamebooks
Logbooks
Diaries
Low content bookselling is an opportunity to earn passive income and Book Bolt makes it easy for beginners to break into this industry without any design background.
Low content book publishing can be a lucrative industry. This bookseller makes thousands every month from it!
Low content books vs no content books
When you hear about low-content book publishing, you may also hear about no-content books.
Both are pretty similar and involve the book reader doing more writing in both types of books than reading. 
Low content books include activity books like a coloring book, word puzzle books, gamebooks like sudoku, crossword puzzles, and related activity books. The book reader writes in the book to complete an activity, like playing a word game.
No content books include journals, diaries, or notebooks. These books are filled with notebook lines and the reader uses the book to write or journal.
Both kinds of books are much easier to create than content-filled books like fiction or non-fiction reads. When you hear about the low content book industry, no content books are usually included.
To learn more, read this article on how to start a book publishing company selling no content or low content books.
Listing Optimization
Make your book listings better on Amazon with listing optimization. You'll feel confident about picking the right categories for your books and optimized product listings can lead to more sales in your KDP business.
How does Book Bolt work?
Book Bolt offers many tools to help Amazon booksellers make the most money in their business.
Once you sign up to join Book Bolt, you'll have access to all their tools instantly.
Here's a look at the KDP category finder which helps you find the precise book categories you need:
The  interior generator pro looks like this:
You can hit the ground running, starting your research for keywords, niche, and category research. Explore the design tools to create eye-catching book covers and interiors and set up your book for Amazon publishing start to finish with Book Bolt.
Book Bolt Pricing
You get a choice of monthly or annual pricing, with a discount if you go with the annual option.
Monthly plans start at $9.99/month
Annual plans start at $89.99/year
Both plans offer full access to most of Book Bolt's tools except the puzzle creation software which is reserved for Pro plan users only.
What is the puzzle creation software?
The Puzzle Wiz and Interior Wizard Pro can help you create activity books with ease.
You get an all-in-one software tool with hundreds of low-content interior files and hundreds of premium templates.
It lets you create tons of different puzzle books like:
Sudoku
Coloring books
Activity books
Crossword puzzles
Word search
They even provide a step-by-step tutorial on how to create activity books using their software.
Book Bolt Pros and Cons
These are the pros and cons of using Book Bolt.
Pros
Low content publishing-friendly
Many tools built-in
Tutorials available for beginners
Cons
Expensive price tag
Poorly designed interface
The pros outweigh the cons here.
First, Book Bolt is a software you can appreciate that takes you through the book publishing process from the cover design to publication. They offer a lot of tools with your subscription which really makes you feel like you're getting great value for the money.
The tutorials available provide easy-to-follow walkthroughs so beginners can easily adapt to the software and become comfortable using it.
The main drawback with Book Bolt is the price.
You'll like that they have flexible payment options, with monthly and annual plans available but, it comes with a recurring subscription.
That means if you like Book Bolt then you'll continue paying for the software forever, or until you're done with your book business.
Competitors like Publisher Rocket, for example, offer lifetime pricing which means you pay once and you have access forever.
Book Bolt shouldn't put too much of a strain on your wallet but in the long run, it's very expensive.
Then, the interface leaves much to the imagination. The interface design is poor, in my opinion. It feels like it's in its first or second version of the software but as evolution happens, I expect to see a more clean, well-designed layout in the future.
Is Book Bolt free to use?
No, Book Bolt is not free.
But, they do offer a free trial on any plan you choose to try.
The free trial is available for 3 days which gives you some time to test drive the software and see if it's a good fit for your business.
Book Bolt Alternative
Not sold on Book Bolt yet?
There are Book Bolt alternatives you can try like Publisher Rocket or Canva. Here's a look at how Book Bolt and Canva compare.
Book Bolt vs. Canva
Canva is a graphic design software tool that creators and business owners use for virtually any kind of creative needs they have, including:
Social media graphics
Book covers
Reports
Templates
Logos
Reports
Flyers
It's a one-stop-shop for creating graphics whether you sell books, run an e-commerce store, or need graphics for any other purpose.
How does Canva work?
Canva is beginner-friendly and very easy to use. It's meant to be an easy tool for the non-designer to use and it definitely delivers on that.
Once you sign up, you can choose a free or paid plan and begin using the software right away.
They have a drag-and-drop interface with thousands of templates you can use as a blueprint for your custom graphic.
Starting your first design is as easy as typing the kind of design you're trying to make in the search bar or browsing their library of templates.
Then, use their drag-and-drop editor to make the template your own, changing out the text, font, colors, images, adding video, etc.
When you're done, you can save and download your work and you're done!
Canva Pricing
You have three options with Canva:
Free plan $0/month
Paid plan $12.99/month
Enterprise (contact Canva for price)
The free plan gives you a lot of access.
You can go pretty far using Canva's free plan but, if you're looking for features like premium stock photos, access to the brand kit where you can save your logo, brand colors, and more, 100GB of storage, magic resize and some other features, going with the paid plan is your best bet and at under $13/month, it's a pretty affordable option (and even cheaper if you pay annually).
Then, the enterprise plan gives you control features so you can choose the type of access your team has when they work on logos, graphics, etc. You also get single sign-on (SSO), unlimited storage, and some other features. 
Canva Pros and Cons
Let's look at the pros and cons of Canva.
Pros
Affordable price
Access to lots of features
Easy to use
Free version offers tons of value
Cons
Stock images are basic unless you upgrade to a paid plan
Glitches happen occasionally which causes your design to freeze
Canva is an easy-to-use and budget-friendly graphic design software.
Whatever profession you're in, it can serve your needs. It's not just for booksellers like Book Bolt is.
In terms of the design features it offers, it's far superior to Book Bolt but, because it appeals to so many different kinds of design needs, it makes sense that it should be.
The free version of Canva is valuable and offers a lot but for the lackluster stock photos, that's reason enough to upgrade and you'll be glad you did.
Glitches can happen with any software. It happens a little more than I'm happy with on Canva and when it does happen, you won't be able to save your work and you'll be forced to quit the application and restart.
Book Bolt vs Canva Comparison
Overall, how do the two software tools compare?
Well, Book Bolt is clearly for booksellers. It's not going to serve any other industry, including other non-book sellers on Amazon.
As such, it's built specifically for the bookseller community, with their needs in mind and offering the tools that will help them run a thriving book business.
Canva is more of an overall graphic design tool.
Can it help Amazon KDP booksellers?
Yes.
But, the help you'll get with Canva is strictly on the design side and that's where it stops. There's no keyword research tool, no ability to research competitors, spot trends, or any of the other features Book Bolt offers outside of design.
Which software is better for booksellers?
It goes to Book Bolt.
Book Bolt Review: Is it worth it?
This wraps up our Book Bolt review.
And now for your burning question.
Is Book Bolt worth it?
Yes, it is.
Book Bolt offers a full package: keyword research, design, trend spotting, competitive analysis, and more. 
For booksellers, I think it's no-brainer. If you want some additional support to help you grow a successful book business, check out Book Bolt.
Start your 3-day free trial of Book Bolt.