Searching for that unique brand image to catapult your business above the competition? Then you're in the right place – welcome to my Looka Review!
Logos are more than just pretty pictures—they are the first impression your business makes on potential customers, a symbol of your professionalism, and a key part of your brand identity. 
They can even be the deciding factor that sets you apart from your competitors.
In this Looka review, we'll dive into why this platform has become a trusted go-to for small businesses seeking innovative branding solutions. 
We'll look at its features, strengths and weaknesses, pricing, and more, giving you a more complete perspective of this platform.
No time to waste?
Looka Review

Ease of Use
Logo Quality
Customer Service
Price
Summary
Looka offers an all-in-one branding suite, allowing you to create stunning logos and build a cohesive brand identity. Try it here!
Pros
User-Friendly and Fun Experience
Complete Ownership of Your Logo
Comprehensive Branding Suite
Cons
Limited customization options post-purchase.
Slightly misleading about logo changing policy on the sales page
Very strict refund policy (read the fine print)
Looka Review TL;DR – What makes it different? 
Looka truly shines when it comes to producing high-quality logos! We give it our stamp of approval – if you want to save time, you can start with Looka here!
I was amazed at how, within a mere 5 minutes, I had a selection of top-tier designs at my fingertips.
What sets Looka's AI apart is its meticulous attention to detail. The little things that make a logo stand out – the perfect font, the right color palette, the balance of spacing, and the proportions.
Looka's AI seems to understand this intuitively, delivering logos that have that certain 'pop'.
Once you've settled on your logo, Looka's Brand Kit steps up to the plate. It uses your logo, colors, and fonts to create a range of branded marketing materials.
We're talking about everything from business cards and social media profiles to email signatures. It's like having your own personal branding team!
One aspect of Looka that I really value is the ability to save your projects before you commit to a purchase. This is a significant advantage over other tools that erase your work if you don't buy on the spot.
It's a thoughtful feature that shows Looka understands its users.
And if you're looking for more support, Looka has you covered with premium add-ons like a fully branded website. It's a helpful addition for those who could use a little extra help in the branding department.
In a nutshell, Looka is a solid choice for those of us who aren't designers but still want to create sleek, professional logos.
And here's the best part – you get to keep the ownership rights to the logo you create with Looka. This is a major plus, especially when you consider that with tools like Canva, you don't.
So, if you're on the hunt for a professional, cohesive brand identity, I'd definitely recommend giving Looka a "look" – no pun intended!
How Does It Work?
Using Looka is refreshingly straightforward, and it only involves a few steps. Here's how it works:
Step 1: Choose Your Preferred Logos
First off, you'll be presented with a variety of example logos. Your job is to pick the ones that catch your eye. This helps Looka's AI get a sense of your style and preferences.
Step 2: Select Your Brand Colors
Next, you'll choose your brand colors. This is a crucial step, as these colors will play a big role in defining your brand's visual identity.
Step 3: Pick Your Industry and Symbol Types
Then, you'll select your industry and the types of symbols that correspond to it. This helps Looka tailor the logo designs to your specific field.
Step 4: Choose Your Logo
Now comes the exciting part – picking your logo! Looka's AI will generate various logo designs based on your previous selections. You get to choose the one that best represents your brand. I chose the logo on the right!
Step 5: Customize Your Logo
Once you've chosen a logo, you can tweak it to your heart's content. Change the color palette, switch up the symbol, modify the name, adjust the logo container, etc. It's your chance to make the logo truly yours.
Step 6: Verify and Purchase
Finally, once you're satisfied with your logo's appearance in the mockups, you can purchase it. After payment, you can download your logo files and use them immediately!
I do recommend you read the terms, as some users seem to be surprised.
It's important to remember that if you don't opt for the one-time payment option, you're signing up for a full calendar year with Looka. It's a commitment, so make sure it's the right fit for you before you dive in.
Also, remember that once you've made your purchase, your business name is set in stone. You won't be able to change it later, so be certain it's exactly what you want before you finalize your logo.
Looka Features
Looka certainly brings some unique features to the table that make it stand out:
AI-Powered Logo Design
Looka leverages artificial intelligence to whip up various logo designs based on your preferences.
You're presented with some example logos to choose from, and then the AI takes the reins, crafting something that aligns with your inputs. It's a neat feature that can help you bring your brand's vision to life.
Brand Kit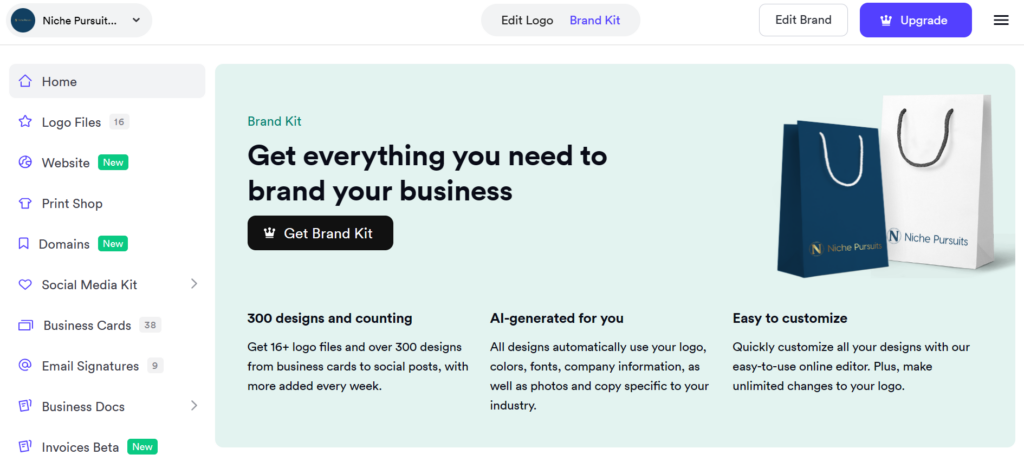 Once you've got your logo design in the bag, Looka's Brand Kit takes it to the next level. It instantly uses your logo, colors, and fonts to generate many branded marketing materials.
We're talking business cards (with 20 professional-quality design templates), social profiles, email signatures, and more. You even have branded invoices and a full print shop! It's like having a branding agency at your fingertips.
Customizable Templates
Looka offers 100+ customizable templates designed to match your brand identity and industry. Maintaining a consistent brand image across all your marketing materials makes it simple.
Logo Files
Looka doesn't skimp on the logo files. You get 15+ logo files in high-resolution formats like SVG, PNG, EPS, and PDF. These files come in various variations, including black & white, color, and transparent backgrounds.
It's as if a professional designer has sent you all the necessary files.
Social Media Templates
Looka's Brand Kit also comes with ready-to-use versions of your logo for social media. You can customize your profile and cover photos for platforms like YouTube, Twitter, Facebook, and more.
It's a great way to ensure your brand's visual identity is consistent across all your social media platforms.
LookA Review Pros Vs. Cons
Unlike some platforms, Looka ensures that you maintain full ownership of your new logo even after your subscription ends
A stunning logo that reflects your brand's identity and resonates with your target audience.
Looka goes beyond just logo creation. It offers an out-of-the-box brand kit that includes business card designs, social media assets, and more.
Useful add-ons like a branded website
I found that once I had paid for the service, my options for editing the logo were severely limited. You can't update the name on the logo, which can be frustrating. I'm not the only user who feels this was not clearly communicated before the purchase. Read Looka's full logo updating policy here.
You have 7 days to request a refund, as long as you as long as no design files have been downloaded or used outside the platform.
Looka Review Pricing and Subscription Options
Basic Logo Package ($20 – One-Time Purchase): This includes one low-resolution logo file. However, it does not provide a transparent file. Some customers on Google reviews complained about this, saying it's unusable. You won't find much utility with the basic logo package.
Premium Logo Package ($65 – One-Time Purchase): This logo generator package offers multiple high-resolution file types, unlimited changes, lifetime technical support, and full ownership of the Looka logo.
Brand Kit Subscription ($96/year – Billed Annually): This is the most popular professional logo package. It includes everything from the Premium Logo Package plus over $3,000 in exclusive offers, business cards, email signatures, social profiles, social covers, and letterheads.
Brand Kit Web Subscription ($192/year – Billed Annually): This package includes everything in the Brand Kit Subscription and an AI-generated website.
What Are People Saying About Looka?
Here's a quick breakdown of what people say on Trustpilot and Google!
Positive Experiences
One user, a small business owner, showered praises on Looka's branding capabilities.
They were particularly impressed with the professional look of the designs and the variety of options available.
The AI-generated designs, despite not being handcrafted, were appreciated for their quality and aesthetics.
The cherry on top was the prompt and helpful customer service, swiftly resolving an issue they had with a logo file.
This user's experience encapsulates what Looka aims to provide – a user-friendly platform that delivers high-quality results and excellent customer service.
It's also a testament to Looka's commitment: help users make professional logo design accessible to everyone, regardless of their design expertise.
Jim S., another user, also had a positive experience with Looka. He found it to be a fantastic resource for creating logos quickly.
He appreciated the endless list of logo designs and the ability to customize the logo style, colors, and more. This review underscores Looka's strength in providing various design options and customization features.
Negative Experiences
However, it's important to note that not every interaction with Looka has been a walk in the park.
One user, who purchased the premium package for their law firm, felt misled by Looka's promise of "Unlimited post-purchase changes."
They discovered, much to their dismay, that they couldn't alter the name of the logo, a change that was crucial for them.
This user's experience shines a spotlight on an area where Looka could step up its game – clarity in its terms of service.
While this situation is indeed regrettable, and I genuinely empathize with the user, it's crucial to remember that Looka does state that the name of the company can't be altered once the logo is finalized.
However, I do see where the user is coming from. This information could be highlighted more prominently to prevent future misunderstandings. After all, no one likes unpleasant surprises when they're investing in a service!
This is a concern that Looka needs to address to uphold its reputation. It's not an isolated incident, as a few other users have echoed this sentiment.
Looka Review Alternatives
Here are a few Looka alternatives you should consider.
Canva
Canva is a comprehensive design platform. It caters to a broad spectrum of creative needs – from designing social media posts, presentations, posters, and much more.
It's for users who seek a unified platform to handle diverse design requirements.
But here's the catch – to truly harness the power of Canva, you need to have some graphic design chops. The good news is it's not as complicated as Photoshop!
It's chock-full features, including professional logo creation, but your mileage may vary depending on your design skills.
If your primary goal is to craft a professional, custom logo, Looka might be more your speed. It's a platform laser-focused on providing a robust, user-friendly logo design experience. And you can get your Looka logo options in a matter of minutes.
One of the things I've always admired about Canva is its business-centric features. It offers a content planner for scheduling social media posts and a brand kit to help maintain brand consistency across your designs.
But Looka takes it a step further by offering a comprehensive branding suite. We're talking about logo generators, business card designs, social media assets, and more. It gives you a broader toolkit for maintaining a consistent brand identity.
Now, let's talk dollars and cents – and ownership. Canva has a free version that's perfect for those looking to design a logo without dipping too deep into their pockets.
But, and this is a big but, with Canva, you might not own the rights to your new logo, depending on the elements you use in your design.
In short, if you want more versatility, Canva might be a solid option. But Looka offers you more handholding and long-term branding options.
Tailor Brands
Much like Looka, Tailor Brands is an all-around tool to help shape your unique brand identity. (By the way, here's our full Tailor Brands review.)
Tailor Brands does well against Looka in terms of logo design quality, and they both employ AI-backed design processes to produce high-quality, personalized logos.
I found Tailor Brands to be more in tune with my specific requirements. Whereas with Looka, the AI sometimes served me logo ideas that didn't match my chosen color palette.
Now, let's talk price. Tailor Brands uses a three-tier subscription model: Basic, Standard, and Premium. You're looking at monthly rates of $9.99, $19.99, and $49.99, respectively, or score an annual plan for $3.99, $5.99, or $12.99 per month. It's flexible but lacks Looka's one-time purchase deal.
Tailor Brands' sleeve also has a unique feature – their LLC setup service. It's like a handy sidekick for startups and small businesses stepping into formal operations.
But a word of caution: some users have encountered issues such as incorrect info submission and cumbersome corrections.
Regarding user experience, Tailor Brands gets the nod from users needing a chic, memorable logo without the time or resources to hire a pro designer.
It offers a multitude of options, letting you play around with fonts, colors, backdrops, symbols, and taglines until you hit your logo sweet spot.
However, it's not all sunshine and rainbows. Some users have reported unexpected upsells and hidden costs after their initial purchase, plus issues with renewal email notifications, which can be a real nuisance. Looka, on the other hand, never drops the ball on sending renewal reminders.
To sum it up, Tailor Brands dishes out a variety of services beneficial for fledgling businesses aiming to establish their brand. But keep an eye out for potential extra costs and scrutinize those subscription terms.
All in all, you're safe to move forward with Tailor Brands. However, in our view, Looka edges out Tailor Brands for a smoother user experience.
Looka Review: Final Verdict
Alright folks, let's wrap up the review.
Looka is a master tool that simplifies the art of logo creation. It earns high marks for its:
Notable speed
Quality
Broad branding offerings
Whether you're a newbie venturing into the business scene or a veteran seeking to rebrand, Looka's capabilities will impress. 
But as is the case with everything worthwhile, a clear understanding of its terms is crucial to avoid any bumps down the line. That's easily navigable with some due diligence (since we've done it for you!).
If you've been considering giving your brand a facelift or even starting a new one from scratch, why not give Looka a spin? You can start building your logo completely free.