Have you thought about getting a job with Amazon? If yes, you may be wondering ''does Amazon pay weekly?''
Amazon has varying pay periods for different employees. This includes paying workers weekly, bi-weekly, and monthly and there is even an option for 'Anytime' pay.
This is one great plus of working for Amazon, as you can choose a payment schedule that suits you and your lifestyle.
Amazon pay options were expanded when employees struggled to keep up with their financial responsibilities during the pandemic.
Let's look at the different payment options for Amazon workers, so you can decide if a career with this retail giant is right for you.
Does Amazon Pay Weekly: Amazon Pay Schedule Explained
Here's an overview of the different Amazon pay schedules available:
Weekly
A popular pay option for Amazon workers is weekly.
With this option, you get paid every Friday via direct deposit.
However, it's important to remember that money paid may take a few days to show up in your bank account.
It's possible to start with this payment schedule and switch to another if that suits you better.
Bi-Weekly
Amazon employees can also opt to receive their wages every two weeks.
This means your pay will be sent out on the first day of the month and again on the 15th or 16th.
This is a common payment option for warehouse workers and part-time staff.
Monthly
Full-time Amazon employees are given a 'Blue Badge' status.
As this type of worker, you'll receive payment monthly and have the chance to enjoy additional benefits.
Amazon employees who work in the corporate offices and headquarters also get paid monthly.
Anytime

The 'Anytime'' payment option allows Amazon employees to get paid immediately after finishing a delivery or a shift at a warehouse.
Funds are paid quickly, but only 70% of the total money earned is paid. The rest will be paid on an arranged pay period.
This payment option was created to help those in financial trouble, and some workers have reported this option to be beneficial for their credit scores.
Does Amazon Associates Pay Weekly?
The affiliate program for Amazon, Amazon Associates, does not pay weekly.
Affiliate commissions are paid on a monthly basis.
For example, commissions you earn in February will be paid at the end of the following month, so in this case, the end of March.
And one point to remember is that there's a minimum payout threshold of $10. If you don't reach that, your money earned will be carried over to the next month.
Does Amazon KDP (Kindle Direct Publishing) Pay Weekly?
Amazon KDP royalties get paid monthly, approximately 60 days after the end of the month that the sale was logged.
So, a royalty that was reported in January, will get paid at the end of March.
Do be aware that direct deposits can take 1-5 days to show in your account and wire payments 5-10 days.
Does Amazon FBA Pay Weekly?
Amazon FBA (Fulfillment by Amazon) pays money earned to sellers every two weeks.
However, if you're a seller in the US, you can apply to use 'Express Payout' which allows you to receive bank deposits from Amazon within 24 hours, on any day.
Does Amazon Flex Pay Weekly?

Amazon Flex drivers are self-employed drivers and are not paid directly by Amazon.
This means they don't have the same control over how they're paid.
Payments are made weekly to Amazon Flex workers directly into their bank accounts.
How much you've earned can be tracked in the Amazon Flex app in the 'Earnings' section.
Does Amazon Fresh Pay Weekly?
Amazon Fresh drivers are self-employed, just like Amazon Flex drivers.
As an Amazon Fresh driver, you'll also be paid weekly via direct deposit.
Does Amazon DSP Pay Weekly?

As an Amazon DSP (Amazon Delivery Service Partner), your payment terms will vary.
A DSP driver delivers orders with Amazon's branding but works for an independent delivery business.
Payment terms will have to be agreed upon with the DSP service you work with.
Do Amazon Warehouse Employees Get Paid Weekly?
Amazon warehouse employees can choose their own payment schedule depending on personal needs.
For example, some warehouse employees choose to receive 'Anytime' pay, so they get 70% of their money earned for a shift immediately.
And other warehouse staff may choose to receive weekly or bi-weekly pay.
What was Amazon's Original Pay Policy?
Before 2020, Amazon didn't offer a weekly pay option for all its workers.
Here's what Amazon pay policies used to look like:
Full-time workers received monthly pay
Part-time workers received bi-weekly pay
Temporary employees got paid weekly
What Types of Jobs Are Available with Amazon?
Now we've answered the question ''does Amazon pay weekly'', let's look at the job openings available with Amazon.
Amazon hires employees to work in all areas of its business.
Here are the main Amazon job sectors:
Amazon warehouses
Amazon stores
Amazon delivery driver
Amazon pharmacy
Amazon corporate offices
Are There Any Benefits for Amazon Employees?
A real plus of working for Amazon is that there are multiple job options to suit different lifestyles.
Work independently as a delivery driver or on the ground in one of their offices or stores.
Here are a few more benefits for Amazon employees:
Hands-On Training
As a new Amazon worker, you'll receive hands-on training from an experienced Amazon employee.
The skills you learn working for Amazon are all transferable, so you can carry these over into any future job role.
Opportunities to Advance Your Career
Amazon offers all its employees reimbursement for training and tuition to help them climb the career ladder and earn more money.
Generous Benefits Package
As soon as you get hired by Amazon, you're given a benefits package that includes the following:
Health. Full-time employees can enjoy medical, dental and vison coverage and paid holidays.
Family care. Choose according to your situation, with options being assistance with childcare or elderly care.
Parental leave. Get up to 20 weeks paid leave for mothers and six weeks for parents who adopt.
College tuition. US-based, front-line Amazon employees are eligible for fully funded college tuition.
How Much Can You Earn Working for Amazon?
It's important to remember that several factors will influence pay, such as where you live and what type of job you do.
Amazon pays, on average, $15 – $17 an hour for warehouse workers, order fillers, packers, and retail sales associates.
Drivers can expect to earn around $25 an hour. Senior-level workers such as supervisors and managers can expect to take home an average yearly salary of $31,655 up to $100,000+.
Employees are also eligible to receive Amazon shares, so as the company grows, they can grow with it.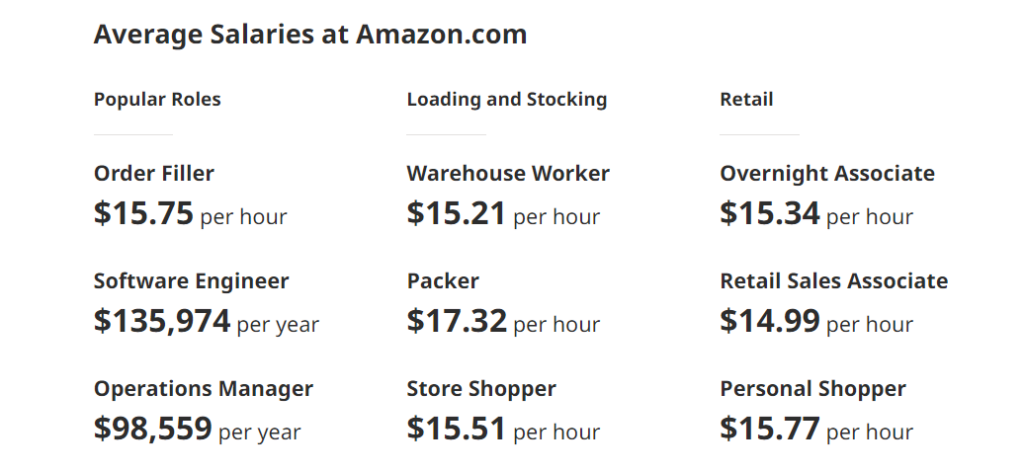 What is Required to Work for Amazon?
Amazon takes on entry-level workers and those with more experience from all backgrounds and education levels.
These are the basic requirements to get a job with Amazon:
At least 18 years of age
Ability to speak and read English
High school diploma or equivalent for entry-level positions. Bachelor's degree for senior-level positions
If you drive for Amazon, you must have a clean driving license
Specialist requirements may be asked for with niche job roles.
Does Amazon Pay Weekly: Final Thoughts
At the end of this 'does Amazon pay weekly' article, you should now have a clear understanding of how Amazon pays.
As you can see, Amazon offers a range of flexible payment options to help support the needs of its workers.
Plus, Amazon has many different job opportunities, from working on the ground in their warehouses to driving, working from home, and working in an office or shop environment.
Each job has its pros and cons, but there's sure to be something to suit everyone.
Also, if you're interested in starting your own Amazon business, read this guide on how to sell on Amazon, or this article on how to sell no content books on Amazon.