Deciding on web hosting is the first and arguably the most important decision you'll have to make for your new WordPress site. Each provider offers different services as well as some of the same plugins to get you up and running in no time. If you are torn between two of the most popular offerings, this article will help you decide whether Kinsta vs WPX hosting is right for your site.
We will cover all the pertinent details that will help you get your site up and running quickly. If you know what WPX or Kinsta offers, you will have a much easier time deciding between the two.
Let's get started with our hosting comparison.
Kinsta vs WPX: Who Are They For?
Before we take a closer look at the specific details of each managed WordPress hosting provider, let's take a quick look at who should use each one.
Kinsta
Kinsta is best for site owners who want to run more dynamic pages and is compatible with WooCommerce hosting for e-commerce options. Their Google Cloud platform is a trusted name in hosting infrastructure, and they work with you to undo the damage caused by malware.
As far as managed WordPress hosting is concerned, Kinsta has excellent uptime. They also have plenty of data centers so that the content on your WordPress site reaches the world faster.
For those needing free site migration, Kinsta delivers on this as well. If you need help with a staging site, you can rest assured that Kinsta's support team will assist you.
For all the details, see our full Kinsta review here.
WPX Hosting
That being said, WPX hosting still has much to offer as a web host for a WordPress site. This hosting provider is best for smaller websites that may not have as much traffic and don't want to dive into the world of e-commerce. They're a relatively fast platform with free site speed optimization.
They do have a limited number of data centers compared to Kinsta, though. Depending on where your audience mostly resides, this could slow down your site.
Features of Kinsta vs WPX Hosting
In this section, we will take a deep dive into what you can expect from the two web hosting plans. This will give you a better idea of the ideal option for your site.
Services Offered
Perhaps the most important thing to consider when deciding between Kinsta vs WPX hosting is what services are offered. Both act as WordPress hosting providers, but Kinsta is a little more robust regarding what you can do with it.
Kinsta's services include:
Application hosting plans
Database hosting
WooCommerce hosting
Agency hosting
If you know that you want to grow your site, it might be best to stick with Kinsta from the outset.
WPX hosting is a little more specific, exclusively focusing on managed WordPress hosting. For those who want a more dynamic website that can support e-commerce and applications, then you may want to consider sticking with Kinsta.
Hosting Infrastructure (Google Cloud Platform vs. Litespeed)
When it comes to infrastructure, you have two basic choices with Kinsta vs. WPX. As we saw earlier, Kinsta is better for a more dynamic site, partly due to its infrastructure. It utilizes a Google Cloud platform, Google Cloud C2.
In turn, this gives you fast speeds even for websites that are prone to lots of traffic or that are heavy on plugins.
On the other hand, WPX hosting relies on its LiteSpeed servers. Compared to the speed of the previous models used (Apache), this is a definite step up in terms of what you can do with your website when using this hosting platform.
Uptime
You want your managed WordPress hosting to have your website up at all times. You never know when you'll get a visitor to your page, and you want them to have the best experience. What can you expect from uptime monitoring on both WordPress hosting providers?
Kinsta hosting has an impressive uptime of 99.9 percent. They guarantee that your site will be up and running at least 99.9 percent of the time in any given month under their service level agreement.
WPX hosting doesn't put out a guaranteed uptime. Instead, they say that if your website has a problem, their support team will fix it for you "fast and free." They call it the Fixed for You (FFY) guarantee.
Data Center Locations
One of the areas where Kinsta's web hosting service truly shines is its data center locations. They have data centers around the globe with 29 unique locations to serve their customers in the best possible way. Kinsta hosting has data centers in places like:
Taiwan
Hong Kong
Japan (2 centers)
India (2 centers)
Australia
Poland
Finland
Belgium
UK
United States (7 centers)
On the other hand, WPX hosting only allows you access to three data centers: one in Chicago, one in London, and one in Sydney. While they are spread out around the English-speaking world, this does put you at a disadvantage in speed compared to the robust offering of Kinsta.
CDN
When it comes to choosing managed WordPress hosting providers, content delivery networks (CDN) make a difference. This is one area where the two hosting plans tend to differ, but it's an important field to consider when comparing them.
Kinsta hosting uses Cloudflare to give a greater performance compared to their former KeyCDN. It presents a faster option for page load speeds, does not require a secondary CDN domain, and has locations in over 200 cities around the world.
WPX hosting offers its own innovative solution, known as XDN. It has upwards of thirty endpoints around the world, a small offering compared to Kinsta's Cloudflare.
The downside is that there aren't many tests comparing the two CDNs head-to-head. You may have to simply try out XDN and see what you think during your initial testing phase to determine how it works for your site.
Speed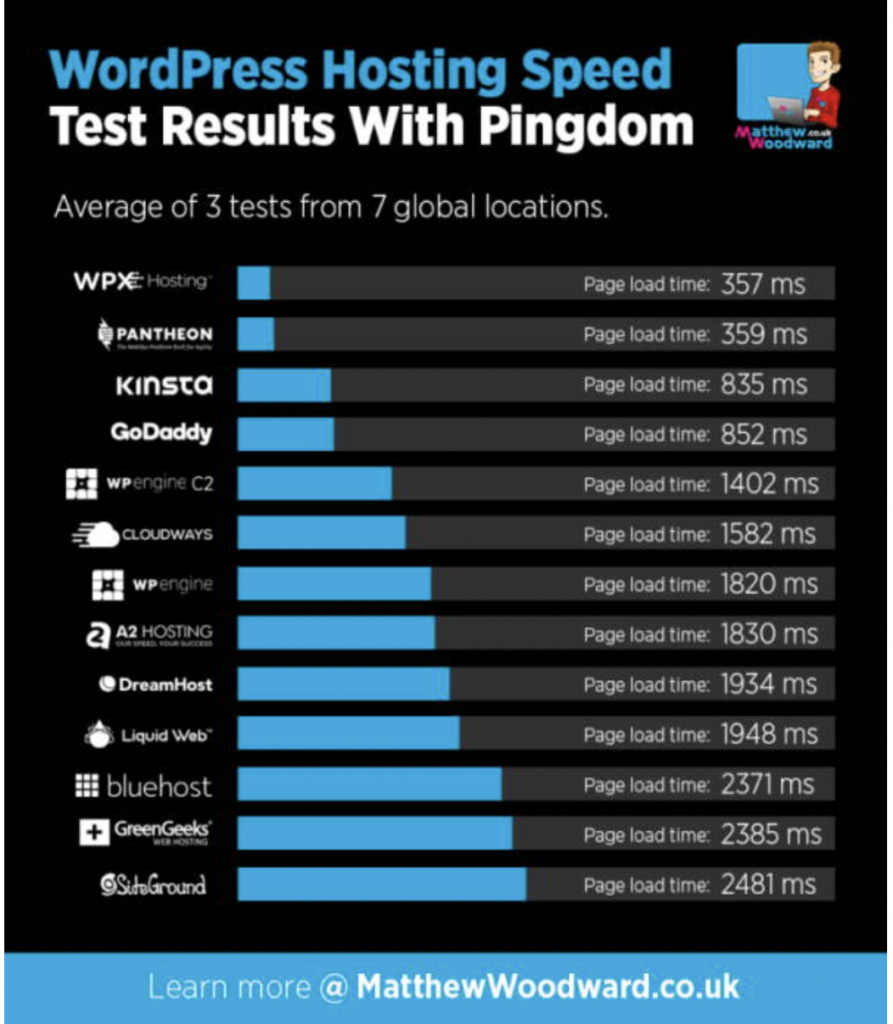 No matter which hosting plans you choose to turn to, speed is important for your site. A faster site is more likely to rank higher in the search engine results pages compared to one that is bogged down and slow. Plus, it gives a better user experience.
That being said, how do these two hosting plans stack up?
Testing both web hosting options with Pingdom, WPX had a page load speed of 357 ms. Kinsta was found to be much slower, coming in at 835 ms.
The same test also looked at plug-in heavy sites to see how quickly they would load. Again, WPX hosting took the prize with a page load speed of 2.25 seconds. Kinsta came in fourth place with a load speed of 3.14 seconds.
The difference is small, but it may matter to your audience.
Security
Security is an important consideration when choosing web hosting for any type of website, including a managed WordPress hosting provider. The good news is that both WPX and Kinsta are excellent options for security. Let's take a deeper look at what you can expect from each.
Kinsta makes a promise to help you combat malware on your site. This managed WordPress host says that they "will work with you for free to try to undo the damage." That's a great deal on the off chance that something goes wrong.
If you want security plugins, Kinsta offers you a little bit of peace of mind. There are tons of supported options that will help your site to stay safe.
WPX hosting has its own process for dealing with malware. All you have to do is contact tech support, let them know that you think your website has been hacked, and they will look for any files that may pose a problem. Their security team will remove any malicious files to help you get back up and running.
Customer Support
Good news for those who are new to web hosting and might need a little assistance: both platforms have excellent customer support that you can tap into whenever you need it. This is one area where Kinsta vs WPX hosting tends to be relatively equal.
Kinsta allows you to connect with a real person 24/7. You can connect with a support engineer in real-time, browse through documentation, or flip through their knowledge base to get the help you need, whenever you need it. Trustpilot gives them 4.2 stars out of 5.
WPX hosting is great for those who don't want to wait around to get their problem solved.
They boast that you can reach their customer support team in 30 seconds or less. You can access their support team via live chat instead of via tickets or emails. Important to note, they do not offer phone support.
Kinsta vs WPX Hosting Prices
The bottom line price of these hosting provider options is often what influences the decision to use one over the other. Kinsta has several options for you, depending on how you want to use it. Apps start at $7 per month, and databases scale at $18 per month.
However, most people are interested in their managed WordPress hosting plans which will run around $35 per month to start. You also get two months free if you pay for the year upfront. If you want a free SSL certificate, Kinsta plans also delivers this with their paid plans.
WPX hosting comes in at $20.83 per month, making it cheaper than Kinsta's most basic plan. This includes:
Up to 5 websites
15 GB of storage
1 GB RAM per site
Free malware removal
Access to their world-class customer support
Much like Kinsta, you get two months free if you pay for the annual term upfront.
Refund Policy
If you find that you aren't satisfied with the services offered by either platform, there is some recourse for you. Kinsta offers a 30-day money-back guarantee that you can access in just a few clicks. Similarly, WPX hosting offers a 30-day refund policy if you aren't happy with the speed, support, or results while testing the hosting platform.
Final Thoughts: Is Kinsta vs WPX Hosting Right for You?
In this hosting comparison, we looked at what you can expect from the Kinsta Google Cloud, the WPX hosting platform, and everything in between. There are various WordPress hosting plans available on the market today, but these two come in near the top of the list.
What's the bottom line?
Kinsta is best for those who need WooCommerce hosting and who have a more dynamic site that is rapidly growing.
WPX hosting is best for simple sites with moderate traffic and an excellent support team.
No matter which way you go with your WordPress hosting, you are likely to find that these two platforms are some of the best out there. Try them out today, and know that you can get your money back if you aren't happy with them in 30 days!