For new dropshippers wondering how to dropship from Amazon to eBay, there is a lot of confusing information out there. To start with, it isn't exactly clear whether dropshipping from Amazon to eBay is even allowed as this seems to go against the terms of service.
To bring clarity to the subject, we'll examine exactly what is and isn't allowed when dropshipping on eBay. We'll also cover some profitable alternatives to dropshipping from Amazon to eBay that don't potentially violate the terms of service. 
What Is ?
The technical definition of dropshipping, as defined by Merriam-Webster, is:
"to ship (goods) from a manufacturer or wholesaler directly to a customer instead of to the retailer who took the order."
In simplified terms, a dropshipper acts as a middleman and takes orders from a customer before sending that order to a wholesaler or manufacturer for order fulfillment.
To help illustrate the above definition, let's break down the steps in the traditional dropshipping process:
Customer visits website and places order

Dropshipper takes the order and sends it to a wholesaler or manufacturer
Wholesaler or manufacturer ships the order directly to the customer
If the customer wants an exchange or refund, they work with the
Is From To eBay Permitted?
The eBay rules are quite explicit that it is against their terms of service to list products that are being fulfilled and sold on a third-party platform. 
Specifically, eBay's terms of service say the following about dropshipping:
…listing an item on eBay and then purchasing the item from another retailer or marketplace that ships directly to your customer is not allowed on eBay.
This technically means that taking products from Amazon and listing them on eBay is not allowed. Digging deeper though, this isn't really drosphipping in the first place.
Taking into consideration the above definition of dropshipping, it specifically states that dropshipping works with a manufacturer or wholesaler. Taking products from Amazon and listing them on eBay is what would be known as retail arbitrage or Amazon arbitrage.
According to the eBay terms of service, working with a manufacturer or wholesaler to fulfill orders you take responsibility for selling is permitted.
Is From eBay To Permitted?
Looking at Amazon's terms of service reveals they have a similar position regarding relisting products being sold and fulfilled by sellers on another platform.
The Amazon terms of service state the following in regards to dropshipping:
Purchasing products from another online retailer and having that retailer ship directly to customers, if the shipment does not identify you as the seller of record or if anyone other than you (including the other online retailer) appears on packing slips, invoices, or the external packaging, it is strictly prohibited without exception; or
Shipping orders with packing slips, invoices, external packaging, or other information indicating a seller's name or contact information other than your own is also strictly prohibited.
This rules out ordering a product from eBay and shipping it to an Amazon customer. According to their policy, Amazon wants to avoid confusion about where an order comes from and who is responsible for handling issues or returns.
What Is The Difference Between To And From A Wholesaler?
After looking at the above two policies, both saying close to the same thing, it's clear that major eCommerce platforms don't want you just to copy a listing from one platform and sell on another. So, what's the difference between this and dropshipping? Also, what's the problem?
What eBay and Amazon want to avoid is what we described above, retail arbitrage. The reason for this is it can create confusion among their customers and causes a lot of potential issues, including:
Not knowing where to return products

Possible feelings of being ripped off on the part of the customer

Issues with the and times

Quality control issues
On the other hand, dropshipping traditionally involves establishing a relationship with a manufacturer or wholesaler. This ensures that product quality is better and gives you an idea of turnaround time for shipping.
Does To Work?
Now that we've established the difference between arbitrage and dropshipping, let's look at whether dropshipping from Amazon to eBay, or arbitrage, works.
As noted previously, the main issue is that it's almost impossible to control the quality of the products. You don't know if the person on Amazon you are ordering from is legitimate or even selling counterfeit goods, a problem that has persisted.
It's also possible that the person you are ordering from is dropshipping or even engaging in arbitrage themselves. This can lead to an issue of who would handle returns and potentially cause delays in shipping in longer turnaround times.
While there are certainly some people who have made money through retail arbitrage from Amazon to eBay, it's not the best business model for long-term sustainability. 
Even though I don't recommend engaging in dropshipping from Amazon to eBay or arbitrage as it may be, let's take a look at how you would do so for the sake of answering the question in the title of this article.
After we've covered this, I'll list a few alternative business models that you can engage in on eBay and other platforms that are more sustainable and can even lead to significant long-term profits.
Set Up Your

Account

 
Before you do anything, you will need to set up a seller's account on eBay. Go to the eBay main website and click on the sell button in the upper right of the screen.
I've been selling products on Amazon since 2014.
Want to know the research tool I've been using since I've started (and still use today)? Get my latest tips and how to guide for using this tool.
You will be taken to a screen giving you two options, to sell items or create a business account. For our purposes, we picked to set up a business account.
You will be taken to a sign-up screen where you can begin to fill in your information to set up your account.
To set up your business account, you will need your employer identification number (EIN) and your business checking information. 
Ensure eBay Business and Shipping Policies Are Setup
Properly setting up your eBay business policies will ensure your commitment to customers is clearly defined. This will help each eBay buyer understand things like better shipping times and return policies.
You will need to opt-in to set up the business policies as they are not automatically enabled on your new store. The easiest way to do this is by using one of the below links to the eBay policy page relevant to the country your store is set up in:
I've used the United States for the below demonstration on setting up your necessary business policies.
Click "Get Started" to opt-in and begin setting up your policies:
The three basic policies you want to start with for new stores are shipping, returns, and payment.
Click on the "Create Policy" dropdown button and select the policy you want to create. We'll use the Shipping Policy, but each follows the same process.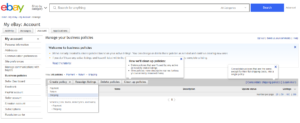 The policy creation screen will look like this: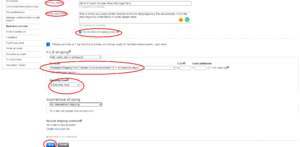 Fill out the policy name, policy description, U.S. shipping policy (set to standard shipping from greater China to worldwide, and at least a three-day handling time. Then click "Save."
Make sure to set the policy for your specific store and repeat the process for the payment and returns policy.
Set Up An Account
This step is very specific. If you are going to engage in Amazon to eBay dropshipping/arbitrage, make sure you sign up for an Amazon Prime account.
Your goal is to reduce the time it takes for items to ship and arrive at your customers. With Amazon Prime, you get free one and two-day shipping for most orders and, in some instances, free same-day shipping. 
This will reduce the time it takes to get products to your customers and allow you to offer free shipping. 
The main thing to note here is that Amazon Prime accounts are not free. So, you will need to factor the monthly cost of a prime account into your pricing model.
To sign up for an Amazon account, use the following link and follow the instructions provided.
Find Products

On

That You Sell On eBay
Once you've set up your eBay account and your Amazon Prime account, it's time to start finding products to sell on eBay.
There are a few different ways to go about this, but the most commonly used method is known as sniping. Go through top-selling merchants and see what products they are selling. Then, go to Amazon and see if you can find those products for cheaper.
Another way to conduct product research is to look at the best sellers list trends. Try and find what is popular and find similar and cheaper products to sell. Factor in the free shipping to see if you can offer products at a lesser price.
List Your Products On eBay
Once you've settled on a product to list, go back to eBay and click on the sell button if you are still logged in. Find the create listing button and, for this demonstration, select a single listing.
You will need to create a descriptive product name and select a product listing. For our purposes, select "start with this title."
You will now be taken to the eBay listing page. 
Make sure that your title is descriptive and has correct formatting and spelling. Ensure that you have an appropriate category selected and select the condition as new.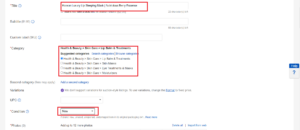 Set Up Your Product Photos
Now, you will need to load up pictures. If possible, try and pull the photos from the eBay listing. However, make sure the photos aren't branded with certain backgrounds or watermarks as these will be unusable.
Select your photos, up to twelve, and arrange them in the order you would like them to appear when people view your listing.
Next, select the brand and scroll to the bottom of the dropdown to add your own. Then select the type, doing the same thing to add your own if needed.
Add any extra descriptors that apply to your listing. Don't lie to make your product look better as you increase the chance an eBay customer will leave a negative review.
After you've gone through all of the product's specific features, it's time to add the product description. Make sure to be as descriptive as possible and add. Use the appropriate keywords and try and make them about 5 – 7% of the total description. Don't, however, keyword stuff.
Stay On Top Of Orders
As orders come in, you will need to stay on top of them. The best thing to do is create a regular schedule to check and process orders at the same time each day. 
Make sure when ordering to leave a note for the Amazon seller asking them not to add any product inserts or other information that could identify them as the seller. Some sellers will know that you are dropshipping, but you don't want anything to identify them as the distributor. 
This is the riskiest part of listing products from Amazon on eBay. It's also where you are likely to get flagged, so do your best to ensure no one complains to eBay.
Common Problems When Learning How To  From To eBay
We've already covered some of the most common issues with dropshipping from Amazon to eBay. However, there are some other drawbacks you should be aware of before moving forward with this business model.
Quality Control Issues
As previously noted, because you don't know the products personally, you have no way to know of any quality control issues. 
With traditional dropshipping, you can order a sample to see the quality of each product. However, you don't know how much inventory the seller has in stock with Amazon to eBay arbitrage.
This likely means you will be swapping out products often and unable to rely on a single seller for a product. It's also possible for a seller to be dealing in counterfeit goods, which will land you in hot water.
Potential Issues With Buyers Feeling Duped
At some point, your buyers are going to figure out that you shipped them a product from Amazon at a marked-up cost. This usually happens when they see an invoice or something else in the packaging identifying a different seller.
When this happens, buyers will often leave bad reviews or report you to eBay and potentially Amazon. Most times, eBay will flag your online store and prevent your products from being shown or shut down your ability to sell.
Asking the Amazon seller not to add any inserts or other identifying information can help. However, your packages will still likely be delivered in Amazon packaging, and it's likely not all sellers will comply.
Running Afoul Of eBay's Terms Of Service
In essence, everything about dropshipping between Amazon and eBay, or Amason to eBay arbitrage, is against eBay's terms of service. The question isn't whether or not you will get caught, as it's only a matter of time.
You have little control over the process because you are offering someone else's products for sale, and that other seller isn't set up for dropshipping. It also means that you can't completely identify yourself as the seller, which is against the terms of service.
The final issue will be that you can't guarantee returns. Since the seller doesn't have a dropshipping agreement with you, then you may not be able to handle exchanges or refunds. You may end up having to process the returns on your end at a loss.
No Control Over Shipping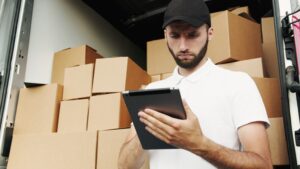 With traditional dropshipping, you can usually be assured of turnaround times on shipping for products. The dropshipping supplier will generally have this laid out in a policy.
Since you are not working with a dropshipping supplier, though, and instead a regular Amazon store operator, you can't guarantee that they will ship your items promptly. This also means that you can't provide your customer with any timeframe for delivery.
Using Amazon Prime is one way around this. However, not all products will allow for Amazon prime. Another issue here is that the packaging will say Amazon all over it. This isn't a huge issue as many eBay store operators reuse packaging. 
It can cause problems if other inserts are in the package or if the shipping information reveals the other seller's identity. 
Potential Difficulties Handling Returns
When working with traditional dropshipping suppliers, there is often a clear policy to handle returns. You can usually copy this policy and use it on your website so that your returns policy is the same. 
However, when dropshipping from Amazon to eBay, this isn't usually as easy. You will likely be switching out products quite frequently and, therefore, dealing with different sellers with different policies.
This can lead to a problem when handling returns as you may not always be able to process them or handle exchanges. You may end up needing to issue a refund from your own pocket at a loss. 
Issues Sourcing Photos For Listings
Experienced dropshippers will order samples of each product they sell. This has a twofold benefit in that you can check the quality of the product and the seller's reliability. 
The second benefit is that you can take photos of each product, preferably with a brandable background. When dropshipping from Amazon to eBay, you don't usually have the same luxury.
Often, this isn't possible due to the number of products you will be handling. It's often the case that suppliers run out of products or trends change quickly. This means you will have a shorter turnaround time for products in your store.
The only solution here is to use the pictures from the Amazon seller. However, many sellers will take their own pictures and insert watermarks or put their own branding in the photos.
No Ability To Build Up A Brand
Building a strong brand that resonates with your target audience is the key to creating a profitable and sustainable dropshipping business. However, you won't have any opportunity to create a brand selling other people's products from Amazon.
With traditional dropshipping from a manufacturer or wholesaler, you can create your own store on a platform such as Shopify or WooCommerce. This presents you with the opportunity to develop your own brand catering to a specific niche. 
Alternatives To Learning How To  From To eBay
While it may not be worth the effort to learn how to dropship from Amazon to eBay, other business models can prove to be profitable over the long term.
Products

Direct From Manufacturers
If you want to stick to dropshipping, the best way to remain competitive and profitable over the long term is to source products directly from manufacturers. This ensures that you aren't paying any markups and can squeeze out the best margins on each sale.
Look for local manufacturers that work with dropshippers in your home country. For manufacturers in the United States and Europe, try using platforms like US Direct or Modalyst to make things easier.
The benefit of working with local manufacturers is that shipping times are often shorter. You can also usually source higher quality products, leading to higher customer satisfaction rates.
Another online business model that can be profitable over the long term is affiliate marketing. The benefit here is that you don't have to worry about managing orders or returns or customer service. 
With affiliate marketing, you advertise products and services and take a commission for each successful sale. This is accomplished through affiliate links that you can insert into content, emails, social media posts, and Youtube videos.
Most affiliate marketers operate niche or authority sites and create content around the specific topic they are selling in. The downside with affiliate marketing, when compared with dropshipping, is that it may take longer to begin seeing results.
For the most part, affiliate marketers rely on organic search traffic to their websites. This usually can take anywhere between six and eighteen months for consistent results.
Is It Worth Learning ?
In short, learning how to dropship from Amazon to eBay or retail arbitrage more accurately is a futile effort. Even if you do see some success, it is only a matter of time before one of your customers complains or you have issues with handling returns.
A much better way of dropshipping, whether on Amazon, eBay, or your own eCommerce website, is to source products from manufacturers directly. This gives you more control over the process and allows you to offer a better experience to customers.