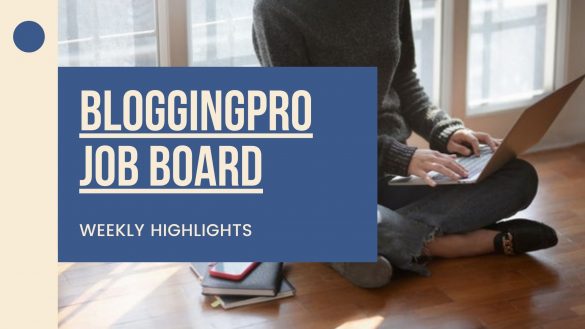 I hope you all had a great weekend.
Here are the BloggingPro Job Board highlights to start the week on a good note.
BloggingPro Job Board Highlights
A boutique editorial agency needs regular blog posts for an international client (cosmetics and skin care). This client has an extremely unique voice and style (think: Pat McGrath or Urban Decay) with an ultra-specific set of guidelines, including word choice and phrasing, so the writer must be able to seamlessly write using their inimitable tone of voice.
Do you write content that makes you feel pretty damn clever? Are your blogs witty, well-researched, educational, AND entertaining?
On top of all of that, do you have experience using Salesforce in an inside sales role, selling to enterprise-level customers?
CEI is in need of a dedicated resume writer to assist in the professional resume formulation process and prepare master resumes for all technical staff. This job is a remote work from home opportunity and is part time with flexible hours.
Writer needed for self help blog
EvolveAhead is looking for a writer for a blog focused on self-help/spirituality.
Article outlines will be given to you to make it easier for you to write the articles. You will have the freedom to work on topics you like and reject ones that you don't. Plus, there are no deadlines as such. Examples of titles include mindfulness, meditation, LOA, reflection, journaling etc.
Steyer Content is seeking a remote UX copywriter for a contract engagement with one of their tech clients, with experience writing safety and security support content for a global audience. In this role, you will solve problems with words, assuring customers so that they feel supported in moments where their safety and security may be compromised.
Author:
Noemi
Editor of Splashpress Media, writer, and geek bitten by the travel bug.