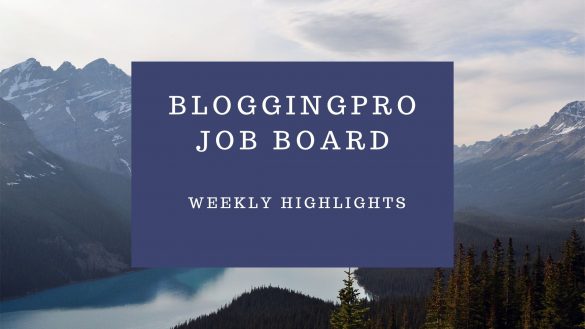 I hope you all had a great weekend.
Here are the BloggingPro Job Board highlights to start the week on a good note.
BloggingPro Job Board Highlights
Screen Rant is the #1 entertainment website on the web and publishes up-to-the-minute news on blockbuster movies, TV, video games, and comic books. Their editorial team is looking for an experienced editor to oversee Comics under the leadership of the Comics Lead Editor. The selected candidate will have tremendous career growth opportunity within the organization. Please note that this role does not involve video editing or script editing.
Want to join the dynamic and talented group of creatives responsible for one of Texas's fastest growing brands? As a copywriter at Favor, you'll collaborate with various teams to create impactful content for multiple audiences and deliver a consistent and cohesive brand experience at every touchpoint. In addition to driving performance, your words should help foster community and brand loyalty among customers, Runners (delivery drivers), and merchant partners.
If you're a writer and want to reach a large audience of people interested in mental health, HealthyPlace is looking for diverse mental health bloggers (paid contract positions).
Ascension is actively seeing a talented professional content writer to prepare and coordinate proposals for state mandated health insurance materials in accordance with policies and legal requirements.
EZcheeze is a growing company and seeking new candidates to join their content writers team. This is a part-time position. The work may be conducted at their office in Westlake Village or remotely.
Author:
Noemi
Editor of Splashpress Media, writer, and geek bitten by the travel bug.
This article was originally published by www.bloggingpro.com . Read the original article here.