When asked what makes them successful, ecommerce sellers say having the right tools is the most critical factor — second only to having enough time to manage their business. Using software that supports your business operations will save you time and money, putting you on the path to sustainable, long-term success. 
In 2023, it's difficult to think of a business-related task that isn't supported by a few different software programs or apps. To make sense of all the different options available to help ecommerce sellers run their businesses smoothly and efficiently, we've rounded up the top options for each area of operations, from selling platforms to graphic design tools, and everything in-between. 
Here are the areas we'll cover: 
Let's get started!
The best ecommerce platforms of 2023
When it comes to selling products online, the "where" is just as important as the "how" — each informs the other. Where you choose to list your products will help determine your audience reach, the amount of competition you'll face in the marketplace, and your chances at long-term profitability, so it's a big decision. 
Fortunately, you have a lot of options to choose from, and you don't have to limit your brand's footprint to just one selling platform. In fact, we recommend establishing a presence in at least three different digital spaces:
An ecommerce marketplace
A standalone online storefront
Social media 
1. Online marketplaces
First up are the ecommerce marketplaces where you can sell your products alongside thousands of other brands and take advantage of enormous existing audiences. These online marketplaces include:
You can think of these marketplaces as the online equivalents to big-box stores — large, inclusive platforms where you'll publish categorized listings for your items, like physically arranging products on store shelves. Just like with a brick-and-mortar superstore, you'll be in direct competition with other ecommerce brands selling similar products. 
This may seem counterintuitive at first, but listing your products in giant marketplaces offers enormous benefits.
Here are three benefits of utilizing online marketplaces:
Big audiences. For one thing, they serve vast global audiences that small brands might not otherwise reach through a standalone online storefront. 
Fulfillment services. Many of them provide sophisticated fulfillment services to ensure seamless and fast shipping to the end customer — an often difficult feat to pull off for smaller brands that don't have their own warehouses and extended logistics networks.
Advertising capabilities. Finally, these platforms offer in-house advertising programs, once again allowing smaller brands to take advantage of a huge pool of potential customers that are ready to make purchases.
To continue our big-box store example, you can imagine the decision to sell in a large online marketplace like this: Would you rather sell your brand-new product at a stand you build yourself in your front yard, or in the superstore down the road where your entire town shops? 
Some marketplaces are better suited to different products or audiences. We'll go over the best ecommerce platforms so you can decide which is right for your brand.
1. Amazon
Amazon is the largest online marketplace available to ecommerce sellers, with hundreds of millions of daily visitors in the U.S. alone. 56% of U.S. consumers begin their product searches on Amazon, considered the go-to online retailer for fast shipping and low prices. 
Dubbed "The Everything Store," Amazon can serve as a one-stop shop for building an ecommerce brand, since you can sell virtually any kind of product here while taking advantage of its many benefits:
Amazon is a good place to sell for nearly every ecommerce business model you can think of: private label brands, arbitrage resellers, wholesale sellers, dropshippers, used item resellers, and even handmade artisans find success on the platform. 
Jungle Scout has free how-to guides for selling on Amazon using any of the above business models. 
READ MORE | How to Sell on Amazon FBA for Beginners in 2023 (Ultimate Guide)
2. Walmart Marketplace
In terms of U.S. consumer reach, Walmart's online platform is second to Amazon, and gaining fast — 40% of American consumers shopped at Walmart.com in 2022. The same amount are current Walmart+ members (Walmart's version of Amazon Prime), and another 24% would consider joining.  
Like Amazon, Walmart is a great place to sell private label products and arbitrage. 
READ MORE | How to Sell on Walmart Marketplace
3. eBay
Most people know eBay as the place to find rare collectibles and used items that previously cluttered someone's attic. But you can also run a successful business selling arbitrage or private label products on eBay. 
READ MORE | How to Sell on eBay – Step-by-Step Beginner's Guide for 2023
4. Facebook Marketplace
Facebook is another platform where you can make money selling consigned furniture and electronics, arbitrage, and private-label products. For a while, Facebook Marketplace was used mostly for local sales — sort of like an updated, safer version of Craigslist. Facebook also allows for U.S. shipping in some product categories, making it an attractive option for arbitrage and private-label vendors. 
READ MORE | How to Sell on Facebook Marketplace – 2023 Beginner's Guide
2. Website hosting services for ecommerce storefronts
Gaining exposure to a global audience is important, but your brand is about more than just its products — showcasing its unique identity and benefits can give your business legitimacy and value in the eyes of potential customers. A digital storefront does just that — as your brand's online home, it's a place where customers can learn more about your brand in addition to making purchases. 
We recommend building a standalone, branded website or storefront for your brand in addition to listing products in an established ecommerce marketplace. Customizing your storefront with unique branding gives insight into your brand's story, mission, and values — important details that can get lost on larger marketplaces like Amazon, where there's less opportunity for customization. Plus, it's important to diversify your sales channels in order to further broaden your audience. 
Keep in mind that you can direct traffic from your storefront site to your marketplace listings — that way, you can use the exposure you earn from your branded site to improve your rankings on Amazon, Walmart, or wherever else you sell.  
Here are some fantastic options for building a standalone ecommerce storefront:  
1. Shopify
Shopify is among the best ecommerce website builders around. It offers more than 70 different design templates with customizable themes, language translation support, and mobile compatibility.  
It also allows you to list products and manage inventory, accept secure payments by credit card and PayPal, and use plugins that offer your customers savings and newsletter subscriptions. 
Plus, you can use FBA to fulfill your Shopify orders. That way, your customers benefit from Amazon's quick shipping, while you continue to widen your audience without the hassle of handling your own fulfillment logistics. 
Take some time to browse these outstanding examples of branded Shopify sites to get your creative juices flowing. 
READ MORE | How to Sell on Shopify in 2023
2. WordPress
Ecommerce brands that publish tons of resource content or want to use an SEO-forward marketing strategy should consider building a monetized blog through WordPress. You can install all kinds of plugins tailored to different product categories and payment solutions. You can also embed a Shopify buy button to leverage Shopify's seamless point-of-sale capabilities. 
3. Wix
Wix Ecommerce provides an easy-to-use website builder and advanced business features like abandoned card recovery and multilingual site versions. It also offers built-in Instagram compatibility so you can sell to your social media audience. 
4. Weebly
Weebly's templates aren't as customizable as other hosting platforms, but it's very beginner-friendly and has a free basic plan. Weebly offers Square integration to make payments secure and straightforward for customers.
3. Social media channels
If you're on any social media platform, you've probably noticed how much branded content there is, whether it's from influencer posts, product reviews, or posts linked directly to product listings. Social channels like Facebook and Instagram are no longer just for connecting with family and friends — they now serve as bona fide search engines for online customers. 
It's important for ecommerce sellers to build their brand's presence on social media due to its growing role in product searches and marketing. 54% of U.S. consumers have purchased something they first heard about on social media, and 20% of Americans' product searches now begin on Facebook. The evidence is clear: Maintaining consistent activity and engagement on social media will be key to a brand's success, now and in the future.
Tip: When establishing your brand's presence on social media, use the same or similar usernames or handles across all platforms, and post consistently — at least once per day. That way, customers will know how to find you, and your brand will look legitimate. 
Here's a list of the social media sites and apps you should use to promote your brand, ranked by their popularity as product search engines among consumers:
1. Facebook (20% of consumer product searches start here)
Facebook is the best social media platform to use for building a community around your brand. On Facebook, you can: 
Post content about products and promotions
Sell items directly on Facebook Marketplace 
Create Groups for your customers to join
Provide customer support through private messages and public comments
2. YouTube (25%)
Consumers flock to YouTube to watch product reviews for the brands they're interested in. Posting video content is a great way to put a "face" to your brand name, whether it's through tutorials on how to use your product, profiles of satisfied customers, or influencer testimonials. 
3. Instagram (19%)
Instagram's gridded content feeds let you curate a beautiful, cohesive mosaic for your brand with lifestyle images, engagement prompts, and highlighted customer reviews. With a business account, you can link posts directly to product listings, or turn on Shopping features to use the app as a point of sale. 
Instagram is another great place to feature user-generated content (UGC) from happy customers. 
Amazon sellers can reuse their Instagram content to create Amazon Posts. 
4. TikTok (19%)
Thanks to its content suggestion algorithm, endlessly scrollable format, and millions of viewers, TikTok has rapidly become a must-have channel for ecommerce brands. As we've reported, viral TikToks have boosted sales of everything from workout leggings to face wash.   
READ MORE | How to Sell on TikTok in 2023
Back to Top
Business management software
Once you've decided on the appropriate platform for your business, you can leverage a handful of different business management softwares to help run your ecommerce brand more efficiently. Here are a few of our favorites, categorized by software type.
Ecommerce seller software
These days, there are many ecommerce business management software providers to choose from. These platforms support product research, sales analytics, and inventory management tasks, and are essential to staying on top of your operations and finances. Here are our recommendations.
1. Jungle Scout
Because it has the most accurate data on the market, a clean and intuitive interface, stellar reviews, and an Amazon-expert-studded staff (including a 24/7 customer support team), we recommend Jungle Scout first and foremost as the all-in-one solution for ecommerce sellers. 
There are a few other business management solutions on the market that are often compared to Jungle Scout: 
Helium 10. Like Jungle Scout, Helium 10 offers product and keyword research tools, plus finance tracking capabilities. While it doesn't have features comparable to Jungle Scout's Supplier Database, Inventory Manager, or Product Tracker, it does have a mobile app. 
Viral Launch. This platform supports product research and PPC automation for Amazon sellers, and hosts a seller support Facebook Group similar to Jungle Scout's Amazon Competitive Edge group. 
AMZScout. This software offers sales performance insights and product research tools, and supports its users with educational YouTube content.   
2. Amazon seller app
Amazon's mobile app lets sellers monitor and maintain their businesses on the go. You can fulfill orders, edit product images, and draft listings on your mobile device. 
Sourcing 
Unless you go out and harvest materials to make your own products completely from scratch, you'll likely need to connect with a supplier from whom to source your inventory. The following tools make it easy to find manufacturers for private-label products.  
Manufacturer databases
1. Jungle Scout's Supplier Database
Jungle Scout's Supplier Database offers a catalog of high-quality global suppliers. Sellers can view suppliers' clients, confirmed shipments, and supported product niches, search Amazon products by ASIN to identify competitors' suppliers, compare quotes, and generate purchase orders to keep track of your finances in one place.   
2. Alibaba
Similarly to Supplier Database, Alibaba helps connect sellers to suppliers who make comparable products. You can browse suppliers located all over the world who manufacture everything from cameras to pickle jars. 

3. Thomasnet
Thomasnet is another supplier research tool, and a favorite among ecommerce sellers. It allows users to search its directory by product category, company, or brand, then connect with suppliers to get quotes.
Product scanner apps
If you run a retail or online arbitrage business, these apps will help you decide what to sell, based on their online profitability. 
1. Scout IQ
For selling used books, downloading Scout IQ is a no-brainer. This mobile app lets you scan any book's barcode for instant insights on its profitability on Amazon, including list price, buy cost, and seller fees.
2. Profit Bandit
Another barcode-scanning app built to support arbitrage businesses, Profit Bandit uses Amazon's API to indicate a product's profitability online. Scoutly and Scoutify 2 are similar apps.
Shipping and fulfillment 
Free and fast shipping are among the top reasons consumers choose to shop online. If you want to sell hundreds or thousands of units of your product a day, you likely won't have enough time, garage space, or tape to support inventory storage and fulfillment tasks all by yourself. To provide your customers the convenience and speed they expect, you'll need some help. 
Certain ecommerce platforms — like Amazon and Walmart — operate their own fulfillment networks, allowing sellers to store inventory in warehouses scattered around the country and fulfilling orders with legions of fulfillment center staff. 
If you're not using Fulfillment by Amazon or Walmart Fulfillment Services (WFS), you can use a third-party logistics (3PL) provider for your storage and fulfillment needs. While FBA and WFS offer tons of benefits, using 3PLs has its own perks:
Lower storage costs and reduced shipping rates
More control over your inventory and product quality
Dedicated account managers
Multi-channel fulfillment
You can always store your inventory in your own warehouse or storage space, and pack and ship orders yourself — it just takes more time. 
Here are some 3PLs and shipping tools we recommend using:
1. Red Stag Fulfillment
Red Stag Fulfillment offers ecommerce brands packing and shipping services that comply with Amazon's Seller-Fulfilled Prime requirements. Since it doesn't impose storage restrictions or raise fees around holidays and other busy shopping events, Red Stag is a cost-efficient alternative to FBA. 
A2b Fulfillment and ShipBob are other great 3PL options — you can read about them in our guide to FBA alternatives. 
2. Shippo
If you're fulfilling your own orders, you can use software to automatically create shipping labels, track orders, and hunt for mail carrier deals. Shippo lets you do just that, plus schedule outgoing package pickups and send branded shipping notification emails to customers. 
3. Pirateship: 
Pirateship is a free tool that finds discounted shipping rates and creates dozens of shipping labels from a single spreadsheet. 
4. USPS Click-N-Ship: 
Sellers can also print labels, order free boxes, and schedule package pickup through USPS's free Click-N-Ship service. 
Back to Top
Accounting and tax resources
Paying business taxes can be a pain. Fortunately, there's plenty of software out there to help you get it done. 
1. Jungle Scout's Sales Analytics 
Our Sales Analytics feature keeps track of everything from seller fees to profits to PPC ad spend all in one place, with powerful performance analytics to help you manage every detail of your business finances. While we think it's the best option for Amazon sellers, there are certainly other options on the market.
2. Intuit Quickbooks
Quickbooks offers paid bookkeeping, invoicing, tax, and payroll support for small businesses, as well as free educational resources for small business owners. 
3. Xero
Another accounting solution, Xero is particularly helpful for business owners who are brand-new to accounting and not sure how to manage their business finances. 
4. GoDaddy Bookkeeping
Popular among Amazon sellers, GoDaddy Bookkeeping uses a "cash-based accounting" system that simplifies tracking expenses and sales over time. 
5. Inventory Lab
Also helpful for managing inventory, this software tracks sales, profits, and losses, which supports accounting tasks. 
Back to Top
Marketing software
Successful ecommerce business owners market their products online in a variety of ways. From search engine ad services to social media post planners, here are the best tools to use to market your products online. 
Ad platforms and tools
1. Google Ads
Google is among the first places consumers look when they shop online. Running Google ad campaigns allows your business to compete for millions of views with some of the biggest brand names in the world.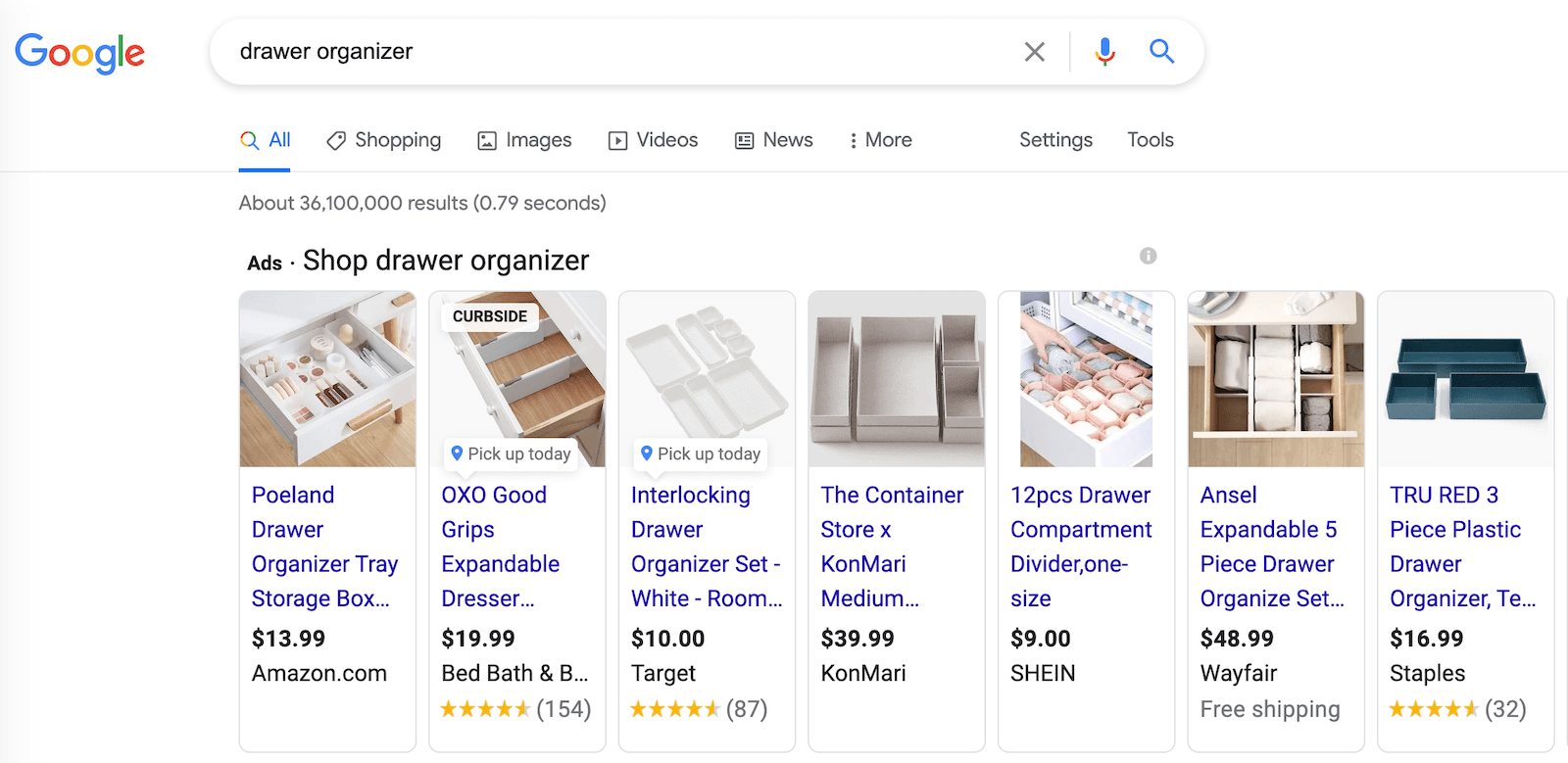 Visitors can easily compare your product to similar options side-by-side, then click through to your product listing to make their purchases. 
Google also offers world-class analytics for its ad service — its audience and keyword targeting and performance metrics get extremely granular, so you know exactly how well your campaigns are working. 
2. Facebook Ads
Facebook ads are also effective for targeting specific audiences and racking up millions of views for your product. The Facebook pixel helps sellers track product clicks and conversions driven by their Facebook Ads, so they can optimize their ad content and audience targeting strategy. 
3. Amazon PPC
Amazon is now a formidable force in the retail advertising space. Amazon sellers know that well-run PPC campaigns are key to earning more exposure for a product — three in four use at least one form of Amazon PPC, many using multiple at a time. 
If you have trouble managing your Amazon PPC ads, you're not alone — managing PPC is a top concern amongst Amazon sellers. We've published several guides on how to handle PPC to help sellers make the most of their ad budget. 
4. Amazon Attribution
Amazon Attribution allows sellers to measure the impact and ROI of their off-Amazon marketing. It displays metrics like click-through-rate, impressions, and purchases associated with marketing assets you've created through social media, search engine ads, and email campaigns, so you can focus your energy on the marketing channels that work — and save time by nixing those that don't. 
Social media marketing
While your branded social media posts act as their own form of marketing, running ads on apps like Facebook, TikTok, and Instagram is a good idea. 
We've written at length about marketing techniques for TikTok, including promotional ideas — like giveaways, hashtag challenges, and hiring influencers — that also work on other social channels. 
To maximize your social media marketing, it helps to use apps for creating scheduling posts, as well as analyzing engagement metrics so you can tweak your strategy as needed. Here are our favorites. 
1. Meta Business Suite 
Designed to support content across both Facebook and Instagram, Meta Business Suite lets you create and schedule content, view performance insights, interact with customers, and leverage monetization tools from one dashboard. 
2. Sprout Social
Sprout Social is a comprehensive social media planning and analytics tool that's especially helpful for ecommerce sellers. Users can schedule posts across seven different social media platforms using audience targeting and suggested "optimal send times." Sprout Social gauges your brand's favor among consumers by tracking metrics like engagement and impressions, as well as running a "sentiment analysis" of your brand's social media comments, Google reviews, and Reddit posts. 
3. Later 
Later lets you schedule posts for Instagram, Pinterest, and TikTok, allows you to link Instagram posts to your product listings, and tracks engagement metrics. Its intuitive "visual planner" lets users arrange potential posts in a grid, so you see exactly how your content will appear in your Instagram feed and optimize your brand's unique aesthetic. Planoly is a comparable option. 
Email marketing 
Though it sounds a little old-school in 2023, you can still get a lot done with the right email marketing strategy. Sending timely information about deals and sales, sharing interesting content through a newsletter, or promoting new products with eye-catching, image-rich formatting can both rekindle interest from past customers and reach new audiences. 
The following tools will help you manage your email strategy, from planning campaigns to building contact lists:
1. Gmail
Business owners can easily create custom email addresses so their support and sales contact information looks more legit. 
2. Klaviyo
Klaviyo is email marketing software developed specifically for ecommerce. It allows you to A/B test email campaigns, segment your audiences, and create emails with drag-and-drop templates. 
3. Mailchimp
Mailchimp is another email marketing software option — but it handles more than just email campaigns and audience analytics. You can also use it to build a branded website and schedule social media posts.  
Graphic design
1. Photoshop
To create the kinds of graphics and logos today's customers find appealing, Microsoft Paint won't cut it — you'll need sophisticated graphic design software. If you have the budget and skills to handle your own graphic design, the best in the business is Adobe Photoshop. 
2. Canva
A great alternative to more expensive tools, Canva's free plan has enough features to support a small business's needs. You can use its many templates to create all kinds of marketing assets, like logos, infographics, and newsletters. It even supports social media use, with perfectly-proportioned templates for Instagram posts, and Facebook banners, and YouTube graphics. 
3. Inkscape
If you create and edit your own logos, product images, and infographics, check out Inkscape. This design software lets you create vector graphics similar in quality to what you can make with Adobe Illustrator, but for free.
Back to Top
Organizational tools
It's easy to lose track of all the separate tasks involved in running an ecommerce business — just look at all the different areas we've covered so far! 
To stay on schedule with business operations like inventory orders, ad and promotional campaigns, and taxes, you could use an all-in-one management software solution like Jungle Scout. But we also recommend using an online calendar to keep track of other events and tasks. 
1. Google Calendar
A few nice things about using Google Calendar to manage your business: it's free, and you can make collaborative events and reminders, integrate Zoom capabilities, and even share entire calendars with other users. Take our FBA Seller Calendar, for instance — in one click, you can import all the important dates, holidays, and events we've highlighted to your own personal or business account. 
2. Basecamp
If you want a more robust project management solution to keep track of workflows and assignments, you can use software like Basecamp. This tool supports organizations that take input from multiple collaborators, and is a great option for ecommerce business owners who work with business partners, employ staff, or contract with freelancers. 
3. Asana
Asana is another cloud-based project management tool on the market. It's similar to Basecamp, but Asana has a free version that supports up to 15 users, whereas Basecamp only offers paid plans. 
Back to Top
Other free ecommerce tools
Not all seller software comes with a price tag — some of the most helpful online tools are completely free. Here are a few to bookmark. 
1. Sales estimator
Jungle Scout's free estimator tool projects monthly sales numbers for Amazon product categories, based on marketplace and Best Seller's Rank. It's a handy tool for product research, whether you're launching your business, adding a new product to an existing portfolio, or checking up on your competitors. 
2. FBA profit calculator
Another free tool from Jungle Scout, this one helps Amazon sellers understand their seller fees, revenue, and profit. We recommend using it both before and after you launch your business, to estimate profitability and stay on top of fees as your business grows. 
3. Salecalc
Another free fee and profit calculator, Salecalc breaks down estimated expenses and earnings for products sold on eBay, PayPal, Amazon, and Etsy. You can toggle specs like shipping weight and sales tax to get pretty precise estimates.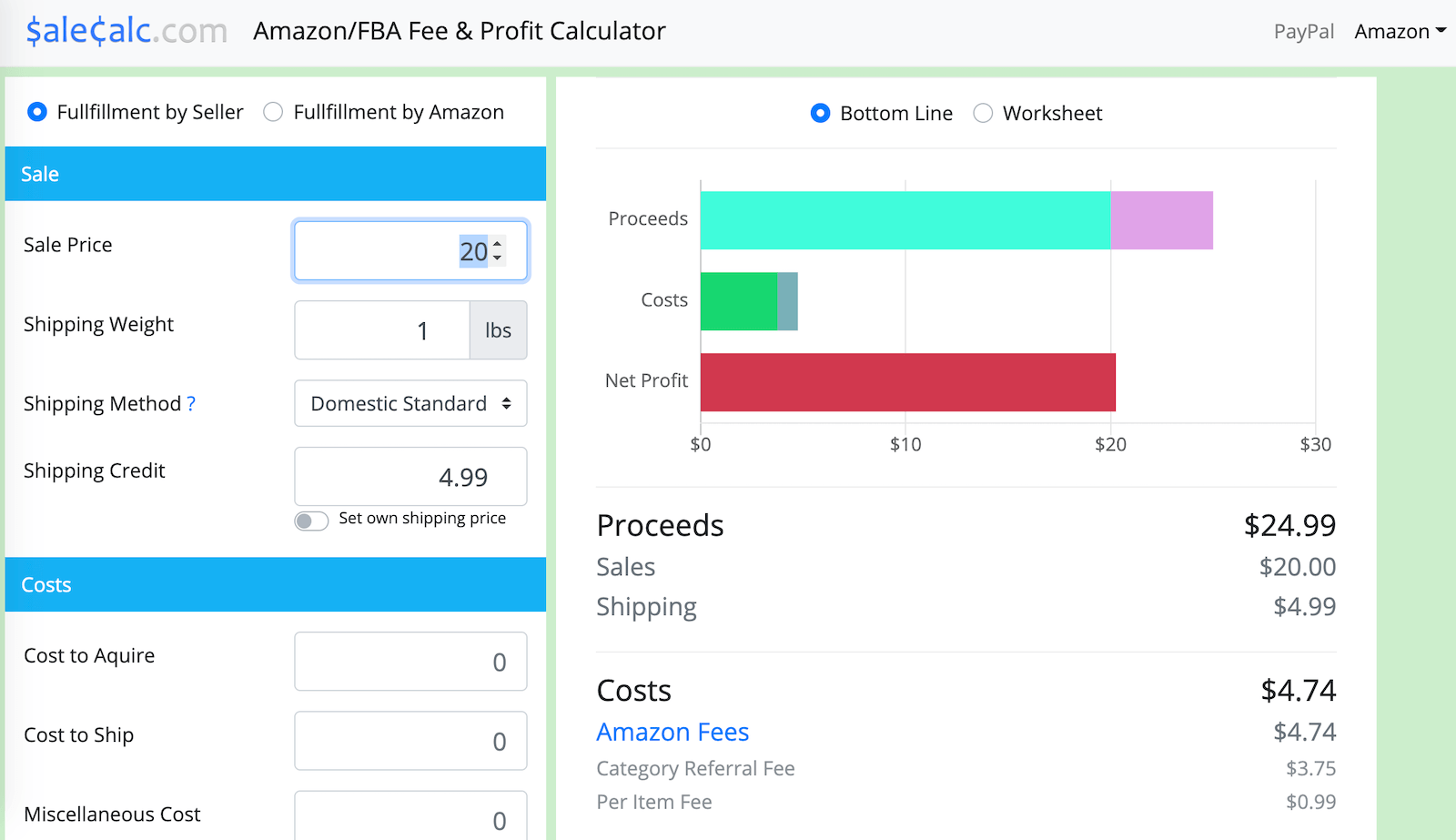 4. Keepa
Keepa is a browser extension that displays price, sales rank history, and other data in handy charts for any Amazon product. It's most commonly used for product research, but ecommerce sellers can also use it to A/B test product listings.  
5. Freelancer Marketplaces
If you're feeling overwhelmed by all of these recommendations, you can get the help of professional talent online through freelance platforms online. Sellers can hire talented freelancers to handle virtually any aspect of running their businesses, from professional product photography to holistic business consulting. 
Choose the best ecommerce software for your business
Ecommerce entrepreneurs are by no means required to use paid software to launch and grow their brands. With all the free tools available, it's possible to build a profitable business without spending a dime on programs or apps. Let your budget determine what software is right for your business — you can always start with free tools and use the profits you earn to reinvest in paid programs. 
While there are endless seller software options available, you can think of this list as a best-in-class breakdown of what you'll need to efficiently run every aspect of your ecommerce business. These software programs, apps, and tools come recommended by real ecommerce brand owners, including the Amazon experts here at Jungle Scout. 
What software do you use to run your ecommerce business? Let us know what works for you in the comments below.