When Mattel first announced they were venturing into the realm of film and producing a Barbie movie, it sparked intrigue, excitement, and just a hint of skepticism. Could a classic toy, first launched in 1959, make a successful transition to the silver screen in 2023? 
As it turns out, not only did the Barbie movie outperform expectations with a box office opening of $155M (the biggest film debut of the year), it also reignited consumer interest in Barbie. The film's impact has been significantly felt in the toy aisle (or, more accurately, the virtual toy aisle), as reflected in Jungle Scout Cobalt's Amazon sales data.
In this week's Amazon Market Watch, we'll cover consumer trends for Barbie products on Amazon, examining the resurgence in brand performance for Barbie and its parent company, Mattel. From nostalgia-driven purchases to the impact of inclusive branding, there's much to learn from Barbie's comeback. 
So sit back, grab a bucket of popcorn, and join us on this exciting exploration of the Barbie takeover, Mattel's genius marketing strategy, and the lessons we can glean from it.
The Barbie Effect: Soaring Sales Figures on Amazon
In the last six months, the brand revenue for Barbie skyrocketed by 60% YoY, reaching an astounding $314.5 million, which is 100%+ more than the current revenue for Barbie movie ticket sales. Clearly, the buzz around the Barbie movie has not just drawn viewers to the theaters but also converted them into customers.
The success of the Barbie Movie has reinvigorated the Barbie brand, leading to a remarkable sales boom on Amazon and making it clear that Barbie isn't just a toy from yesteryear; it's a cultural phenomenon that continues to evolve and captivate consumers worldwide.
Doll Sales Soar: Barbie's Amazon Triumph
Central to the Barbie resurgence story is the remarkable upswing in Barbie doll sales on Amazon. As the primary product of the Barbie brand, the dolls have always been a benchmark for the brand's success. The recent increase in doll sales underscores the enduring appeal of Barbie and how effectively the brand has leveraged the excitement around the movie to boost product sales on Amazon.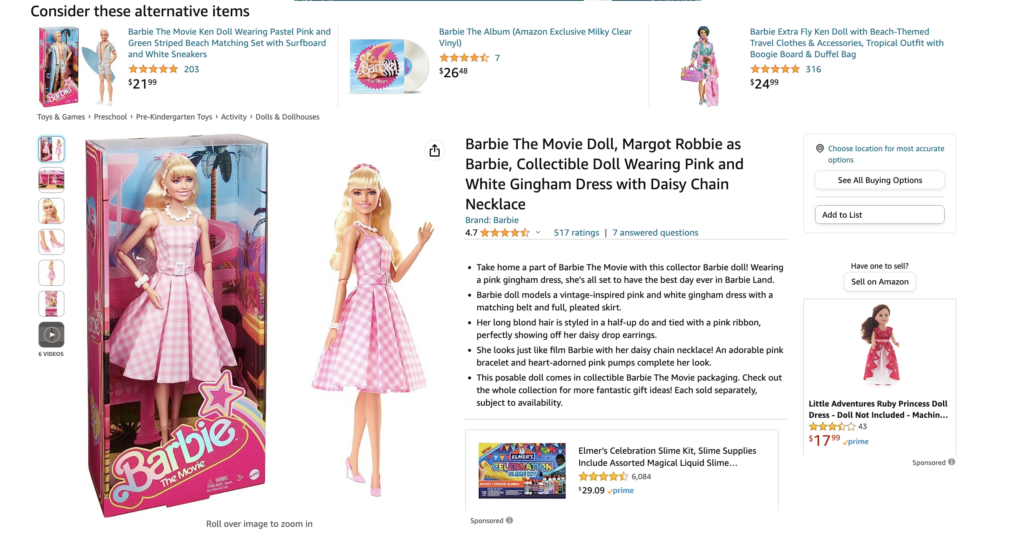 Margot Robbie as Barbie has truly captured consumer interest, witnessing a remarkable revenue surge of 100% over the past six months. This translates to an impressive $1.1M in revenue, showcasing the appeal of the Hollywood star's portrayal and her captivating influence on the Barbie brand.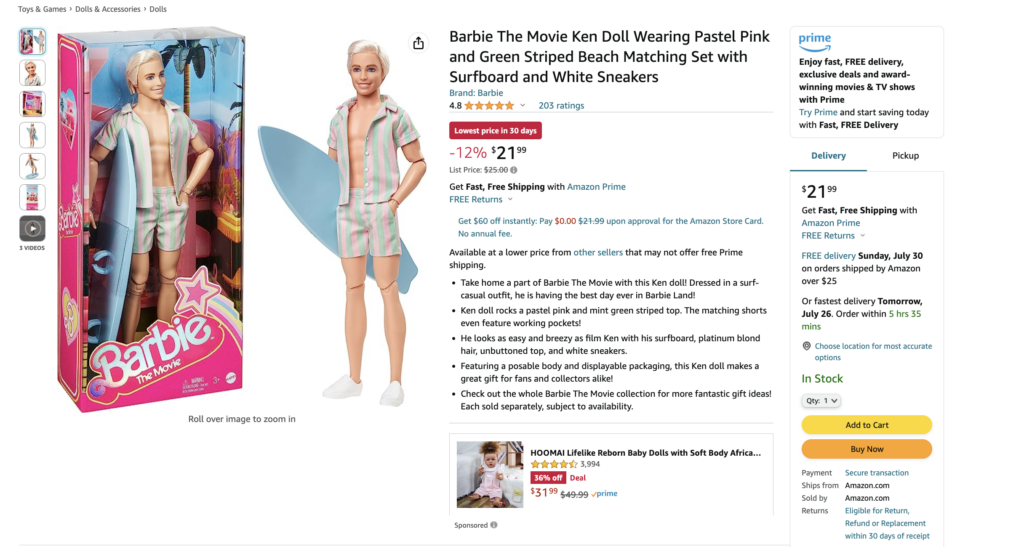 While the Margot Robbie Barbie has garnered impressive sales, the Ryan Gosling Ken Doll matches the same phenomenal 100% revenue increase over the past six months and an impressive $1.2M, slightly edging out the revenue for the Margot Robbie Barbie.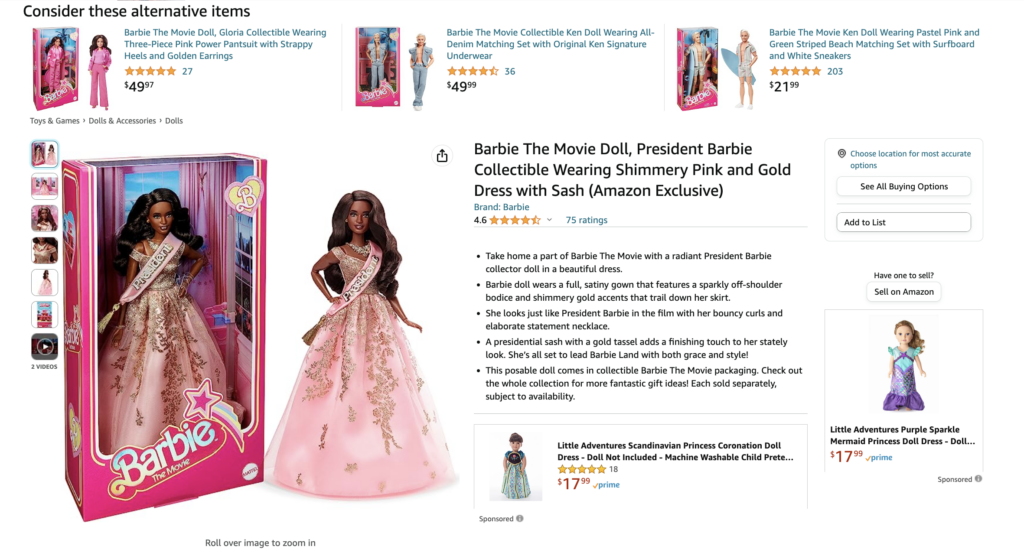 President Barbie, another character from the Barbie Movie, has also seen a notable uptick in popularity, evidenced by her own revenue boom of an impressive 100% over the past six months and a commendable $641K in sales. 
Mattel's strategy of releasing a line of dolls that directly correspond with the characters and themes in the movie created a tangible connection between the cinematic experience and the physical dolls. This strategic move ensured that the excitement around the film translated into a surge in doll sales.
A Complete Barbie Experience: Impressive Sales of Barbie Accessories 
Barbie wouldn't be Barbie without her accessories, and the sales figures on Amazon certainly reflect this. From Barbie's dream house and convertible car to an extensive wardrobe of stylish outfits, these additions have always been integral to the Barbie experience. The resurgence of the Barbie brand on Amazon has been mirrored in the sales of these accessories, contributing significantly to the overall Barbie sales surge.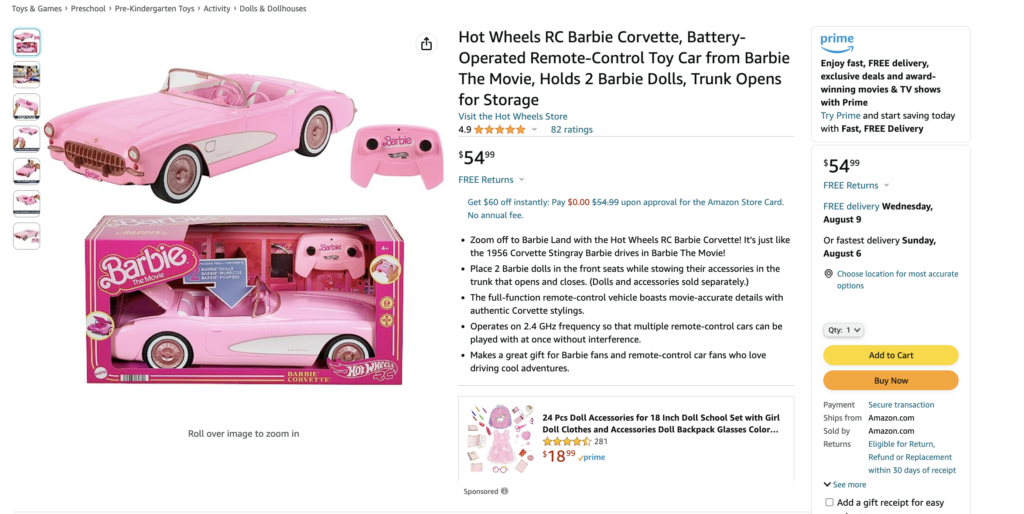 The Hot Wheels RC Barbie Corvette has seen a truly staggering surge in revenue, skyrocketing by an astonishing 2,373% over the past six months.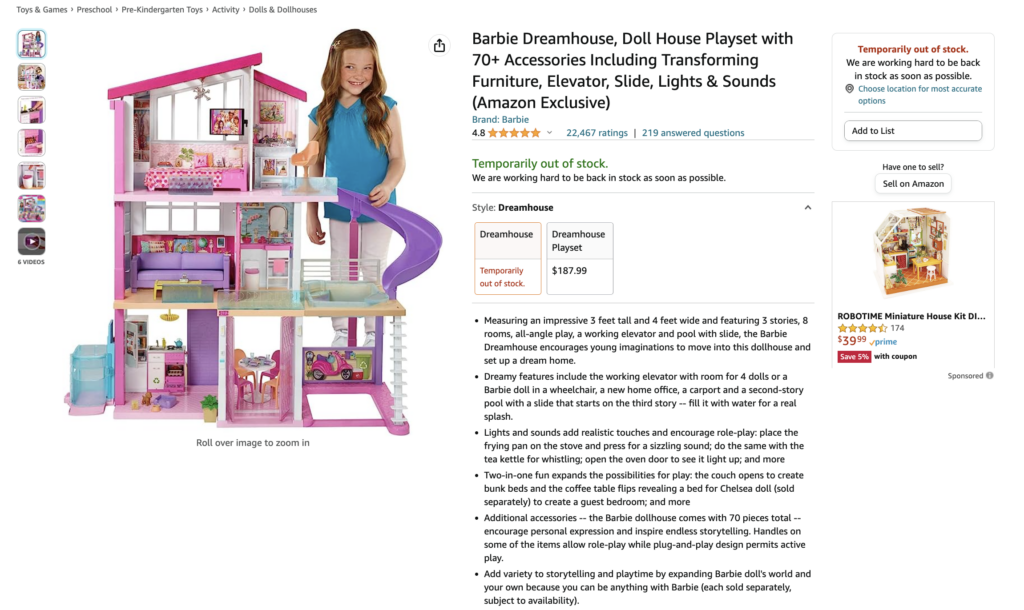 Drawing directly from the magic of the Barbie Movie, this Barbie Dreamhouse has witnessed an astronomical surge in revenue, escalating by an astounding 2,109% over just the past 30 days.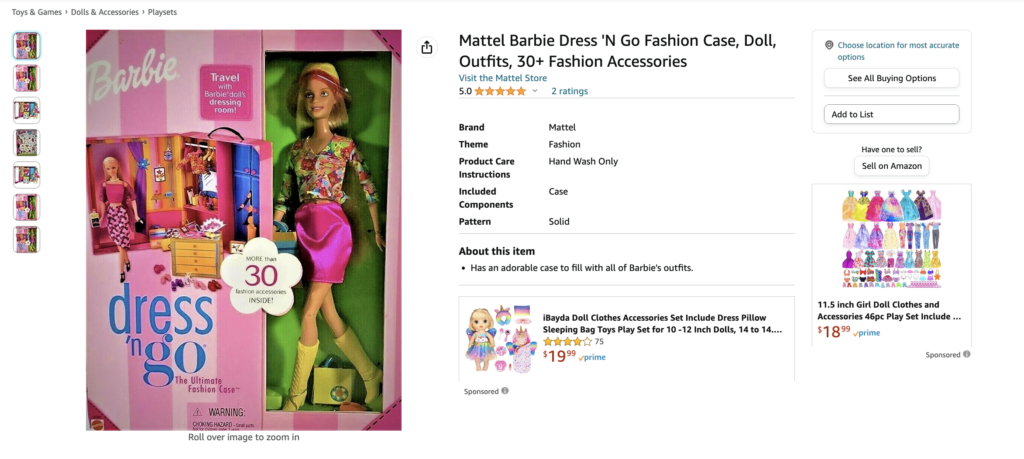 Mattel's Barbie Fashion Case, a treasure trove boasting more than 30 glamorous accessories, has seen a dazzling 168% revenue surge in the last 30 days alone.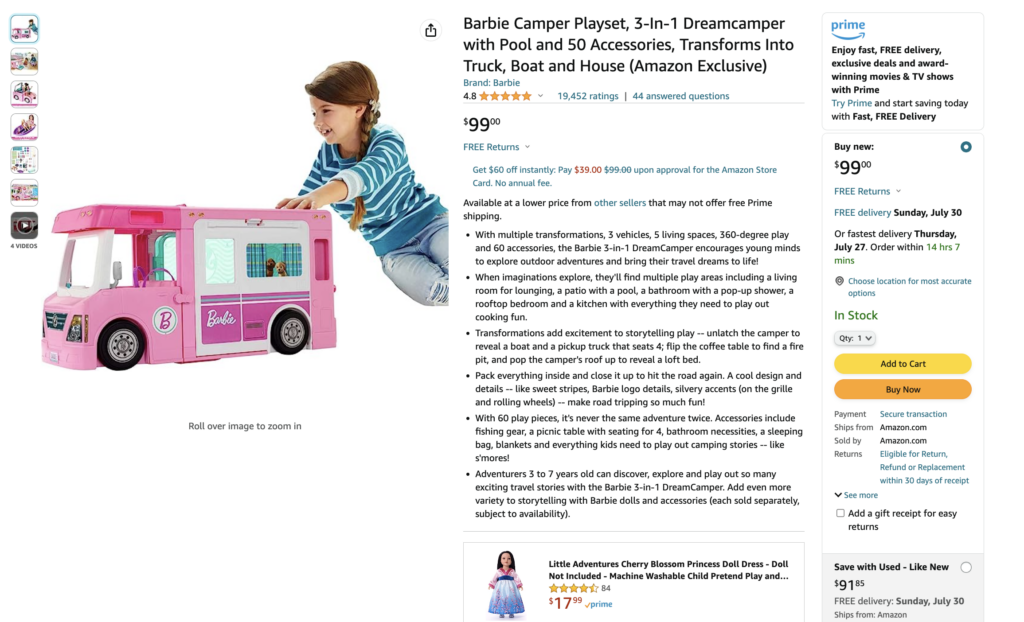 The Barbie Camper, an iconic accessory in the Barbie world, has also joined in on the sales surge witnessing a robust 40% revenue increase over the last 30 days, proving itself to be a must-have item for fans.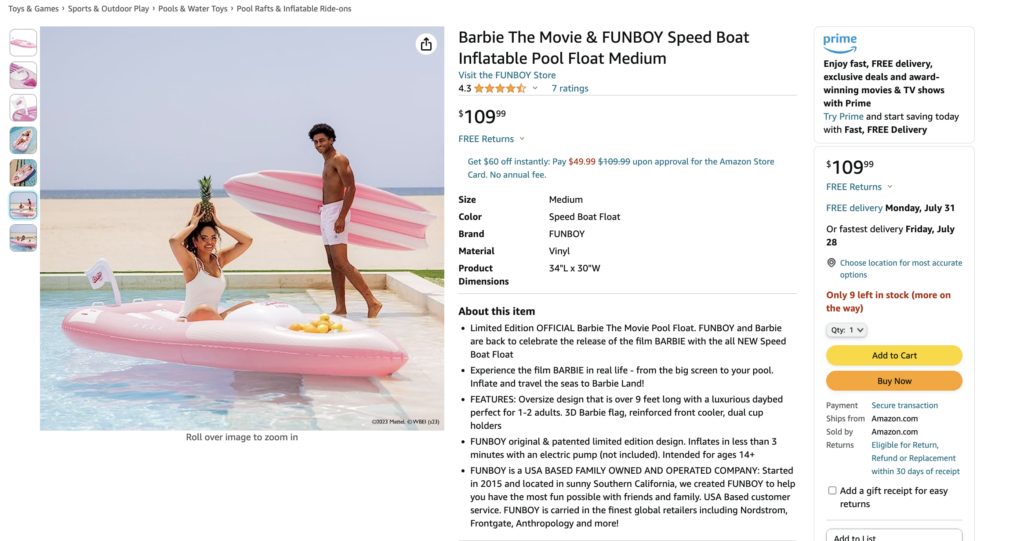 Adults are indulging in Barbie accessories, too, proving that Barbie's appeal truly transcends across generations, which is evident by the 40% revenue increase for this Barbie Speed Boat in the last 30 days. 
Dressing Up: The Boost in Barbie Outfits and Clothing Sales
One striking testament to the enthusiasm surrounding the Barbie movie was the widespread phenomenon of moviegoers dressing up in Barbie-inspired outfits to attend the screenings. Across the country, theatres were filled with vibrant pink dresses, classic Barbie suits, and even more imaginative ensembles representing Barbie's vast career history, from astronaut suits to presidential attire.
This passion for Barbie-themed clothing didn't just stop at the theatre doors, though. It translated into a noticeable spike in demand for Barbie outfits and pink clothes on Amazon. This trend is yet another instance where the movie has fueled sales and search growth for Barbie-related products.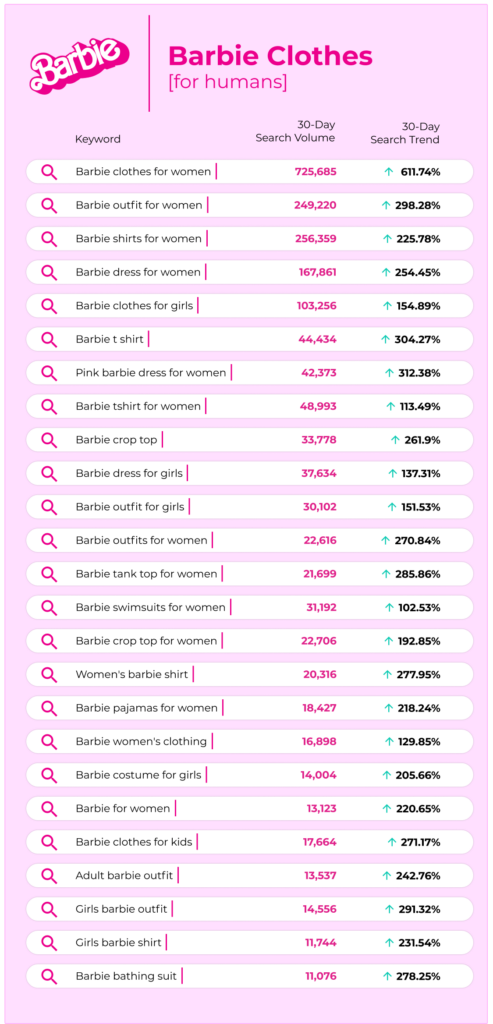 From traditional Barbie t-shirts to the more to the more attention-grabbing pink costumes, consumers flocked to Amazon to bring a piece of the Barbie world into their wardrobes.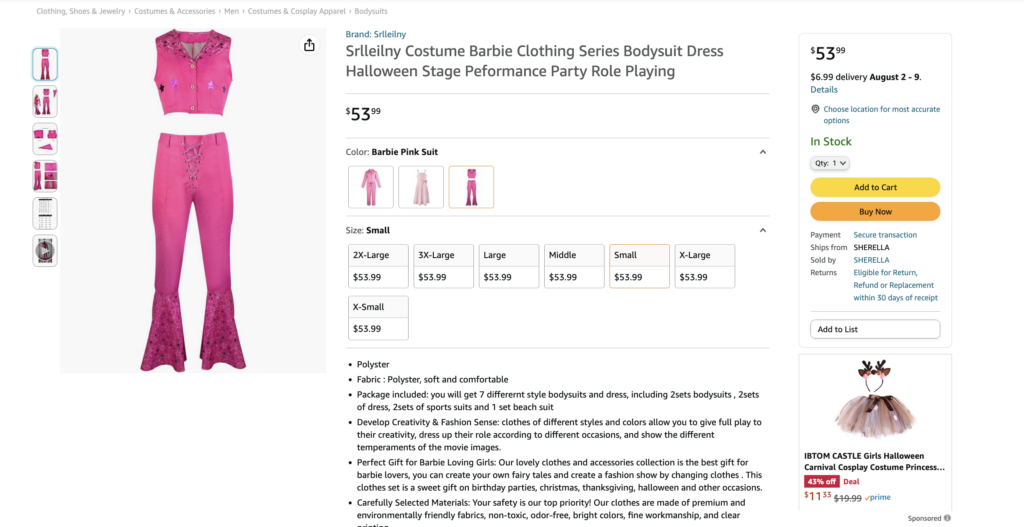 Cashing in on the on-screen glitz of the Barbie Movie's Venice Beach scene, this vibrant Barbie Jumpsuit has seen an impressive revenue spike of 100% in the span of 30 days.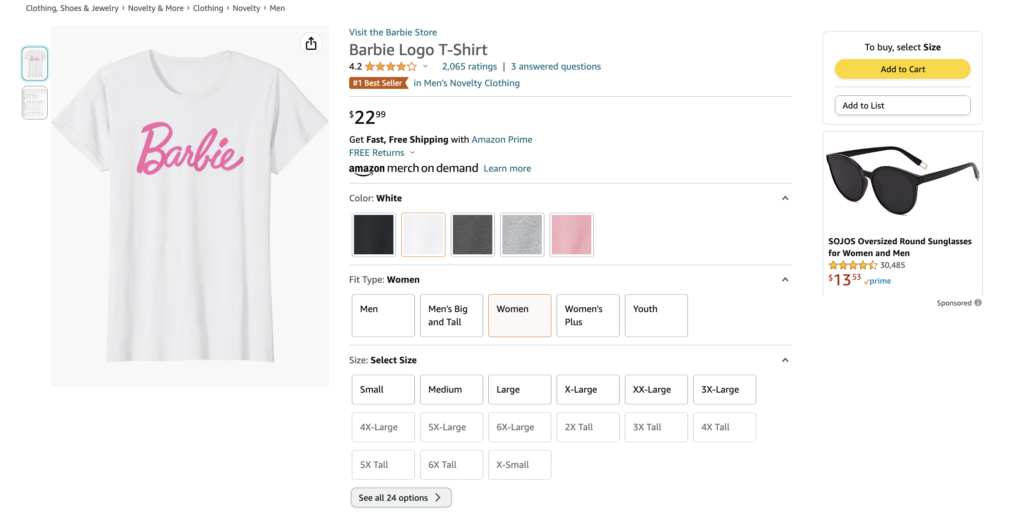 Sporting a whopping 255% revenue increase in the last 30 days, this Barbie Logo T-Shirt has managed to earn the #1 Best Seller badge in the fiercely competitive Men's Novelty Clothing category on Amazon.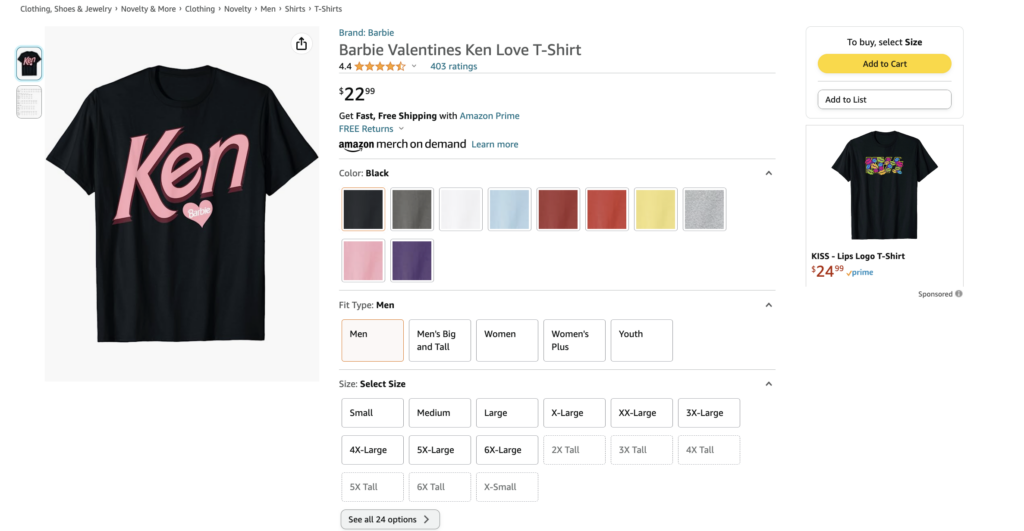 This Ken T-Shirt, a homage to Barbie's iconic partner, achieved a robust 259% revenue surge in the last 30 days, representing the number of male attendees spotted at the recent Barbie movie premiere. This just goes to show that everyone can partake in the Barbie magic!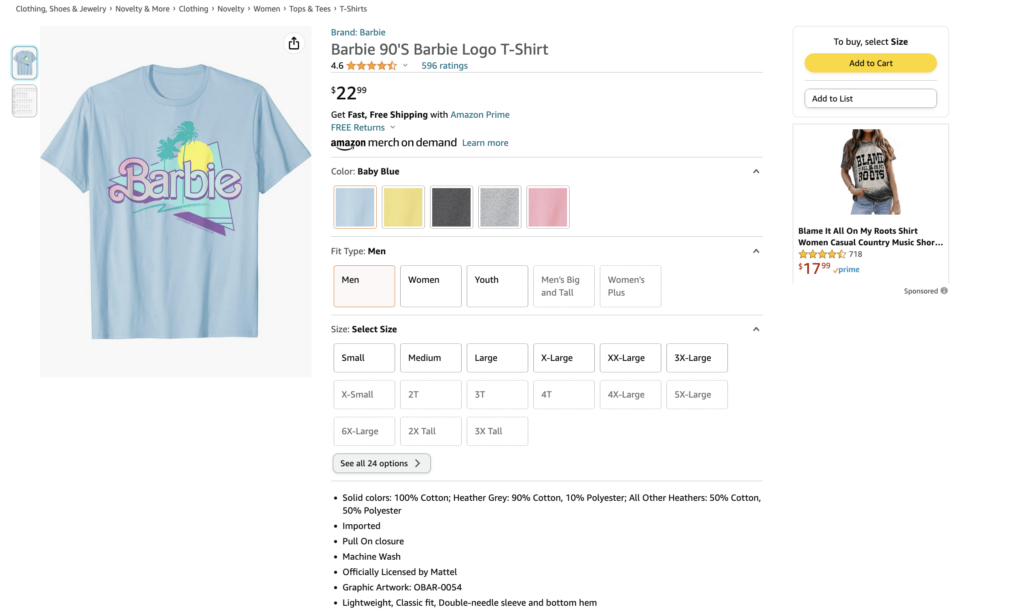 Riding on the waves of nostalgia (taking a page from the Barbie Movie marketing plan), this 90's style Barbie T-Shirt had a spectacular 312% leap in revenue over just 30 days. 
These consumer buying trends underscore how successfully the movie has galvanized fans' enthusiasm and translated that excitement into product sales.
The Power of Search: Barbie Keyword Trends on Amazon
The iconic doll and its related merchandise have attracted a surge of searches on Amazon. The keyword 'Barbie' was searched over 1.3 million times on Amazon in the last 30 days, up by an impressive 30.08% MoM.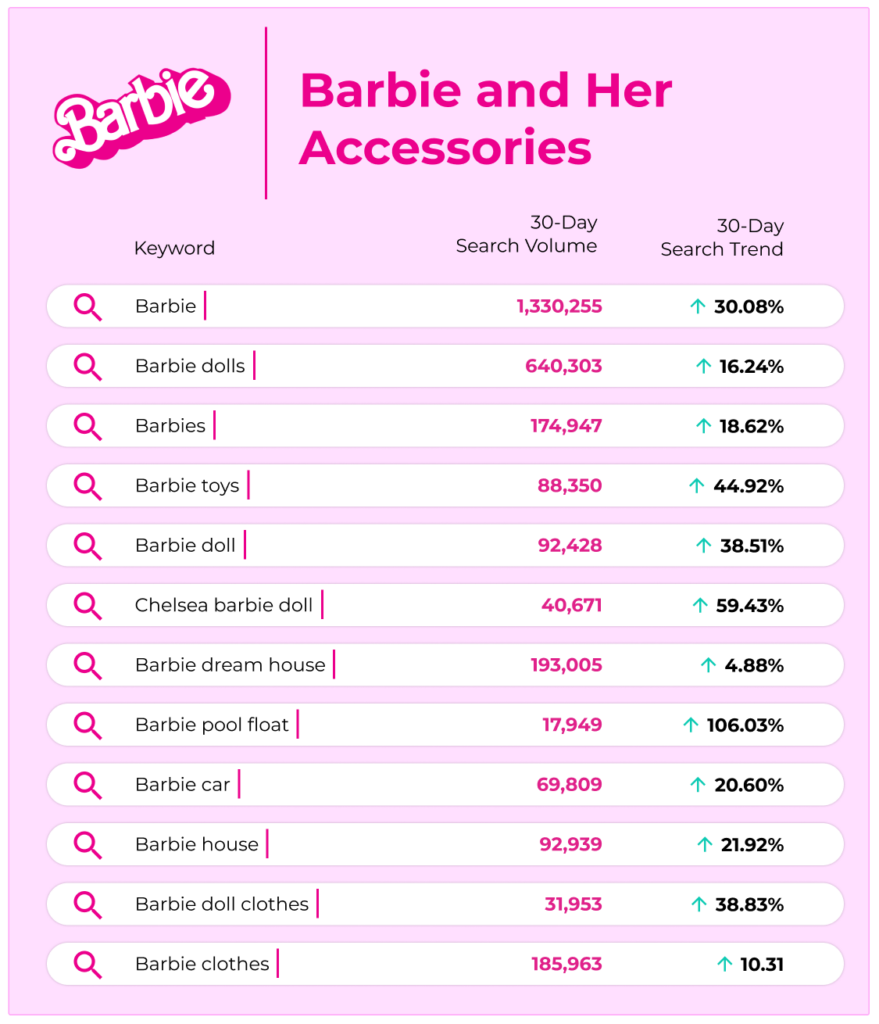 Alongside the doll and her accessory sales, there has been a meteoric rise in the interest in Barbie-themed jewelry on Amazon.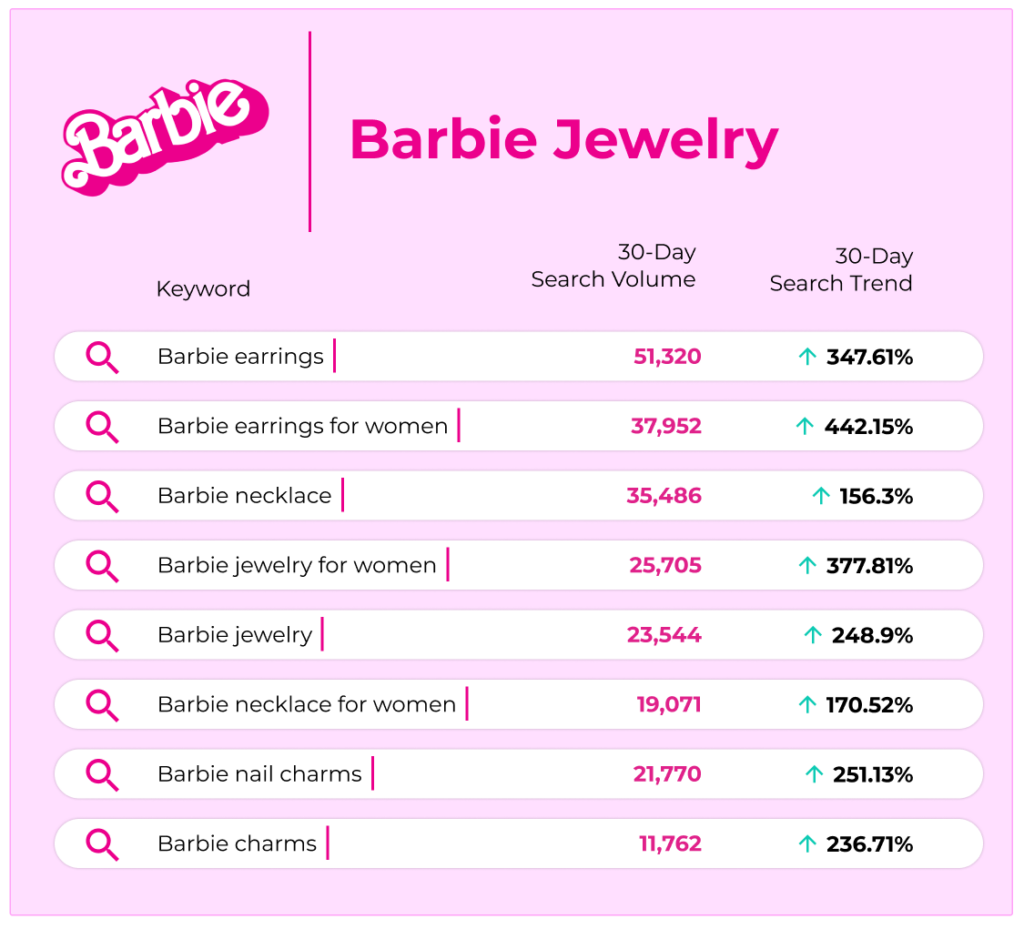 Barbie's comeback has extended beyond the toy aisle and into party planning, as demonstrated by the surge in Amazon searches for Barbie-themed party decorations.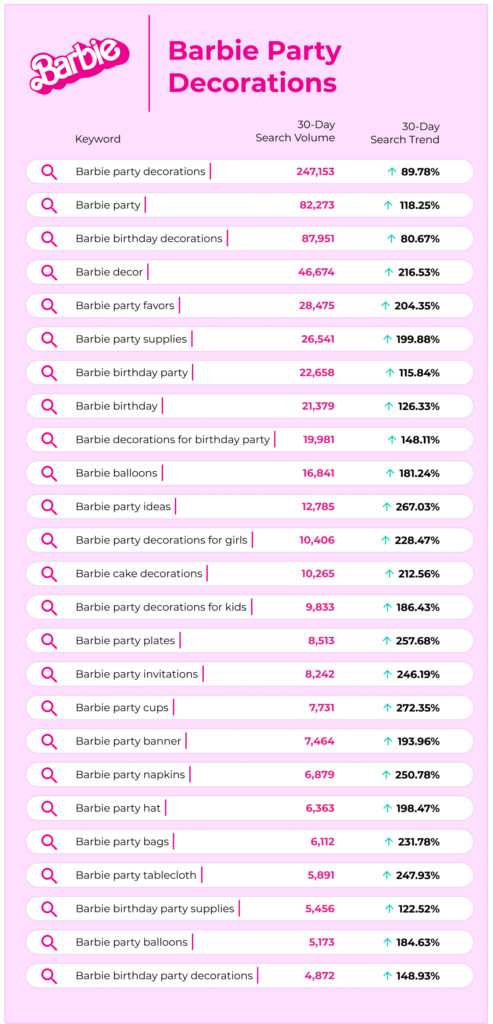 amazon-market-watch-chart-img-5.png
The significant uptick in 'Barbie' related keyword searches paints a picture of a brand that's not just back on track but arguably more relevant than ever. This begs the question: how did Mattel do it? 
Behind the Scenes: How Mattel Orchestrated this Barbie Boom
Understanding the recent Barbie boom requires us to dive into the strategic moves made by Mattel, the company behind Barbie. Mattel's masterstroke lies in their understanding of their audience, clever use of multimedia, and the evolution of the Barbie brand to resonate with consumers.
1. Leveraging the Power of Film
The decision to produce a Barbie movie was a significant and calculated risk on Mattel's part. By expanding Barbie's presence into the world of film, Mattel was able to reach a larger, more diverse audience. The movie appealed to both the original Barbie fans and a newer generation of children. The success of the film has undeniably been a driving factor in the significant increase in Amazon searches and product sales.
2. Capitalizing on Nostalgia 
The Barbie movie did an excellent job of not only entertaining audiences but also tapping into a powerful sense of nostalgia. By intertwining nostalgia into their strategy, Mattel created a demand for Barbie products among adults who grew up with Barbie. Many viewers were reminded of their cherished Barbie memories through the film, which led to an increase in sales as adults began to buy Barbie products for their children and themselves.
3. Reinventing the Barbie Brand
Another factor might be the shift in Barbie's branding in recent years. Mattel has made significant efforts to promote inclusivity and diversity in its new Barbie lines, including 'Dolls of the World' and 'Barbie Fashionistas.' These lines offer dolls with different body types, skin colors, hair textures, and professions. This shift has been reflected in the movie, making both the film and the product line more appealing to a broader audience.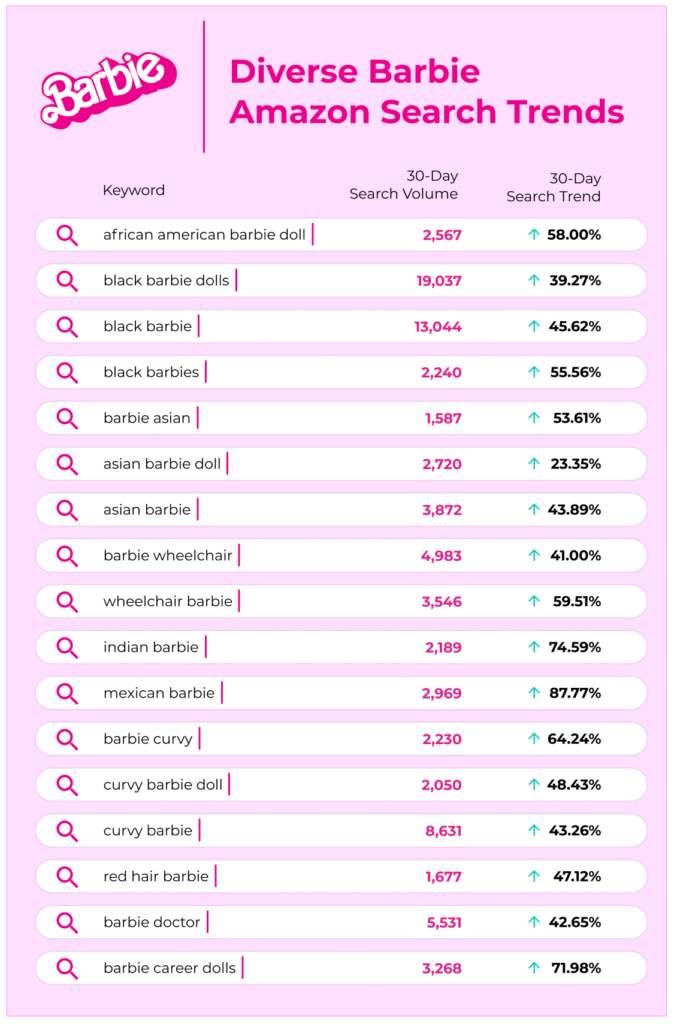 There has been a noteworthy uptick in Amazon searches for diverse Barbies. This trend demonstrates that consumers are not only seeking out Barbie dolls but are specifically looking for dolls that mirror a wide array of ethnicities, cultures, and experiences.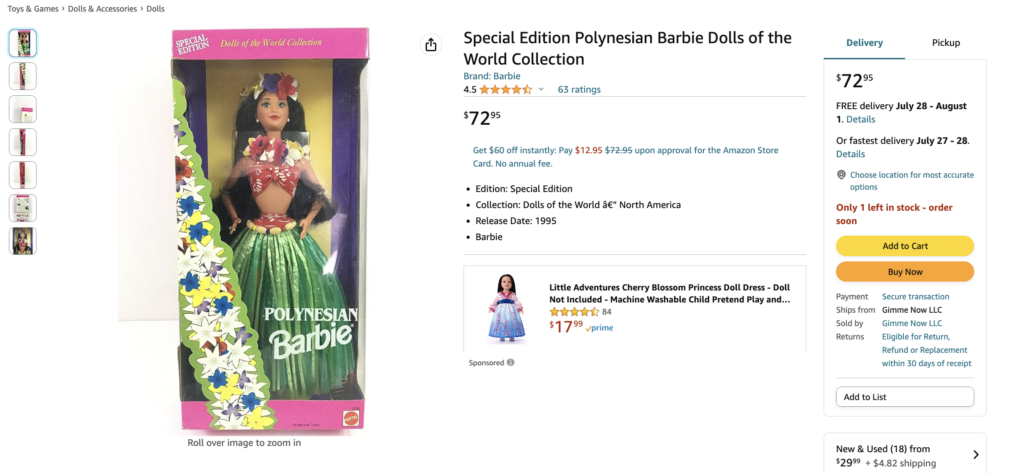 Elevating the allure of diversity in the Barbie universe, the Special Edition Polynesian Barbie from the Dolls of the World Collection has seen a remarkable 39% uptick in consumer interest.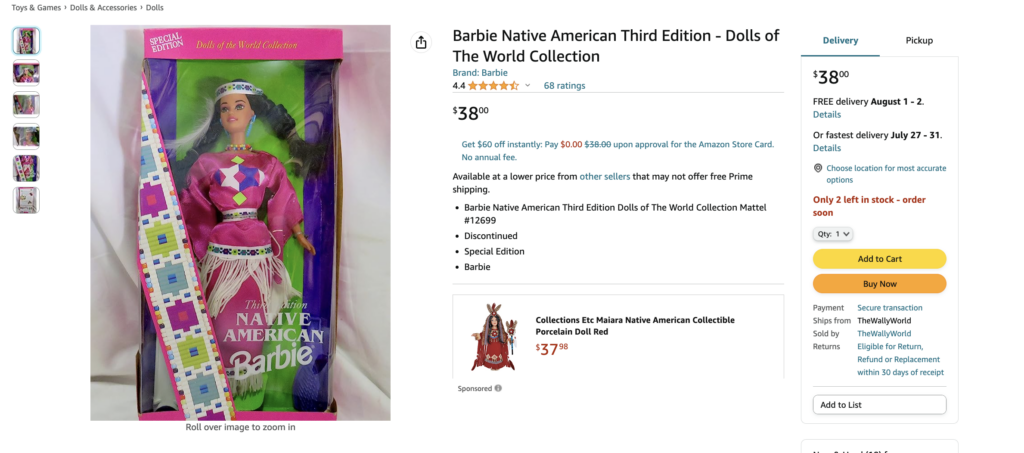 The Native American Barbie from the Dolls of The World Collection is experiencing its own share of the spotlight in the midst of Barbie's resurgence with a 14% surge in revenue.
4.Strategic Marketing on and off Amazon
Mattel effectively used Amazon's platform to reach their target audience. Through keyword optimization, effective ad placement, and an eye-catching storefront design, Mattel ensured Barbie products were easily discoverable by consumers.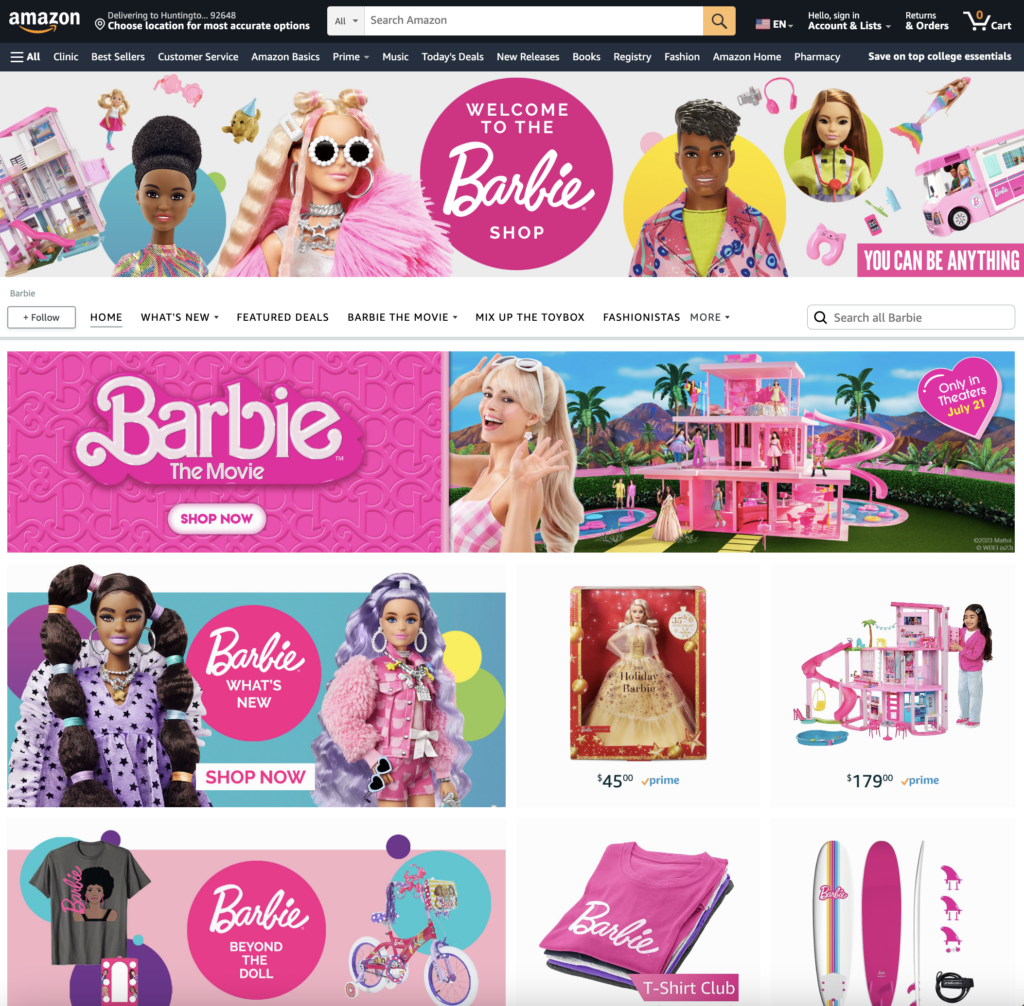 Capitalizing on Amazon's immense reach, Mattel also orchestrated an impactful advertising campaign for the Barbie Movie directly on Amazon's homepage.
Mattel's advertising and marketing strategy extends far beyond the ecommerce giant. From social media platforms to Google and other online avenues, Mattel's marketing team devised an all-encompassing approach to ensure that Barbie was omnipresent in the lead-up to and following the movie's release. This trend did not go unnoticed by consumers.
This reel by @daltonsmiley highlights the astounding impact of Barbie's pervasive marketing strategy. It subtly illustrates how deeply ingrained the Barbie branding has become in the consumer psyche to the point where anything drenched in pink prompts an automatic association with Barbie.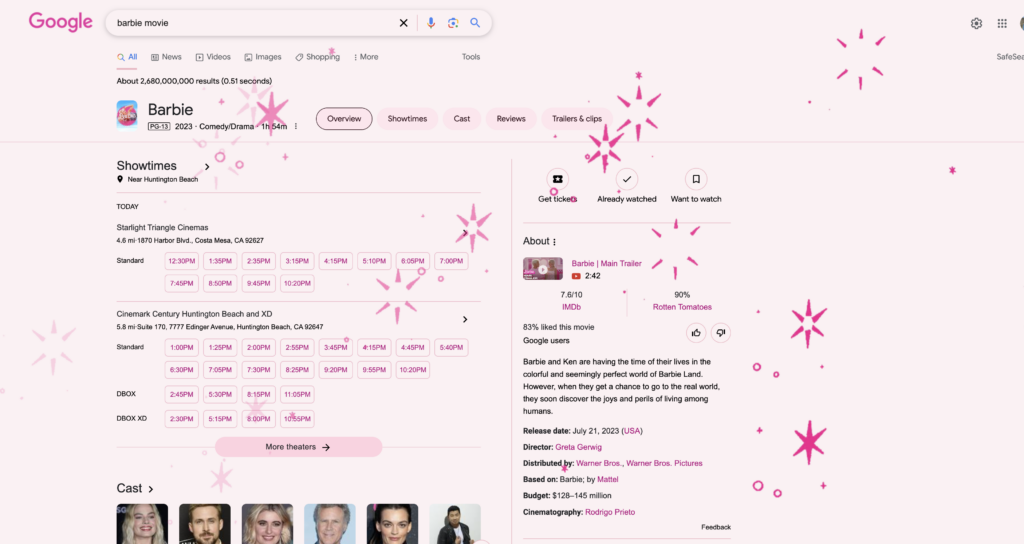 Mattel's Google takeover presented a visual feast as the tech giant's homepage was transformed into an enchanting canvas, with dynamic animations and a vibrant wash of Barbie's signature pink across the entire page. This innovative strategy created an immersive, interactive experience that was as eye-catching as it was memorable, truly capturing the iconic spirit of the Barbie brand.
Mattel also harnessed the power of social media to build hype for the Barbie movie and its related products. They encouraged fans to share their Barbie-inspired outfits and Barbie poster memes, successfully generating organic buzz around the movie and the brand. This social media strategy not only increased brand visibility but also helped create a strong community of Barbie enthusiasts who could amplify the brand's message.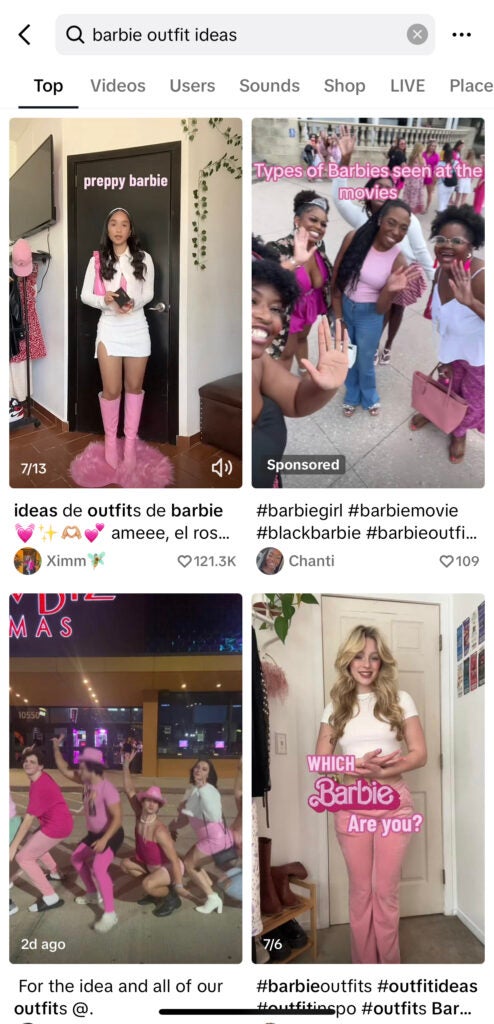 TikTok pages "Barbie" and "Barbiethemovie" have a combined following of 2.7M TikTok users, and barbie-related hashtags on TikTok are racking in views: 
#barbie has 58.2B views
#barbiegirl has 12.6B views
#barbiemovie has 5.5B views 
#barbiedoll has 3.7B views
It is safe to say that the Barbie Movie didn't just reinvigorate the Barbie brand; it created a cultural wave that extended far beyond the cinema screens and into the fashion choices of its fans, subsequently boosting Amazon sales. This trend is yet another testament to the enduring appeal of Barbie and a clear indication of how a brand can leverage pop culture to drive consumer engagement and sales.
Lessons to Learn from Barbie's Comeback
Barbie's triumphant return offers more than just an inspiring comeback story; it provides key lessons about the power of brand evolution, nostalgia, and understanding consumer preferences.
This resurgence proves that brands with a rich history, like Barbie, can reinvent themselves to appeal to modern consumers without losing their core identity. Whether it's through creating diverse product lines, exploring new media avenues like film and social media, or understanding the power of nostalgia. Barbie's revival provides crucial insights for brands striving to stay relevant in today's rapidly evolving retail landscape.
About This Report
The product data in this report is representative of the U.S. Amazon market. Market insights on Amazon products were sourced from Jungle Scout Cobalt, an industry-leading market intelligence, advertising optimization, and ecommerce reporting platform powered by nearly 2 billion Amazon data points. Year-over-year comparison data reflects the period of January 1, 2023 – July 22, 2023, as compared to January 1, 2022 – July 22, 2022. 
We encourage you to share, reference, and publish this report's findings with attribution to "Jungle Scout Cobalt" and a link to this page.
For more information, specific data requests, media assets, or to reach the report's authors, please contact us at [email protected].