If you're looking for ways to monetize your blog, using display ads is without a doubt one of the easiest places to start. In this article, we're going to be comparing AdSense vs AdThrive side-by-side so that you can see which one is the best choice for your website.
Alongside the money you make from display ads on your site, you can still use other monetization strategies such as affiliate marketing and sponsored content. This combination can help you maximize the ROI for your blog, making you money for every view you get!
AdSense vs AdThrive: The Main Differences
In a rush? Here are the main differences between AdSense and AdThrive:
Anyone can apply for AdSense because there is no minimum traffic requirement, whereas AdThrive is a premium ad network that requires a minimum of 100,000 monthly pageviews.
If you want to apply for AdThrive your content needs to be engaging and 100% unique, whereas any site can use AdSense, as long as it complies with AdSense's basic terms and conditions.
You can only apply for AdThrive if the majority of your traffic is from the US, UK, NZ, AU, or CA. Anyone can apply for AdSense, regardless of where your traffic comes from.
AdSense vs AdThrive: Overview and Main Features
AdSense is one of the most popular and well-known ad networks around. Because AdSense has no minimum traffic requirements, it's the perfect place to start for brand new bloggers.
Here's how it works:
You will be given a line of code that you can paste into your site. You can choose the pages which you want to display ads and exclude any pages where you don't want ads to be shown. For example, pages that focus on affiliate revenue.
AdSense matches your site with suitable advertisers, depending on the content you publish. This means that your audience should only be shown relevant ads.
Advertisers can then bid for the ad spaces on your site. The highest bidder wins the slot, and their advert will then be shown on your site.
AdSense deals with all the payments. After collecting the payment from the advertisers, AdSense takes its share of the commission. Following this, they will pay out your ad earnings. Publishers receive 68% of the revenue from each ad.
It's completely free for publishers to sign up, and no monthly payments are ever taken from your account. This is because Adsense takes its share of the revenue before you receive your payment.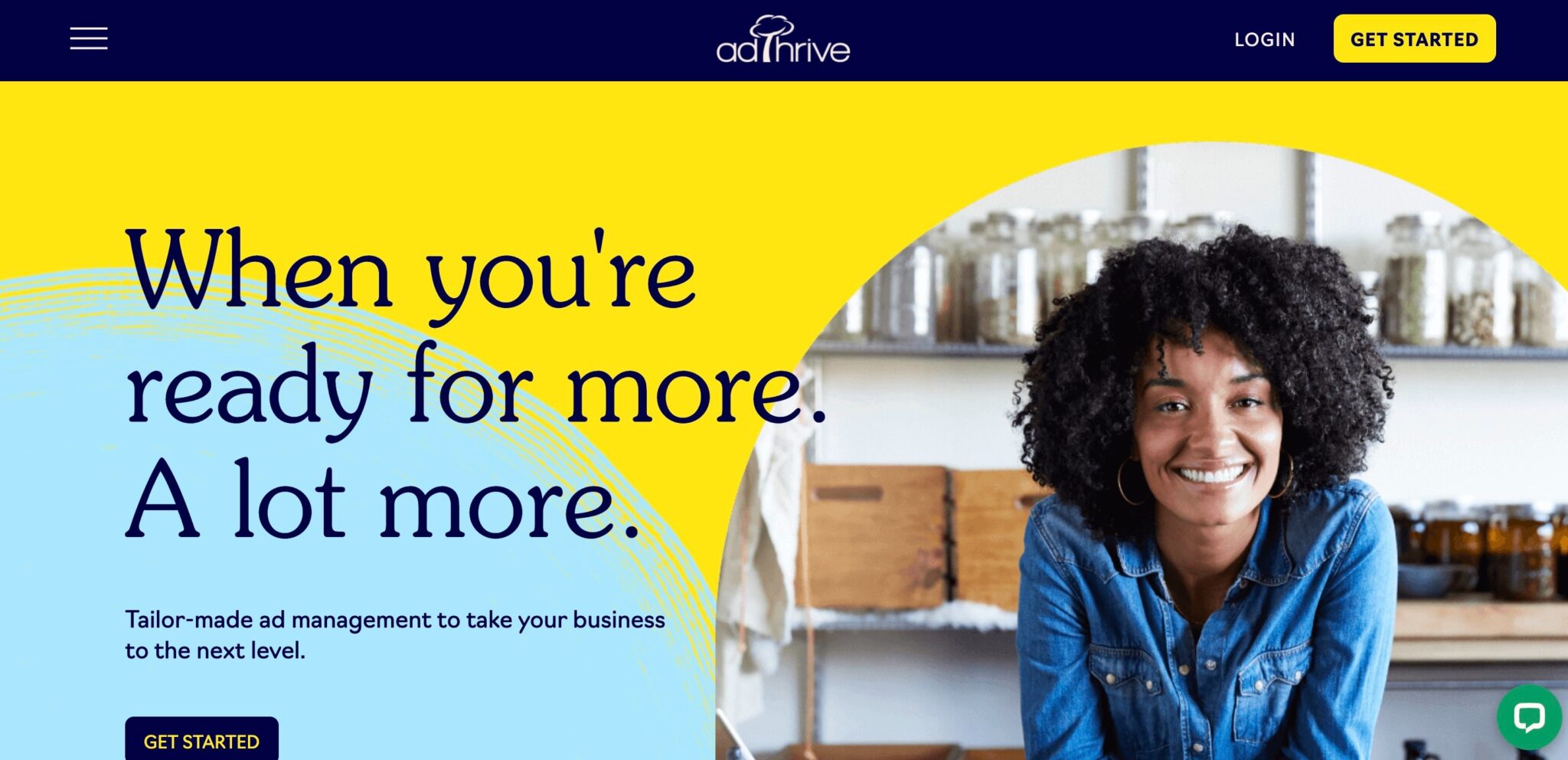 AdThrive is a Google certified publishing partner, but it works a little differently. Because it's a premium ad network, it uses a custom ad strategy that is designed in collaboration with the publisher. Adthrive has a dedicated ad optimization team working directly with publishers to maximize revenue.
AdThrive works with over 3500+ independent content creators. It uses industry-leading technology to ensure maximum site speed, engagement, and growth for each publisher.
Adthrive states that publishers can expect to see a 75% increase in their ad revenue compared to other popular ad networks.
Joining Requirements
To join AdSense, all you need is a Google account. You will need to sign into AdSense using your Google account and enter your contact number and postal address. You can also choose a payment method and provide your bank account details at this point.
Once you have done this, you simply paste a snippet of code into the header of your site and wait for your account to be approved. There is no minimum traffic requirement to join Google Adsense, but there are a few basic requirements:
You must own your own site, and create original content
Your content must comply with the Adsense Programm Policies
You must be aged 18 or over
AdThrive, on the other hand, has a few more requirements. They only work with the world's best publishers, so there are some pretty strict requirements for joining. You will need to install Google Analytics before applying to verify your traffic.
You must have 100,000 monthly page views on your blog
A majority of your blog's traffic must be from the UK, US, CA, NZ, or AU.
Your blog should publish unique, engaging content to attract the right advertisers
Once your first site has been accepted to Adthrive, you can apply for other sites to join the service, even if they have lower monthly traffic. You must submit a separate application for each site.
Customer support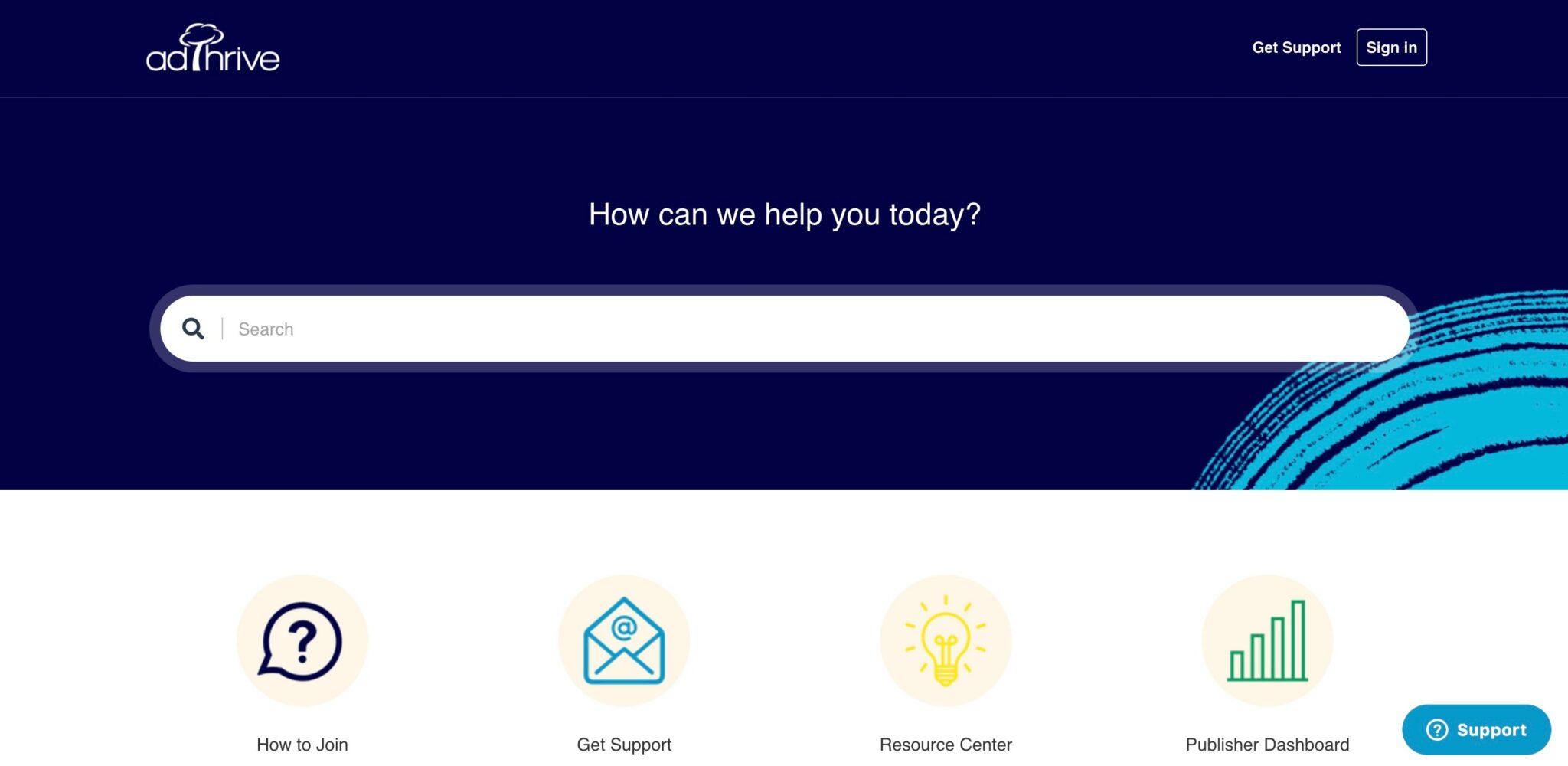 If you need help with your AdSense account, you will need to click the 'Contact us' page within Adsense's help center. Next, simply type in your query, and you will be offered a list of resources to solve your problem.
If you can't find what you want here, you can click 'Next Step' to contact someone from the help center. Your query will usually be answered within two working days. However, it's worth noting that response times can be longer during busy periods such as holidays.
Adthrive's customer support is much quicker. If you have an issue or want to report a bad ad, you can simply head to the Support section on their website. Here you can submit a ticket with your problem.
When filling in your help request form you also have the option to state the urgency of your problem. This means that if it's urgent, you can expect a quick response and resolution to your problem.
You can also email the AdThrive support team directly at [email protected] Their office hours are Monday-Friday, from 8am-5pm Eastern Time.
Overall, Adthrive provides slightly quicker support to its customers.
Site Speed
Unfortunately, display ads of any kind will slow down your site slightly. The question is, what can the ad network do to minimize this?
AdSense
Adsense doesn't come with any special features to help improve your page speeds. This means that it's up to you to monitor your own page speeds. You can do this using Google Analytics under Behavior > Site Speed. Here you can see your average page load times, so you can make adjustments if necessary.
AdThrive
To minimize your page loading speeds, AdThrive's ads load asynchronously. This means that they load individually after all of your content had loaded, and therefore won't negatively impact the user's experience on your site.
AdThrive is the winner when it comes to site speed, thanks to its asynchronous ad loading.
Reporting and Analytics
Adthrive provides publishers with an intuitive dashboard that provides all the key data at a glance.
Within the AdThrive dashboard, you can access more detailed reports on:
Pageviews
Earnings
Traffic sources
Video earnings
You can also dig deeper into this data to view detailed reports by date, traffic source, pages, and more.
You can access your AdSense reports and analytics from within your Adsense account. Like with Adthrive, you are presented with an overview of your earnings along with pageviews, RPMs, and all of the other data you need.
You can also create custom reports, compare different reports, and even save and export your reports.
Overall, both Adsense and Adthrive provide access to detailed reporting and analytics. However,  Adthrive's dashboard is slightly more user-friendly and intuitive to use.
AdSense vs AdThrive: Who Pays More?
It's difficult to talk about exact numbers when it comes to revenue from display advertising. This is because earnings can vary drastically depending on the niche, and the countries the traffic is coming from.
With Adsense, at the lower end of the scale, you could be earning $2-$5 per 1,000 pageviews. At the higher end of the scale with a blog in a niche with a high CPC, you could be looking at over $30+ per 1,000 pageviews.
On the other hand, Adthrive offers publishers an RPM (earnings per 1,000 pageviews) guarantee.
Adthrive states:
Within your first two weeks with AdThrive, we guarantee you'll hit a 20% higher RPM than with your previous ad management company – without increasing the ads on your site.
And if they don't live up to their word? Adthrive promises to cover the difference (plus 20%) and an additional $5,000.
So although we can't say for sure how much you will make with either Adsense vs Adthrive, Adthrive guarantees that you will make more.
Payment Thresholds
Adsense's minimum payment threshold is $100. Adsense works on a monthly payment cycle. This means any earnings you accrue will be paid out at the end of the following month, providing the payment threshold has been met.
The minimum payment threshold for the Adthrive ad network on the other hand is much lower, at just $25. Due to the high traffic requirements of Adthrive, this certainly shouldn't be a problem though! This also means that any newer sites you add to your Adthrive account after your initial site is approved will receive their payments quickly even if they have lower traffic.
AdSense vs AdThrive: The Pros and Cons
As with everything, Adsense and Adthrive each have their own pros and cons. Let's take a look.
AdSense Pros and Cons
Pros:
No minimum traffic requirements
Free to join
Easy to use
You can start monetizing a brand new website with Adsense ads straight away
Cons:
Low EPMV (earnings per 1,000 visitors) compared to other ad networks
Less control over the types of ads shown
AdThrive Pros and Cons:
Pros:
High RPMs
Quick approval and onboarding
Great customer service
Custom ad format and ad placement for maximum revenue potential
Video ad hosting
User-friendly dashboard and analytics
Access to the best brands and campaigns
Cons:
High minimum traffic requirements
Difficult to get approved
AdSense vs AdThrive: How Much Do They Cost?
AdSense is completely free to join. They do take a commission from your ad revenue though. This works out at 32% of the revenue from each ad. So publishers earn 68% of the revenue from each ad.
AdThrive is free to join too, as it uses a similar revenue share model. Publishers earn 75% from each ad, while AdThrive takes the remaining 25%.
The Verdict: AdSense vs AdThrive – Which is Better?
When it comes to AdSense vs AdThrive, it's difficult to say which is better overall. This is because the requirements are so different. They each serve a completely different share of the market. If you're a brand new blogger, just starting to get traffic, then Adsense is the obvious choice for you. However, there are some better options for newer bloggers too, which we will list in the next section.
If you have over 100,000 monthly pageviews, then AdThrive is almost certainly going to be a better choice for you than Adsense. AdThrive guarantees that you will earn more and are even prepared to back their guarantee with an additional $5,000 if they don't live up to their promise, so they're definitely worth switching to if you're looking to increase your ad revenue.
Best AdThrive and AdSense Alternatives
There are some great alternative ad networks out there, so it's important to consider all of your options before making a decision.
Ezoic
Ezoic is one of the best ad networks around for small to medium-sized blogs. Own The Yard (Niche Site Project 4) uses Ezoic, and the ad revenue increased by an impressive 232% when Spencer decided to switch to Ezoic. You can read the full Ezoic review for all the details.
Ezoic has recently dropped its minimum traffic requirement of 10,000 monthly pageviews to join the network, so now anyone can join. Ezoic also has a low payment threshold of $20, making it the ideal choice for newer bloggers who want to cash out their earnings as quickly as possible.
Mediavine
Mediavine is a full-service ad management platform for content creators. It's a popular choice for lifestyle bloggers, and is known for offering high RPMs.
To join Mediavine you must:
Have a minimum of 50,000 sessions per month.
Regularly produce original, long-form content
Be in good standing with Google Adsense, because like Adthrive and Ezoic, Mediavine works with Google AdExchange.
If you're regularly reaching over 50,000 sessions per month, then it's worth considering signing up to Mediavine. You can read our full Mediavine review to see how it works and find out how it can increase your earnings.
Although Mediavine and Ezoic are our favorite Adsense and Adthrive alternatives, you can find some other display ad options in our article on AdThrive Alternatives.