SEO for Universities: In today's complex world, universities must prioritize online visibility to attract students.
Achieving a top position in search results ensures an institution stands out in the crowded educational landscape.
This article delves into top strategies that higher education can use to:
Dominate search engine results pages
Enhance their online reputation
Ensure they effectively reach their target audience
As an SEO, you have one of the most authoritative businesses – A UNIVERSITY – in your hands; take advantage of that!
Understand the Target Audience
Understanding students is important for a university's online optimization. Students, both prospective and current, have unique search behaviors and requirements.
Prospective students often search for details about:
Courses
Admission processes
Scholarships
Campus life
Student testimonials
They want insights into the academic experience, culture, and opportunities the university offers.
Current students may look for:
Specific course materials
Exam schedules
Extracurricular activities
Online campus resources 
Universities should research keywords to identify the terms students frequently use.
Analyzing website traffic and student feedback can give you a clearer picture of content preferences.
Do Keyword Research for Higher Education
You may ask: Is keyword research for universities different from other sectors?
The answer is YES.
The mechanics of keyword research remain similar. But the context, priorities, and nuances of universities are different.
The focus and approach will vary for higher education institutions.
Here's how:
Audience Specificity. Colleges and universities cater to a unique audience. This includes prospective and current students, faculty, researchers, and alumni. Each group has different search intentions, leading to different keyword focuses.
Course and Program-Centric Searches. Higher ed must consider specific courses, degrees, and academic programs. Keywords might revolve around "Bachelor's in Computer Science" or "MBA programs." 
Faculty and Research Focus. Renowned faculty members, research publications, and academic accolades can be significant search drivers. Universities might need to optimize for specific professors. Also, focus on certain research topics. Scholarly achievements are another area of optimization.
Campus Life and Amenities. Prospective students often look up campus life, dormitory details, student clubs, or sports facilities. These factors play into the keyword research strategy for universities.
Event-Driven Searches. Universities often host seminars or alumni reunions. Keywords related to these events can be seasonally significant.
Geographical Emphasis. Location-specific keywords can be essential for international students or those considering relocation.
Regulatory and Admission Queries. Keywords around admission processes, eligibility criteria, scholarships, or regulatory compliance can be uniquely important for education SEO.
Competitive Landscape. The competition is often with other educational institutions. Understanding what courses or programs rival universities promote can shape the keyword strategy.
Seasonal Trends. Admission seasons, semester beginnings, graduation times, etc., can influence search behavior. Universities need to be aware of these cycles to optimize their content in time.
Use a top tool like SEMrush to implement your approach for higher ed SEO.
Implement On-Page SEO Strategies
Optimizing on-page elements is vital for universities to improve their online visibility and rank higher in search engine results.
Here are some effective on-page SEO tips tailored for higher education institutions:
Optimized Titles and Meta Descriptions. Ensure that each page has a unique and descriptive title tag and meta description. Incorporate primary keywords and make them compelling to attract clicks from search results.
URL Structure. Use clean, descriptive URLs that reflect the content of the page. 
Keyword Usage. Naturally integrate keywords within the first 100 words of the content.
Header Tags. Use header tags (H1, H2, H3) logically to structure content. 
Internal Linking. Use contextual internal links to guide users to related content within the higher ed website. Use the SEO top tool,  Link Whisper, to automate internal link building.
Image Optimization. Use descriptive file names, alt text, and compressed images.
Schema Markup. Implement schema markup, especially for courses, events, and faculty profiles. This will provide search engines with more information about a page's content.
Responsive Design. Ensure the website is mobile-friendly.
Page Speed. Cut load times. 
Freshness. Regularly update time-sensitive information like admission dates, course details, and event schedules.
Social Sharing Buttons. Encourage content sharing by integrating social media buttons, amplifying visibility.
Meticulously apply these on-page SEO best practices. It will boost search engine rankings and provide an informative experience to all visitors.
Helpful articles:
SEO for Universities: Content Creation & Marketing
Content stands at the heart of SEO for universities, acting as a bridge between institutions and their target audience.
Content provides value to readers seeking in-depth insights.
Helpful articles:
To reach a broader audience and boost SEO efforts, repurpose academic SEO content into:
Blog posts
Infographics
Podcasts
By consistently producing and marketing valuable content, universities can attract, engage, and convert their digital audience.
Use Jasper AI to help with your digital marketing efforts. Read our Jasper AI review to find out more.
Choose Blog Topics
Choosing suitable blog topics is your key to success.
Colleges or universities should select themes that resonate with prospective students, addressing their:
Curiosities
Concerns
Aspirations
Well-researched and timely blog topics can position the institution as a thought leader. This will draw organic traffic and foster engagement.
Examples of blogs:
Alumni success stories
Campus events
Research breakthroughs
Leverage Academic Content
Universities possess a unique advantage in the form of academic content.
Research papers
Case studies
Lecture notes
Webinars
Expert opinions
The subjects are a goldmine of authoritative and original content.
Use Off-Page SEO Techniques
Use the following off-page SEO techniques for university digital marketing to amplify online visibility.
Collectively, these off-page strategies will boost search engine rankings and secure the university's reputation in the competitive digital academic space.
Build Backlinks from Authoritative Educational Portals
Acquiring links from respected .edu domains or renowned educational websites strengthens a university's domain authority. It also underscores its academic credibility in the eyes of search engines and prospective students.
Contribute Guest Posts on Educational Blogs & Forums
I'd advise universities to position themselves as thought leaders in the educational domain.
You can significantly expand your reach by sharing academic insights, showcasing research breakthroughs, and highlighting curricular innovations on various platforms.
This strategy elevates your authority and also secures valuable backlinks. These, in turn, strengthen your search engine optimization foundation.
Engage with Online Student Communities
A higher ed institution must actively engage with online student communities.
Online platforms, or academic forums, are filled with discussions from students at different points in their education.
Active participation, offering guidance, and being a reliable resource in these communities will:
Promote trust
Enhance brand recognition 
Influence enrollment decisions
Find some College Student Organizations here.
Register on University Directories
University directories are platforms or lists where universities from various regions or specializations are compiled.
These directories can be beneficial for prospective students, researchers, or professionals looking for information or trying to make a choice about an institution.
Some popular university directories include:
U.S. News & World Report.  It is renowned for its annual college rankings in the United States but also includes global rankings. Search for "college rankings."
Times Higher Education (THE). Provides global university rankings and various other resources related to higher education institutions worldwide.
QS World University Rankings. Another major global university ranking platform.
Peterson's. A comprehensive guide to colleges and universities with detailed profiles for each institution.
College Board's Big Future. A directory that provides college listings and resources to aid in the college search and application process.
The added benefit is that these directories provide backlink opportunities.
Build Local SEO for Campus Visibility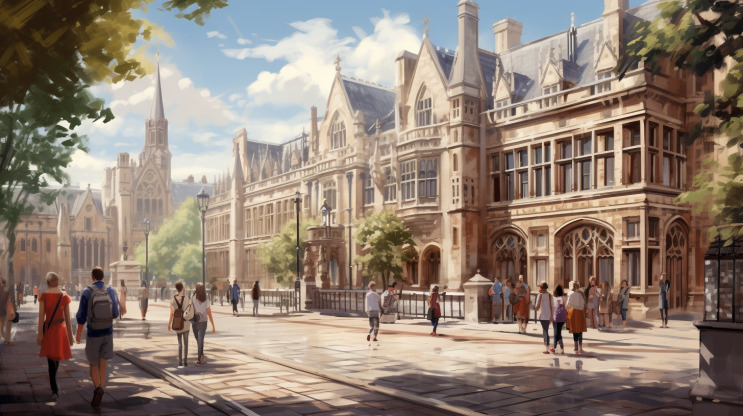 Local SEO is crucial for universities to enhance their campus visibility.
Vibrant campus life is a significant draw for students.
Adopting a robust local SEO strategy is not just about driving virtual traffic. It also ensures the campus remains a buzzing, accessible, and sought-after destination for all.
Set Google Business Profiles for Campus Locations
Set up Google Business Profiles (Google My Business) for various campus locations.
GBP will provide:
Easy access to vital campus information like operating hours, contact details, and exact location.
Improved visibility in local search results.
Google Maps will ensure that individuals can easily locate and navigate to different parts of the campus. Read our article on how to optimize your Google Maps listing.
Helpful articles:
Get Online Reviews from Students and Faculty
As an SEO expert, encourage students and faculty to leave genuine reviews about their experiences.
Positive testimonials can serve as influential word-of-mouth referrals, attracting prospective students.
And active review engagement can further boost the institution's local SEO rankings.
Promote Local Event Listings and Campus Tours
Promoting local event listings and campus tours online will:
Showcase the university's active community and state-of-the-art facilities.
Drive local traffic to the campus.
Leverage local event platforms and ensure events are easily discoverable in local searches. This way, universities can amplify participation and engagement.
Use Technical SEO for Higher Education Websites
In higher education, where digital visibility can significantly influence enrollments and reputation, technical SEO emerges as an indispensable component.
Embracing a responsive website design is non-negotiable.
Prospective students use mobile devices to research educational opportunities. A university website must seamlessly adapt to different screen sizes and resolutions. This ensures a consistent and user-friendly experience. And it also signals to search engines like Google that the site is mobile-friendly, positively impacting search rankings.
Implement structured data for courses and events. Structured data, or schema markup, provides search engines with explicit clues about the content's meaning, ensuring it's displayed attractively in search results.
For instance, marking up course details can highlight course duration, fees, or prerequisites in the search results, offering users quick insights.
Similarly, structured data for events will showcase:
Event dates
Venues
Ticket availability
This enriched presentation can significantly boost click-through rates, drawing more organic traffic to the site.
For higher education websites to thrive in a competitive space, focus on technical aspects of search engine optimization. Responsiveness and structured data, for example, are really important.
These elements enhance the user experience and ensure that the website communicates effectively with search engines. This drives visibility and engagement.
Integrating social media into the University's SEO strategy is necessary for outreach and engagement.
By strategically integrating social media, institutions can craft a multifaceted digital presence. This allows them to connect directly with their audience and amplify their unique value proposition.
Use Platforms Popular with Prospective Students
Identify and use those platforms that resonate with prospective students.
Platforms like Instagram, TikTok, and Snapchat are often favored by younger demographics. They can be powerful tools for institutions to share visual stories, course snippets, and interactive content, thus directly appealing to potential enrollees.
Read our article about the 13 top social media platforms to decide which are best for you.
Engage with Alumni for Testimonials and Reviews
Alumni are a treasure trove of authentic experiences and success stories. Engaging with them on platforms like LinkedIn or Facebook can yield invaluable testimonials and reviews.
Their real-world achievements and narratives can validate the institution's offerings. These can serve as compelling endorsements for prospective students evaluating their educational choices.
Showcase Campus Life and Achievements
Showcasing the vibrancy of campus life and institutional achievements can set an institution apart.
Platforms like Twitter and Instagram can highlight everything from student-led events, cultural fests, and athletic triumphs to academic accolades and research breakthroughs.
These glimpses into daily campus life and the institution's milestones foster a sense of community among current students. And they paint a vivid picture for those considering joining.
Implement Monitoring and Analytics
Monitoring and analytics are integral components of higher education SEO strategy. They offer actionable insights, help track performance and guide refinements.
Here's a step-by-step guide to best practices:
Choose the Right Tools. Google Analytics is a free tool that provides insights into website traffic sources, user behavior, and conversions. Google Search Console monitors site performance in Google search results. SEMRush offers deep search engine optimization insights, backlink analysis, and competitive research.
Integrate Analytics on the Website. Collect visitor data with Google Analytics.
Track Organic Traffic. Regularly check the volume and quality of organic traffic. Look for trends. 
Track Conversions. Define conversions for your higher ed site. It might be form submissions, downloads of prospectuses, or online applications. Set up 'Goals' in Google Analytics to track these conversions.
Analyze User Behavior. Tools like Hotjar or Crazy Egg can give insights into how users interact with your pages through heatmaps and session recordings. 
Engage with Alumni and Current Students. They can offer feedback on search behavior, terms they would use, or platforms they frequent. 
Review Site Performance. Page load speeds and mobile responsiveness directly impact higher education SEO. Google's PageSpeed Insights provides actionable recommendations.
Monitor Backlink Profile. Quality backlinks boost your domain's authority. Toxic links can harm your SEO.
Stay Updated with Algorithm Changes. Being aware of significant updates can help explain sudden changes in traffic or rankings.
Regular Reporting. Monthly or quarterly reports can help identify what's working and what needs to change. 
Iterate. SEO is ongoing. Refine your strategies based on SEO audits, analytics, and monitoring data. Optimize, implement SEO changes, and then measure again.
Rigorous monitoring and analytics ensure the SEO strategy is always evolving. And that it's grounded in data and always improving.
SEO for Universities: Conclusion
SEO is key for universities aiming to increase visibility and attract potential students.
Universities have to integrate all tailored strategies like:
On-page optimizations
Keyword research
Alumni testimonials
Monitoring analytics
SEO ensures that institutions capture attention and drive enrollments. Embracing these top strategies is the key to academic digital success.