Whether you've been rejected by AdThrive or haven't reached their traffic requirements and are looking for some AdThrive alternatives, this could be a timely post for you.
Trust me. If you qualified for AdThrive, you wouldn't need any alternatives since AdThrive is like the holy grail of ad networks. They have one of the highest traffic requirements (more on this in a minute), some of the highest payouts, and their onboarding process is very thorough.
However, things don't always go as planned and you may not get accepted, even when everything checks out.
In this post, I will share some viable AdThrive alternatives you can try.
But first, let's see why every blogger wants to qualify for AdThrive.
Brief AdThrive Review
Started in 2013, AdThrive is a Google-certified publishing partner and one of the most popular ad networks for bloggers to monetize their websites.
AdThrive was started as an advertising company for fashion and women's lifestyle, but it now accepts advertisers and publishers from many other niches. Currently, they have at least 3,500 publishers who drive more than 100 million visitors to the various advertisers' pages.
3,500 publishers seems few considering there are millions of bloggers worldwide. But that's because they have very strict requirements. Your site needs to have at least 100,000 unique visits per month, which isn't that easy to achieve for starters.
Second, your content needs to be unique, engaging, and valuable to the reader.
And last, most of your traffic needs to come from the US, UK, Canada, Australia, and New Zealand. And with all that, you might still get rejected.
If you get approved, AdThrive will take care of the rest from setting up to optimizing your ads. AdThrive uses a revenue-sharing model: when you show ads on your site, you get 75% of what the advertiser paid, and AdThrive keeps the rest. Better yet, they also promise 20% in earnings from your previous ad network.
So, how much can you earn with AdThrive? Their RPM is about $15, which translates to about $1,500 for 100,000 visits.
Best AdThrive Alternatives
Below are other ad networks that are likely to approve your site.
Mediavine
Mediavine is the closest you can get to what AdThrive offers. For starters, you'll need at least 50,000 sessions per month, making it one of the best AdThrive alternatives for those who haven't achieved the traffic requirement.
Remember, sessions are a bit different from page views. The sessions could be more or less than the page views. To view your sessions and page views go to Google Analytics – Audience – Overview, and you'll view all the traffic stats as shown below.
Like in AdThrive, Mediavine's team will set up the ads for you, but you still have control over which ads to show and which ads not to show on your website.
But the main reason you would go for Mediavine is the higher RPMs. Mediavine uses the same revenue-sharing model where you get 75% of what the advertiser paid. But sometimes, their RPMs can be higher than those you'll find on AdThrive. So, you will not be missing out on much.
Better yet, if your blog achieves at least 15 million visits within 30 days, they can increase the revenue share to 85%. It's important to note that content quality and traffic quality requirements are similar to those on AdThrive.
If your site didn't meet the Google publishing guidelines, chances of being approved into Mediavine will be very minimal. You will never get away with poor-quality content if you want to make real money from your websites.
Traffic Requirements – 50,000 Sessions
Minimum Payout – $25 to $200 depending on the payment method
Ezoic
If your site gets less than 50,000 sessions, Ezoic is definitely worth checking out. Initially, you needed to have at least 10,000 visits to join Ezoic. But in 2021, they removed this requirement and all you need is a bit of organic traffic and high-quality content.
Ezoic RPMs range from $1 to $20, but most sites get an RPM of $10 or higher for 1,000 impressions, which is pretty great.
Ezoic gives you control over the ad placement and lets you choose how many ads to place through placeholders. But they also utilize AI to make sure ads are served in the best way possible. There are cases where Ezoic slows down a website, but that's often caused by incompatibility with the hosting.
Once you fix that, everything will be fine. Besides, Ezoic even has its own site accelerator feature that increases the ads and the site's overall loading speed. You can also install the Ezoic plugin to automatically clear the cache or clear the cache manually.
As a website owner or digital marketer, you'll also love the analytics that show the RPM and traffic of each article, which makes it easier to know what exactly you need to do to improve these aspects. And that's not all. You can also earn 3% of the revenue of each publisher you invite.
Are you interested in learning more about how Ezoic compares to Adthrive? Here is Spencer Haws' personal experience with both.
Traffic Requirements – None
Minimum Payout – $20
Google AdSense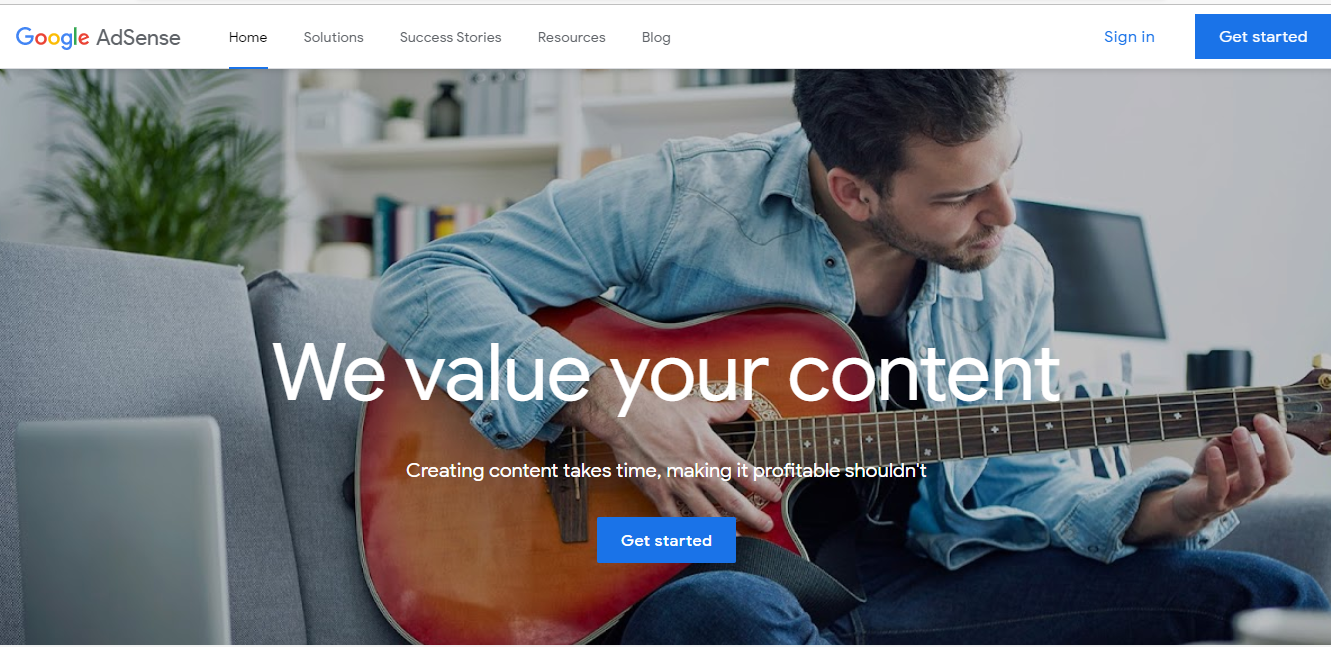 AdSense was one of the first ad networks ever. When I first started blogging, most bloggers' goals were to monetize their websites through AdSense.
And since it's owned by Google, you'll find that most of the other ad networks I've reviewed are built on AdSense and or Google AdX, but they're more optimized to increase your site's earning potential.
It gets a little confusing sometimes since AdSense may approve your site, but you end up being rejected by other ad networks.
And there are times when you get rejected by AdSense but get approved by Ezoic, Mediavine, or AdThrive.
Either way, if all other networks dislike your site, you can still earn a considerable income with AdSense. You also increase your earnings by adding more content to grow your traffic and focusing on topics with a higher CPC.
Unlike Ezoic, AdSense pays per click instead of per impression. This means that you need to have a highly engaged audience.
Otherwise, you'll get thousands of visitors with little to no earnings.
You also don't have much control over the ads they show; they'll mostly show relevant ads based on your site's content or the user's browsing habits.
Traffic Requirements – None
Minimum Payout – $100
Infolinks
Infolinks is one of the largest contextual ads networks, but they've also ventured into other ad formats such as display ads, in-article, in-screen, infold, and in-tag ads.
The good thing about Infolinks is they have no traffic or amount of content requirements. So, if you just started your website, you can use Infolinks to earn some income before you meet AdThrive's requirements.
Infolinks also connects you with some of the best advertisers, and ad formats are optimized for mobile which is convenient, especially if your traffic mostly comes from mobile users.
However, Infolink's RPM is quite low (about $2 to $5 for 1,000 visits) compared to AdThrive, Mediavine, or Monumetric. While it's often considered an AdSense alternative, you can get the most out of this network by combining it with AdSense, Monumetric, and many other networks.
That's right. You can simultaneously run it with several ad networks and multiply your income with the same traffic.
Traffic Requirements – None
Minimum Payout – $50
Monumetric
If you don't meet the AdThrive or Mediavine requirements, then Monumetric is another alternative that you should check out. Previously known as The Blogger Network, Monumetric only needs at least 10,000 visits per month which is easier to achieve with proper keyword research and high-quality content.
Your site should also be either a Blogger or WordPress website.
However, unless you have more than 80,000 visits per month, you'll have to pay a $99 one-time setup fee. But I don't think this should be a deal-breaker. If you're a beginner in ad networks, having them set up for you is more convenient than doing it yourself, like with Ezoic.
On the other hand, you'd have to stick with AdSense or Infolinks which have a lower earning potential. And since their RPM is about $10 to $15, you'll earn the $99 back within a very short time.
Monumetric also groups publishers in plans based on the traffic as shown below:
Propel – 10,000 to 80,000 page views per month. This is the beginner level where you pay $99, and they'll do the setup and optimization for you.
Ascend – 80,000 to 500,000 page views. You don't pay anything in this plan, and you have access to a customized ad strategy.
Stratos – 500,000 to 10 million page views per month. Here, you'll have access to a dedicated ad ops team, custom reporting, testing and data team, and many other premium features.
Apollo – 10 million+ page views per month. Here, you'll have access to a better ad management team, consultation, and working directly with the ads team.
Monumetric also shows different types of ads, including display ads, in-text ads, in-image ads, and video ads. Better yet, the ads keep changing as the visitor is on the page, which increases the impressions and the chances of the visitor clicking on the ads.
Traffic Requirements – At least 10,000 page views per month
Minimum Payout – NA
Media.net
Media.net is a high-paying contextual ads network and one of the best AdThrive alternatives for those with a highly engaged audience.
This ad network was popular for partnering with Yahoo and Bing to offer Display to Search ads. These occur when the ad unit consists of several keywords, and when a visitor clicks on the keywords, they are taken to a page with more search ads. But they've expanded to many other types.
In most cases, they'll show ads based on the type of content you have on your website, and the payment models can range from CPC, CPM, CPL, and CPA.
They also offer native ads that blend in with your content as well as mobile-responsive ad types that adapt to the mobile device's design.
While you may not always know which model the ad shown is in, Media.net is known to have an average RPM of $5 per 1,000 page views. While this is nowhere near what AdThrive offers, it's good for a start, and you can also add AdSense to maximize your ad revenue.
Media.net doesn't offer a specific traffic requirement, but they do state that your website should be getting lots of traffic, have high-quality content that's updated regularly, and the traffic should be mainly from the US, UK, CA, and AU.
Traffic Requirements – None
Minimum Payout – $100
Value Impression
Value impression may not be as popular as the other AdThrive alternatives, but that doesn't mean it doesn't work. As the name suggests, they offer publishers the best value for every impression their website gets by combining Header Bidding, Programmatic Direct, and Private Marketplace technologies to optimize the websites for higher earnings.
Some of the ad formats you get include:
Video ads
Banner ads
Display ads
Stream ads
Through auctions and maintaining relationships with top advertisers, Value Impression manages to offer their publishers premium ad inventory, which can help them increase their earnings by up to 300% compared to AdSense.
As a publisher, you also have access to an ad manager and reporting and analytics, which help you track ad performance on your site.
While they may not always pay as much as AdThrive or Mediavine, they are still worth checking out. Too bad they also need at least 100,000 visits per month for your site to be approved.
Traffic Requirements – 100,000 visits per month
Minimum Payout – $100 for PayPal, Bitcoin, or Payoneer. $1500 for Wire Transfer
Amazon Associates
If you don't like the AdThrive alternatives I've reviewed so far or didn't get approved, you can try Amazon Associates if you don't already have it yet on your site. You can benefit from Amazon Associates in two ways. First, you can write product reviews and link to the products on Amazon.
Alternatively, you can write informational content and suggest products within the content. With this method, you'll earn a commission ranging from 1% to 8%, depending on the products you're promoting.
It's also relatively easy to join since all you need to do is make three sales within 180 days.
Second, you can use the Amazon Native Shopping Ads. Basically, you place the ad code on your website, and this code will scan the page and display products relevant to the content on the page.
But unlike all the other ad networks I've reviewed, you only earn if a visitor clicks on the Amazon Native shopping ad and buys something. There's no traffic limit, content requirements, and they don't limit how much you can earn.
Traffic Requirements – None
Minimum Payout – $10
BECOME AN AMAZON ASSOCIATE TODAY!
SkimLinks      
SkimLinks provides a slightly different way to monetize your content, allowing you to use it alongside other ad networks, including AdThrive.
So, how does it work? SkimLinks automatically converts the links in your content to products.
For instance, if you were writing an informational post and wanted to recommend a product, all you'll need to do is mention the product and attach the link. SkimLinks will convert this link to an affiliate link, and you'll earn a commission when the visitor buys the product.
But why would you need SkimLinks when you can add the links manually? Because doing it manually is hectic, especially when you publish lots of content regularly.
Besides, SkimLinks has partnered with several top merchants, and even though you are not approved by the individual affiliate programs, you still get to earn through SkimLinks.
They do take a 25% share of the earnings, though. But the ease of use and access to several affiliate programs within one platform make it worth it.
Traffic Requirements – None
Minimum Payout – $65
Conclusion
If you've not met AdThrive's traffic requirements or were rejected for some reason, you should get approved by at least one of these AdThrive alternatives. That is, if you're following the basic Google Webmaster guidelines and providing value to your audience.
As we've established, some allow you to run several networks simultaneously. You can also diversify your income through affiliate marketing using Amazon Associates or Skimlinks.