Searching for the best appointment scheduling plugin for WordPress? We've got you covered!
Visiting a doctor usually requires an appointment. So does a visit to the best Chinese restaurant on the street or signing up for training sessions at your local gym.
In the past, customers would have to search for your contact details and then talk to your front desk on the phone. After that, they would pen down the date and time for their appointment on paper.
Such tedious processes are long gone. And it's amazing to see the kinds of features continuously added to online appointment scheduling tools.
If you run a brand or business that necessitates booking appointments and reservations it's important to find the best WordPress booking plugin to smooth out and automate the process.
So in this article, we will be looking at the best appointment scheduling plugins for WordPress.
Here's what we'll be covering:
What Should You Look For in a WordPress Appointment Scheduling Plugin?
The first thing you might think is that an appointment schedule tool is just a calendar with a form. But this depends on the kind of business that you run.
For example, a gym may have multiple trainers, all of which need an individual schedule listed on the website. Alternatively, a hospital will need to reveal specific times and show the various types of services offered.
Due to the above, it is necessary to look deeply at the features of every appointment booking plugin for WordPress. With the right features, you will get all the functionality you require from a WordPress booking plugin as well as the ability to strengthen your brand.
Here are a couple of the primary features that the best appointment booking plugin should offer:
A mobile-friendly interface for customers who book appointments on portable devices.
The ability to accept payments for appointments and a way of removing payment processing.
A customizable calendar that you can place anywhere on your website.
A searchable and filterable appointment management module on your WordPress website's backend.
Email reminders and confirmations for both the user and admins.
The ability to customize your schedule such as setting free time in between bookings and removing holidays.
Customizable drop-down menus and options for when you provide a broad range of services or special offerings.
Support for multiple service providers or agents. This would be the feature that will allow each of your employees to have their calendar and profile; like for multiple doctors in one location or personal trainers in a gym.
A space for users to see and edit their appointments online.
The above is only a tiny fraction of the core features you should expect from your appointment scheduling plugin.
Some features and settings may not apply to your organization. Ensure that you test the ones that seem appealing, and use the in-depth reviews below to make sure that you get the best value for your money.
For example, small businesses may only require a basic free calendar capable of accepting non-paying appointments. The much larger brands will require a broader range of features with high-powered communication tools and beautiful templates.
An In-depth Review of the Best Appointment Scheduling Plugins for WordPress
We've researched, tested, and picked apart every leading WordPress appointment scheduling plugin. We will walk you through the best features of each one, and take a look at the differences that may make you choose one over the other.
Let's get started.
WooCommerce Appointments
The WooCommerce Appointments plugin integrates with the WooCommerce platform.
The plugin is not sold through WooCommerce but BookingWP which is both reputable and famed for quality products. With regards to the plugin itself, you can expect some powerful features. These include integrations with Google Calendar and WooCommerce. With this, you can accept payments from users and sync with your previously set Google Calendar.
Bookings and appointments are accepted at no cost, but there are settings available for charging money.
One of the primary advantages of this extension is how seamless and quick it is to set up and manage.
The user interface is simple enough for beginners but it also offers the flexibility you would want as an advanced programmer. Another interesting aspect is that your Google Calendar can be synced from your WordPress website which makes it a two-way syncing process.
WooCommerce Appointments is best for developers that will require full customization ability.
It's very handy in that regard because of the integrations with extensions such as Extra Product Options, Gravity Forms, and WooCommerce Print Invoices.
WooCommerce Appointments Standout Features
The WooCommerce Appointments plugin integrates with the most popular extensions on the same platform.
Reminders and notifications are automatically sent out to users who have booked appointments.
The plugin features a two-way syncing system with Google Calendar. This enables you to sync by editing the schedule on your site or Google Calendar.
You're capable of accepting or rejecting appointments so that your schedule does not fill up fast.
There are a couple of rules that can be set for availability, pricing, and capacity.
The plugin provides total control over your schedule with padding time between bookings, scheduling windows, multi-day scheduling, and lead times.
The extension is developer-friendly and white-label. So developers can make easy and quick customizations without any issue.
You get shortcodes for inserting your appointment booking forms anywhere on your site. You're not restricted to widgets or specific pages.
The pricing for the WooCommerce booking tool is quite affordable starting at $89 for one website. Updates and support are provided for 1 year, after which you can renew the license if you wish.
Simply Schedule Appointments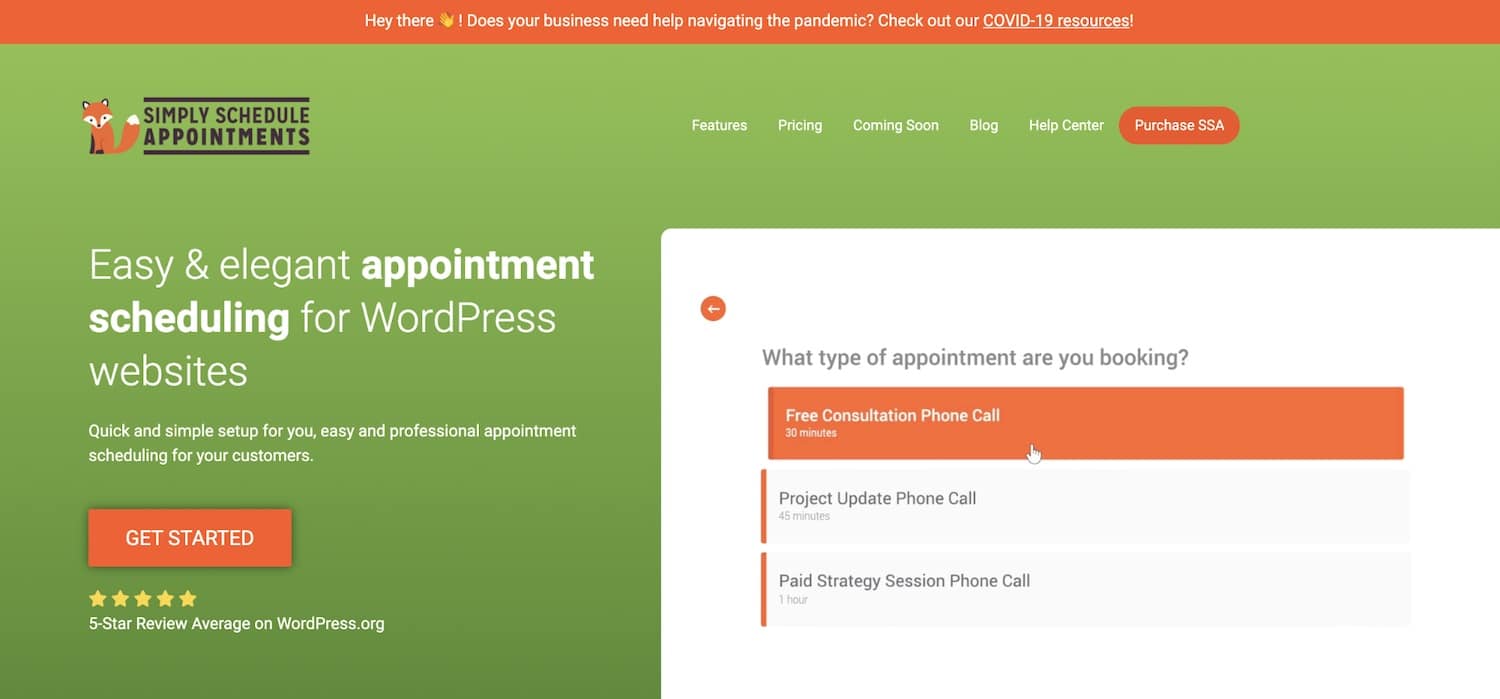 Simply Schedule Appointments is an easy-to-use appointment scheduling plugin for WordPress.
They provide both a free version and 3 premium packages for their plugin which include access to advanced features and special integrations.
The extension's premium edition begins at $99 for the Plus Edition and offers features such as custom fields in your appointment form, Google Calendar sync, the ability to book group events and classes, and MailChimp integration.
This plugin gives you an appointment extension that is built to offer websites on the WordPress platform a simple way to add and manage their web booking scheduling. This is shown in their Interactive Setup wizard that walks you through the setup process for your booking form. The easy tutorial will show you how to place it on your website in less than 5 minutes.
In addition, every version inclusive of the free version integrates with popular page builders such as Beaver Builder, Divi, and Elementor.
This allows you to use drag and drop as well as make your appointment forms match your WordPress website.
One of the major reasons to consider using Simply Schedule Appointments is for their high-quality customer support and consistent updates.
Their development team is continuously working on releasing new upgrades and features such as Zoom integration and team schedules. Simply Schedule Appointments plugin also has one of the few support teams that respond to queries on the same day and this is shown on their 5-star rating in the WordPress repository.
Standout Features for Simply Schedule Appointments
The premium versions of the plugin provide the ability to accept payments via Stripe and PayPal. This makes it easy to receive payments upfront for your bookings or appointments.
Their support team can come on a live zoom call to help you troubleshoot problems and they provide a same-day response as well.
Their development team is continuously releasing new integrations and features based on user feedback.
Simply Schedule Appointments integrates with more than 15+ tools such as LifterLMS, Gravity Forms, and much more.
This extension provides a 100% free version that enables you to book unlimited appointments, drag-and-drop it to your web pages, and customize your appointment form to match your site.
Bookly

Bookly is a free appointment scheduling plugin for WordPress, with a premium version available if you need more features.
For customers who upgrade to the premium version, you can expect to pay a one-time fee of $89 for a lifetime license. This comes with 6 months of support, but you can pay to extend this if you need to.
The free extension is a simple booking tool, ideal for small businesses who want to allow their customers to book appointments. However, it doesn't give you the ability to accept online payments, and you can't add additional staff members or install add-ons. For these additional features, you will need to upgrade to Bookly Pro.
As for its aesthetics, the Bookly plugin is the most contemporary-looking extension on this list.
It features a sleek design on both the front-end and back-end. It allows you to customize many segments of the booking form without any coding knowledge (it isn't recommended if you intend to use custom code). However, most beginner and advanced users will feel comfortable with the plugin's style and capabilities.
Their booking form is completely responsive and customizable. It provides multiple views for both customers and admins. Also, the extension has a module for adding an unlimited number of employees where each person can add unique availability and pricing. So, for example, a dental office may do this for a group of dentists.
In general, Bookly is a great option for small businesses that do not have the resources to hire custom developers. The appointment scheduling plugin provides everything you need to manage the booking tool yourself.
Bookly Standout Features
You can add many employees or service providers to the appointment schedule. This allows your staff to charge separate rates and show varying times based on a personal schedule.
It offers the Google Calendar integration that supports many calendars from all your employees.
You can send out not just automated email notifications but SMS as the plugin has an SMS system in-built.
Appointment and payment rules are available to make your scheduling flexible for everyone.
Bookly sells a couple of add-ons such as one for including extras to your services and one for coupons.
The WordPress booking plugin allows you to add an unlimited number of services to your appointment page. You can even categorize them for a smoother organization.
It's the closest thing to a complete booking package available on the market presently. In summary, you don't have to have any prior technical knowledge to come out with stunning results.
Bookly offers a free version of the plugin, but you can upgrade to Bookly Pro for a one-time fee of just $89.
Bookings for WooCommerce
Bookings for WooCommerce enables you to receive bookings on your website via the WooCommerce plugin. It provides you with all the flexibility and advantages of using the most popular eCommerce platform including a wide array of payment gateway choices as well as the ability to sell other items.
This appointment scheduling plugin allows you to sell bookable products such as venue hire, rentals, product hire, and vacation rentals.
Users can pick a start and end date using separate calendars.
You can even set your bookable periods as daily, weekly, or nightly. There's also the option specifying your bookings to begin on particular days of the week. This is a crucial feature if you will rent out your property on specific days.
With Bookings for WooCommerce, you can define buffer periods at the beginning and end of every booking, which ensures that your appointments don't overlap and that you have adequate time for changeovers.
Other core features include the ability to put different prices for specific dates of the year.
So if you usually increase your cost at particular periods or decrease them during certain times you can use this feature to do so. The plugin also permits you to block out dates as unavailable as well as offer discounts on appointments over a particular length. This allows you to charge full price for the first week and the second week half price.
This appointment scheduling plugin is easy to use and integrates seamlessly with other plugins such as Add-ons Ultimate.
Bookings for WooCommerce Standout Features
The plugin integrates with other extensions such as Add-ons Ultimate.
It features a 14-day money-back guarantee enabling you to try the extension risk-free.
It extends WooCommerce providing you with additional functionality and flexibility.
Customers can book weekly, daily, or nightly.
Very easy to use even for beginners.
Appointment Booking Calendar
This appointment scheduling plugin features two standout elements.
The first is that it is one of the only appointment scheduling plugins for WordPress that offers free PayPal integration. They have a premium version but that's just if you want the ability to remove PayPal's link and have additional features like coupons. The paid version costs $49.99.
The second reason The Appointment Booking Calendar plugin stands out is that it is primarily used for showing an available set of time slots instead of a whole calendar of choices. A calendar can still be seen on your website but one of the major features is to cross off the days that are not available to reveal the times that work best for your employees.
In general, the free version of this extension is very unique in comparison to much of its competition on this list. You receive availability verifications, a multi-page calendar for customers to scan the entire year, and a built-in Captcha.
Confirmations and notifications are sent out to both the admin and user. You can also configure and manipulate your calendars by importing an Excel or CSV file.
With regards to the interface, the back end is very easy to use and understand.
The front-end, however, doesn't have the most modern look and feel but you can start designing with 3 pre-built templates. But beyond that, custom CSS is a primary route you will have to use to adjust the way your calendar looks online.
Appointment Booking Calendar Standout Features
You get a Captcha in the free version.
The multi-page calendar feature means that several months can be shown to users at a go.
Recurring customers can book many time slots at once. For example, a hospital may want to offer this to patients that have recurring appointments.
Along with Excel and CSV import, calendar imports can also be gotten from places like Google Calendar and Outlook.
The plugin has translations into tons of languages for global use.
Their feature for crossing out available times and dates makes this plugin very flexible with regards to showing users your current availability.
This is one of the many WordPress appointment plugins with a free PayPal integration.
Booking & Appointment Plugin for WooCommerce
This WordPress appointment scheduling plugin from Tyche Software can change your website into a complete booking platform. It's suitable for all types of businesses and products, including salons, sports equipment rental, gyms, food businesses, or even hotels.
Appointments can be created for all WooCoomerce product types whether simple, variable, bundled, composite, or group. You have complete admin control for which booking days to make available to customers, the number of days or hours a product can be booked, the cost for particular days, and the ability to restrict the number of appointments that can be made on a specific day.
The plugin costs $119 for one store and $249 for unlimited stores.
Booking and Appointment Plugin Standout Features
It functions with every payment gateway available with WooCommerce.
They offer a 30-day money-back guarantee and 1 year of customer support.
For one product you can allow for varying length time slots. So, for example, if you are a tour guide you can have customers book longer tours on Saturdays.
It features a built-in 2-way Google Calendar sync so the customer and not just the admin can keep track of the appointments they have.
Booking Calendar – Appointment Booking System

It's not shocking that most of these WordPress appointment scheduling plugins have very similar names (they're all about booking appointments). This extension is quite similar in name to the Booking Calendar that we've already covered; however, they add the "Appointment Booking System" tag to make it easier to differentiate the two.
They have a free plugin that offers a lot of features that you can start with. For example, it offers unlimited appointment forms and widgets for reservation calendars. It is also very flexible for customizations with options for adjusting the reservation fields, updating the date formatting, and lots more.
This plugin also has a provision that costs $60 to include a full payment system for a single website. You can also get a more advanced booking system without the payment ability for $30.
Additional things that you get with the paid version include editable reservations, options for maximum and minimum days, a ReCaptcha to stop spam, discount tools, and the potential for many website licenses depending on your plan.
The user interface is a lot more rigid than most of the competition on this list. So this plugin is usually best for internal corporate use.
The free version already provides support for unlimited calendars. And if you use it just within your company there is no need to receive payments for reservations.
Irrespective of the above, the size and quality of the booking calendar are great. The plugin shows users the number of availabilities every day with amazing color-coding features and lots of calendar space.
This appointment plugin also works great if you want to customize without limitations. That said, this plugin doesn't provide the most contemporary-looking calendar. But you can include as many custom fields as you desire as well as include FAQ information, add-ons for your services, and reservation details.
Booking Calendar – Appointment Booking System Standout Features
Every plan features unlimited booking calendars.
Flexibility is available as the plugin offers field customization features and options for including as many unique fields as you want.
You can upgrade your general feature-set without paying more money for a payment system.
A simple upgrade gives your access to a payment system, an option for discounts, and editable reservations.
It offers several price points for additional flexibility but most companies that don't require payment processing for appointment reservations can get what they need for free. Also, the pricing plans are very affordable.
The booking calendar is very easy to use and the front-end interface is simple.
The Verdict: Which is The Best Appointment Scheduling Plugin for WordPress?
The above may look like a huge amount of information to consume in one sitting. So if you still haven't made your choice about which appointment scheduling plugin for WordPress is best for you, then take a look at the recommendations for online booking below to streamline your options:
If you use WooCommerce and want the best value for your money go for WooCommerce Appointments.
If you want a nice-looking interface and a ton of features for someone who is a professional coder, go for Bookly.
For a simple but beautiful booking calendar check out Simply Schedule Appointment.
If you are looking for an internal scheduling calendar void of a payment system then consider the Booking Calendar – Appointment Booking System.
If you want to integrate PayPal at no cost then go for the Appointment Booking Calendar.
Hopefully, our review of the best appointment scheduling plugins for WordPress has helped you narrow in on the right booking extension for your business. To make the right choice simply align your brand's business goals for the moment or the future with the considered WordPress scheduling plugin's features.