Did you know there are affiliate programs that pay daily?
That's right. Most affiliate programs pay monthly and some even make you wait up to two months.
What if you don't want that and would rather cash out your affiliate commission daily? Some affiliate networks allow you to do that.
And in this post, I will share some of my top picks.
Affiliate Programs That Pay Daily
1. AdCrax Affiliate Network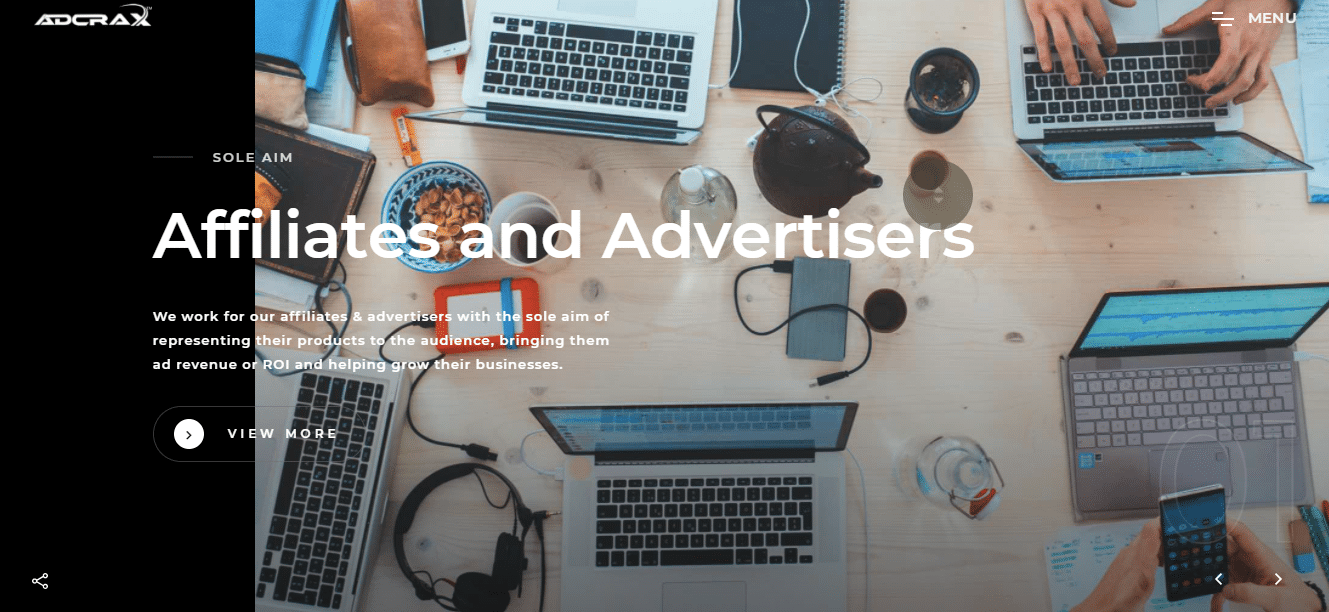 AdCrax is a fast-growing affiliate network on the mobile platform. They work with mobile ad networks, mobile operators, and publishers to serve high-quality ads and increase ad revenue.
If you're looking for an affiliate network that works great with your smartphone users, this would be a good choice.
You also get a considerable ad inventory and it's easy to join. However, they could use a better website. The current website can be quite confusing.
If you are an influencer, you can also monetize your following using their direct offers.
Minimum Payout – $10
Referral Program – None
Commission Model – CPM, CPV, CPC, CPE, CPI, CPA, CPL, Direct Way
JOIN ADCRAX AFFILIATE MARKETING PROGRAM
---
2. AdWork Media Affiliate Network
If you're into CPA marketing and are looking for affiliate programs that pay daily, I suggest you check out AdWork Media. Featuring content locking, CPA, CPL, and content gateways, this network has several opportunities for bloggers, app developers, and influencers.
Besides offering various payment models, AdWork Media pays based on performance, with at least 7 bonuses to qualify for within a month. Better yet, there's an inbuilt affiliate dashboard where you can track your campaigns.
Their ad inventory is not as large as most networks, but the various payment models and the fact that it pays daily make it worth consideration.
Minimum Payout – $35
Commission Model – CPA, CPL, CPS, Content Locking, Content Gateway
Referral program – 3% of Earnings, recurring commission
---
3. ClickMagick Affiliate Program
ClickMagick is one of the best tracking software, offering publishers, entrepreneurs, and influencers comprehensive reports on their campaigns.
In digital marketing, analytics are crucial to success since they help you make data-driven decisions. And ClickMagick brings all the necessary data to your dashboard.
After using this tool and realizing how good it is, you can also promote it to your friends.
And guess what? They have an affiliate program that allows you to earn by referring your friends and audience through your affiliate link. And they don't stop there.
They'll pay you daily as long as you meet the threshold of $50.
The threshold may seem high, but if you have high-quality traffic that converts, it's easy to meet this threshold, considering you earn a $35 commission on every customer who signs up on the paid plans.
Minimum Payout – $50
Commission Model – Referral Program
Referral program – 35% on each sale recurring affiliate program
---
4. Coinbase Affiliate Program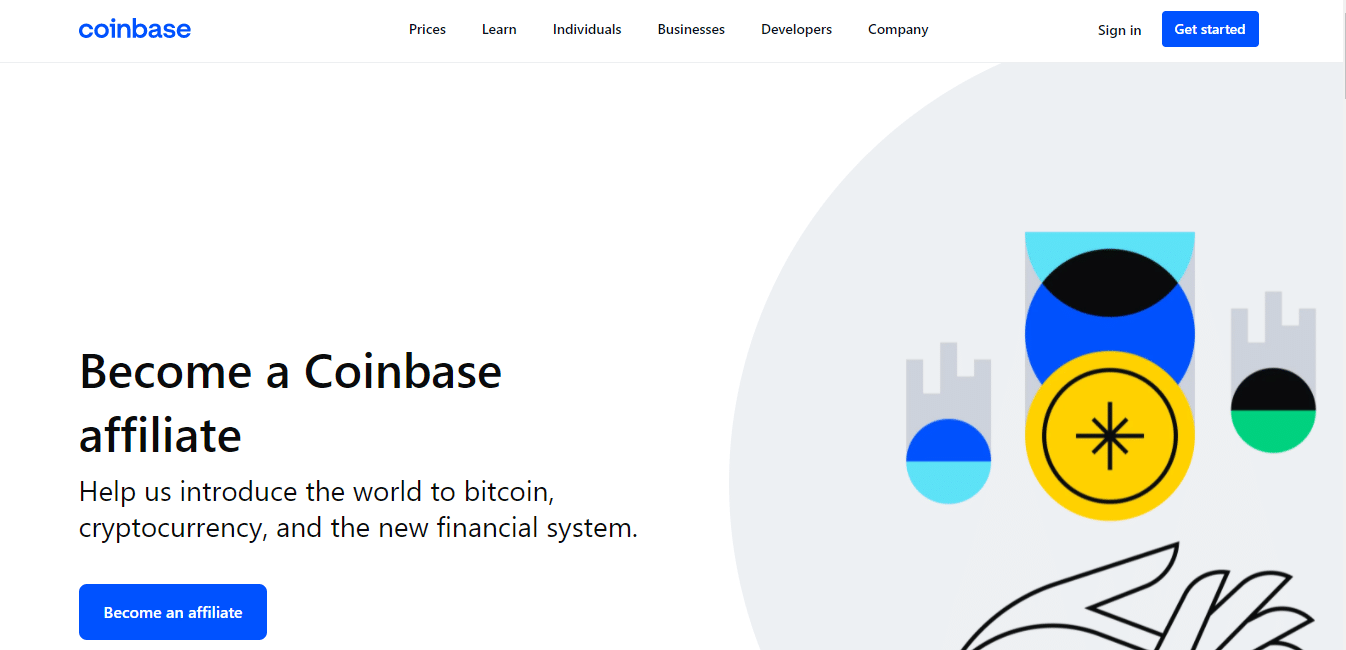 Coinbase is a leading cryptocurrency trading platform. Their easy-to-use interface, wide range of cryptocurrencies, and lower trading fees are some reasons Coinbase is quite popular.
Launched in 2012, Coinbase is also among the first crypto trading platform to use an app. But trading isn't the only way you can earn from Coinbase.
You can become their affiliate partner and earn a 50% commission rate of the referral's trading fees for at least 3 months.
Minimum Payout – $50
Commission Model – RevShare
Referral program – 50% of referral's trading fees for 3 months
JOIN COINBASE AFFILIATE PROGRAM
---
5. Dr. Cash Affiliate Network
If you're a blogger, influencer, or affiliate marketer in the health niche, Dr. Cash is one of the best affiliate programs that will pay daily when you promote their products.
Their products are mostly nutritional offers (also known as NUTRA). Currently, they have over 2500 offers, and they operate in more than 200 countries.
With the right strategies, you only need one affiliate offer to earn a considerable income.
They also have a thriving community and hold meetups regularly where you can meet with them in person.
The health niche can be tricky, so besides checking the commission rates and payouts, you need to make sure you're promoting legitimate products.
Minimum Payout – $50
Commission Model – CPA, CPL
Referral program – 2%
JOIN DR. CASH AFFILIATE PROGRAM
---
6. Easy1up Affiliate Program
Easy1Up is a platform where you can purchase digital courses about making money online.
You can choose to learn from these courses, or when you find them useful, you can join their affiliate program and start selling the courses to your friends or audience.
They promise a 100% commission, making them the best high paying affiliate program on this list for digital products.
But there's a catch. You have to pay a one-time fee to buy the course and the license before you can start selling the course.
For instance, if you buy the Vertex Elite $500, you'll have to pay a license fee. And once you promote the courses, you'll get 100% of the buyer's payment.
The best thing is that you get this payment instantly.
Minimum Payout – NA
Commission Model – CPA
Referral program – 100%
JOIN THE EASY1UP AFFILIATE PROGRAM
---
7. JVZoo Affiliate Network
JVZoo is one of the most popular affiliate programs available.
Most beginners in affiliate marketing start on this platform due to how easy it is to join and the wide range of offers available to promote.
They also provide resources such as training materials, an affiliate manager, banners, landing pages, and tracking tools to help you promote the offers.
And to crown it all, you can withdraw your earnings daily.
Minimum Payout – $50
Commission Model – CPS
Referral program – NA
---
8. Leadbit Affiliate Network
Leadbit is a leading CPA network with advertisers from all over the world.
Their verticals include Email and Pin Submits, Surveys, Gambling, Adult, trials, and Nutra (nutrition). Once you're accepted by this network, you'll have access to exclusive offers daily.
All this increases your chance to earn a considerable passive income.
Besides the large ad inventory, you get 24/7 support, landing pages, banners, and other resources necessary to run a CPA campaign.
They also organize conferences regularly where affiliate marketers and advertisers come together and discuss various issues that affect the industry.
When you reach the threshold ($50), you can request your payments and get paid instantly.
Minimum Payout – $50
Commission Model – CPA
Referral program – NA
JOIN LEADBIT AFFILIATE NETWORK
---
9. Leadstead Affiliate Network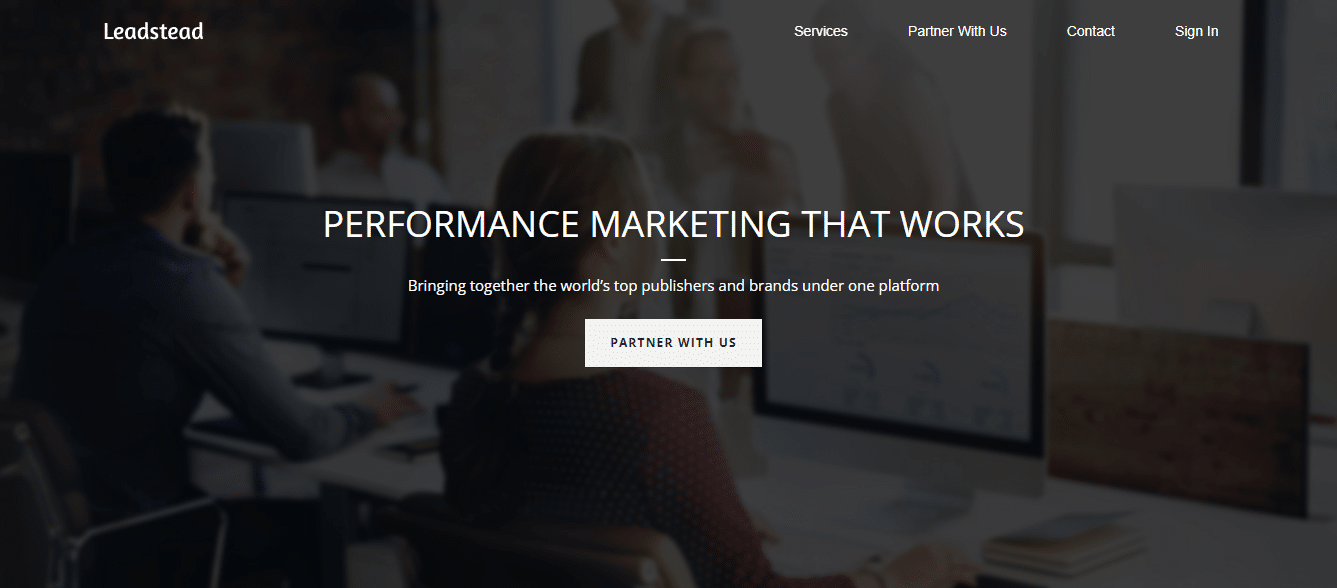 While most networks specialize in one form of affiliate marketing, Leadstead offers several types; from daily paying, CPA, Pay-Per-Click, and many more.
With many ways to monetize your website, you can earn a considerable income even with low traffic.
They may not be that popular, but they've experienced tremendous growth, with over 900 million monthly impressions, over 800 offers, more than 5000 active publishers, and up to 400,000 conversions.
Like most top affiliate networks, you also get technical support and promotional materials like landing pages and in-house tracking software.
Minimum Payout – $50
Commission Model – CPA, CPI, CPL, CPS
Referral program – 5%
JOIN LEADSTEAD AFFILIATE NETWORK
---
10. OneDrone Affiliate Program
I love drones and frequently fly them in my free time. So, I was glad to come across an affiliate program in one of my hobbies.
OneDrone is an online store for drones and accessories such as parts, additional payloads, and customizing devices.
If you're also in the drone niche and would like to monetize your audience, you can sign up for the OneDrone affiliate program. They offer a 3% commission on every successful sale that comes from your affiliate link.
3% may not seem like much compared to the other networks I've reviewed, but good drones cost between $250 and $2000.
Unlike Amazon Associates, where you'd have to wait for at least 30 days to get paid, you can cash out daily.
Minimum Payout – NA
Commission Model – 3% Commission on Every Sale
JOIN OneDrone Affiliate Program
---
11. PayKickStart Affiliate Program
Most of us look at affiliate marketing as a way of earning every time we refer someone. But have you ever looked at it from a business owner's perspective?
That is, how to get affiliates to sign up, how to manage finances, approve and reject potential affiliates, offer coupons, and everything else that takes place in an affiliate marketing business.
That's where PayKickStart comes in.
PayKickStart helps coaches, content creators, and other business owners increase their income and have a smoother business operation.
This is by offering a billing system, a payment gateway to accept payments, a way to approve and reject affiliates, automating payouts, and many other useful features.
And if you have an audience to whom you share digital marketing tips, you can suggest PayKickStart to them and earn as their affiliate.
While they accept most online payment platforms, you'll have to use PayPal if you want to be paid instantly.
If you opt for Payoneer, you'll have to wait until the end of the month.
Minimum Payout – NA
Commission Model – 25% Commission on Every Sale
JOIN PayKickStart Affiliate Program
---
12. PeerFly Affiliate Network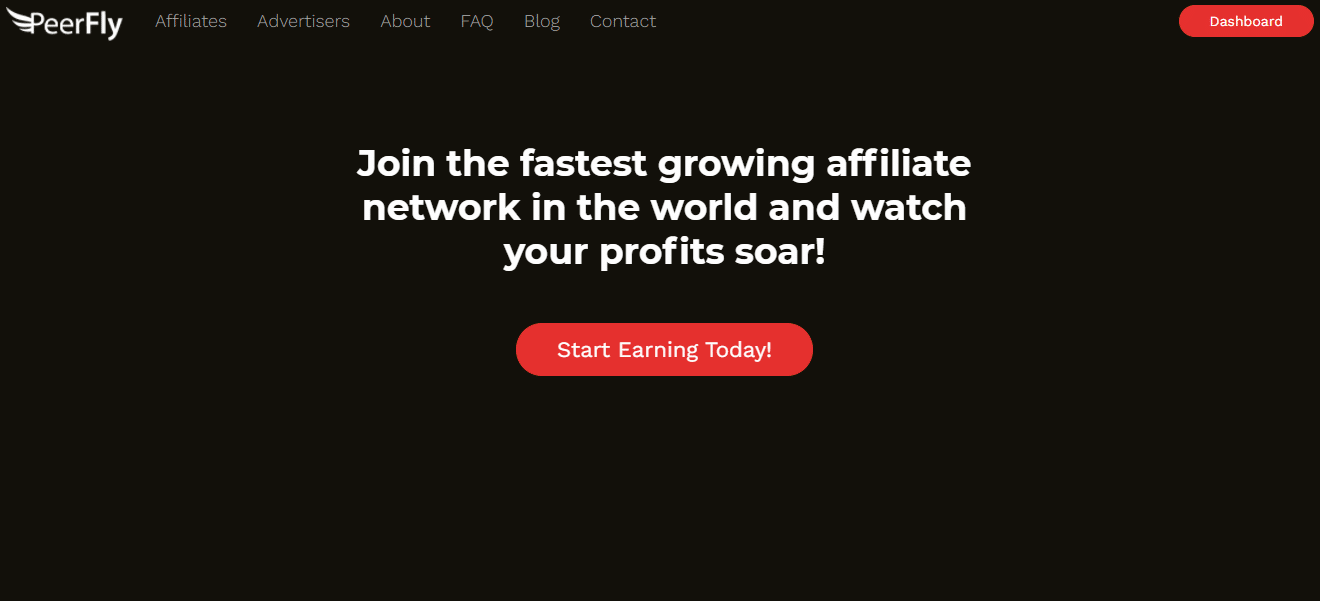 PeerFly is another CPA affiliate marketing network with some of the best offers and a chance to withdraw your earnings daily.
Started in 2009, PeerFly has grown to become one of the largest networks. They currently have over 2000 offers and have partnered with major brands like Uber, Fiverr, GameFly, McAfee, and Target.
To track your performance, you don't have to use a third-party tool like Bitly.
You can use their in-house tracking software, which has been customized to give you the insights you need.
The only issue with this platform is that you'll have to incur at least 24% of your income to get paid daily. Unless it's an emergency, it's better to wait for the weekly payments.
Minimum Payout – NA
Commission Model – CPA
JOIN PeerFly Affiliate Program
---
13. PracticePanther Affiliate Program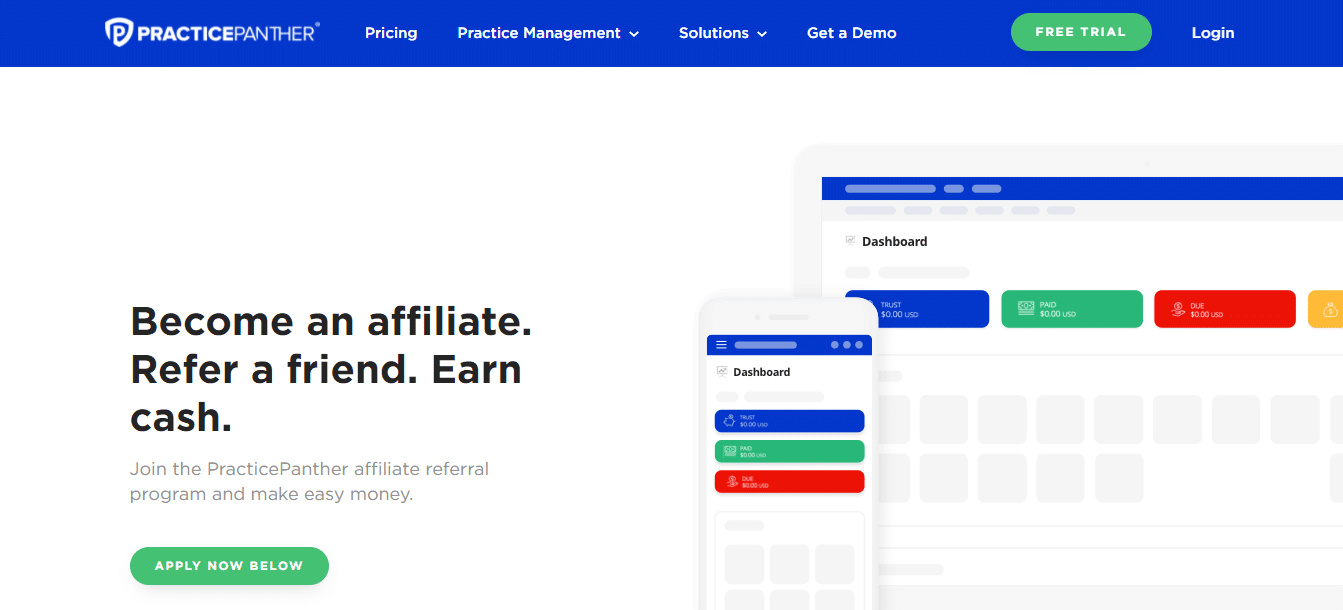 PracticePanther is a comprehensive Law Practice Management Software that allows users to gain and manage clients within the platform.
The features include billing, legal CRM, case and document management, eSignature, scheduling, and security.
PracticePanther integrates with third-party software like MailChimp and Zappier, so you don't need to use any other software in your law firm.
And thanks to their affiliate program, you can now earn by referring to other law firms.
Whether you're a blogger in the law niche, or a practicing lawyer looking to make some extra income, PracticePanther provides a way to earn by paying you a $100 instant commission for every successful referral.
Minimum Payout – NA
Commission Model – $100 per referral
JOIN PracticePanther Affiliate Program
---
14. Robinhood Affiliate Program
Robinhood leveraged emerging technologies to bring trading functionalities closer to people. Launched in 2013, Robinhood was one of the first companies to offer commission-free trade stocks.
While most trading companies required you to start with at least $1000, Robinhood is free to join, and you get $225 worth of stock to trade with.
You can also earn from this platform by joining the affiliate program, suggesting it to your friends and audience.
When you successfully refer someone, you both earn free stock. You also earn $5 for every sign-up and $20 if the new user funds their account.
The 30-day cookie period is also a plus, considering most people don't fund their accounts on the first day of signing up.
Also, they run their affiliate program through Impact Radius, and you get paid as soon as you hit the threshold. The sooner you do that, the better.
Minimum Payout – $50
Commission Model – $5 Per referral, $20 per funded account
JOIN Robinhood Affiliate Program
---
15. SiteGround Affiliate Program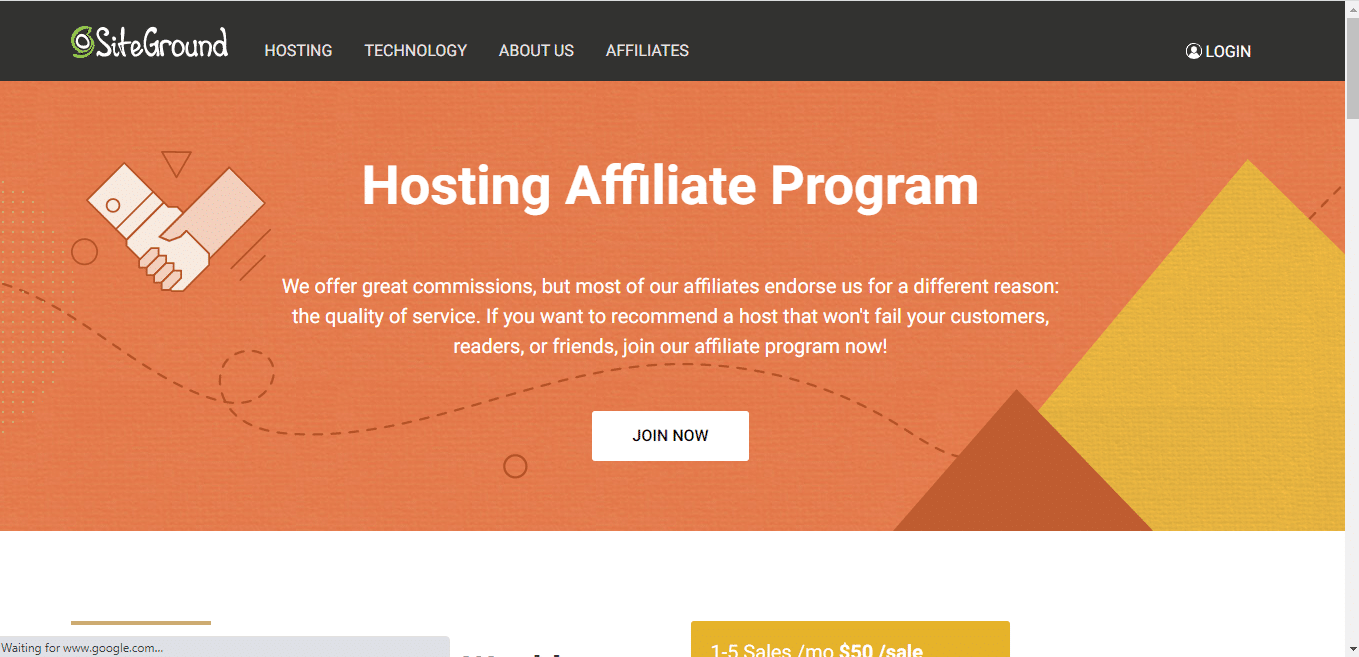 SiteGround is one of the most popular hosting companies. Launched in 2004, SiteGround has gained a huge consumer base in blogging, niche websites, eCommerce, and other online businesses.
But all these businesses allow you to earn from SiteGround indirectly. To earn directly from this hosting company, consider joining their affiliate program.
It's quite lucrative, as they offer up to $100 per sale. You get landing pages, banners, tracking, and even free hosting for one month to help you promote this offer.
However, even though they pay daily or weekly, they have a 30-day holding period, which gives customers a chance to request refunds.
Minimum Payout – NA
Commission Model – Referral program, $50 to $100 per sale
JOIN SiteGround Affiliate Program
---
16. Terra Leads Affiliate Program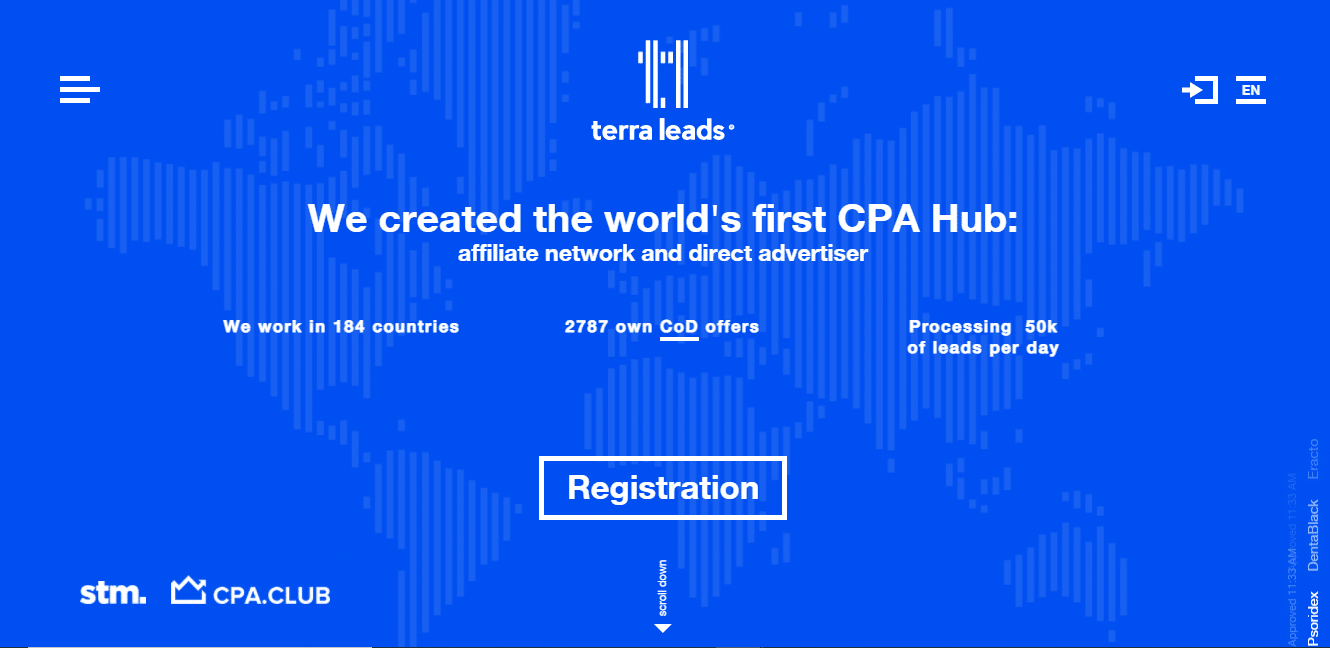 Advertised as the "First CPA Hub," Terra Leads is one of the best CPA affiliate programs that pay daily.
Currently, they operate in at least 184 countries, have over 2700 offers, and generate up to 50,000 leads per day.
Affiliate marketers stand to gain a lot by joining this program, from potentially high payouts, 24/7 customer support, marketing tools for each demographic to real-time transparent reporting and tracking.
Better yet, besides earning commissions from the offers you promote, you also earn t-coins, which you can then exchange for electronic devices, gaming consoles, cars, or planes at the Terra Store.
Minimum Payout – $50
Commission Model – CPA
JOIN TerraLeads Affiliate Program
---
17. Warrior Plus Affiliate Network
WarriorPlus brings together online business owners and online course creators seeking to sell informational products and affiliates who want to promote these products.
It's mostly an educational marketplace, with courses about blogging, affiliate marketing, SEO, podcasting, etc.
WarriorPlus stands out from the rest by offering a very stable and easy-to-use platform that can simultaneously handle operations by thousands of affiliates and thousands of business owners.
If you've built an audience in the digital marketing niche, you can enjoy instant payments to your PayPal account for every qualified sale.
Minimum Payout – $15
Commission Model – CPS
JOIN WarriorPlus Affiliate Program
---
18. CPALead
CPA Lead is a popular CPA network offering various offers, including email and pin submits, surveys, software trials, and content locking.
They also offer different ad formats depending on how you want to promote the offers. These include pop-under, offerwalls, and Native Ads.
Started in 2006, CPALead has generated millions of leads and was ranked as one of the fastest-growing companies in 2012.
However, not all offers on this platform have daily payment. Those that do are called "Fast Pay" offers.
Minimum Payout – $1
Commission Model – CPI, CPA, PPC
JOIN CPALead Affiliate Program
---
19. Rapid Action Profits
Like WarriorPlus, Rapid Action Profits help individuals and businesses sell their digital products and build their own affiliate teams.
As they state on their website, driving traffic to your info product alone can be hectic and may not always be successful.
But with tools like Rapid Action Profits, you can reach a bigger audience at a small percentage of the cost of the product.
Better yet, the sellers set the commission rates. They can choose to offer 100% commission rates and rely on upselling the buyer, or they can offer a small percentage of the total cost.
Either way, the affiliate gets paid instantly once they refer a sale.
Minimum Payout – NA
Commission Model – Varies
JOIN Rapid Action Affiliate Program
---
20. Rebll Affiliate program
Are you looking for affiliate programs that pay daily in the dating niche? You should try Rebll.
They offer over 600 offers in the dating vertical, high pay-outs, and different monetization methods for both desktop and mobile platforms.
Rebll also boasts of high-quality affiliate programs and 24/7 customer support. They may not be as popular as some dating affiliate programs, but the daily-paying and exclusive offers place them in the same league as the "big boys" in the industry.
Minimum Payout – NA
Commission Model – CPL
Referral program – 3%
Conclusion
Who knew there were this many affiliate programs that pay daily? And guess what? I only picked 20 of the best. There are many more.
You can pick some of these daily payout programs and diversify with affiliate programs that pay weekly, bi-weekly, and monthly to make sure you're always receiving payments throughout the month.