Affiliate marketing is one of the best ways to make money online for both brands and affiliates. Having the right WordPress affiliate plugins can help ease and quicken the process.
But choosing the right WordPress affiliate plugins can be tough because there is an army of them available on the web.
To help you out, we've compiled a list of 17+ WordPress affiliate plugins that you can use to amplify your affiliate marketing endeavors and skyrocket your earnings.
We have hand-picked these based on their features and general performance. Some of these plugins are free, while others are paid but worth every penny.
Here's a table of contents to help you find what you're looking for faster.
AdSanity WordPress Affiliate Plugin
AdSanity is a powerful, lightweight, and super simple-to-use tool for maximizing your potential earnings. It works flawlessly with your existing content and allows you to create ads manually or automatically. With this, you can put self-hosted and network advertisements on your WordPress site.
Key Features
Create and manage ad widgets, sidebars, and articles with ease
Shows you how your advertisements are performing by providing reports on clicks, impressions, and conversions
Display affiliate banners in any widget
Support for multiple offers from the same advertiser
Drag-and-drop functionality to add or reorder elements easily
Built-in support for adding text links alongside other types of display ads
A ton of add-ons to expand the functionality
Price: Starts at $49 per year
Ultimate Affiliate Pro
This WordPress affiliate management plugin offers advanced features for a one-time/lifetime fee. It has most of the attributes you'd want as an affiliate marketer to run your program effectively.
Key Features
Manage an unlimited number of affiliates
Ample integration options and works with EasyDigitalDownloads, BuddyPress, WooCommerce, Stripe, PayPal, and other platforms
24/7 support system that can handle queries at any time.
Dashboard statistics, performance reporting, periodic reports, and even provides custom fields for your affiliates registering
Price: $69
Get Ultimate Affiliate Pro Now!
Link Whisper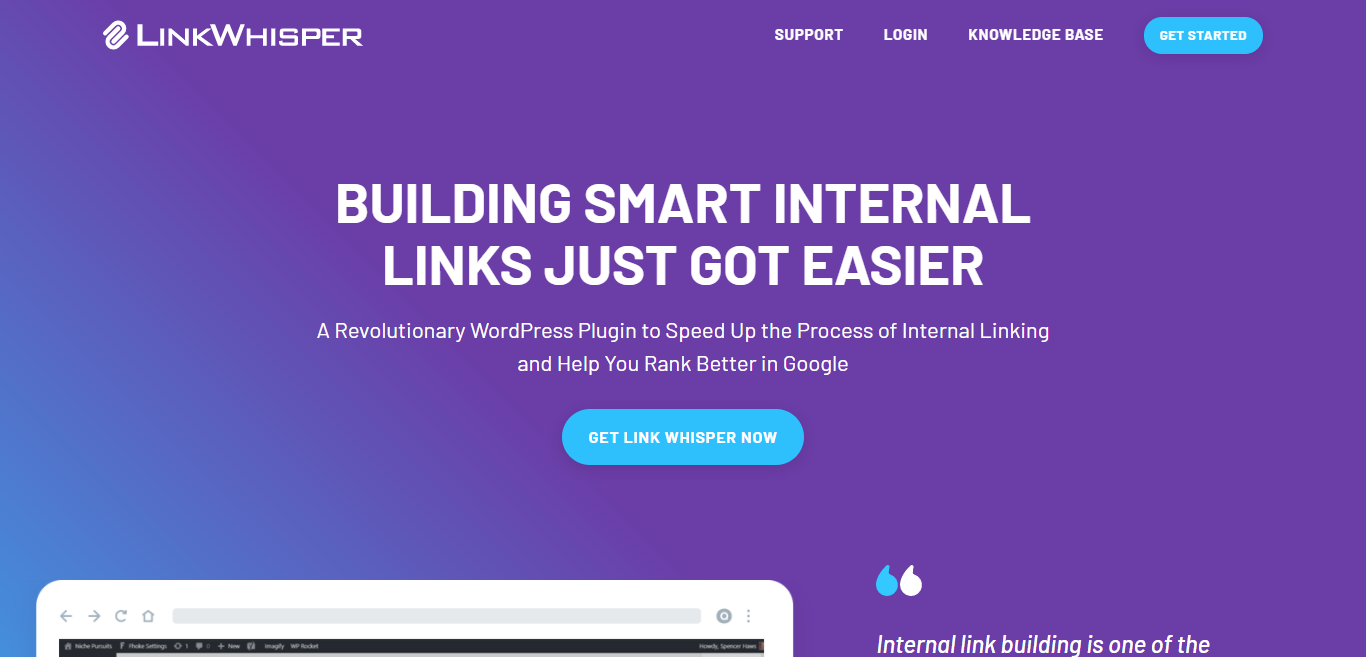 This best WordPress affiliate plugin is a groundbreaking WordPress plugin that significantly reduces the time it takes to set up internal links and improve your Google ranking.
Internal links are suggested by Link Whisper based on the content of your website. It finds relevant connections and links them up.
The most effective kind of internal link is in-content and relevant, and Link Whisper provides just that.
You also have complete control over whether or not to accept the link proposition.
Key Features
Automatically get link suggestions as you create content
Internal link reporting
Link suggestions from target keywords
Quickly find internal linking options
Price: $77 for 1 website
AmaLinks Pro
AmaLinks Pro is a premium Amazon Affiliate WordPress plugin that helps Amazon Associate site owners manage affiliate links and build product displays.
The plugin includes the following features:
Amazon-compliant pictures
An Amazon Prime badge for certain items
An affiliate disclaimer
Call-to-action buttons
Table builder extension and priority assistance (with premium subscription)
The WordPress affiliate plugin is available for purchase as a yearly subscription or as a lifetime license. Generally, the software isn't terrible, but it lacks some of the more advanced features found in comparable plugins like Thirsty Affiliate and Pretty Links.
Price: Starts at $67 per year
Pretty Links
If you hate those ugly affiliate links that turn off your readers or audience, then the Pretty Links WordPress affiliate plugin is an excellent choice. 
Pretty Links transforms those arduous affiliate links into something more memorable, allowing your hyperlinks to make bigger impressions on your audience.
Beyond this, it enables you to include affiliate links to your content automatically.
Key Features
Auto-linking feature that allows you to build affiliate links to particular URLs automatically for specific keywords
Adaptable and works with the leading responsive WordPress templates
Offers Pretty Bar, a fantastic tool that enables you to brand and advertise your links
Create branded and custom affiliate links
Allows you to manage server-side redirects and 404 issues
Offers in-depth reporting that helps you examine, measure and boost the performance of your links
Price: Starts at $79 a year
AAWP
This WordPress plugin is built just for the Amazon Affiliate program. Its primary features are aligned to affiliate text links and product box ads. Also, if you're an experienced affiliate marketer, this tool will definitely be a favorite.
Using the AAWP plugin, you have the option of a ton of advertising placements.
Some of the possibilities include:
Text-based advertisements
Putting product boxes inside posts using shortcodes
Using sidebar widgets to show ads
Crafting curated best-seller product lists
Key Features
Supports both geographic targeting and Google AMP
Quickly personalize ad design and utilize colors and styles that complement your website
Craft best-seller lists, fresh releases lists, and a variety of other advertising promoting methods
Adds tracking IDs to your links automatically
Offers flexibility to customize every option to whatever you choose
AAWP is a powerful affiliate promotion tool that both experts and novices in the industry can use. But it seems more tailored to advanced users. The tool is also extremely flexible and allows for a lot of creative possibilities.
Price: $19 per year
YITH WooCommerce Affiliates
If you're searching for an eCommerce plugin, YITH WooCommerce Affiliates is often regarded as the leading free WordPress affiliate plugin, although it has a paid version as well.
The WordPress affiliate eCommerce plugin allows WooCommerce merchants to set up affiliate profiles as well as commission rates.
Key Features
Get a dashboard where they can check the status of their payments and growth
Calculates refunds and affiliate commissions automatically
Features adjustable cookies meaning you can change the length of customizable storage time and keep Refer IDs in the user's cookies
Price: Free and $99.99 per year
Get YITH WooCommerce Affiliates Now!
AffiliateWP
This is one of the most complete plugins for developing an advanced affiliate program on WordPress.
Using AffiliateWP, you can have an infinite number of affiliate sites and creatives for more efficient promotion of your website, product, or service. It also offers extensive affiliate and referral tracking analytics.
Key Features
Built-in referral link builder allows affiliates to create their own affiliate links
Payouts Service allows you to make payments directly to affiliate bank accounts or debit cards in a few easy steps
Manually approve requests or automatically do so to make it easier for affiliates to join, eliminating tag time and allowing visitors to continue to the dashboard quickly
Connect to a lot of tools you'd use normally in affiliate marketing
Stay on top of your affiliate campaigns with real-time reporting and graphs
Price: Starts at $149 per year
MonsterInsights
This WordPress affiliate plugin features so many valuable features as it provides detailed analysis on your affiliate initiatives and even includes affiliate link tracking possibilities.
Plus, MonsterInsights is the simplest way for affiliate marketers to include Google Analytics on their website. And as every online marketer knows, Google Analytics is a must-have.
Key Features
24/7 support staff always available to resolve queries
Integrate your MonsterInsights account to other WordPress affiliate plugins with ease
Offers in-depth analytical reports that provide a view of your highest-earning pages and most successful traffic sources
Dashboard is simple to comprehend even for those who aren't familiar with Google Analytics
Price: Starts at $99.50 per year and the Pro version costs $199.50 a year
Genius Links
This tool's auto-affiliation, auto-localization, and link health monitoring features, in particular, are its most impressive features.
With this solution, it's simple to create short links, but Genius Links also enables you to make Choice Pages that allow your visitors to choose where they want to buy a product. You will be paid regardless of where they purchase the item.
It includes a variety of reporting options, as well as retargeting and A/B testing capabilities that can help you improve conversion rates without much effort.
This tool also supports a wide range of affiliate networks and works with affiliate aggregators, so there will never be a problem with network support.
Key Features
A/B testing
Choice pages 
Retarging capabilities
Link health monitoring
Automatic affiliation 
Automatic localization
The tool is popular among marketers since it can raise commission earnings by up to 200%. So it's a no-brainer to get the tool.
Price: Plans start at $5 a month
Affiliates By Itthinx
Affiliates By Itthinx allows you to add affiliate links to your website in a matter of minutes and monitor your progress via reports. Plus, for those on a budget, this is an excellent option for a free WordPress affiliate and referral plugin. 
Key Features
Works with a variety of applications, including popular eCommerce platform WooCommerce and others
Simple to use and allows you to use blocks and short codes to easily construct your affiliate area and dashboard to match your brand style
Dashboard is intuitive and utilizes visuals to show your affiliates' performance
Price: Free
Get Affiliates By Itthinx Now!
ReferralCandy for WooCommerce
This tool enables you to build an affiliate program from scratch as well as manage it.
Though you can get the ReferralCandy plugin for free, if you want to get the best out of the tool, you have to go to their website and sign up for a paid subscription. After that, you can begin using the tool.
Key Features
Simple to use
Dashboard and data reporting to give you insight into your affiliate campaigns
Support system via live chat that's always available every day of the week
No restrictions on how many affiliates you can have
Price: Free to download but premium subscriptions begin at $49 per month
Easy Affiliate
Just like ReferralCandy, Easy Affiliate allows you to seamlessly build a custom and self-hosted affiliate program from the ground up. It works for both eCommerce stores and membership programs. 
Key Features
Simple dashboard that allows you to keep track of your program with real-time reports
Set up a completely featured affiliate program for your WordPress site within minutes
Offers customizable performance graphs that show things like clicks, sales, and payments in the detail
Integrate a shopping cart to manage and see one-time and recurring payments from sites like PayPal, Authorize.net, and more
Price: Starts at $99.50 a year
Affiliate Coupons
This plugin is best for affiliate marketers who intend to profit from promoting deals. Affiliate Coupons allows you to manage, organize, and display coupons on your website. 
Key Features
Features a widget that you can use to advertise discounts on your site's sidebar.
Adds a new dashboard interface for managing coupons to your dashboard
Allows you to use short codes to put specific coupons or batches of coupons on any post or page of your website
There is a free version of this affiliate plugin, but the premium plans come with several additional features that will significantly boost the success of your site. You'll get detailed analytics, click-to-reveal coupons, coupon detail pages, and more style alternatives.
Price: Free, paid plans start at $99
Affiliates Manager
If you're looking to make money via affiliate marketing for free on WordPress site, Affiliate Manager is a fantastic place to begin. The tool comes at no cost, and it offers some fancy features you'd only find in paid tools.
Key Features
You and your affiliates can keep track of sales and referral clicks in real-time from your account
Simple to use as you can manage, track, and compensate your affiliate partners from your WordPress site
Offers an affiliate portal that enables users to sign up and advertise your goods or services
Price: Free
Constant Contact
Constant Contact is one of the most popular email marketing softwares on the market. It allows you to keep in touch with your website visitors even after they've left your site by adding a contact form to your website.
Key Features
Allows you to produce elegant email campaigns in seconds, thanks to this program's drag-and-drop email builder which comes with a variety of templates
Keeps track of how your campaigns are progressing and allows you to conduct A/B tests to see which format engages your users more
Quickly set up an email newsletter, send emails to your customers, and increase the number of people who subscribe to your platform
Advertise your affiliate partners through your newsletter, which offers you another approach to enhance your affiliate revenue
Price: Starts at $20 per month
Thirsty Affiliates
Thirsty Affiliates is a fantastic affiliate lead conversion tool. It allows you to quickly and easily cloak your long links and make them appear compelling to your audience. Plus, its a great plugin for tracking your conversions and commissions accurately.
Key Features
Automatically inserts affiliate links to keywords
Add visuals to your links or link pictures
Strong affiliate administration platform allows you to locate and replace links on your ThirstyAffiliates dashboard interface with ease
Organize your links with categories to keep track of your affiliate campaigns
View your affiliate link clicks and campaign's statistics
Price: Starts at $49
Over to You
We've listed the best WordPress affiliate plugins in the market. However, depending on the nature of your business and brand, some options will work better than others. Before opting for one, ensure that it matches your organization or personal goals. 
That said, the WordPress plugins in the roundup above satisfy the basic and advanced needs of affiliate marketing from generating affiliate links to starting an affiliate program and tracking affiliate conversions. 
So over to you! Get started and watch your affiliate marketing results skyrocket with the right tools.