Are you a new affiliate marketer trying to learn how to promote an affiliate link? 
Or maybe you're a seasoned marketer looking for new ideas to increase your clicks, conversions, and overall profit.
In this article, we're covering 17 ways you can promote affiliate links for maximum profit. And none of this includes shady practices or link spamming your friends and family. Let's get into it. 
From blogging to YouTube to social media and more, you can promote your affiliate links in many ways. Learning how to promote an affiliate link doesn't have to be hard!
If you're new to all of this, be sure to also check out this guide to affiliate marketing for beginners. 
1. On Your Own Blog Posts
One of the best and most profitable ways to promote an affiliate link is through your own website or niche blog. 
When done right, you can amass hundreds to thousands of readers per month. And, when your affiliate links are strategically placed, you have the potential to earn thousands from affiliate marketing on a blog. 
Use Pretty Links, a WordPress plugin, to add affiliate links to your blog posts. This plugin masks your affiliate links and makes them look more appealing. You can also track affiliate links and their clicks with this plugin so you know how your content is performing.
Of course, just creating a blog or website and slapping some articles that you add affiliate links to isn't enough to be profitable with affiliate marketing. 
You have to learn how to write a blog post effectively, how to find out what people want to read with the help of SEO, and more. 
Check out this guide to learn how to start your own niche website to start making money with affiliate marketing. 
If you already have a website or blog, learn more about the best SEO keyword strategies to get visitors and readers to your articles. 
And if you want to keep up on the latest and greatest affiliate marketing tactics, check out the Affiliate Lab. It's a course created by passionate affiliates to help you grow a brand across your niche site, email, social media, and more!
Best Article Types for Affiliate Marketing
There are certain types of articles that perform better than others when it comes to making sales of affiliate marketing products.
Here are the five best article formats to write for each product you're an affiliate for:
In-depth reviews
X vs Y posts
X Best Products for XYZ posts
Case Studies
Tutorials/How-To's
2. Promote Affiliate Links with an Email List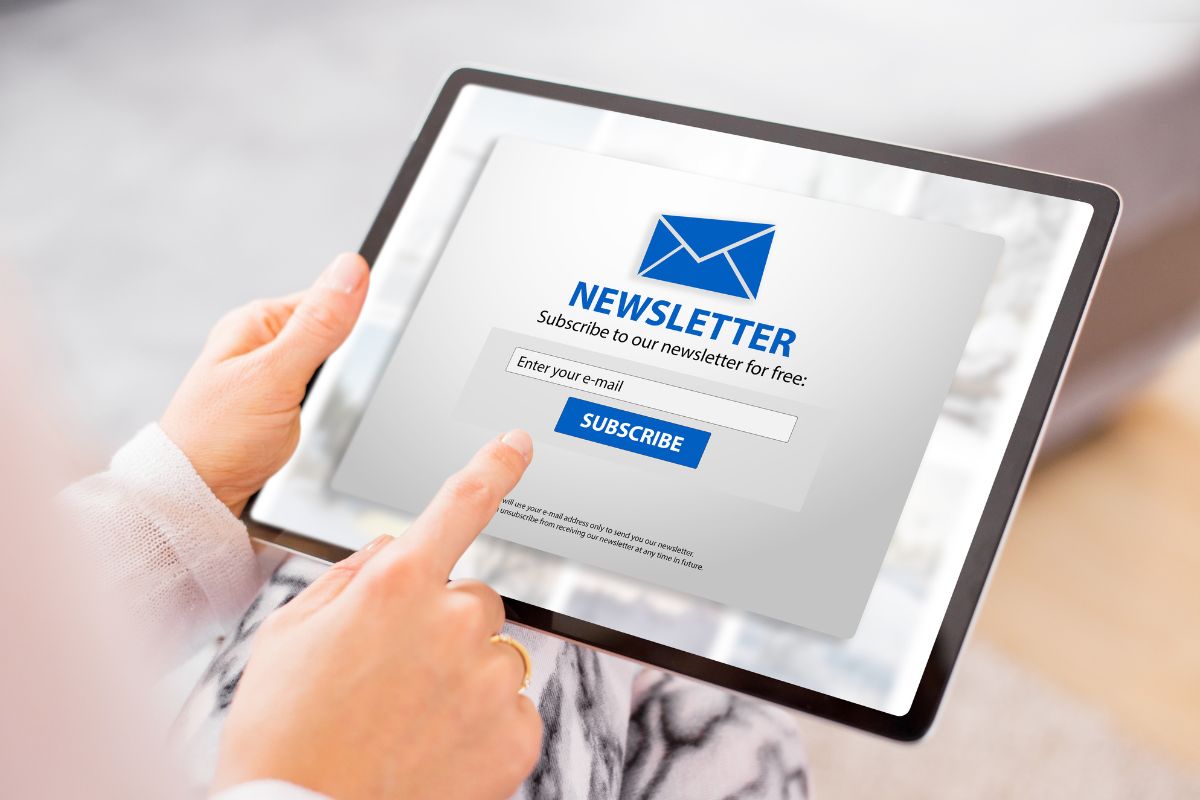 Promoting affiliate links with an email list is called email marketing. Email marketing is one of the most powerful yet underrated ways to make money with affiliate marketing. 
The best way to grow your email list is to provide something for free in exchange for someone's email address. The freebie is called a lead magnet, and popular choices include free ebooks, checklists, digital guides, a free mini course, etc. 
Once you have subscribers on your email list, you can send them daily, weekly, or monthly emails about your affiliate products, promote your latest article or video, and more. You can add affiliate links in your emails or direct readers to content that has them.
Email marketing is a large topic with a lot to learn, but this is a skill you must master to have sustainable success with affiliate marketing. 
Learn more in this email marketing guide.
3. Blog on Public Publishing Platforms
If you don't want to go through the time and effort it takes to set up your niche website or blog, you can blog on public publishing platforms like LinkedIn and Medium. 
The benefit of blogging on public publishing platforms is that millions of users read content daily. 
You can publish articles about your affiliate products on these platforms and place your affiliate links in them. However, it's not as simple as writing any old article and slapping your links in. 
Readers on Medium and LinkedIn want to read high-quality, valuable content. While blogging on these platforms can help you reach the top page of Google search results quickly, your content should be high-quality if you hope to make any sales from it. 
Learn more about how to make money on the Medium publishing platform here.
4. In Guest Posts on Other Websites
You can promote your affiliate links on your own blog, and in some cases, you can promote affiliate links in guest posts on other websites. 
Guest posting has many benefits – and certainly not just limited to promoting affiliate links!
Guest posting is when you write a high-quality article for another website, typically in your same niche or industry. 
Some website owners and publishers will allow you to include links in your article, whether to your own website or an affiliate product. 
You can also use Pretty Links on guest post websites. This is a great idea to track affiliate links you've embedded on other sites to see how they perform.
When it comes to promoting your affiliate link in a guest blog post, not every publisher will allow this, though.
However, most publishers will allow you to place a link back to your own website.
You can use this link to link to an article on your own website that has your affiliate links. 
And even if users don't click through this link to your website, getting backlinks sends a signal to Google that your article is valuable. In turn, this can help you rank higher in the search results and get more traffic to your affiliate article. 
Check out these 100 websites that accept guest posts and start building links today. 
5. Create Affiliate Banner Ads
Affiliate banner ads are ads that you place on your own website in the sidebar, above and below content, and in the middle of your content. 
Banner ads add a visual element to your webpage, which can help keep readers engaged. And when designed in an eye-catching way, it's a great way to get clicks to your affiliate link. 
Check with your affiliate program or affiliate manager to find out if they offer additional resources. Many affiliate programs provide you with pre-made affiliate banner ads that you can place on your website and in your content. 
6. A Resource Page on Your Website
Resource pages are a place to list links to tools and services you use, know, and like. This is a page that lives on your own website or blog and acts as a resource for readers who are curious about products you recommend or are looking for products that can help them in their own journey. 
If you plan to create resource pages for promoting your affiliate links, be sure they're actually structured as a resource and not just a page where you spam every affiliate link you have. 
7. Promote Affiliate Links on Facebook
There are many ways to promote affiliate links on Facebook, and virtually 0 of them involve spamming your friends and family with your affiliate links on your newsfeed. 
On Facebook, you can use Groups, Reels, Fan and Business Pages, and your own profile for promotion. 
Ideas for using Facebook to promote your links include: 
Writing short-form case studies or tutorials for your affiliate product, using the link at the end in a call-to-action. 
Sharing your latest articles or videos where you are talking about your affiliate product. 
Posting Reels and growing a following in your niche and directing viewers to the link in your bio – which could be a Linktree, a link to an article or video, or just a link to your affiliate product. 
Using a Fan Page or Business Page to run ads to your articles or videos that talk about your affiliate products. Or, you can share affiliate links or articles to your content on your page.
8. Promote on Pinterest
Pinterest is a visual search engine and can be a great place to promote affiliate links. 
However, Pinterest is usually a long game, and unless you're running paid ads, don't expect insane results using this method. Many newbies start their blogging career promoting affiliate links on the platform.
I wouldn't recommend making it your main focus, but you can certainly add it to the mix.
And there are a few different ways you can use Pinterest to promote affiliate links. 
You can post static pins, which are static, vertical images that show up in the search feed. These graphics should stand out, and you can use a design software like Canva to create them. 
Use the pin title and description to tell the Pinterest search engine what the pin is about and encourage people to click on your affiliate link, which you include at the bottom. You can add affiliate links on Pinterest paired with a graphic that entices people to click.
Idea pins are short-form videos that you can repurpose from Reels and TikTok to increase engagement, grow your account, and drive traffic to the link in your bio. 
Learn more about Pinterest affiliate marketing here.
9. Use Instagram
Instagram is a highly engaged social media platform that can be a great way to promote affiliate links. 
The best way to promote affiliate links on Instagram is by creating Reels – short-form videos that have a much bigger reach than static image posts on Instagram. 
Reels are a great way to grow your following and have the potential to go viral, but you can still use static images and carousel posts to further engage your followers. 
You get one link on Instagram, and you can use this spot to post a link aggregator like Linktree, which gives you the ability to include multiple links to multiple products, articles, videos, and more. 
Check out this article on Instagram affiliate marketing to learn more. 
10. Promote Affiliate Products on TikTok
Short-form video has massive potential to help people go viral, grow bigger followings than they ever thought possible, and also drive traffic to their links – including affiliate links. 
And TikTok is the king of short-form video content. 
You can make many kinds of videos that promote your affiliate links. You can make short videos that allude to longer-form content where you promote your links, like articles or YouTube videos. 
Or create reviews, unboxing, tutorials, case studies, answer FAQs, and so much more. 
TikTok can be a great platform if you're an affiliate for physical products, like Amazon. 
Search #amazonmusthaves on TikTok to get an idea of how people are promoting physical products on the platform and emulate the most successful content yourself. 
Check out this article about how to make money on TikTok to learn more. 
11. Using Twitter and Threads
Twitter and Instagram's new Twitter-like platform, Threads, have fast-paced text-based feeds that can be useful for promoting affiliate links. 
Posts on Twitter and Threads follow a stream-of-consciousness format, and the platforms are very similar to each other. 
On both platforms, you can post links, gifs, and images, and you can also create threads that are multiple posts nested under a single post, similar to an article, in short and easy-to-digest chunks. 
To be successful with affiliate marketing on Twitter and Threads, you'll need to focus on engagement with other creators, posting valuable and relatable content, and growing your own following. 
Check out this article on Twitter affiliate marketing to learn more. 
12. On YouTube
YouTube is a video search engine, so it functions much like Google. And this is a really valuable feature for affiliate marketing! 
Much like blog articles, you can create YouTube videos about your affiliate products and your industry, and you can link to those affiliate products in the description of your videos. 
And, similar to articles ranking on Google, videos on YouTube can be found indefinitely because YouTube is a search engine that also utilizes SEO. 
Unlike other social media platforms like Facebook, Instagram, TikTok, Twitter, and Threads, content posted to YouTube doesn't just disappear in the feed a month or two later. 
Your videos can get views years later and earn money from both affiliate marketing and advertising. 
If you're trying to grow your income online, creating a YouTube channel should be one of the key pieces of your overall strategy. 
Learn more about YouTube affiliate marketing here.
13. On a Podcast
Podcasts are another form of content where you can educate people about your affiliate products with reviews, short mentions, case studies, and more. You can add your affiliate link in the show notes or leave a link to your email list, articles, or videos that link to your affiliate products. 
Podcasting is a great backup strategy to help grow your following and email list, which will help you grow your income through affiliate marketing. 
14. Promote Affiliate Links on Forums
Forums like Reddit, Quora, and niche-specific websites all have their own rules for affiliate marketing and promoting links, but there are still ways to do it. 
You can spend time on forums looking for questions and threads related to your affiliate product or your published content. 
Forum users don't like aggressive advertising, so your responses and posts must be value-packed and not overtly "selling." You can include links to your content that further promotes, but keep your forum posts helpful. 
Learn more about Reddit affiliate marketing here.
15. Use Paid Advertising to Promote Your Links
You can use paid advertising on all social media platforms and Google to direct traffic to your affiliate links. Be sure to check the affiliate program terms and conditions to ensure you aren't violating them with your advertising practices. 
To be on the safe side, consider running ads to your top-performing articles or videos instead of directly to an affiliate link. 
16. In Downloadable Digital Products
Downloadable digital products like ebooks, guides, checklists, and PDFs can be a good place to embed affiliate links.
However, not every affiliate program will allow this. Amazon, for example, does not allow you to post your affiliate links in emails or on downloadable media. 
Be sure to check your affiliate program terms before considering this method. 
17. In an Online Course
If you have an online course and additional software, tools, or services that would be of more value to your students, you should sign up for their affiliate programs.
Online courses are a great way to share your knowledge and help people learn a specific topic. They're also a great place for affiliate marketing when you recommend additional tools. 
Now you know how to promote affiliate links – and there are far more options than you might initially think. 
When promoting your affiliate links, the most important thing to remember is to focus on value and what the product can do for the customer. Successful affiliate marketers focus on providing value through their content.
Reviews, case studies, tutorials, and product comparisons can all help someone on a buying journey. And if you do it just right, they'll buy from your link, and you'll cash in.