Are you looking for free webinar recording software? You've come to the right place.
Webinars are some of the best ways to connect to an audience. While you could record a video and post it on YouTube, a live webinar rings you closer to your audience since you can get instant feedback and interact with them throughout the webinar. And with Covid-19 making changing how we work, the demand for webinar software is on the rise.
 However, for whatever reason, not everyone may make it to the live webinar at the scheduled time, and they risk missing out on any helpful information.
According to findstack.com, 83% of marketers acknowledge that webinars are effective, but only 43% of the people you expected may attend. If you want to reach out to the remaining 57%, you'll need to start recording webinars.
And no, you don't need to budget for webinar software, for there are free webinar recording software. And in this post, I will share some of the best ones.
The Best Free Webinar Recording Software
Below are some of my top picks. Some are entirely free, while others have free and paid plans.
Zoom
Zoom is probably the most popular free webinar software. Many people learned about it during the Covid-19 pandemic when most of the meetings were held through zoom as people worked from home.
While it's not entirely free, Zoom has a free plan that can handle 100 participants, 10,000 attendees, and a group chat where participants can send feedback.
Better yet, you can not only record, but you can also generate a transcript of the meeting.
While you could pay people to transcribe the meetings, the generated transcript is almost accurate, and all you need to do is pay for editing, which is cheaper.
Unfortunately, the meetings can only last 40 minutes with the free plan. After 40 minutes, you all have to leave the meeting and join again.
Who is it best for?
When you need to do a short webinar (up to 40 minutes)
---
ezTalks Webinar
ezTalks is another webinar recording software with a free version. Unlike Zoom, the ezTalks webinar specializes in hosting webinars thanks to features like webinar rebranding, webinar registration, thank you page, waiting room, and even a webinar report.
The Webinar host will also have access to tools like screen-sharing, whiteboards for presentations, and webinar recording. The meetings last 100 minutes with the free versions, and the maximum capacity is 100 participants and 10,000 attendees.
Better yet, you don't have to download any software. As long as you have the link to the webinar, you can join it using your browser.
Once you're done hosting and recording (which is pretty easy, by the way), you can download the video in MP4. This video is playable on any device without having to convert.
Who is it best for?
Webinars with several attendees.
---
Ekiga
Originally known as GnomeMeeting, Ekiga is an open-source VoIP, videoconferencing, messaging, calls platform built to offer SIP (Session Initiation Protocol) on GNOME and desktop environments. It was first built on the Linux platform, but it also works on Windows.
Ekiga was launched in 2001, at a time when webcams and other videoconferencing capabilities were still in their infancy. But they've been updating the software over time to match the advanced systems we have today.
It even has a multilanguage translation capability, a feature you won't find in most webinar software. And guess what? It's totally free.
Who is it best for?
A small audience.
---
YouTube Live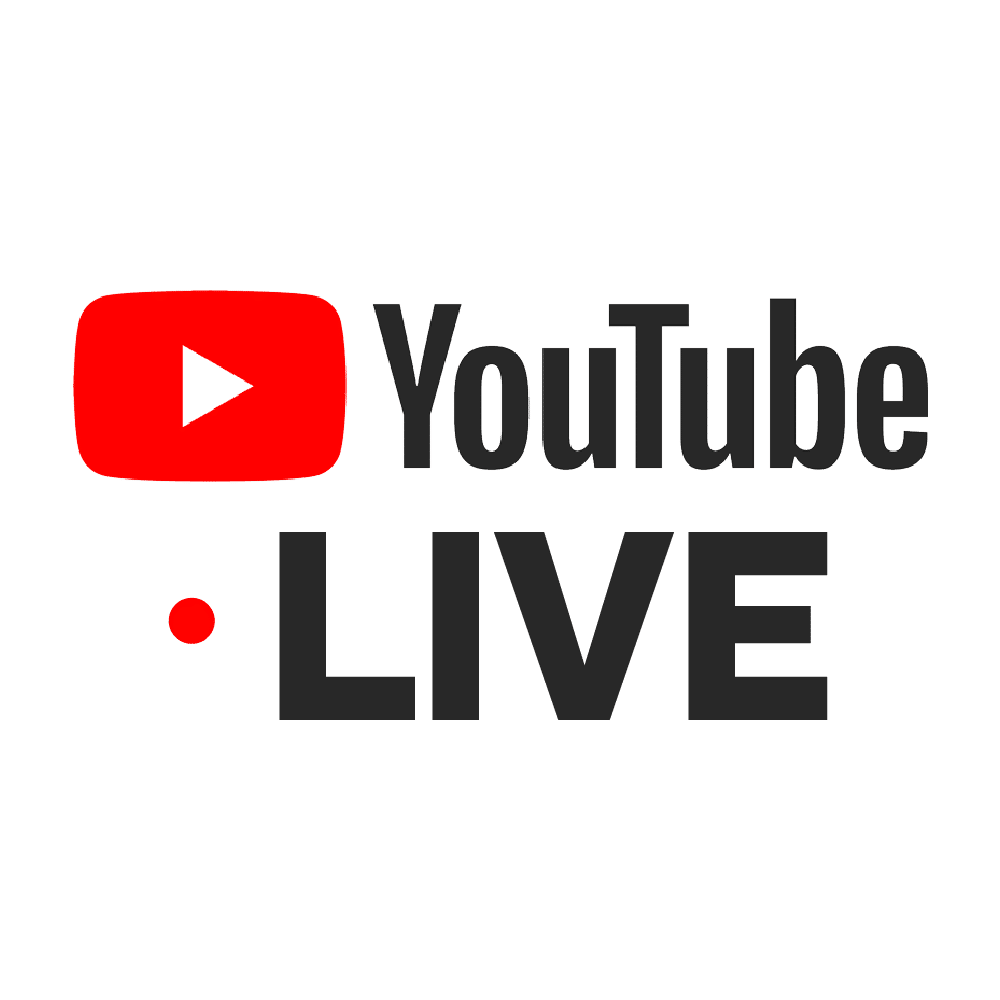 All the webinar software I've mentioned so far need you to download software and learn how to use it. And to benefit from all the features, you may have to subscribe to one of the paid plans.
But what most people don't realize is YouTube can be used as a free webinar recording software.
There are no limits, no charges, and you can have as many attendees as you'd like. Besides, the viewers don't even need a YouTube account. YouTube will automatically archive the video in 4K after about 24 hours, but it's advisable to record it manually.
If it's your first time, make sure you test the Go Live option 24 hours before the actual broadcast since it takes 24 hours to activate.
To benefit from YouTube Live, all you need is your laptop, a USB microphone, internet, Webcam, and a verified YouTube channel. But verifying isn't that complicated.
Once you try to activate "Go Live," you'll get a prompt to verify your account where they'll send a code to your phone or by voicemail. However, to go live on your Smartphone, you'll need at least 1000 subscribers.
The live chat section can be quite distracting, and you may not have a chance to view all the messages. That's why it's important to have a few moderators, especially when you have several attendees.
Who is it best for?
YouTubers, content creators, influencers.
---
Facebook Live
Facebook Live also allows you to reach more people using webinars. Unlike YouTube, where you just Go Live, with Facebook, you'll need streaming software like LiveStream, OpenBroadcaster, BeLive, or StreamYard.
These software will then channel the livestream to your audience. Did you know you can also stream Zoom through Facebook Live?
Facebook offers more than just free webinar recording software. You can also use it as a marketing tool to spread the word about your webinar. For instance, schedule the webinar in the next few weeks.
Then, create an "Event" about this webinar and start promoting it on your page or Facebook group. You can even use Facebook ads and influencer marketing to promote the webinar.
After a successful live stream, you can now download the video for future preference, embed it on your website, or post it on your YouTube channel. You can also leave it on your Facebook timeline.
Who is it best for?
YouTubers, content creators, influencers, brands.
LiveWebinar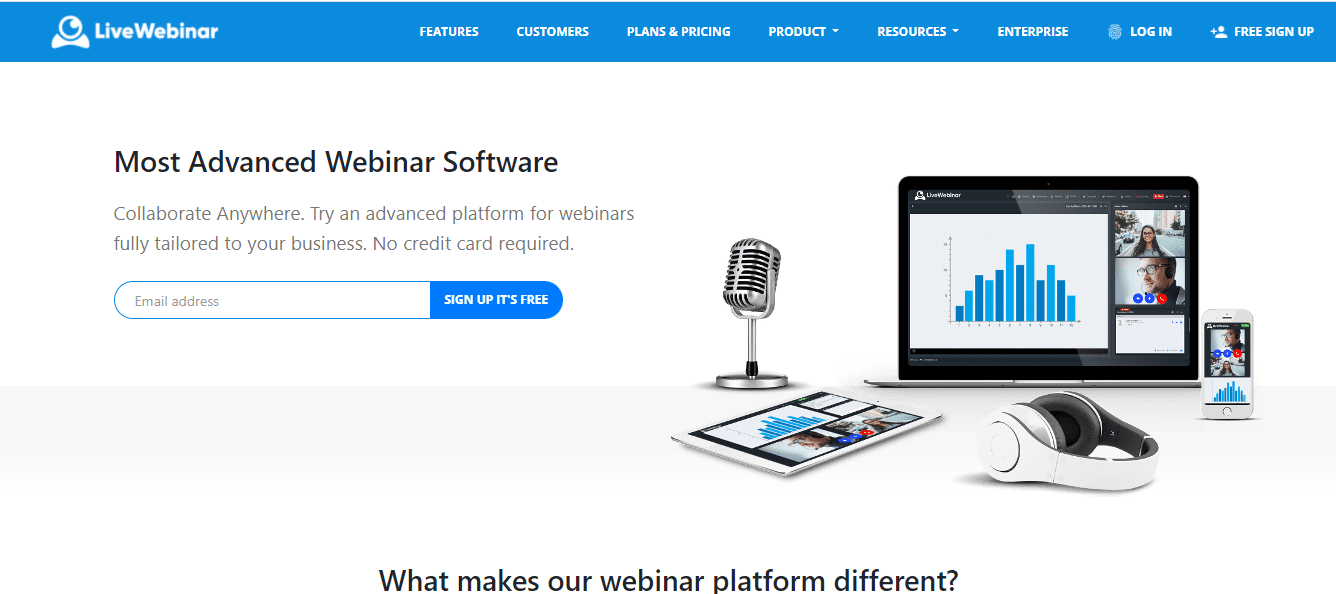 LiveWebinar is a cloud-based webinar software that allows you to stream your webinar to social media channels like Facebook, Vimeo, YouTube or embed it to your website.
With the free version, you can conduct polls, add Call-To-Action, share your screen, send e-mail invites, and use a whiteboard.
LiveWebinar also boasts of a wide range of integrations, including MailChimp, GetResponse, Zapier, HubSpot, and Slack. These integrations make LiveWebinar the perfect tool to integrate into your marketing campaigns.
Who is it best for?
YouTubers, content creators, influencers
WebEx
Thanks to the Cisco Cybersecurity features, WebEx is one of the most secure webinar platforms. If the information you're sharing is sensitive, or you want your participant's information to be secure, you should consider WebEx.
As the host, you can see up to 25 users on your screen, share your screen, chat, or even use the whiteboard.
However, while it supports up to 40,000 users, the free plan is limited to a few streamers and participants. But it's good enough for small organizations.
Another fascinating feature about WebEx is the integration capabilities with tools like Google Workspace, Outlook, SharePoint, Teams, and Google Cloud. If you have any Cisco device, such as the DX80 monitor or phone, you can stream directly from them too.
Better yet, you get several ways to join, i.e., calling, using an app, or using a browser, and you can switch between each when you have a poor connection. But many of these features aren't available in the Basic (free) plan.
Who is it best for?
Webinars for larger audiences
Mikogo
Mikogo is another easy-to-use webinar and videoconferencing platform, offering features suitable for personal and business use. Mikogo's main features include;
Sharing your screen.
Remote control
Whiteboarding
Session Scheduling
Screen recording
Secure encryption for meetings
Ability to join through a browser or an app.
File transfer
Mikogo has a free plan with most of the must-have features to run and record and simple webinars. But for larger webinars with thousands of participants, you'll have to go for the paid plans.
Who is it best for?
Webinars for small audiences and those who want to scale in the future.
Apache OpenMeetings
OpenMeetings provides an easy-to-use open-source platform to conduct webinars, online training, video calls, presentations, screen sharing, document sharing, and editing for free.
Launched in 2007, OpenMeetings is built on open-source technologies such as HTML5, Flash, and Red5 Media Server, which allow you to customize the conferencing to suit your business needs.
Like Ekiga, OpenMeetings is free, and there are no limits to how many people can participate in the webinar.
Who is it best for?
Webinars for small audiences
Intermedia AnyMeeting
Videoconferencing has never been easier, thanks to platforms like AnyMeeting. With the free version, you can host up to 1000 attendees, share your screen, conduct polls, QA, and even record. Intermedia AnyMeeting also features a powerful AI transcription tool that transcribes in real-time.
You can even repurpose this transcript into blogposts or an eBook. If you want to have more participants, you can go for the $9.99 per user plan or the $12.99 per user per month plan.
As you can see, you get to enjoy advanced features at a fraction of the price of high-end webinar platforms.
Who is it best for?
Webinars for small audiences.
CHECK OUT INTERMEDIA ANYMEETINGS
Vyew
Vyew strikes a balance between WebEx and GoToMeeting, some of its main competitors. It's more than a webinar platform, allowing users to share documents, files, screens, all without downloading any software to your computer.
However, the host will need to install Java on their computer to utilize screen sharing. But the participants can access the meetings without installing Java.
Vyew has a free version that handles up to 10 participants, and this version has enough features to hold a small webinar for your firm or stay in touch with friends and coworkers.
The only issue is that, with the free version, you'll have to deal with ads displaying on your meetings.
That's a sneaky way to get you on the premium plans, but if you don't mind the ads, you can still enjoy the basic features on the free plan.
Who is it best for?
Webinars for small audiences
Zoho Meetings
If you're already using Zoho's products, such as the calendar, assist, click, or Finance Plus, you'll be pleased to know that they also have a webinar platform. Zoho is a leading SaaS provider offering a wide range of products, and these products can integrate with each other.
For instance, you can integrate Zoho Meetings with the calendar for scheduling.
But how does it fare as a webinar platform? It's easy to use, secure and offers most of the basic features necessary for a webinar.
However, you can only have 2 participants and ten attendees with the free version. But the paid plans aren't that expensive if you want to scale as your business grows.
Who is it best for?
Small firms or a small audience.
GoBrunch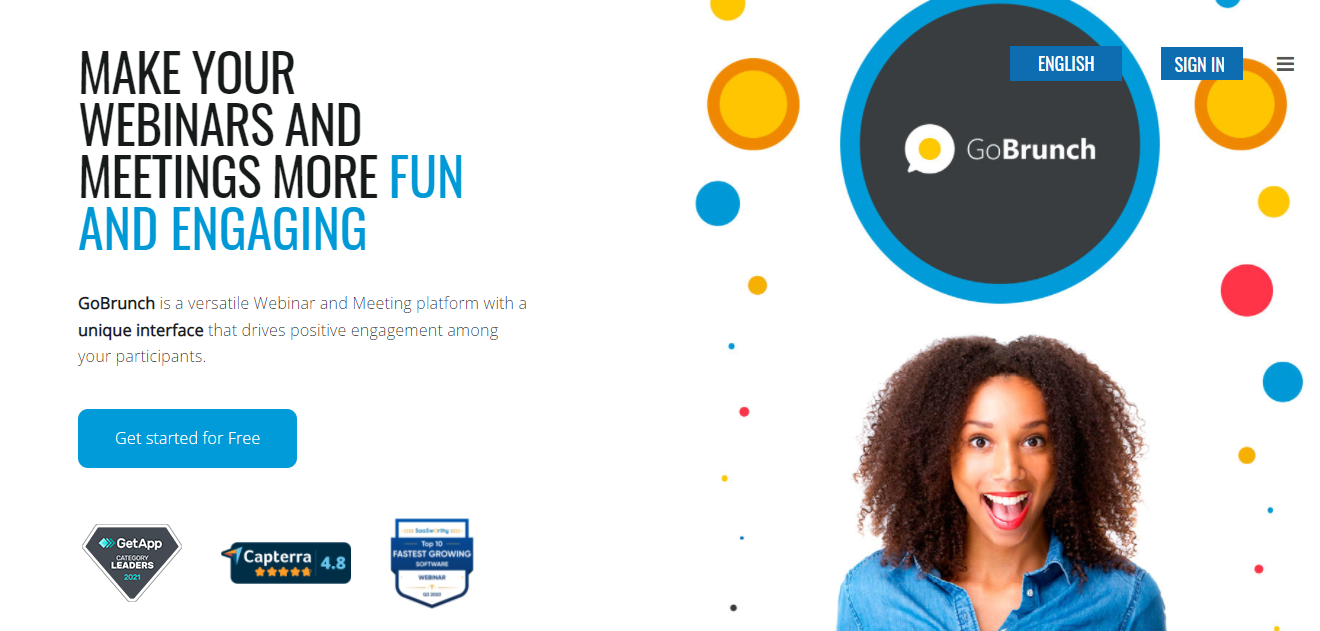 GoBrunch offers a cost-effective platform to hold your webinars, events, and even summits with free and paid versions. On the free version, you can enjoy the following features;
Unlimited time per session
3 Breakout rooms
120 participants
Recording
Control over the attendees' webcams and audio
Screen sharing
Raising hands, chats, and other ways to engage the audience
Better yet, they don't need to download any software to participate.
Who is it best for?
Hosts who need more control over the audience's activities.
Stage Ten
Stage Ten is more of a live streaming software that you can use to go live on Facebook Live, Twitch, or YouTube Live.
These platforms may not have some of the features you need for your webinar, but Stage Ten is a complete studio that will help make your YouTube or Facebook live to look professional.
Some of the features this studio offers include custom graphics and the ability to add music, clips, and games to your livestream.
And you get to do all these through a drag-and-drop editor. The paid version has additional features, but the free plan offers enough to start with.
Who is it best for?
YouTubers, content creators, influencers, podcasts
Why Would You opt For Free Webinar Recording Software?
As mentioned earlier, webinars are a big thing nowadays. According to various studies, webinars have a turn-up rate of up to 40% and a conversion rate of up to 50%.
Recording can help increase the conversion rate
.
While there are many high-end software, some businesses are cash-strapped and can't afford an extra expense. That's why you should try these free software. They may be limiting, but there's a lot you can do with them.
What To Look for In a Free Webinar Recording Software
Below are some factors to consider when looking for a recording webinar software;
Recording – And not just any recording. The output file should be accessible by various devices. If not, you should be able to convert it to regular formats. You should also consider the quality of the recording.
Ease-Of-Use – The software should be easy for you and attendees and participants to use. For instance, some need people to download the software, and not everyone knows how to install software on their computer.
Scalability – While free webinar recording software is convenient, your audience will grow, and you'll probably need software with more features. While you can always find new software, it would be great to find one with a free version and some convenient paid plans.
Reporting – Look for software with reporting and analytics on the attendance, engagement rate, and other aspects to help you improve future webinars.
Reliability – Make sure the software is reliable and doesn't experience frequent lags and connection issues.
Conclusion
And there you have it. If you want to hold an online meeting or webinar and are on a budget, there are several free webinar recording software to choose from.
Some of them may be limited, but with some creativity, there's a lot you can accomplish with them. We've seen how you can host a webinar with several attendees on YouTube Live.
Before selecting any of the software, consider the size of your audience, the information you want to share, and the technical know-how of your audience.