Are you wondering how to find profitable products to sell on Amazon? There are so many tools that can help with this, but choosing the right one can be tough. Luckily, this article detailing the best product research tools for Amazon is going to make your choice a little easier.
We are going to look at thirteen of the best Amazon product research tools on the market today and explain what they can do for you.
And many of these tools not only help you to validate product ideas, but they give you sales and revenue estimates, historical sales data, keyword search volumes, competitor analysis, and more.
Right. Let's find you some winning tools.
To become a successful Amazon seller, it's essential to have detailed data on low-competition, high-demand products to sell.
If you just sell what the masses are selling, it's likely your monthly sales won't amount to much.
Keep reading to learn about the best Amazon product research tools that'll give you an advantage over the competition.
Jungle Scout
Jungle Scout is a popular product research tool that has a ton of features to help Amazon sellers with the product research process and pinpoint market trends.
You can find winning products as a new Amazon FBA seller, and if you've been in the business for a while, you can accelerate growth with tools that make it easier to drive sales.
A few things you can do with Jungle Scout include:
Find and track winning products
Uncover high-value keywords
Find great suppliers for products
Write and optimize product listings
Learn from experts in the video tutorials
Price: Basic $49/month, Suite $69/month, Professional $129/month. Save 55% if paid yearly.
Free Trial: 7-day free, risk-free trial and money-back guarantee.
Try out Jungle Scout today.
Learn more in this detailed Jungle Scout review.
AMZScout
AMZScout is an affordable product research tool for Amazon sellers that offers a ton of smart features.
Get the knowledge you need to increase sales with their step-by-step course and 7-figure masterclass, and you can use the keyword research tools to get thousands of relevant keywords to boost your product listings.
In addition to this, you can use AMZScout to identify product ideas, market trends, and reliable sales data and analyze the performance of your competitors.
Price: Sellers Bundle $49/month. $20 off if paid yearly. 10-day money-back guarantee.
Free Trial: Try the AMZScout Pro Chrome extension for free by entering your email.
Try out AMZScout today here.
Learn more in this detailed AMZScout review. Plus our head-to-head comparison of AMZScout vs Jungle Scout.
Helium 10

Helium 10 offers a suite of helpful tools for Amazon sellers and Walmart sellers.
Not only that, you can enjoy their learning hub, which includes an award-winning training series, the intermediate-advanced PPC training academy, webinars, and a podcast.
Inside Helium 10, you get access to a suite of research tools, such as:
Cerebro. This is a keyword research tool that gives you keyword research volume data to help you find opportunities.
Black Box. This is a research tool and product finder that allows you to filter results by reviews, product weight, sales volume, projected sales, and more.
Scribbles. This will help you to optimize your product listings with high-ranking keywords.
X-Ray- free Chrome extension. Use Helium 10's powerful research tools directly from your browser.
Price: Starter $39/month, Platinum $99/month, Diamond $279/month. Save 25% if paid yearly.
Free Trial: Free access to some Amazon seller tools.
Try out Helium 10 for free today.
Learn more in this detailed Helium 10 review.
Unicorn Smasher
Unicorn Smasher is an Amazon product research tool developed by the makers of AMZ Tracker.
It offers a ton of comprehensive data for Amazon sellers to help you dominate any category including reviews, prices, bestseller ranks and estimated sales of any product.
You can track everything in the easy-to-manage dashboard and analyze the Amazon market to find niche opportunities.
If you're new to selling on Amazon, this is one of the best free tools to get started with.
Price: No cost making it ideal for new Amazon sellers.
Free Trial: Free to use forever.
Viral Launch

Viral Launch offers a range of handy product research tools to help you find profitable products and scale your income.
The main seller tools include:
Product research tool. Find product ideas faster than ever with accurate sales data, trends, and insights.
Competitor tracking. Reverse engineer your top competitors to learn what they're doing right.
Keyword research. Identify the best keywords for your product at a click of a button.
Advertising and PPC. Boost your PPC results with ad tracking, suggested bids, and more.
Keyword tracking. Track keyword performance and identify easy opportunities to improve.
Price: Essentials $69/month, Pro $99/month, Pro Plus Ads $199/month. Get 2 months free when paying annually.
Free Trial: 14-day free trial.
ZonGuru
Zonguru offers a range of features and resources for Amazon sellers to help them find the hottest products to sell.
One unique feature is how it allows you to easily find reliable suppliers for products on Alibaba.
In addition to this, you can use the niche finder, listing optimizer, email automater, keyword finder and tracker, plus tools to analyze market data, pricing trends, sales trends and competitor data.
Price: Researcher $49/month, Seller $79/month. Save up to 40% with annual billing.
Free Trial: 7-day free trial.
SellerApp

SellerApp is another product research tool that offers sellers accurate data, automations, and better operations.
You can access a range of tools and features to optimize listings, source high-converting keywords, and find the best-selling products.
The product data is particularly helpful, allowing you to see profit margins, demand, and competition so you can make better decisions about what to sell.
Price: Pro Lite $49/month, Professional $99/month. Save 50% by paying annually.
Free Trial: Unlimited free plan with access to limited tools and tracking.
Merchant Words
Merchant Words is a keyword research tool that helps you understand competitors and find niche products to sell.
One particularly helpful feature is being able to see the search volume of each keyword, which lets you assess the demand and see emerging trends.
Not only that, but you can access other handy tools, including competitive analysis to see how to beat the competition and the keyword multiplier to find related keywords.
Price: Silver $35/month, Gold $79/month, Platinum $149/month, Enterprise $749/month.
Free Trial: No.
FBA Wizard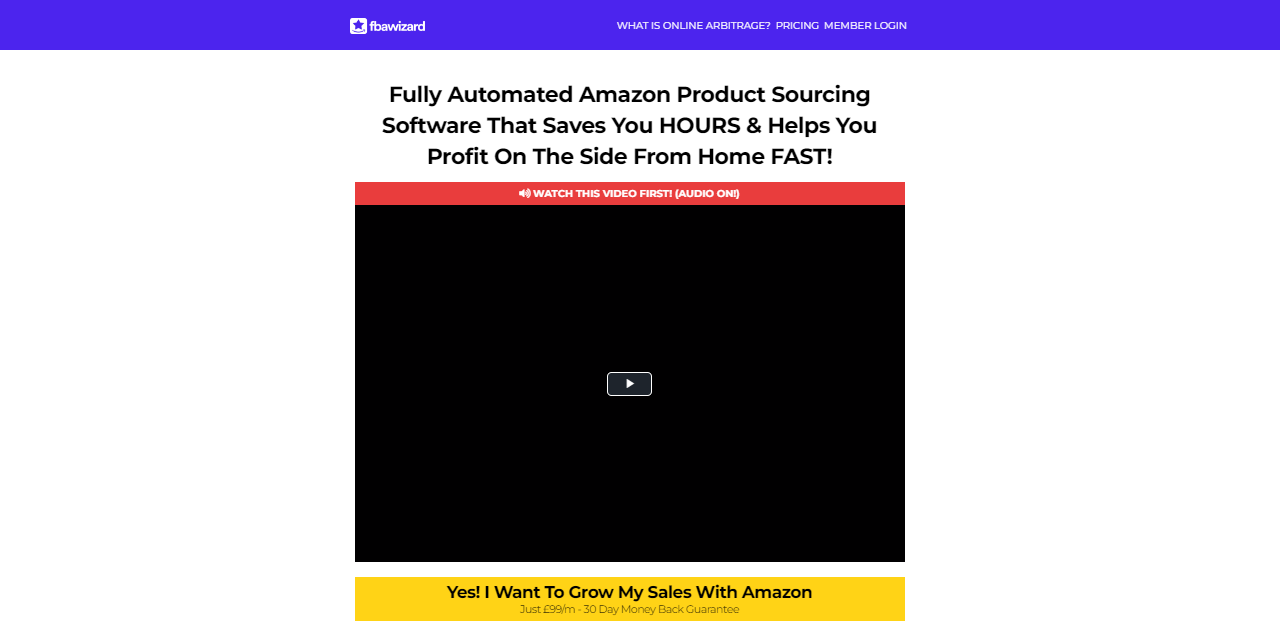 FBA Wizard is another top Amazon product research tool that'll save you tons of time sourcing profitable products.
It includes multiple useful features, including options for reverse searching competitors, arbitrage sourcing, and the ability to search for products according to sales rank, demand, profit margin, and competition.
Alongside the smart product research tools, FBA Wizard allows you to use the Wizard IQ, which is a unique AI sales algorithm that gives you accurate data about whether a product will sell on Amazon before you invest a penny.
Price: $99/month or $999/year with 2 months free.
Free Trial: No, but you get a 30-day money-back guarantee.
Keepa
Keepa is a price-tracking tool and browser extension that allows you to monitor product prices across different e-commerce platforms.
Once the extension is installed, you can use the product finder and product viewer to see the best-selling products by category and merchant.
You can also get price increase alerts and a range of other data and insights on different products to help you identify trends and product demand.
Price: Premium 15 euro/month, 149 euro/year
Free Trial: Yes, but with limited features.
AmazeOwl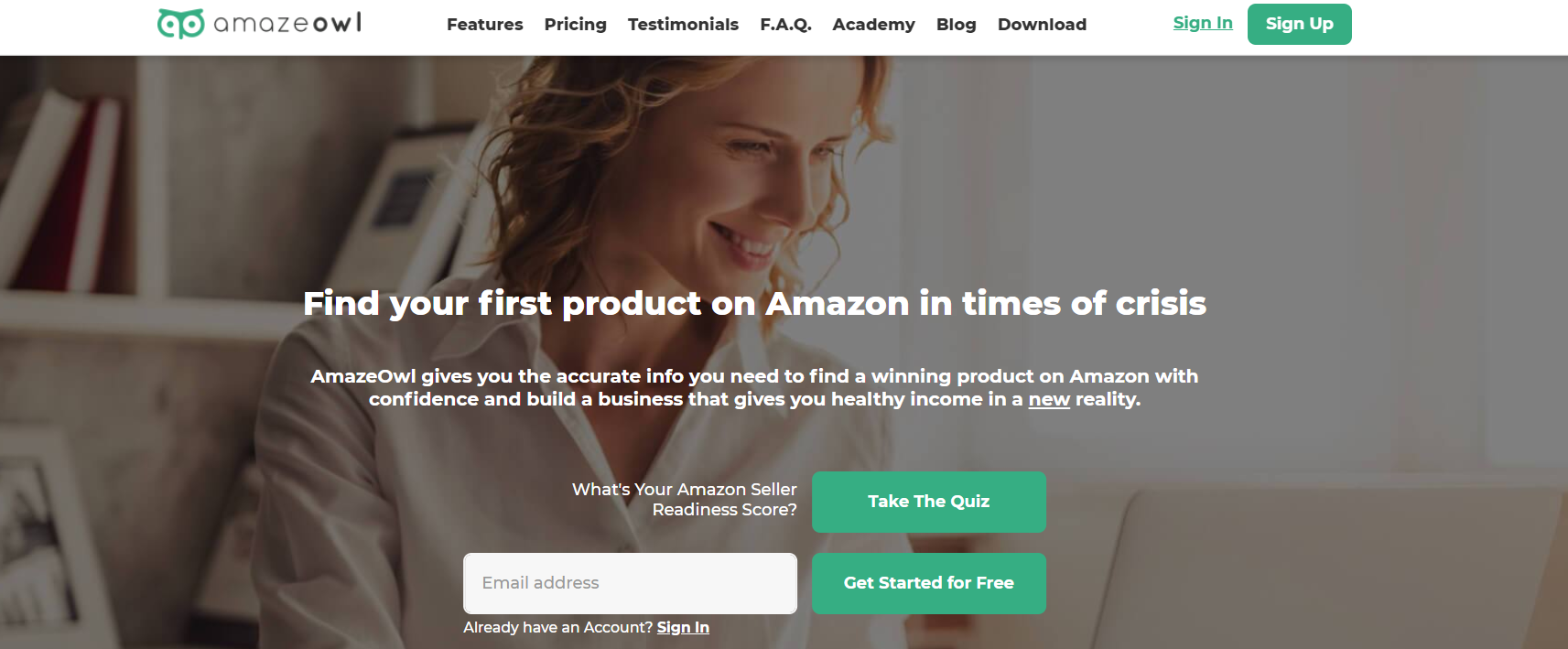 AmazeOwl is another excellent product research tool that helps you find and sell winning products.
Sellers can get access to extensive data so they can stay one step ahead of the competition. For example, you can see daily changes that competitors make to their listings, get alerted to new competitors, and drive more buyers to your products with keyword monitoring.
Plus, you can see accurate data to understand your market so you can validate your product idea and launch it with confidence.
Price: Growth $19.99/month, Established $29.95/month. Save 33% by paying for an annual plan.
Free Trial: Yes, but with limited access to features and tracking.
Cash Cow Pro
Cash Cow Pro offers more than just great product research tools; you get access to all the tools you need to run your Amazon business in one place.
Here are a few tools and features Cash Cow Pro offers:
Sales Data. Know your numbers in real-time so you can take action to boost growth.
Keyword tracking. Track up to 100 keywords per product and track their competitiveness.
Automated feedback collection. Set up 100% automated emails to get reviews from customers.
Advanced top 20 million best sellers. Scan millions of products in seconds to find which are the most profitable.
Inventory monitoring. Never run out of stock, so you can keep the sales racking up.
Page views and conversions. See instantly how you stack up against your competitors.
A/B split testing tool. Test out multiple listings to see which gets you the most sales.
Price: Pro $49.97/month. $497 billed yearly.
Free Trial: 10-day free trial.
Smart Scout

Smart Scout is a product research tool that allows you to find product opportunities your competitors can't.
Using Smart Scout you can see the estimated sales and estimated revenue of different brands, plus a range of other information to see if that product would be right for you to sell.
Other helpful features include the traffic graph allowing you to see products that are frequently bought together, and the FBA calculator, which shows you the ROI of any product sold on Amazon.
And, if you need a little extra help, you can join Smart Scout University and take various courses depending on your seller experience.
Price: Basic $29/month, Essential $97/month, Business $187/month
Free Trial: Yes.
Selling on Amazon can be rewarding, but it comes with challenges. With so many sellers to compete against, you have a chance of succeeding if you use the right product research tools for Amazon.
However, performing detailed Amazon product research is just one part of growing a successful seller business.
Make sure to keep an eye on competitors, track product metrics, and research keyword data, and you have a good chance of building an Amazon business that lasts.
Are you new to selling online? Learn how to sell on Amazon – the ultimate guide to getting started.